This post may contain affiliate sales links. Please read my disclosure policy.
This No Bake Nutella, Peanut Butter and Marshmallow Pie is made with a peanut butter crust, Nutella filling and marshmallow topping! It's truly amazing no bake dessert that the whole family will love.
If you enjoy this pie recipe you should also try my Strawberry Nutella Hand Pies or this No Bake Margarita Pie.
I Love Easy Nutella Dessert Recipes
Now that I am such a Nutella lover it's hard to believe I ever didn't know what it was.
I was introduced to it by a coworker a few years back and though it's delicious on toast, it's even better when made into a sandwich with peanut butter and marshmallow fluff. This pie is not the first time my love of Nutella fluffernutter sandwiches has manifested itself into a tasty treat. I made these Peanut Butter Nutella and Marshmallow Cookie Cups a while back.
But this pie is even more indulgent and even easier to make. And it's no-bake!
I made it to take to work one day. One of my coworkers (at a different job) had never had Nutella and given the fact that I was enlightened at work I figured it was my duty to do the same for him.
There are so many awesome ways to bake Nutella into treats it made it nearly impossible to decide what to make. I really wanted the Nutella flavor to be center stage, but I also wanted a great flavor combo.
After giving it a lot of thought (most things I create begin this way – I want it to be perfect!) and seeing this Nutella Strawberry Tart by Dorothy from Crazy for Crust and how simple the pie filling was to make and how common the ingredients are (2 of my favorite criteria!) I knew a pie was the way to go. And a fluffernutter combo just seemed obvious.
The result is AMAZING!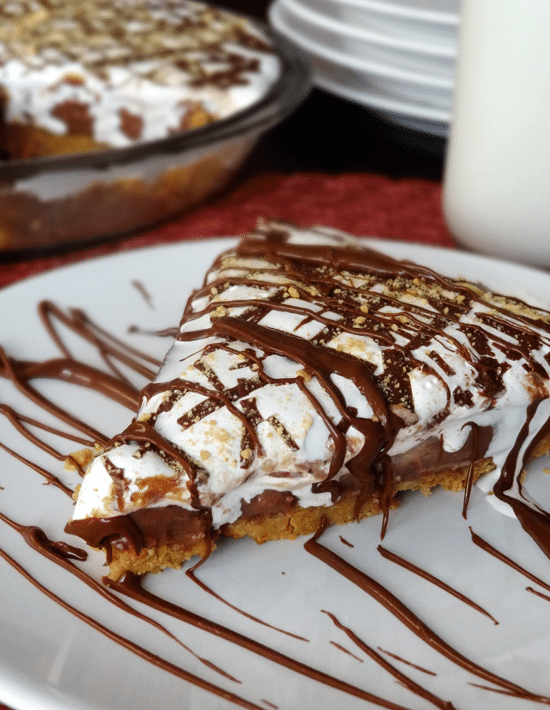 My coworkers found it kind of unassuming upon first glance. Obviously they weren't looking at it through my eyes. 🙂 But once they tasted it they were all sold! Not just on Nutella, but on this pie.
The Nutella and peanut butter are the standouts and the marshmallow fluff is the perfect compliment. It all just melts in your mouth with this crazy awesome mix of some of my favorite flavors. The crust retains a bit of structure and is a nice contrast to the soft Nutella filling.
How To Make Nutella, Peanut Butter and Marshmallow Pie
And as I said before, it's so easy to make. The whole thing is no-bake. No oven – I love that!
The pie crust is made with graham cracker crumbs, peanut butter, butter and a microwave. Simple and easy.
The Nutella filling is made on the stove, but doesn't take long. You basically combine everything, boil it and pour it into the crust. The hardest part is waiting for it to set in the refrigerator.
The topping is marshmallow fluff. Again – easy. Some people aren't fans of fluff, so feel free to use actual marshmallows and either leave them as they are or toast them on top.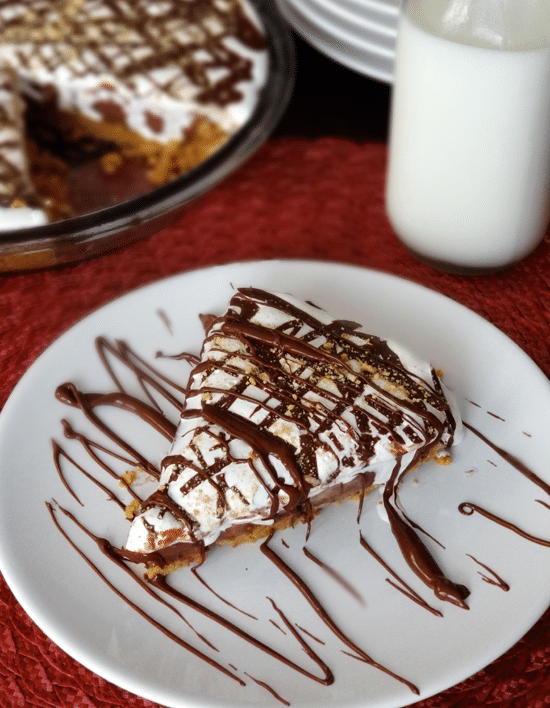 One thing I will tell you about, which I learned while eating the pie, is that after I microwaved the fluff a bit so that I could pour it onto the pie, it never completely firmed back up. I don't know what the reason for that is and it certainly didn't bother me at all, but it's worth mentioning. The reason being after you begin to slice it, if it sits for a while, the fluff starts to kind of melt into the open part of the pie pan – even if you put it back in the refrigerator. There's still some on the pie, and you can certainly just scoop the fluff back on when ready to eat it, but if you're worried about presentation you may want to go with toasted marshmallows.
Either way, this thing is moan inducing and addicting. You really have to try it. Seriously. Do it now.
Print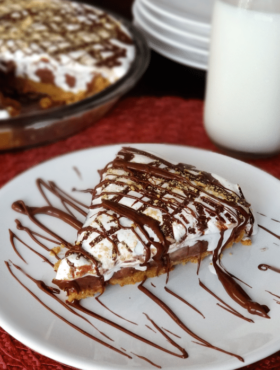 Recipe
No Bake Nutella, Peanut Butter and Marshmallow Pie
Author:

Prep Time:

1 hour 45 minutes

Cook Time:

8 minutes

Total Time:

1 hour 45 minutes

Yield:

12-15 Slices

Category:

Dessert

Method:

Stove Top

Cuisine:

American
---
Description
This No Bake Nutella, Peanut Butter and Marshmallow Pie is made with a peanut butter crust, Nutella filling and marshmallow topping! It's truly amazing no bake dessert that the whole family will love.
---
Ingredients
CRUST
1 1/2 cups

graham cracker crumbs

2 tbsp

butter

1/2 cup

peanut butter
FILLING
2 cups

milk

2 tbsp

+

2 tsp

cornstarch

3/4 cup

Nutella

1/2 tsp

vanilla extract, optional

2 cups

marshmallow fluff
---
Instructions
1. Add butter and peanut butter together in a small bowl and microwave for about 30 seconds, or until the butter in melted. Mix well.
2. Add butter mixture to graham cracker crumbs and mix until combined.
3. Press graham cracker mixture evenly into the bottom of a 9 inch pie pan to complete crust and set aside.
4. Whisk the cornstarch and 1/4 cup milk together in a small bowl. Set aside.
5. Add Nutella, remaining milk (1 3/4 cup), and vanilla extract to a pan and whisk over medium heat until the Nutella is melted.
6. Add the cornstarch mixture to the Nutella mixture.
7. Bring the mixture to a boil, stirring constantly with a rubber spatula. It will begin to thicken.
8. Once boiling, stir continuously for about 2 minutes, until fully thickened.
9. Pour mixture into crust and refrigerate until set, about 1 hour.
10. When Nutella mixture is set, put 2 cups of marshmallow fluff into a small bowl and microwave for about 30-45 seconds, or until easily pourable.
11. Pour marshmallow fluff over the top of the Nutella mixture. It will naturally spread to cover the pie. (If you'd prefer, you can toast mini marshmallows on top)
12. Drizzle Nutella onto the top of the pie and sprinkle with a few graham crackers crumbs if desired.
13. Store in refrigerator until ready to serve.
---
Nutrition
Serving Size:

1 Slice

Calories:

311

Sugar:

29.9 g

Sodium:

139.4 mg

Fat:

11.4 g

Carbohydrates:

49.1 g

Protein:

4.6 g

Cholesterol:

6.7 mg
Keywords: peanut butter pie recipe, easy peanut butter pie, no bake peanut butter pie, no bake desserts, easy no bake dessert, no bake pie, no bake pies, no bake dessert recipes, nutella pie
Filed Under:
Enjoy!
Filling recipe modified from Crazy for Crust.
More Nutella Desserts You Might Like:
Peanut Butter Nutella Cups with Marshmallows
Caramel Macchiato Tiramisu with Nutella