April 20, 2015
Raspberry Almond Poke Cake
This Raspberry Almond Poke Cake is seriously delish! The cake has a wonderful almond flavor and is soaked with sweetened condensed milk and pureed raspberries, which make it a little sweet and a little tart. Then it's topped of with a lightly almond whipped cream. Light, fruity and fun!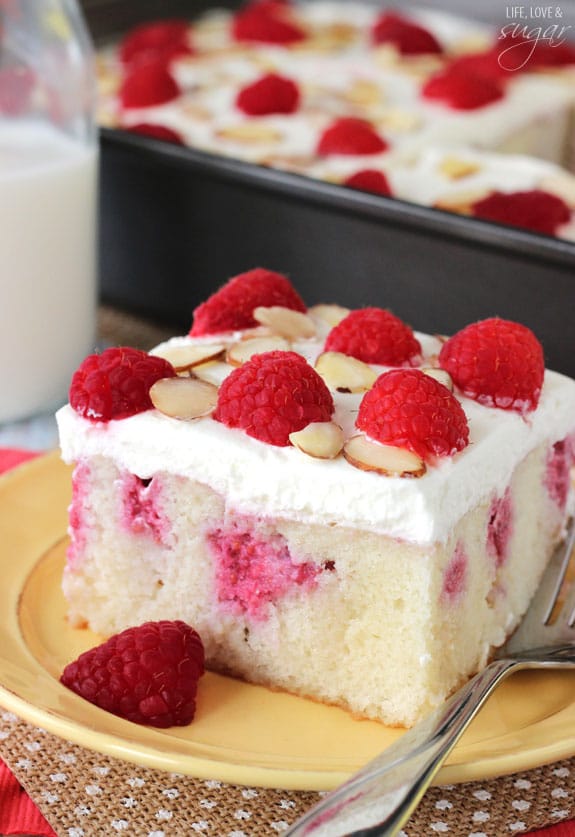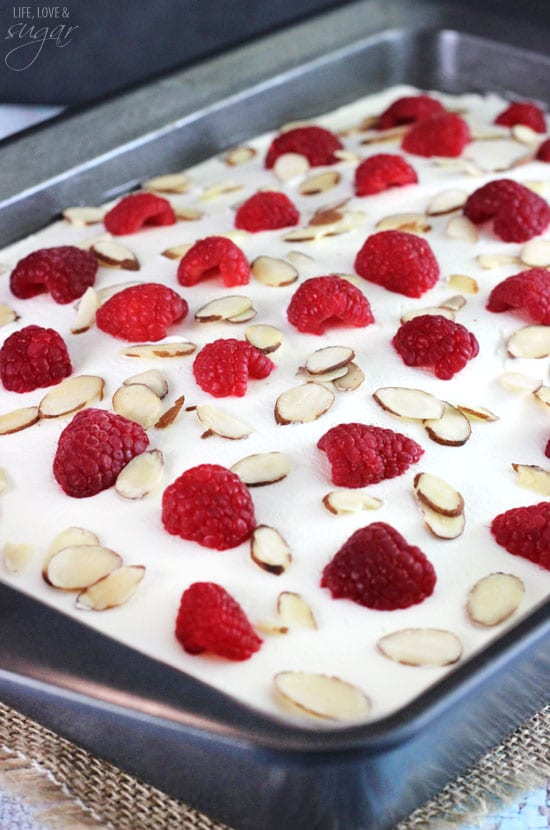 Do you ever have an experience where you watch an old movie – one you've been watching since you were a kid – and realize so many things about it you never realized before?
For example. As a kid, I used to watch Dirty Dancing all.the.time. I'm pretty sure I was like 2 when I started watching it. You might be thinking that's waaaaay to young to watch that movie, but truthfully the only part I payed any attention to was the dancing. It's still my favorite part.
But now I know that there's a whole other storyline going on in there that I never understood. I'm not even sure I'd caught on until after college.
Then there's the stuff that you just never question and then one day you're like, "Wait, that couldn't actually happen."
Like I was watching The Little Mermaid the other day. Another classic and my favorite old school Disney flick. And there was a moment at the beginning that I'd never questioned – until now.
You know near the beginning when the ship is burning up and Eric is trying to save his dog before jumping ship (which ultimately leads to him being on the ship when it blows up)? Well, he's all "Come here, boy! Jump!" and the dog jumps – from what looks like it's pretty high. And Eric catches him without a problem. The dog lands perfectly, like he weights about 2 lbs, right in his arms.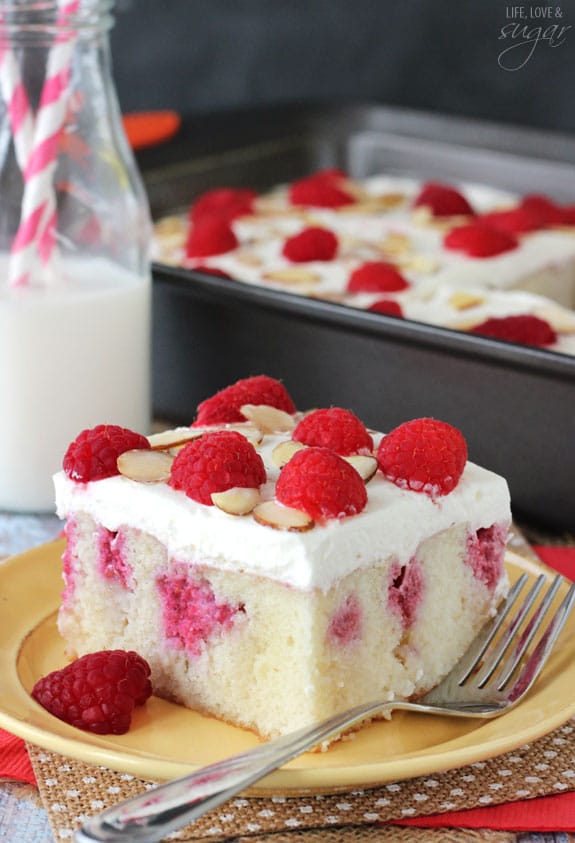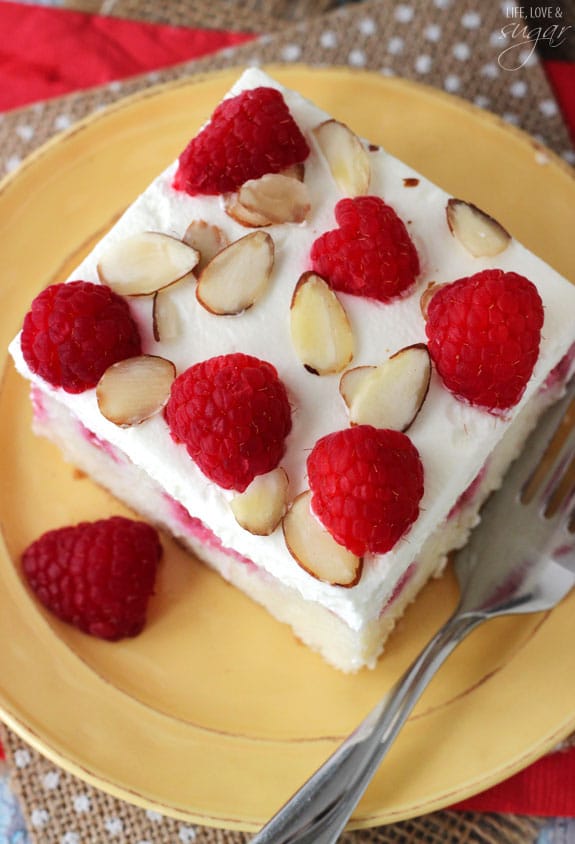 Dude.
I have a big dog. She weighs about 88 lbs. And I'll telling you right now if she jumped and was hoping for me to catch her – there'd be very little chance that would end well. She is heavy and that'd be some crazy dead weight. I mean, I'd try to save her for sure and I'd probably make her jump and try to catch her, I'm just saying it wouldn't end as nice and neatly as it did with Eric. Obviously he's super strong. Or just an animated character, but whatevs.
Not exactly life-changing realizations, but still. Occasionally these random things occur to me. 🙂
Onto the cake, which might just change your life.
This one is second generation. First generation didn't turn out like I wanted. All the same flavors and still delicious, but I initially combined the raspberry puree and sweetened milk and then poured that on top of the cake. It got too thick and didn't soak into the cake. That's not how a poke cake is supposed to work. For the final version, I separated the milk and puree.
To make the raspberry puree, you'll just add some raspberries, a bit of water and some sugar to a food processor and puree until smooth. The water helps things mix a little better, so don't leave it out. And you could leave out the extra sugar if your raspberries are super sweet, but I preferred it. It took the edge off of the tartness of them, without loosing it completely.
This is actually one of the desserts that I gave my mom when she visited a couple weeks ago. She needed desserts to take to a getaway with some friends and I thought this would travel pretty decently for her in a cooler. Of course, it was kind of cut up from taking pictures but she didn't mind.
Not only did my mom and I love it, but it was apparently a big hit! Such a fun flavor combo!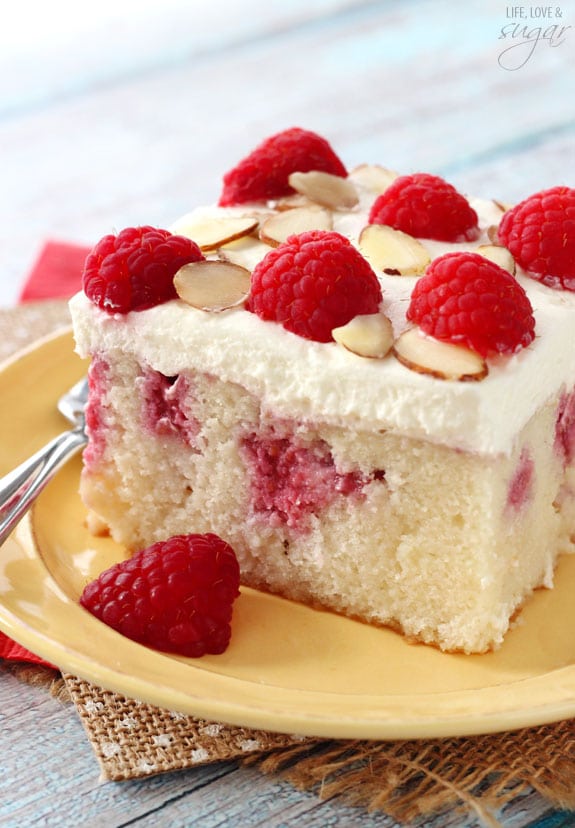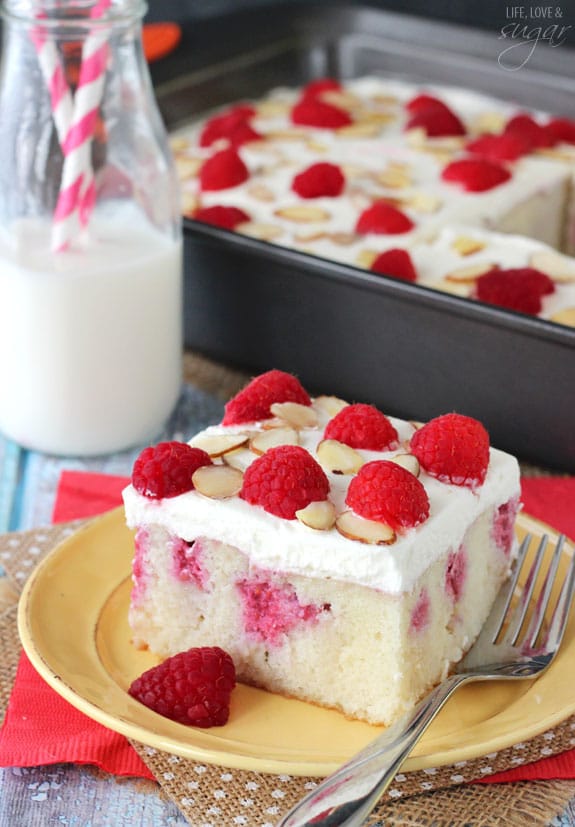 Raspberry Almond Poke Cake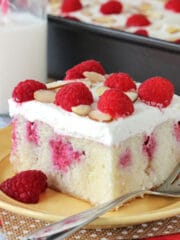 Yield:

15

-

18

Slices

1

x
Category:

Dessert

Method:

Oven

Cuisine:

American
Ingredients
CAKE
15.25 oz

box white cake mix (plus ingredients on box)

4 tsp

almond extract

14 oz

can sweetened condensed milk

6 oz

raspberries

2 tbsp

sugar

1 tbsp

water
WHIPPED TOPPING
1 1/2 cup

s heavy whipping cream

3/4 cup

powdered sugar

1 tsp

almond extract
raspberries
almond slivers
Instructions
1. Preheat oven to 350 degrees. Grease a 9×13 cake pan.
2. Add dry cake mix, cake mix ingredients and almond extract to a mixer bowl and mix according to box instructions.
3. Pour batter into cake pan and bake for 20-25 minutes, or until a toothpick comes out with a few crumbs.
4. Once cake comes out of the oven, poke holes in the warm cake with the end of a wooden spoon or something similar.
5. Pour can of sweetened condensed milk over the cake and allow to soak into the holes.
6. Place raspberries, sugar and water into a food processor and puree until smooth.
7. Pour pureed raspberries over the cake and allow to soak into the holes.
8. Place cake in refrigerator for 2-3 hours while it cools and soaks up mixture.
9. To make the whipped topping, whip heavy cream until it begins to thicken.
10. Add powdered sugar and almond extract and whip until stiff peaks form.
11. Spread whipped topping onto completely cooled cake. Topped with raspberries and almond slivers.
12. Refrigerate cake until ready to serve.
Enjoy!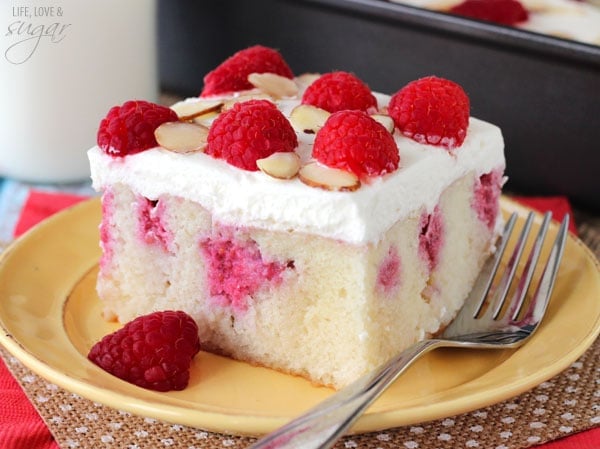 Recipes from friends:
Lemon Raspberry Almond Muffins from Beyond Frosting
Raspberry Almond Coffee Cakes from Spoonful of Flavor
Raspberry Almond Pie Bars from Your Cup of Cake
You might also like:
Berry Lemon Cheesecake Cookie Cups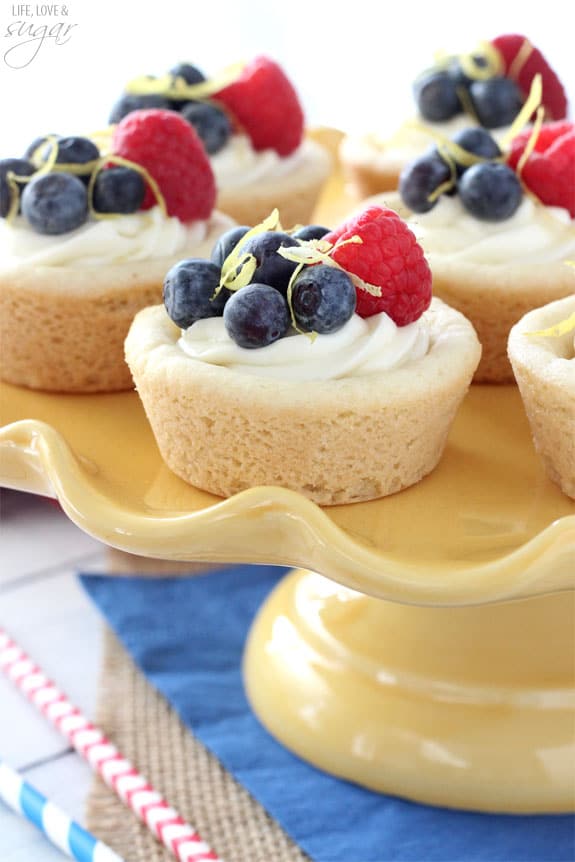 Raspberry Cheesecake Ice Cream Cupcakes