April 25, 2016
Nutella Fluffernutter Cupcakes
These Nutella Fluffernutter Cupcakes are a moist peanut butter cupcake filled with marshmallow fluff and topped with Nutella frosting! They remind me of one of my favorite sandwiches as a kid – and they are definitely just as delicious!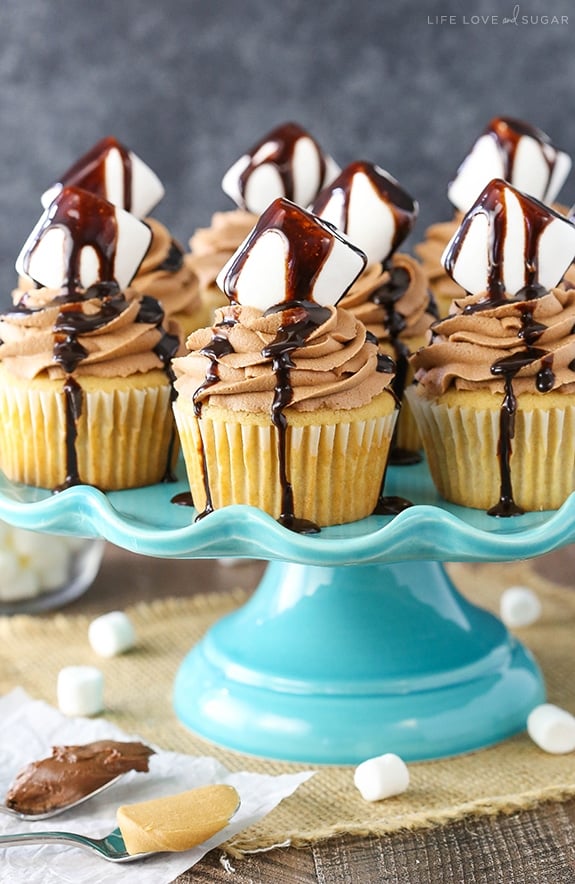 So my mom was visiting the past few days and was a huge help. I have some pretty big deadlines coming up within the next week or so (yay for cookbook deadlines!) and she volunteered to help clean dishes, wash laundry and basically continue to be the rockin' mom she's always been. I seriously couldn't do life without her.

Of course after spending about 4 days with me watching all the things going on she's officially decided I'm completely crazy. From making and frosting cakes at midnight to waking up at 6am to finish a cheesecake in order to have it beautiful and ready to photograph at 8am when the sun is perfect, I continued to shock her. I mean she knows that I'm constantly covered in sugar, butter and flour right now, but to see it was another thing. Not to mention that after a full day of taste testing and helping me cut up and freeze desserts for her to take to her church, she could just feel all the sugar. 🙂 There's no doubt this job is sugar-filled.
But of course we also managed to have a little non-baking fun too. Margaritas one night, plus we got to finally see some photos we had taken a couple weeks ago. I wanted some new photos for the about page and for the cookbook so I had some photos taken and they turned out awesome! I felt so snazy – someone even did my hair and makeup. The photos are so fun – Jessie even got to eat a little bit of cake! It was one of those times where with every photo we looked at we were saying, "Oh, I love that one too!"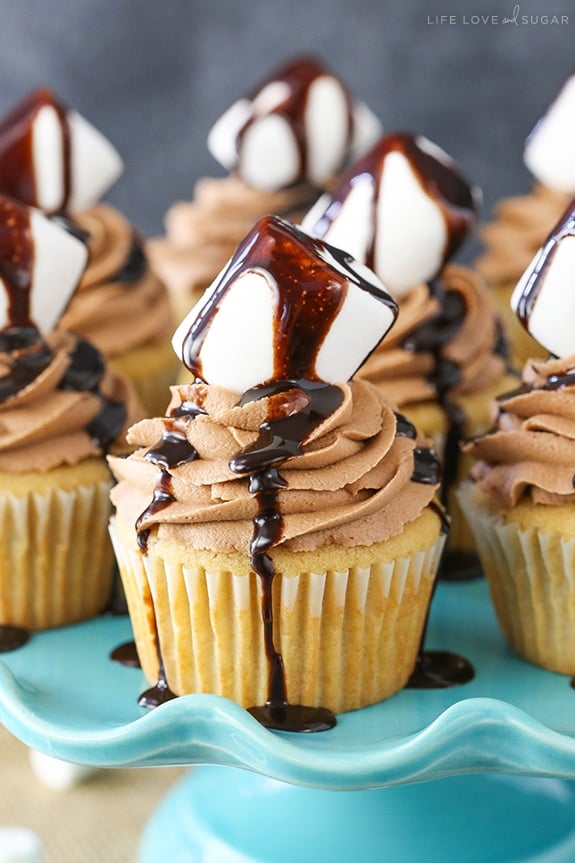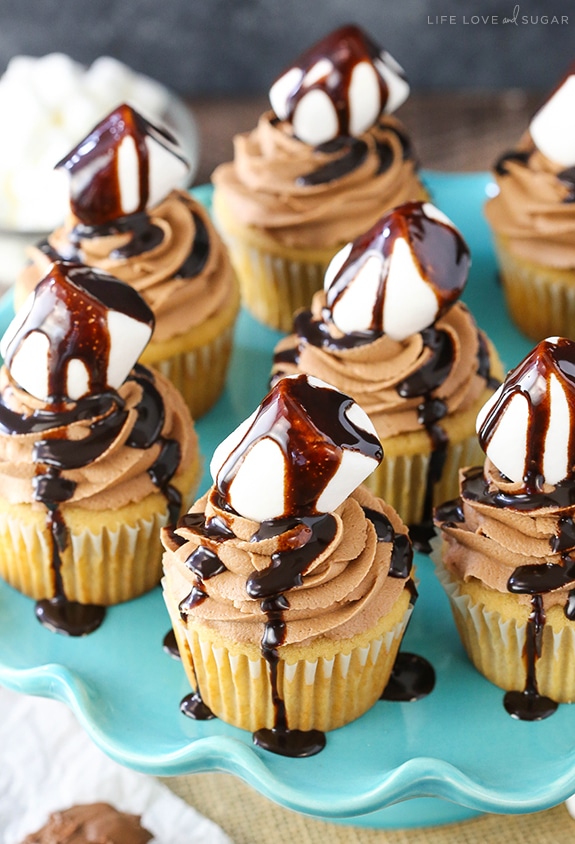 I feel like that's kind of how I am with my desserts on the blog – I love them all! Whenever someone asks me for a favorite to suggest, it's so hard!
I will tell you though that these cupcakes rock. I'd absolutely suggest them. And please tell me I wasn't the only one who had peanut butter and marshmallow fluff sandwiches as a kid!? I mean, is it any wonder I have a massive sweet tooth as an adult? And now that I know about Nutella, that gets added in there and you literally have the best sandwich ever. Sure, it's full of sugar and could be called dessert instead of a sandwich – but that's exactly why it's now in cupcake form!
The moist and fluffy peanut butter cupcake with the gooey, sticky marshmallow fluff, and the creamy Nutella frosting are pure heaven. If you haven't had a Nutella Fluffernutter sandwich before, you should introduce yourself to them through this cupcake. All the same great taste, no disguises. This is clearly dessert. 🙂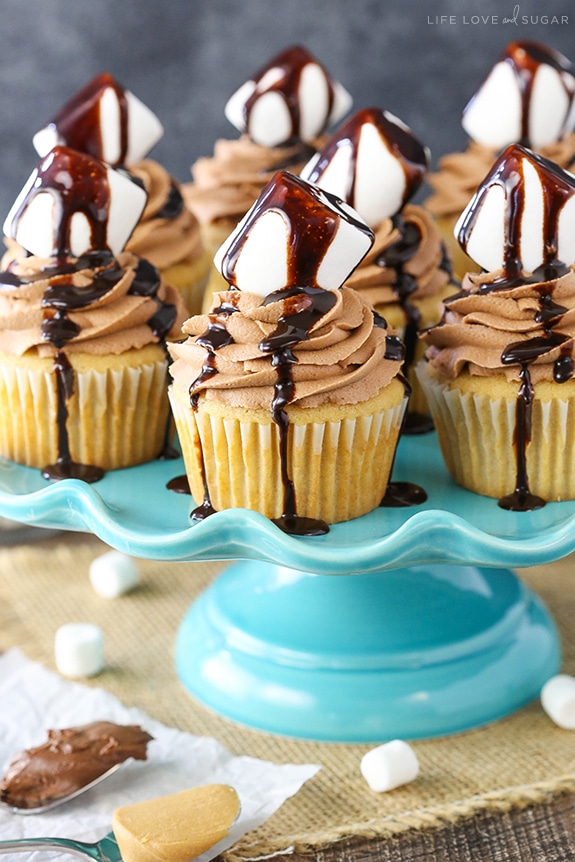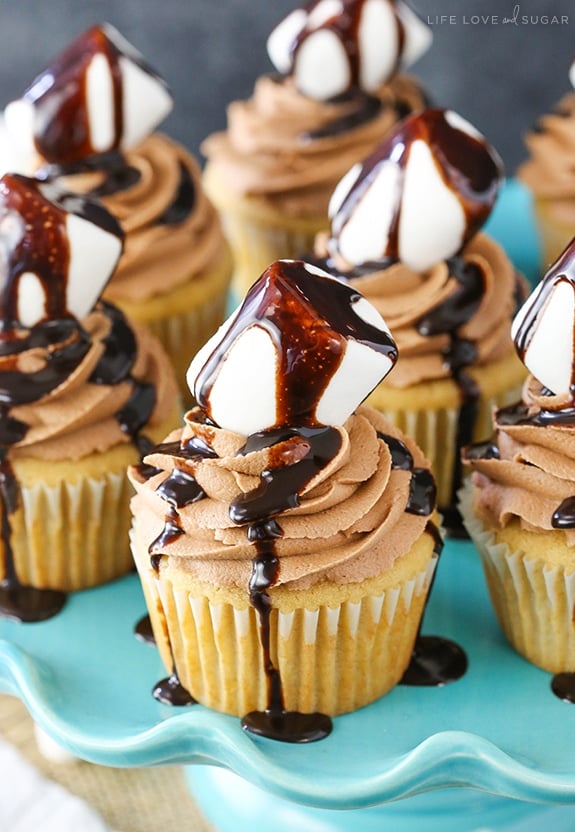 Nutella Fluffernutter Cupcakes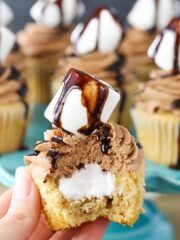 Yield:

12

-

14

Cupcakes

1

x
Category:

Dessert

Method:

Oven

Cuisine:

American
Ingredients
PEANUT BUTTER CUPCAKES AND FILLING
1/2 cup

(104g) sugar

1/4 cup

(45g) lightly packed light brown sugar

¼ cup

(56g) unsalted butter, room temperature

½ cup

(140g) peanut butter

¼ cup

(60ml/58g) sour cream, room temperature

1 tsp

vanilla extract

3

large egg whites, room temperature, lightly beaten

1 1/4 cup

s (163g) all purpose flour

2 tsp

baking powder

¼ tsp

salt

6 tbsp

(90ml) milk, room temperature

2 tbsp

(30ml) water, room temperature

1 cup

marshmallow cream/fluff
NUTELLA FROSTING
1/2 cup

(84g) butter

1/4 cup

(36g) shortening

1/2 cup

(157g) Nutella

4 1/2 cup

s (518g) powdered sugar

4 1/2 tbsp

water or cream
Large marshmallows , if desired
Chocolate sauce, if desired (I use this one)
Instructions
1. Preheat oven to 350°F (176°C) and prepare a cupcake pan with cupcake liners.
2. In a large mixing bowl, cream sugar, butter and peanut butter until light in color and fluffy, about 3-4 minutes.
3. Add sour cream and vanilla extract and mix until well combined.
4. Add egg whites in two batches, mixing until well combined after each. Scrape down the sides of the bowl as needed to be sure all ingredients are well incorporated.
5. Combine dry ingredients in another bowl, then combine milk and water in another bowl. Add half of the dry ingredients to the batter and mix until well combined. Add the milk mixture and mix until well combined. Add remaining dry ingredients and mix until well combined. Scrape down the sides of the bowl as needed to be sure all ingredients are well incorporated.
6. Fill cupcake liners about halfway. Bake for 15-17 minutes, or until a toothpick inserted comes out with a few crumbs.
7. Remove cupcakes from oven and allow to cool for 2-3 minutes, then remove to cooling rack to finish cooling.
8. While cupcakes are cooling, make the frosting. Beat the butter, shortening and Nutella together until smooth.
9. Add about half of the powdered sugar and mix until smooth.
10. Add the water or cream and mix until smooth.
11. Add the remaining powdered sugar and mix until smooth. Set frosting aside.
12. Once cupcakes are completely cool, cut out the centers. I use a cupcake corer.
13. Fill the centers with marshmallow cream/fluff.
14. Pipe the frosting on top of the cupcakes. I used Ateco tip 844, but the Wilton 2D or 1M would create a similar look.
15. To decorate the cupcakes, top each with a large marshmallow, the drizzle with chocolate sauce.
Store cupcakes in an air tight container at room temperature. Cupcakes are best for 2-3 days. Best to add chocolate sauce drizzle decoration shortly before serving.
Enjoy!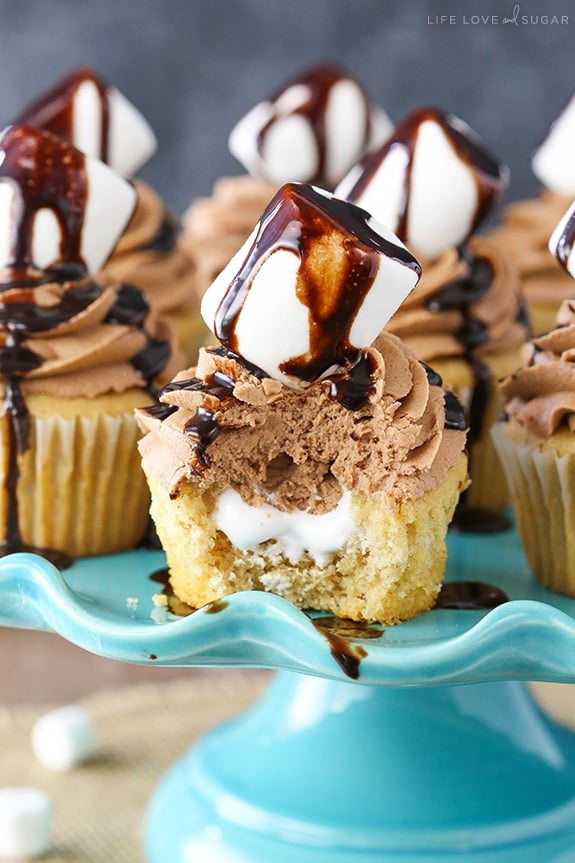 This post contains affiliate links.
You might also like:
No Bake Nutella, Peanut Butter and Marshmallow Pie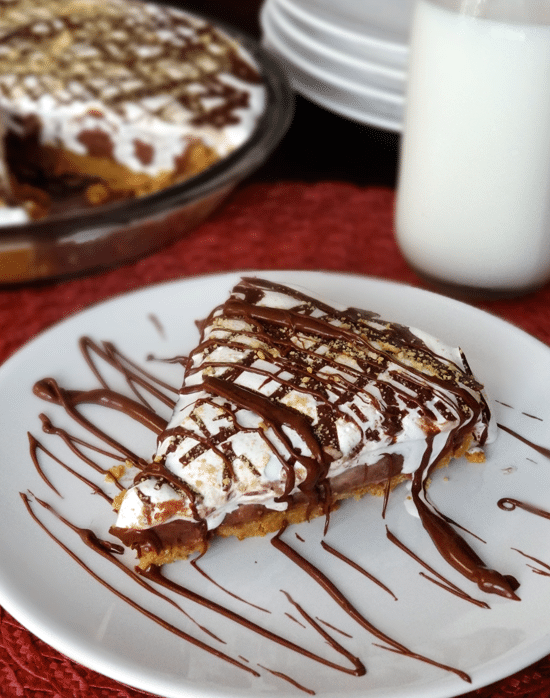 Recipes from friends:
Nutella Stuffed Peanut Butter Cookies from Handle the Heat
Peanut Butter Nutella Cheesecake Bars from Inside BruCrew Life
Peanut Butter Nutella Swirled Fudge from Wine and Glue