November 12, 2014
Nutella Chocolate Cake
This Nutella Chocolate Cake is a delicious combination of an incredibly moist chocolate cake and a sweet, delicious Nutella icing, all covered in chocolate ganache. Delish!
So I mentioned Monday that I spent the weekend with my cousin who was due with her baby any day. She gave birth to a healthy baby boy last night, less than 48 hours after I left. I would have bet money it was going to be a girl and most of our family agreed. He's definitely a boy though and we can't wait to spoil him! I'm totally bummed I miss the birth though.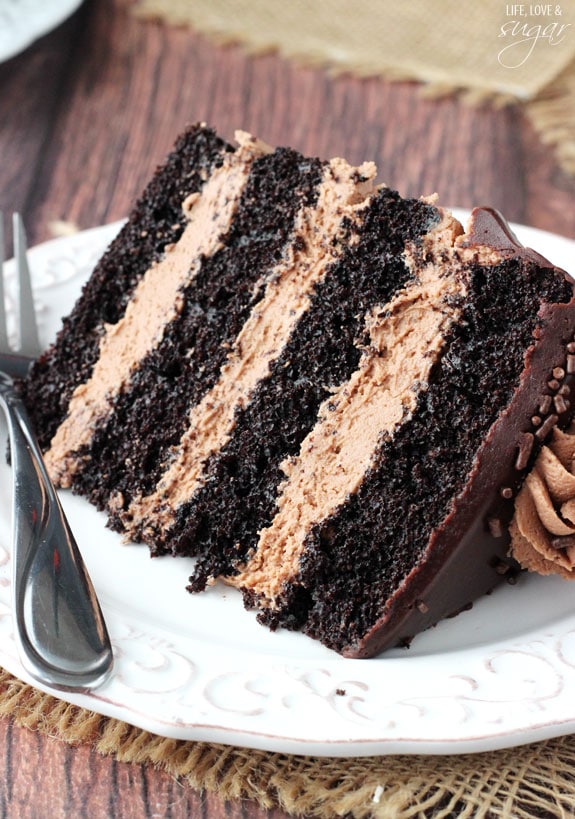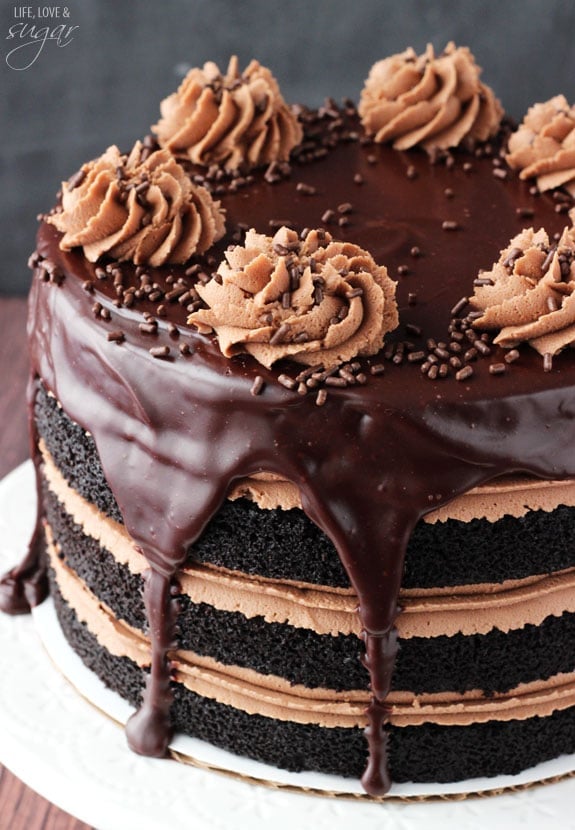 You may or may not have read this post from September, but if you read it, then you know about the hubs and I's struggle with miscarriage and trying to conceive. I don't know if spending time with my cousin and her husband this weekend is what did it, or if I just am finally ready on my own – maybe a little bit of both – but the hubs and I are finally going to start looking into our options with fertility.
I think the hubs has been ready to do something for a while, he's just been waiting on me. It's a lot to handle and emotionally, I'm not totally sure about it all. But after two years of doing or not doing things because of the "what if" of possibly getting pregnant and having a child, I'm tired of the "what ifs".
I'm tired of not scheduling "that trip" because "what if" I get pregnant. I'm tired of not making any decision because of the "what if" of possibly getting pregnant. Especially since it just doesn't seem to happen. I'm ready to move forward.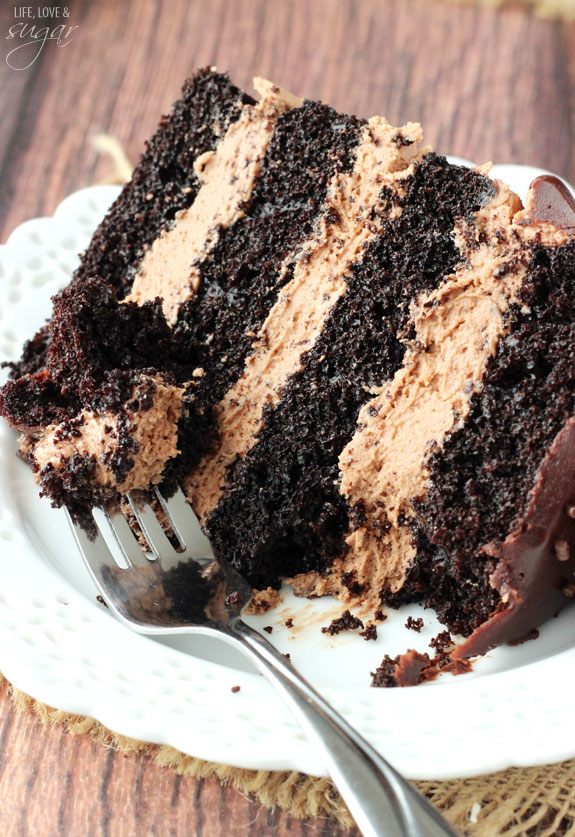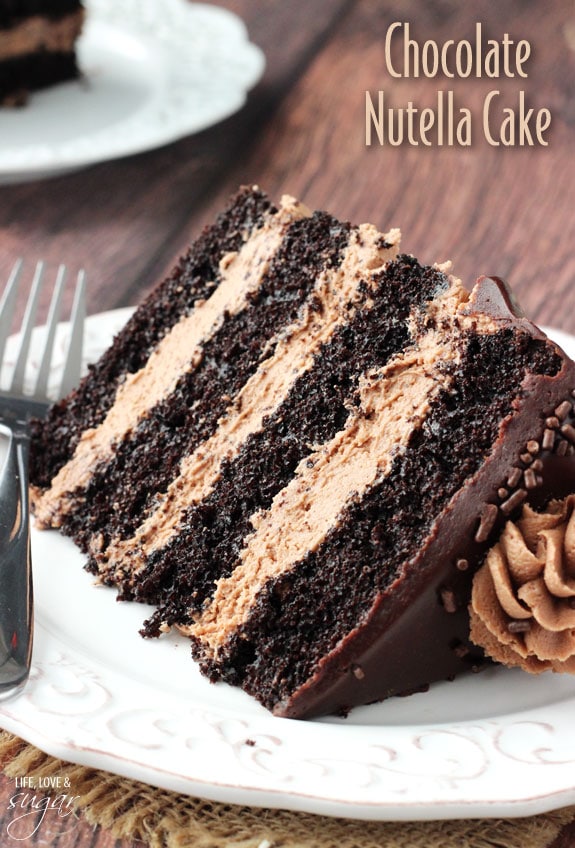 I've been waiting for it to feel right to move forward and I finally feel that way. I don't know what will happen or how it will end up. Perhaps we won't be able to have a child at all. Perhaps it will happen when we least expect it. But I'm finally ready to do something and feel closer to getting an answer. I'm ready to stop with the "what ifs." I want to make appointments and cancel them later if we end up pregnant. I want to make plans – for anything – and cancel them later if we have to. I don't want to live for the "what if" any more. I want to face it head on, deal with it and live for the now. I'm not sure I totally know what that looks like, but I pray God will guide me and give me wisdom as we begin a process I hoped I'd never have to begin.
MY OTHER RECIPES
In the meantime…cake. Lot's of cake. Especially this cake.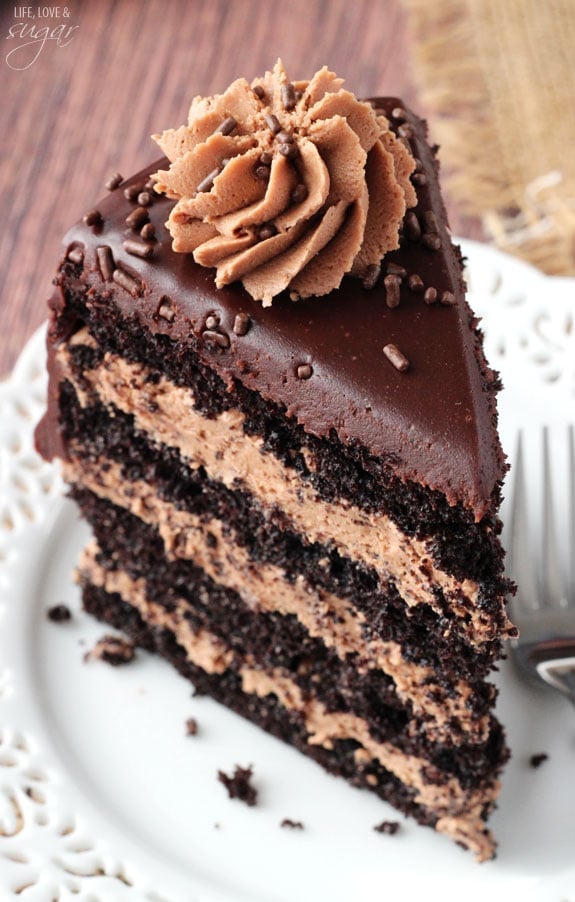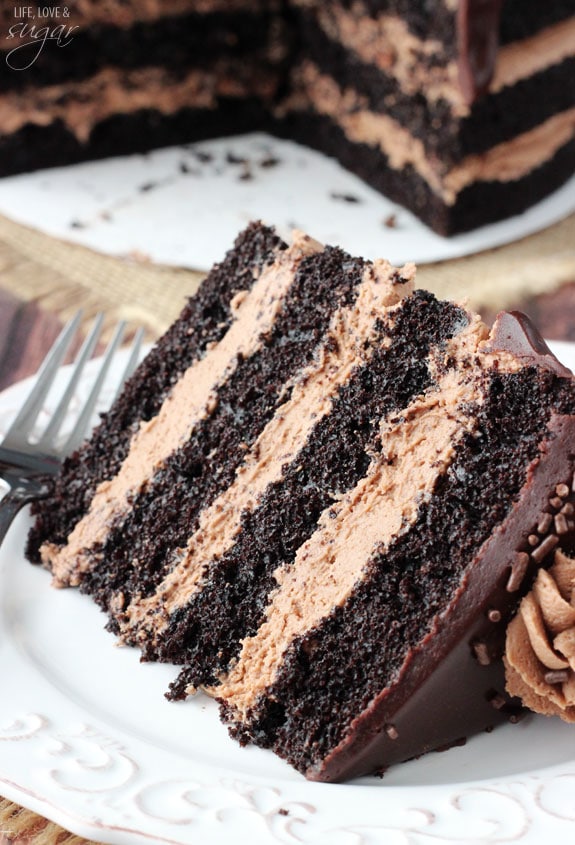 I absolutely love Nutella. I like peanut butter, but Nutella? It's nutty and chocolatey. Best of both worlds. Pass me a spoon! I couldn't wait to stuff this chocolate cake with it. The Nutella icing is buttery, sweet heaven.
The chocolate cake layers are my favorite chocolate slow-bake cake. It bakes at 300 degrees, as opposed to 350 – that's not a typo. 🙂 And it's the moistest chocolate cake you'll ever have. I wanted a maximum icing to cake ratio, so I made four layers of cake so that I could have plenty of Nutella icing piled between them. I only have three 8 inch pans though, so I baked two cakes at a time.
The Nutella icing is a variation of my vanilla buttercream icing I shared on Friday. The most versatile and easy icing ever.
This cake was a huge success with my taste testers. I totally wish I had another piece of this Nutella Chocolate Cake right now. Maybe I'll just go grab that Nutella jar out of the pantry instead…and a spoon. 🙂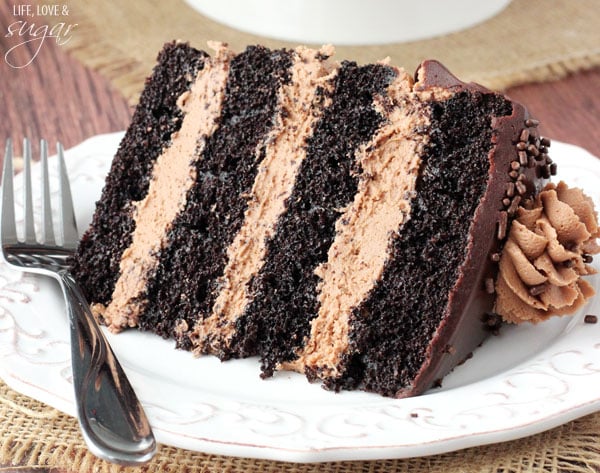 Nutella Chocolate Cake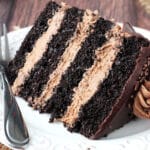 Yield:

12-14 Slices

Category:

Dessert

Method:

Oven

Cuisine:

American
Ingredients
CHOCOLATE CAKE
2 cups flour
2 cups sugar
3/4 cup Hershey's Special Dark Cocoa powder
2 tsp baking soda
1 tsp salt
2 large eggs
1 cup buttermilk
1 cup vegetable oil
1 1/2 tsp vanilla
1 cup boiling water
NUTELLA FROSTING
1 cup butter
1/2 cup shortening
1 cup Nutella hazelnut spread
4-5 cups powdered sugar
3-4 tbsp milk or water
CHOCOLATE GANACHE
6 oz semi-sweet chocolate chips
1/2 cup heavy whipping cream
Instructions
1. Prepare four 8 inch cake pans with parchment paper circles in the bottom, and grease the sides.
2. Add all dry ingredients to a large bowl and whisk together.
3. Add eggs, buttermilk and vegetable oil to the dry ingredients and mix well.
4. Add vanilla to boiling water and add to mixture. Mix well.
5. Pour into four 8 inch cakes pans and bake at 300 degrees for about 25 minutes, or until a toothpick comes out with a few crumbs. I baked the cakes in two batches, two at a time, with about 1 1/2 cups of batter per pan.
6. Remove cakes from oven and allow to cool for about 10 minutes, then remove to cooling racks to cool completely.
7. Make icing while cakes cool. Beat together butter and shortening until smooth.
8. Add Nutella and mix until smooth.
9. Slowly add 4 cups of powdered sugar and mix until smooth.
10. Add 2-3 tbsp of milk or water and mix until smooth.
11. Add fifth cup of powdered sugar and mix until smooth.
12. Add more water or milk until the right consistency.
13. Once cakes are cool, remove cake domes from top with a large serrated knife.
14. Place first layer of cake on cake plate. Pipe an even layer of icing onto cake.
15. Add second layer of cake and pipe another even layer of icing on top.
16. Add third layer of cake on top and pipe another even layer of icing on top.
17. Top icing with fourth layer of cake.
18. Place chocolate chips in a metal bowl.
19. Microwave heavy cream until it starts to boil. Remove from microwave and pour over chocolate chips.
20. Cover bowl with saran wrap for 5-7 minutes.
21. Whisk chocolate and cream until smooth.
22. Allow to sit for a few minutes until it just starts to thicken, then pour over the top of the cake.
23. Once chocolate ganache has firmed up, top with remaining icing and sprinkles, if desired.
Enjoy!


You might also like:
Nutella Cheesecake Chocolate Cookie Cups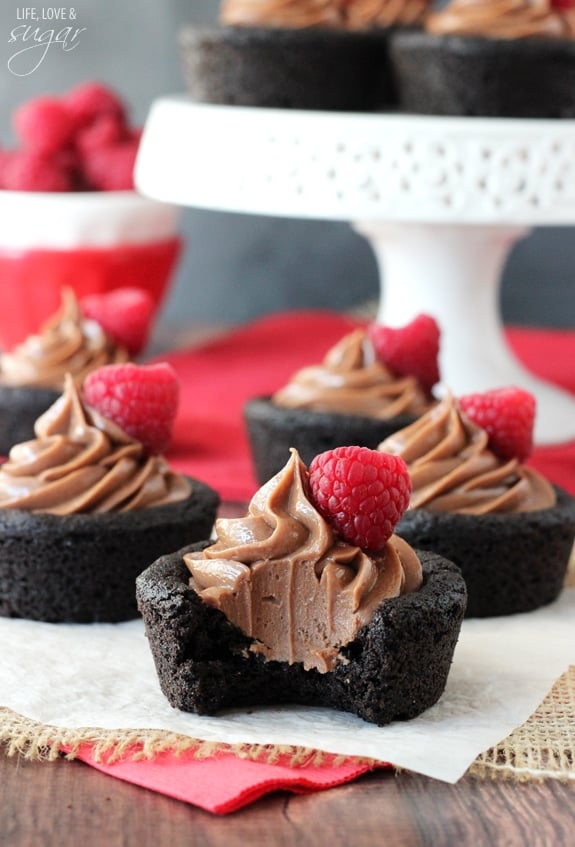 Nutella Fluffernutter Cupcakes

Nutella, Peanut Butter and Marshmallow Pie