September 8, 2016
Neapolitan Cupcakes
These Neapolitan Cupcakes are made with a vanilla cupcake, chocolate mousse filling and strawberry frosting! The flavors are so perfectly balanced – I love them!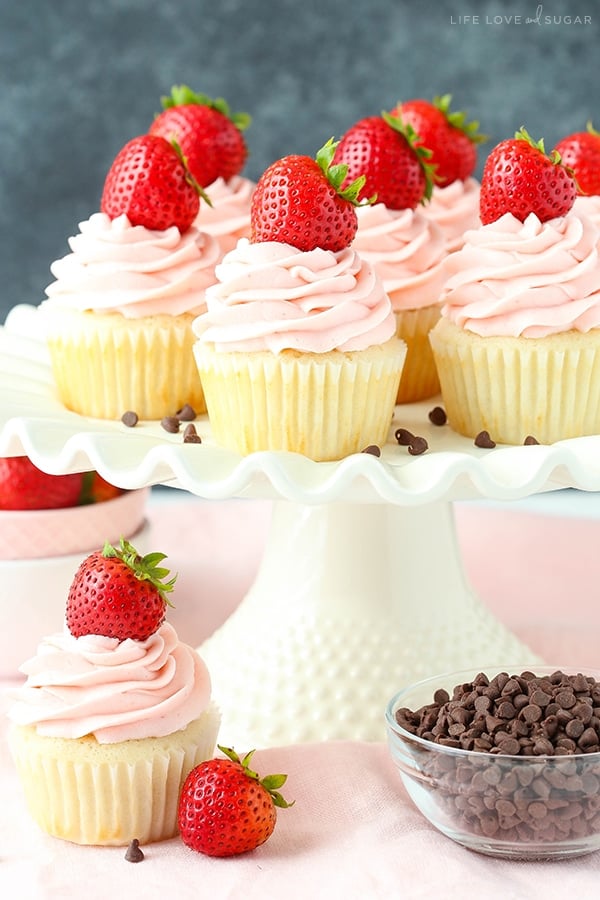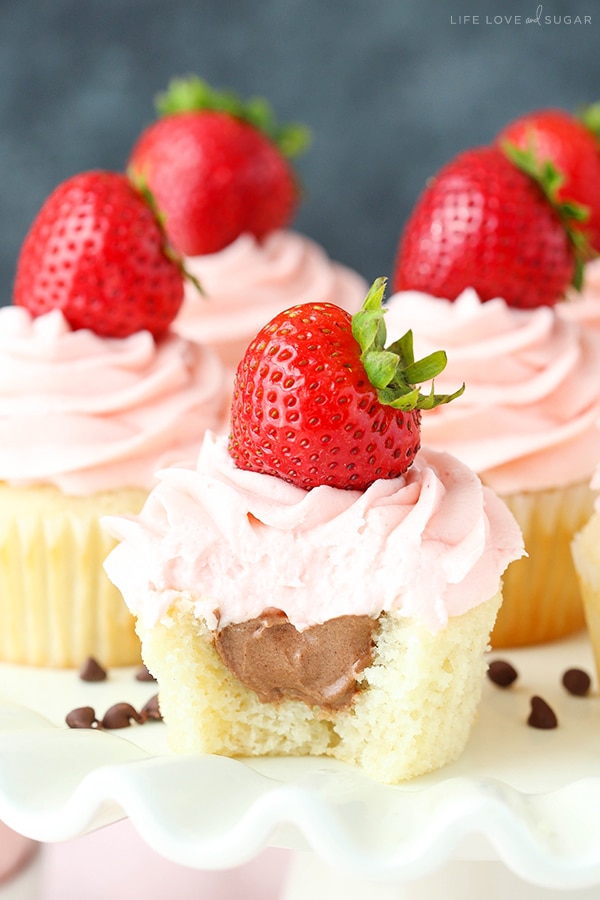 So as I write this, the hubs is sitting next to me doing his live fantasy football draft. The amount of stress he is exhibiting is straight crazy. It's intense. And he clearly told everyone he is playing fantasy football that he planned to pick Carolina Panther players (because duh, we love them and they rock) because they have now picked them before he can and the moaning and groaning coming from his side of the table is for reals.
Clearly he needs a big glass of Carolina Panther Punch to wash down his misery. 😉
Regular season NFL football begins tonight with a rematch of the super Bowl – minus Peyton Manning of course, so basically just another game. Even so, regular season Panthers football is kicking off and I AM PUMPED! It's about to get real around here.
Fantasy draft update: The hubs just got kicked out somehow and he is about to lose it. I might have to go to the other room.
Back to me: SO EXCITED!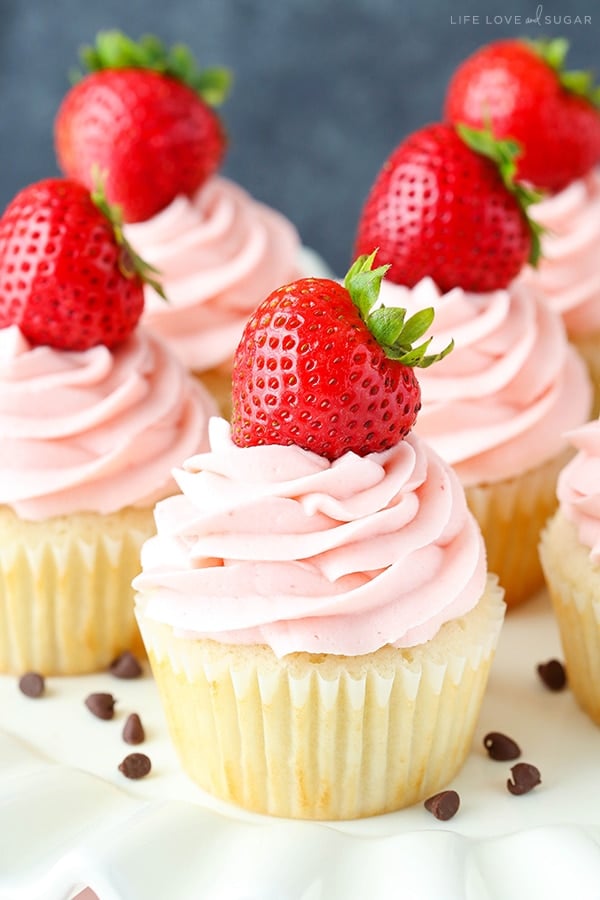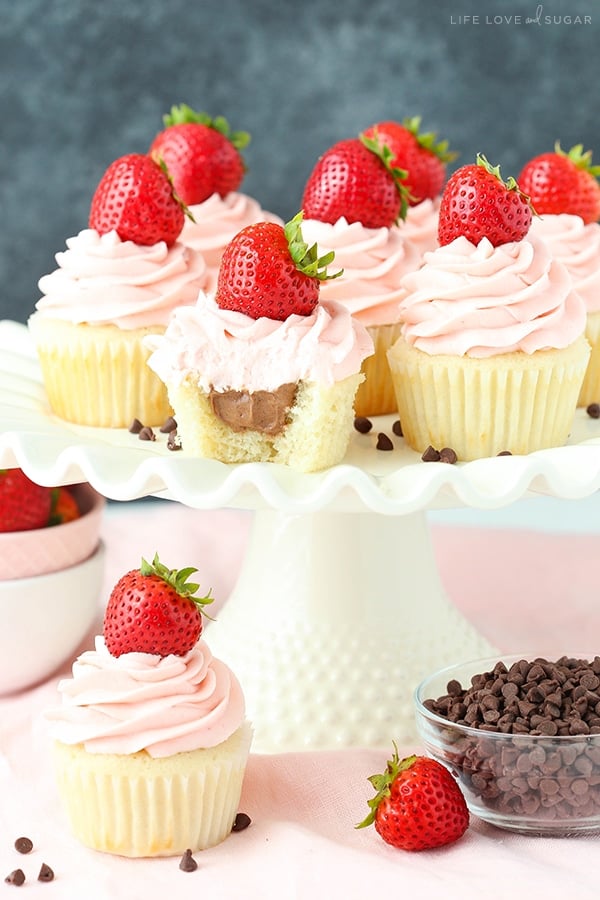 And not just about football season and getting to make these super cute chocolate chip cookie dough footballs, but also about these cupcakes.
These are seriously my new favorite cupcakes. The vanilla cupcake base is perfectly moist and fluffy. The chocolate mousse filling is super easy to make and has just the right amount of chocolate flavor. And the frosting is made with strawberry puree that is also just the right amount. These cupcakes are seriously my new jam.
So you'll start with the cupcakes. They use the creaming method. You'll want to be sure to fully cream the butter and sugar, since that adds air to the batter and helps give the cupcakes their rise and fluffiness. You'll actually notice the butter and sugar mixture turn to a lighter shade and get kind of fluffy/thick rather than just being smooth. From there, the rest is fairly straight forward. I use a mix of milk and sour cream to add moisture to the cupcakes. I am a big fan of using sour cream in cupcakes. Not only does it add a nice flavor, but it makes them super moist.
Once the cupcakes are baked and cooled, it's time to fill them with chocolate mousse. This is a simplified version of chocolate mousse – there's no eggs or cooking involved. You'll make some chocolate ganache by heating heavy cream, pouring it over the chocolate and letting it sit for a few minutes. The heat from the cream melts the chocolate and once it's whisked together, you've got ganache! The next step is to make the homemade whipped cream. If you haven't ever made it homemade before, you definitely need to try it. Like chocolate ganache, it's so much easier to make than you think. Just throw the heavy cream, powdered sugar and vanilla extract into a mixer bowl and whip on high speed until stiff peaks form. The amount of powdered sugar keeps the whipped cream from wilting and it's super tasty!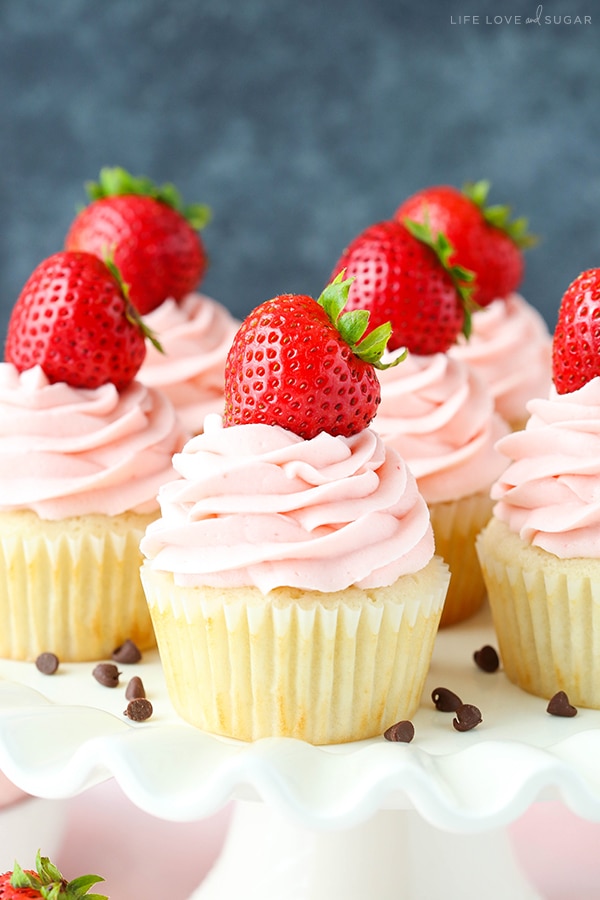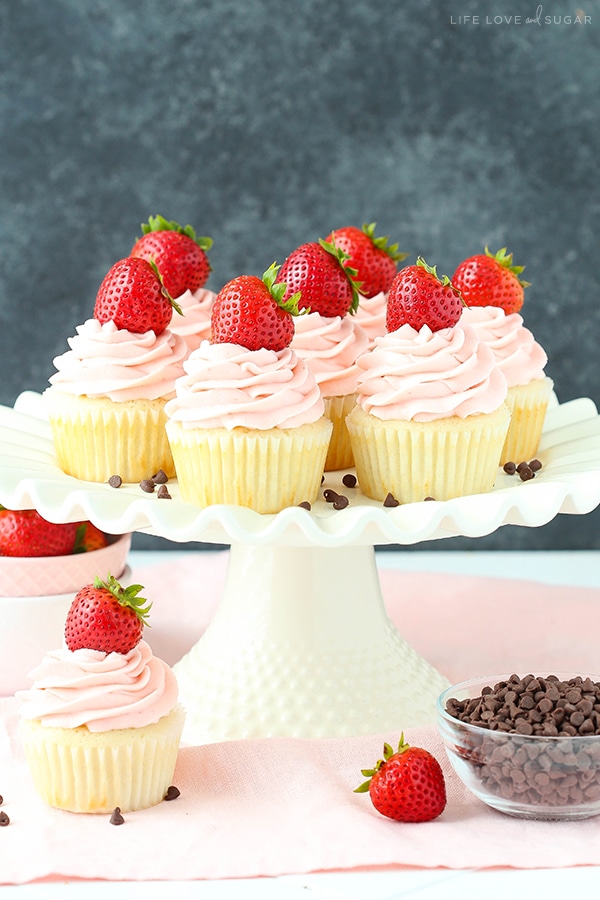 MY OTHER RECIPES
The whipped cream is then folded into the chocolate ganache in a couple parts to keep the whipped cream from deflating and you've got chocolate mousse! I use a cupcake corer to remove the centers from the cupcakes, then spoon the chocolate mousse into the holes.
Next up is the frosting! The flavor all comes from fresh strawberry puree. Pop the chopped strawberries into a food processor and puree them until smooth. I like to strain the puree to remove the seeds so I get a nice, pure pink frosting but you certainly don't have to.
The base of the frosting is made with a combination of butter and shortening. I prefer to use both, but if you aren't a fan of shortening you can replace it with additional butter. I personally find all butter to not be as appealing in flavor. All butter frosting also doesn't hold up as well at room temperature. That's not so much an issue with these cupcakes, since they need to be refrigerated, but generally I try not to refrigerate cakes and cupcakes if I don't have to. It can dry them out and they usually taste better at room temperature too.
Once the frosting is made, pipe a nice swirl on the cupcakes! I finished off some of the cupcakes with a strawberry and some of them with some chocolate word shapes spelling out "yum". Both are super cute so I couldn't decide which I liked better. The chocolate words are made with Wilton candy melts, since they tend to dry firmer and hold up better. Feel free to decorate however you feel inspired. You do you. 🙂
I hope you love these Neapolitan Cupcakes as much as we did! The three flavors and textures all work together so well to make such an awesome cupcake – I can't wait for you to try them!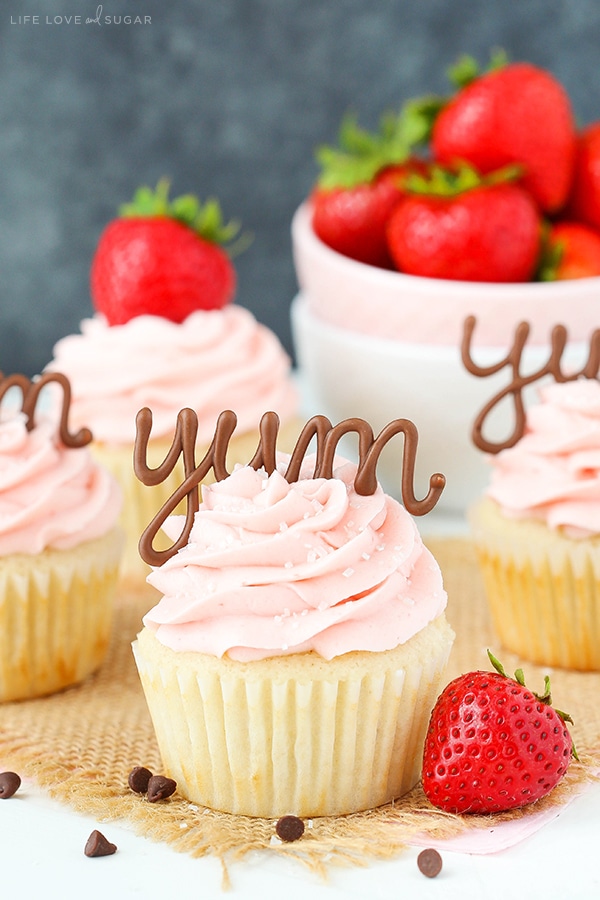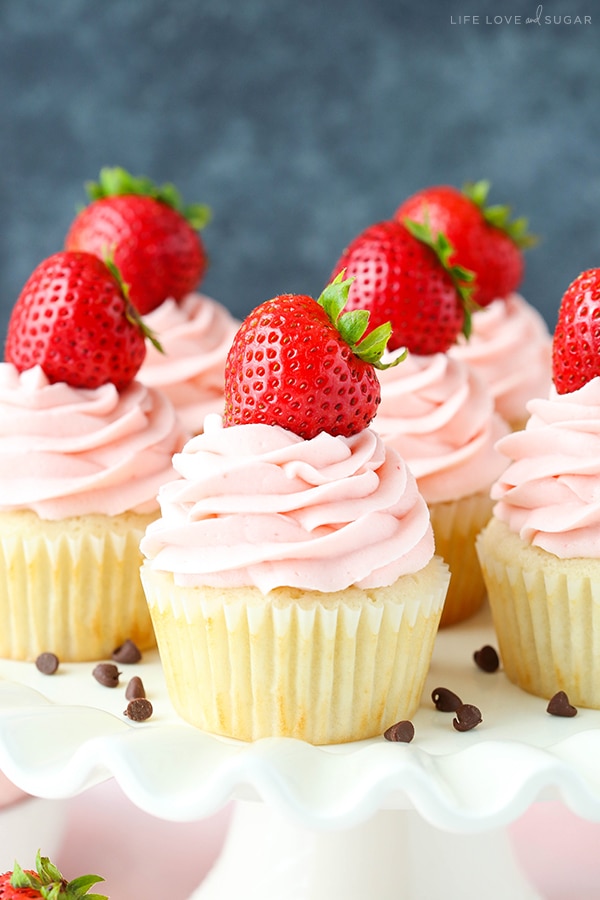 Neapolitan Cupcakes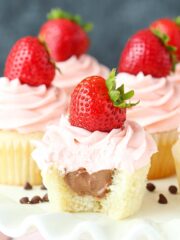 Yield:

12-15 Cupcakes

Category:

Dessert

Method:

Oven

Cuisine:

American
Ingredients
VANILLA CUPCAKES
6 tbsp (84g), unsalted butter, room temperature
3/4 cups (155g) sugar
6 tbsp (86g) sour cream, room temperature
2 tsp (10ml) vanilla extract
3 large egg whites, room temperature
1 1/4 cups (163g) all purpose flour
2 tsp (8g) baking powder
¼ tsp salt
6 tbsp (90ml) milk, room temperature
2 tbsp (30ml) water, room temperature
CHOCOLATE MOUSSE FILLING
4 oz (113g) semi sweet chocolate chips
3/4 cup (180ml) heavy whipping cream, cold, divided
1/4 cup (28g) powdered sugar
1/4 tsp vanilla extract
STRAWBERRY FROSTING
3/4 cup (149g) chopped strawberries
1/2 cup (112g) salted butter
1/2 cup (95g) shortening
4 cups (460g) powdered sugar
Instructions
1. Preheat oven to 350°F (176°C) and prepare a cupcake pan with cupcake liners.
2. In a large mixing bowl, cream butter and sugar together until light in color and fluffy, about 3-4 minutes. Do not skimp on the amount of creaming time.
3. Add sour cream and vanilla extract and mix until well combined.
4. Add egg whites in two batches, mixing until well combined after each. Scrape down the sides of the bowl as needed to be sure all ingredients are well incorporated.
5. Combine dry ingredients in a separate bowl, then combine the milk and water in a small measuring cup.
6. Add half of the dry ingredients to the batter and mix until well combined. Add the milk mixture and mix until well combined. Add remaining dry ingredients and mix until well combined. Scrape down the sides of the bowl as needed to be sure all ingredients are well incorporated.
7. Fill the cupcake liners about halfway. Bake for 15-17 minutes, or until a toothpick inserted comes out with a few crumbs.
8. Remove cupcakes from oven and allow to cool for 2-3 minutes, then remove to cooling rack to finish cooling.
9. To make the chocolate mousse, put the chocolate chips in a large bowl.
10. Bring 1/4 cup of heavy whipping cream to a boil, then pour over the chocolate chips. Allow to sit for 3-5 minutes, then whisk until smooth. Set aside.
11. Add the remaining 1/2 cup of heavy whipping cream, powdered sugar and vanilla extract to a mixer bowl and whip until stiff peaks form.
12. Gently form about 1/3 of the whipped cream into the chocolate ganache, then fold in the remaining whipped cream.
13. Cut out the centers of the cupcakes. You can use a cupcake corer or a knife.
14. Fill the centers of the cupcakes with chocolate mousse. Set cupcakes in the fridge while you make the frosting.
15. Add the chopped strawberries to a food processor and puree until smooth. Strain the puree through a fine mesh sieve to remove the seeds. Set aside.
16. Combine the butter and shortening with a mixer until smooth.
17. Add about half of the powdered sugar and mix until smooth and well combined.
18. Add about 5 tablespoons of strawberry puree to the frosting and mix until well combined.
19. Add remaining powdered sugar and mix until smooth.
20. Pipe the frosting onto the cupcakes. I used Ateco tip 844. Top the cupcakes with a strawberry, chocolate decoration, or other decoration of your choosing. Refrigerate cupcakes until ready to serve.
Enjoy!

You might also like:
Strawberry Cupcakes with Cream Cheese Frosting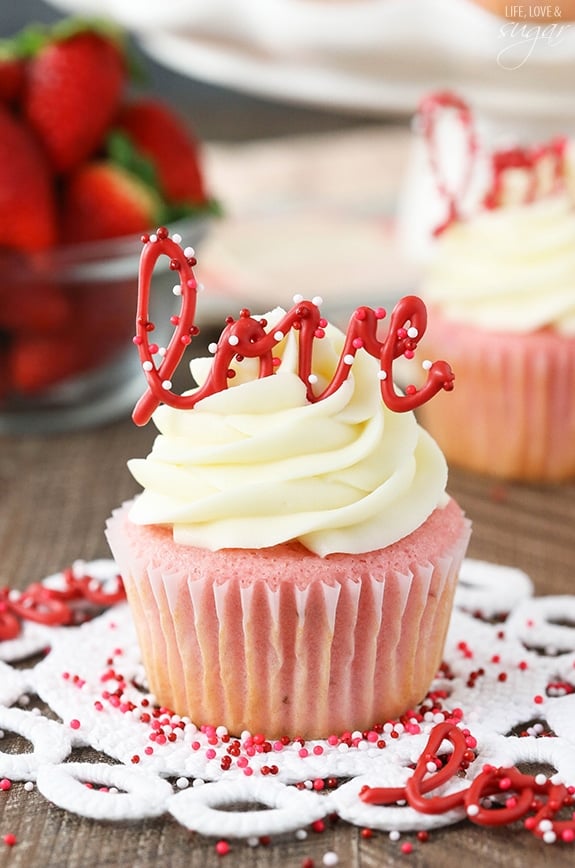 Strawberry Cheesecake Chocolate Cookie Cups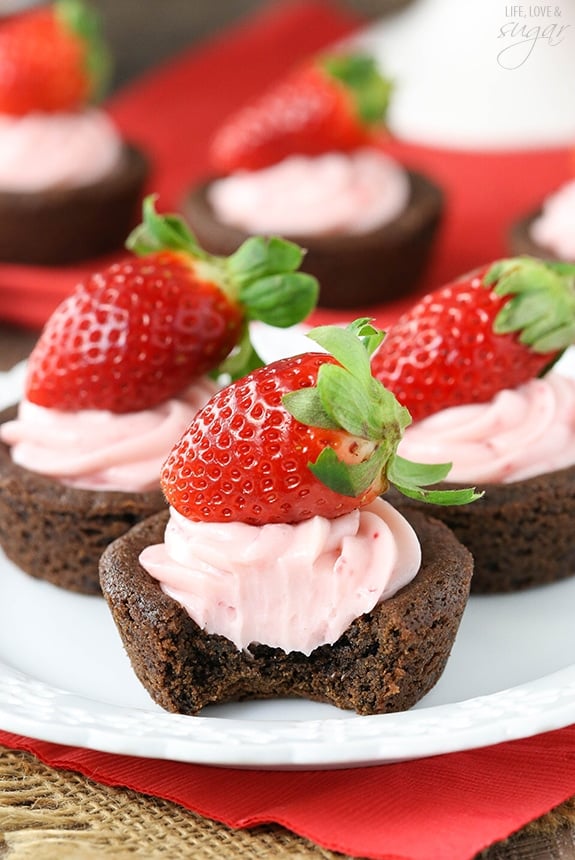 Recipes from friends:
Neapolitan Popcorn from Something Swanky
Neapolitan Macarons from Baking a Moment
Neapolitan Fudge from I Am Baker