This Snickerdoodle Dulce De Leche Cheesecake has a cinnamon sugar crust, dulce de leche filling and is topped with a layer of white chocolate ganache and more cinnamon sugar! It's a delicious and fun mix of flavors that are perfect for fall!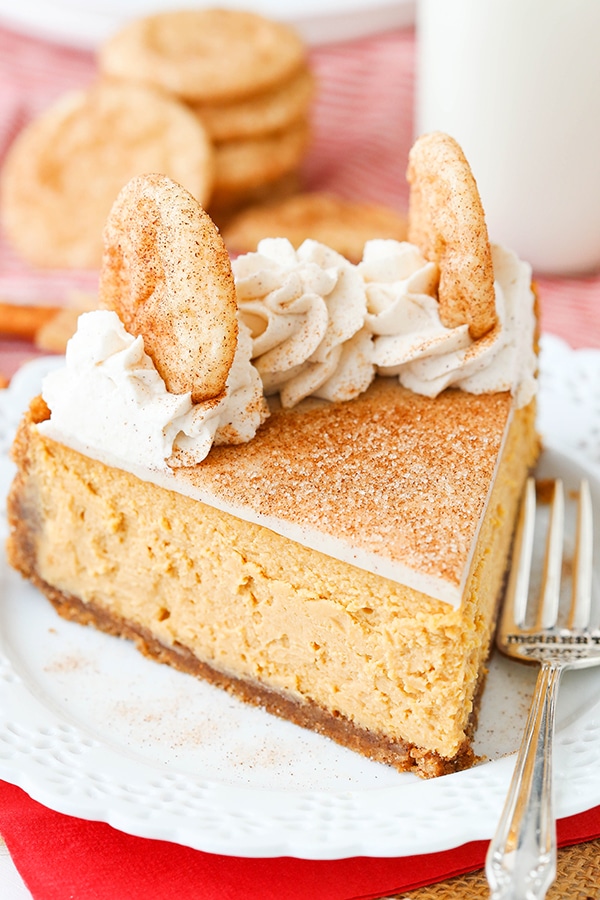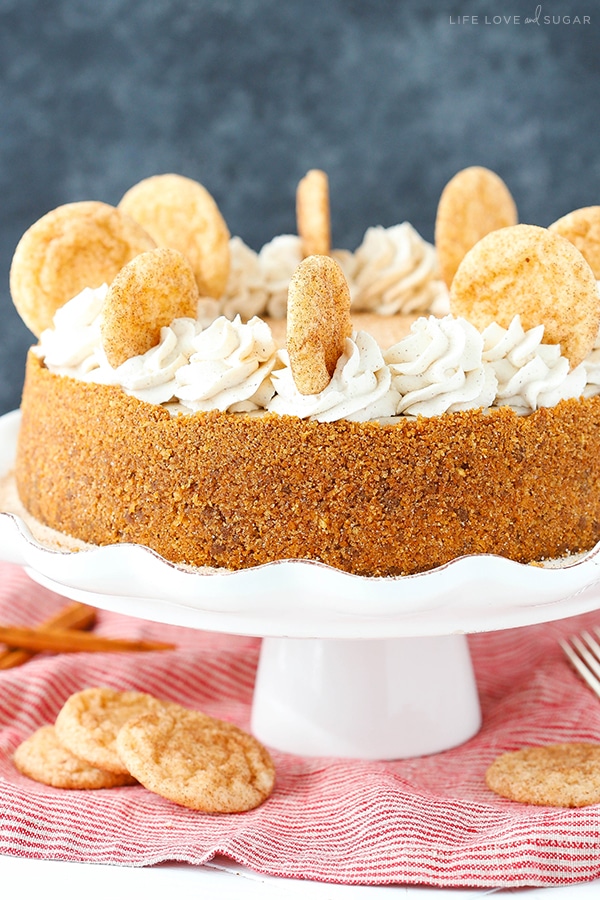 Snickerdoodle Dulce De Leche Cheesecake
So today I'm up in Cleveland, Ohio with the American Dairy Association Mideast. We are going to be visiting some farms and learning about all things dairy, milk and cheese and I'm pretty excited about it. I mean, cheese is life. I'm all about the cheese.
I flew up yesterday and it was the first time I'd happened to fly on 9/11 since that awful day 15 years ago. When I was waiting in line to go through security, a TSA agent all of a sudden yelled for everyone to stop what they were doing. He was quite loud and just waited for about 30 seconds, then told the TSA agents to get everyone through security that already had their things on the belt. Everyone else stayed where they were. Nobody had any idea what was going on, but then you could see several people gathered around flags and I realized they were having a little moment of silence and ceremony for 9/11 remembrance. It brought tears to my eyes. The only thing I wished was that they'd done it in such a way that those of us standing there could hear. Such an awful day our country's history, but one we must never forget. I was certainly aware and remembering yesterday.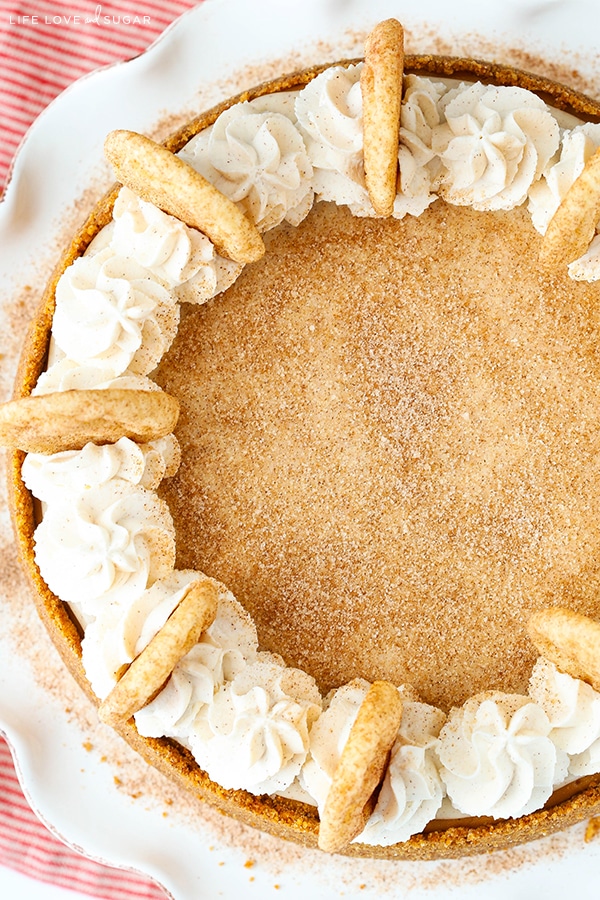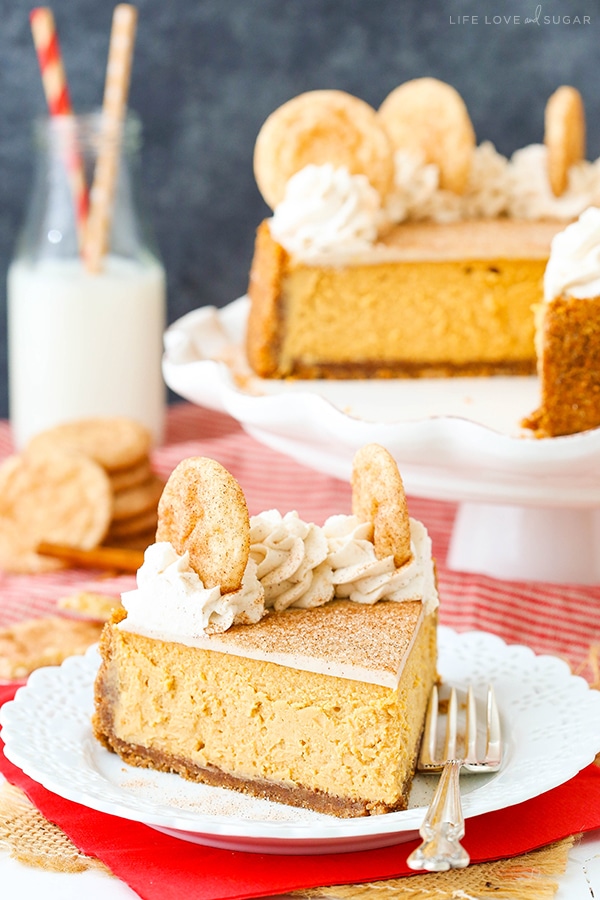 Well since there isn't really a good segue from there, I'll just roll right into cheesecake. This one is perfect for fall.
How to Make Snickerdoodle Dulce De Leche Cheesecake
I started with the crust. Initially I wanted to use crushed up snickerdoodle cookies for the crust but it didn't quite work out like I wanted. The cookies were so soft and buttery already, it didn't quite create a true crust. So instead I used crushed vanilla wafer cookies and added cinnamon and sugar to them. You could also use cinnamon sugar graham crackers. It makes a wonderful snickerdoodle-like crust.
The filling of the cheesecake is full of dulce de leche! So good. It's very similar to caramel but it's base is more of a milk (sweetened condensed milk) than a sugar base like caramel. They're similar in flavor, but the dulce de leche goes wonderfully with cinnamon. I used a full can of dulce de leche in the cheesecake and you'll definitely want to do the same. It gives a nice but not overpowering flavor.
If you aren't as familiar with making cheesecakes and find them scary, there really is no reason to fear. They aren't hard, they just take a little time. You want to be sure to start with cream cheese that is room temperature or a touch warmer so you don't get a lumpy filling. The other key is to mix your ingredients on low speed. Higher speeds incorporate more air into the filling, which can contribute to cracks. The final thing to keep in mind is the water bath – they can be a pain but they are SO worth it! Without it you get a cheesecake that falls in the center, tends to crack and ends up a little drier usually. Be sure to follow the recipe and keep those tips in mind and you should be golden! Also, if you have a springform pan that tends to leak (please tell me I'm not the only one that has this problem!), check out my tutorial for a leakproof water bath. 🙂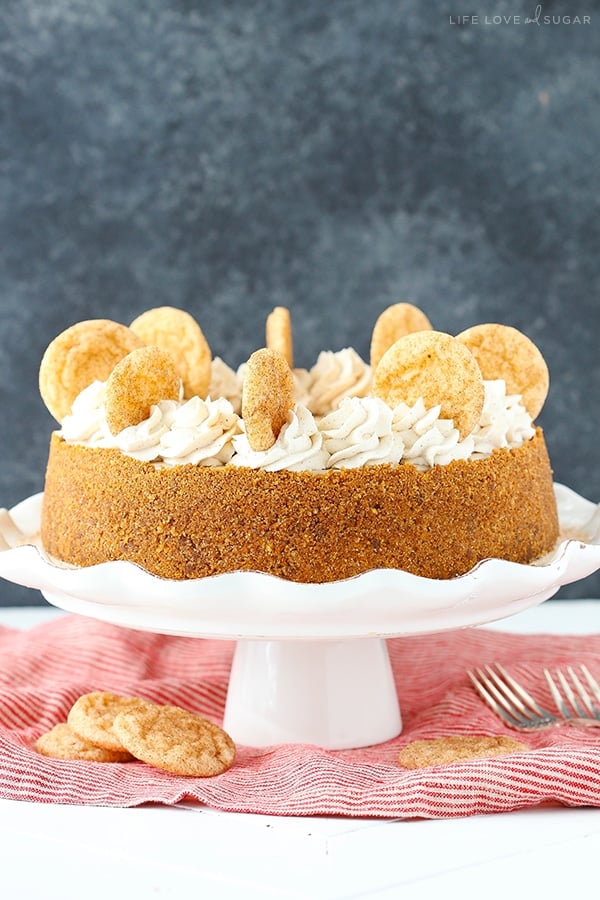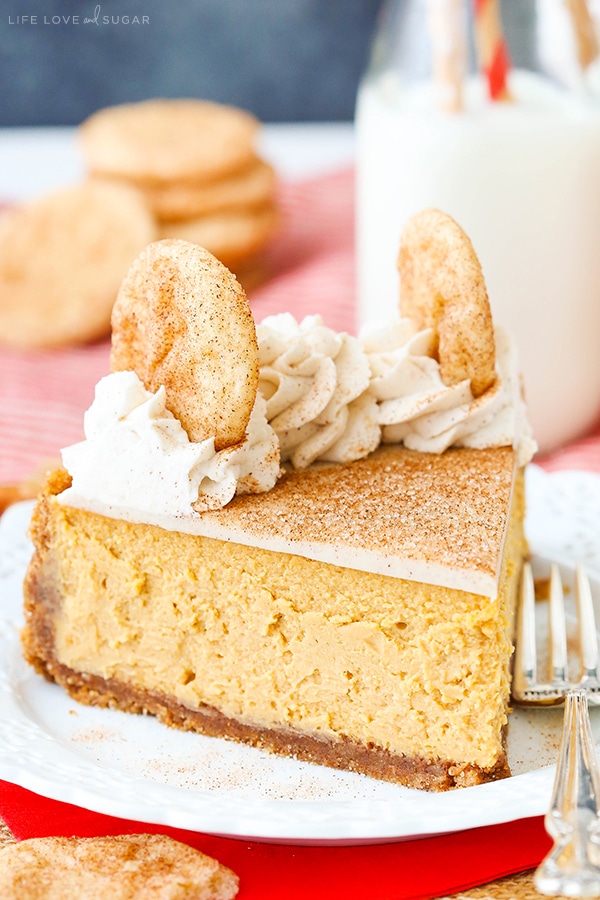 Next is the topping, which might just be my favorite part. It's a white chocolate ganache covered with cinnamon and sugar. It's so darn good! And it really goes so perfectly with the dulce de leche flavor in the cheesecake. Love!
The whole thing is topped with some cinnamon whipped cream and some cute little snickerdoodles. I made my snickerdoodles because they weren't available in my grocery store the day I went (plus then I could make them cute and small) but you can definitely buy them. If they end up being a little bigger cookies you can totally cut them in half and add them that way.
This cheesecake is so good! I'm totally in love with the flavors and it was definitely a hit with our small group. If you are looking for a great fall dessert – or for something to just treat yourself with – this one would be perfect! 🙂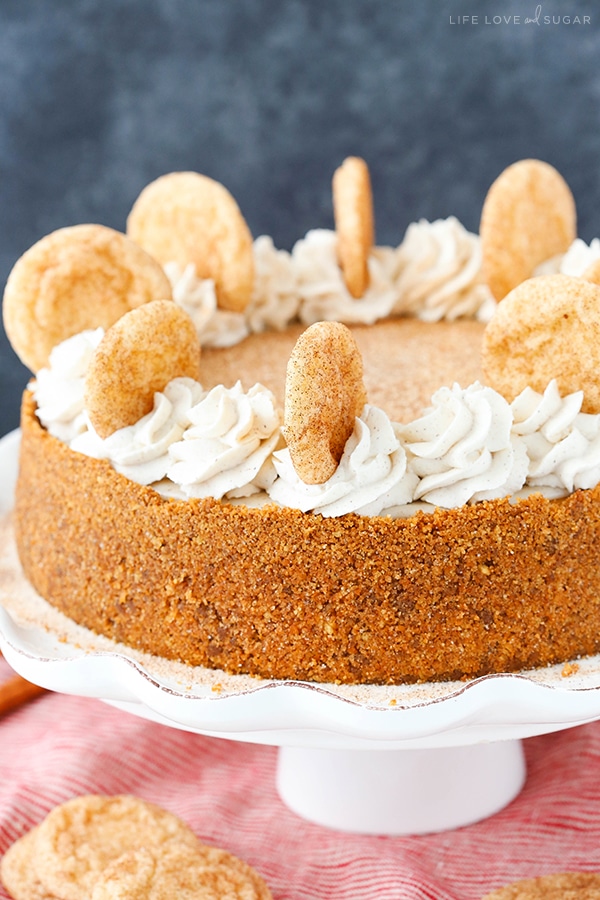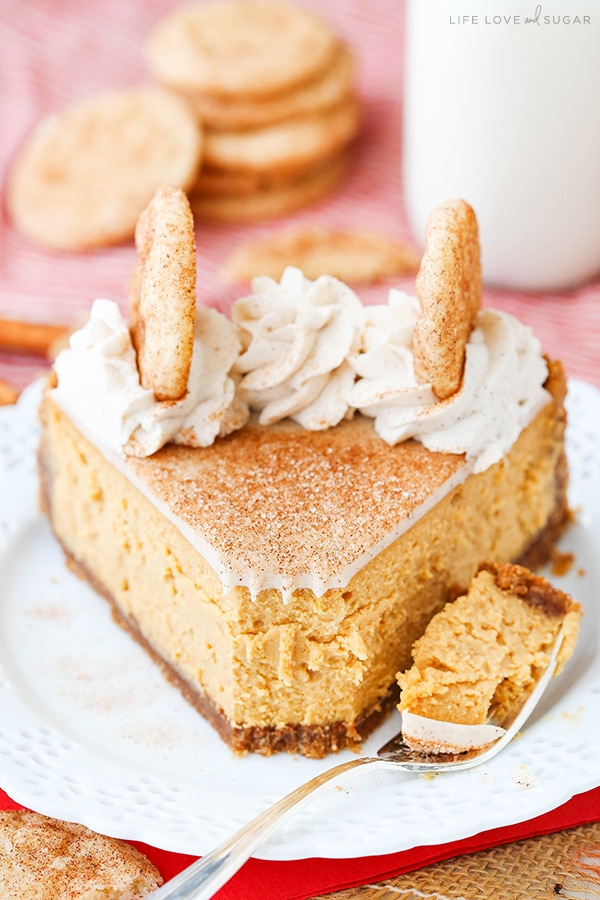 You might also like
Classic Chewy Snickerdoodle Cookies
Apple Snickerdoodle Cupcakes
Cinnamon Sugar Swirl Cupcakes
Apple Cinnamon Oatmeal Cookies
Cinnamon Roll Cheesecake
Snickerdoodle Cookie Cake
Print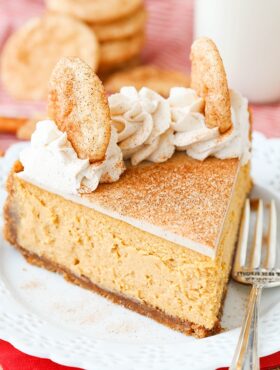 Recipe
Snickerdoodle Dulce De Leche Cheesecake
Author:

Prep Time:

30 minutes

Cook Time:

1 hour 20 minutes

Total Time:

1 hour 50 minutes

Yield:

12-14 Slices

Category:

Dessert

Method:

Oven

Cuisine:

American
---
Description
This Snickerdoodle Dulce De Leche Cheesecake has a cinnamon sugar crust, dulce de leche filling and is topped with a layer of white chocolate ganache and more cinnamon sugar! It's a delicious and fun mix of flavors that are perfect for fall!
---
Ingredients
CRUST
2 ¼ cups

(

302g

) vanilla wafer crumbs

½ cup

(

112g

) salted butter, melted

3 tbsp

(

39g

) sugar

5 tsp

cinnamon
CHEESECAKE FILLING
24 ounces

(

678g

) cream cheese, softened

1/2 cup

(

104g

) sugar

1/2 cup

(

90g

) brown sugar

3 tbsp

(

25g

) all purpose flour

13.4 oz

(

380g

) can dulce de leche (about

1 1/4 cups

)

4

large eggs, room temperature
WHITE CHOCOLATE GANACHE TOPPING
4.5 oz

white chocolate chips

3 tbsp

heavy whipping cream

1 tsp

cinnamon (

1/4 tsp

in ganache,

3/4 tsp

on top)

1 tbsp

sugar
WHIPPED CREAM
3/4 cup

(180ml) heavy whipping cream

6 tbsp

(

44g

) powdered sugar

1/4 tsp

cinnamon

1/2 tsp

vanilla
5-10 snickerdoodles
---
Instructions
CRUST

1. Preheat oven to 325°F (163°C). Line a 9-inch springform pan with parchment paper in the bottom and grease the sides.
2. Mix together the crust ingredients until well combined and press the mixture into the bottom and up the sides of the springform pan.
3. Bake the crust for 10 minutes, then set aside to cool.
4. Cover the outsides of the pan with aluminum foil to prepare it for a water bath. Here is a tutorial on how to set up a pan for a waterbath. Set prepared pan aside.
FILLING
1. Reduce oven temperature to 300°F (148°C).
2. In a large bowl, beat the cream cheese, sugars and flour on low speed until well combined and smooth. Be sure to use low speed to reduce the amount of air added to the batter, which can cause cracks. Scrape down the sides of the bowl.
3. Add the dulce de leche and mix on low speed until well combined.
4. Add the eggs one at a time, mixing slowly to combine. Scrape down the sides of the bowl as needed to make sure everything is well combined.
5. Pour the cheesecake batter into the crust and spread evenly.
6. Place the springform pan inside another larger pan. Fill the outside pan with enough warm water to go about halfway up the sides of the springform pan. The water should not go above the top edge of the aluminum foil on the springform pan.
7. Bake the cheesecake for 1 hour 10 minutes.
8. Turn off the oven and leave the cheesecake in oven with the door closed for 25 minutes. Do not open the door or you'll release the heat.
9. Crack oven door and leave the cheesecake in the oven for another 20-30 minutes. This cooling process helps the cheesecake cool slowly to prevent cracks.
10. Remove from oven and let sit on the counter for 15 minutes, then remove the pan from the water bath and remove aluminum foil. Refrigerate cheesecake until completely cooled and firm, 6-7 hours.
TOPPING
1. When the cheesecake is cool and firm, remove it from the springform pan and place on a serving dish.
2. To make the white chocolate ganache, put the white chocolate chips and 1/4 tsp of cinnamon in a heat-proof bowl.
3. Heat the heavy whipping cream until it begins to boil, then pour it over the white chocolate chips. Allow to sit for 3-5 minutes, then whisk until smooth. If a few lumps remain, microwave the mixture for about 10 seconds, then whisk until smooth.
4. Allow the ganache to cool for about 3 minutes, then spread into an even layer on top of the cheesecake.
5. Combine the remaining 3/4 teaspoon of cinnamon and 1 tablespoon of sugar, then sprinkle over the white chocolate ganache. Set the cheesecake in the fridge to firm.
6. To make the whipped cream, add all ingredients to a mixer bowl and whisk on high speed until stiff peaks form.
7. Pipe swirls of whipped cream around the edge of the cheesecake, then finish it off with snickerdoodle cookies. Refrigerate until ready to serve. Cheesecake is best for 4-5 days.
---
Nutrition
Serving Size:

1 Slice

Calories:

548

Sugar:

48.4 g

Sodium:

384 mg

Fat:

29.3 g

Carbohydrates:

63.4 g

Protein:

10.2 g

Cholesterol:

127.9 mg
Keywords: snickerdoodle cheesecake, snickerdoodle cake, dulce de leche cake, dulce de leche cheesecake, dulce de leche recipe, homemade cheesecake recipe, best cheesecake recipe, white chocolate ganache, white chocolate ganache recipe
Enjoy!
This post may contain affiliate sales links. Please read my disclosure policy.