This post may contain affiliate sales links. Please read my disclosure policy.
These Root Beer Float Cookie Cups are super cute and totally delicious! The root beer flavor is spot on, and the cherry on top makes them look like they came from a bakery!
Love these cute little cookie cups? You should try my Fruit Cheesecake Sugar Cookie Cups next!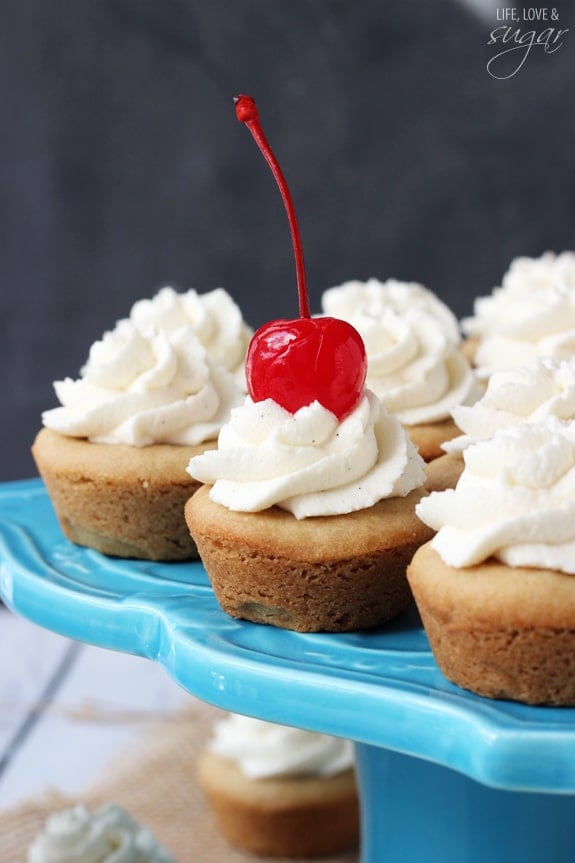 So the hubs and I like to give each other a hard time. It's pretty much second nature to me since I grew up in a family that knows little about how to communicate other than to give each other a hard time. It's all in good fun though. Sarcasm – it's an art.
And for us, it sometimes allows us to discuss our frustrations in a non-fight-y way. The other day was one of those moments.
Like most people, the hubs has certain ways he likes certain things done. I do too, of course, and our "things" tend to clash. I want to do one thing one way and he wants to do it another. I'm always right, of course, but try convincing him of that. 🙂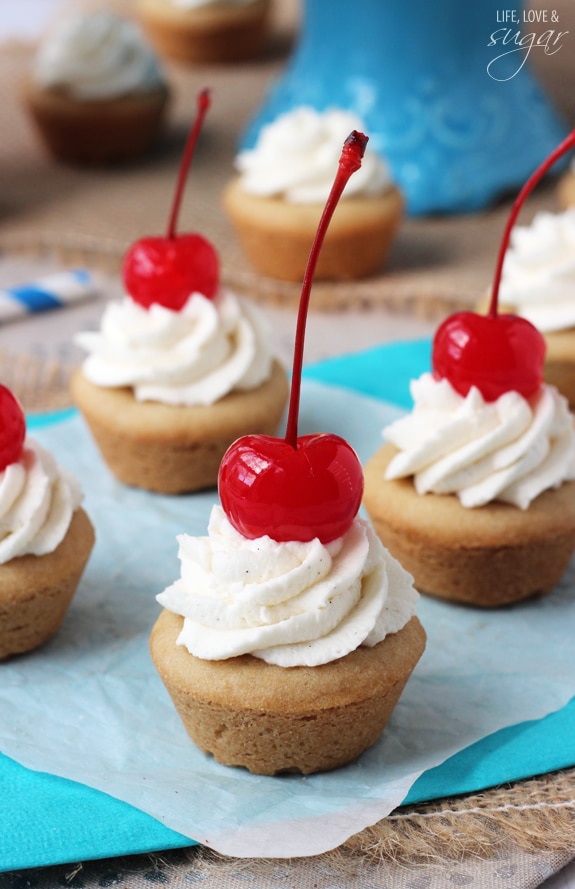 So the other day we were riding in his car and he had the air on full since it was so hot. He had it all coming out of the center vents because he'd closed the outside ones. Apparently he wanted the air coming out even faster and that was his way of doing it.
But since I'm a little OCD, I wasn't digging the fact that half of my body had cold air blowing onto it and the other half didn't. It made me feel uneven. So I opened my side vent.
You'd think I'd opened the gates of hell from the look he gave me.
Ok so that might be an exaggeration. It was more of an exasperated look, but this is where the hard-time-giving came in.
"Why do you always have to mess with everything I do?" he says, laughing.
Of course my very mature response was "Well, you mess up everything I do." Laughing of course.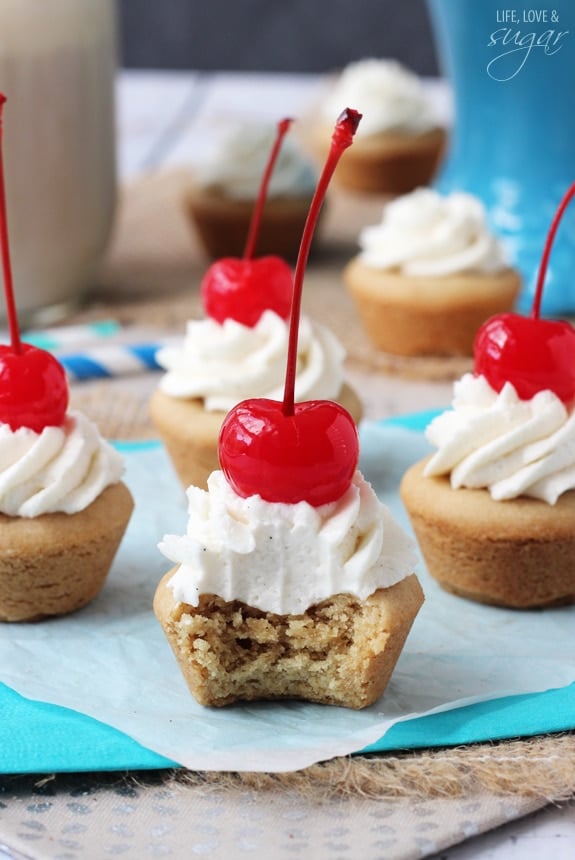 Then I went on, "I put things in the pantry, you get them out and leave them on the counter and never put them away…" I had just mentioned that to him the day before and he'd done it again the next morning.
"…I do laundry and take all the time to fold it and put it away, and you mess it up and get it dirty again. Stop wearing so many clothes!" 🙂
Ok, so that might not be a good example of messing things up. More of a mini rant on my part and me just being silly, but honestly, the laundry never ends. I'm not a fan. Can't we just stop wearing clothes? No?
Like I said, this was all in good fun and it gave us a good laugh. But it is so normal for us. Not just giving a hard time, but being like "why do you always mess up my things?" Please tell me we aren't the only ones.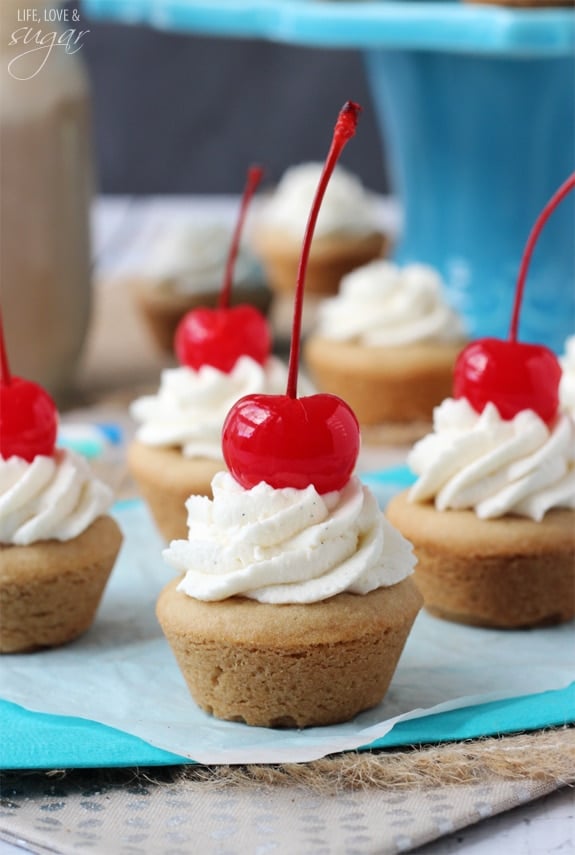 One thing we do agree on is the greatness of root beer. Sure, I drink diet and he drinks regular, but let's no go there. We both love it.
In fact, put a Coke Freestyle machine in front of me and I'll get diet root beer with added vanilla. It's like root beer on crack. I seriously love it.
So naturally, these cookies went over well.
The cookie itself has root beer extract in it to give it flavor. I buy my root beer extract at Walmart.
The icing on these cookies is actually whipped cream. Because what do you top a root beer float with? Whipped cream! But I included a vanilla icing recipe below too, in case you'd prefer that. The whipped cream is obviously lighter, so it's your call.
Either way, they are tasty and great for summer!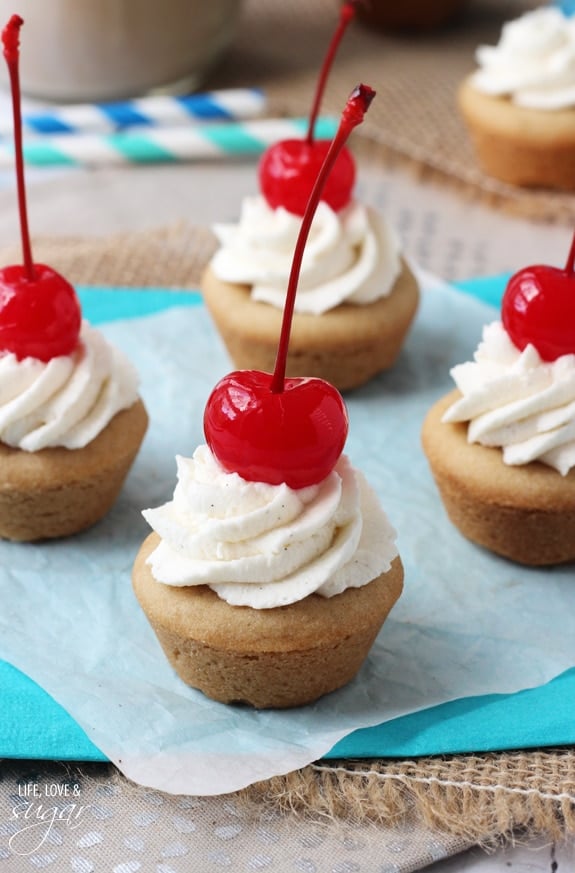 Print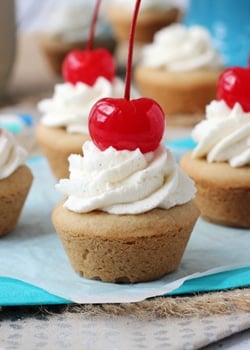 Recipe
Author:

Prep Time:

35 minutes

Cook Time:

8 minutes

Total Time:

43 minutes

Yield:

36-40 cookie cups

Category:

Dessert

Method:

Oven

Cuisine:

American
---
Description
These Root Beer Float Cookie Cups are super cute and totally delicious! The root beer flavor is spot on, and the cherry on top makes them look like they came from a bakery!
---
Ingredients
COOKIES
3/4 cups

butter

1/4 cup

sugar

3/4 cup

brown sugar

1

egg

1 tsp

vanilla extract

1 tbsp

+

1 tsp

root beer extract

2 cups

all-purpose flour

1 tsp

baking soda

2 tsp

cornstarch
WHIPPED TOPPING
3/4 cup

heavy cream

3/4 tsp

vanilla bean paste

1/2 cup

powdered sugar
---
Instructions
1. Preheat oven to 350 degrees.
2. Cream butter and sugars together until light and fluffy, 3-4 minutes.
3. Add egg, vanilla and root beer extract and mix until well combined.
4. Add dry ingredients and mix thoroughly. Dough will be thick.
5. Grease a mini muffin tin.
6. Make balls of about 2 large tsp in size and press into the bottom of each mini muffin cup. Press the center down just a bit to make an indention. You want each cup to only be about 3/4 full.
7. Bake at 350 degrees for 8 minutes.
8. Remove cookies from oven (the centers may look a little undone, but they will cook more as they sit).
9. Allow to cool for 3-4 minutes in the muffin tin.
10. Remove cookies to a cooling rack to finish cooling.
TO MAKE THE WHIPPED TOPPING:
1. Freeze metal bowl and whisk for 15-20 minutes to get them good and cold.
2. Remove bowl from freezer and add whipping cream.
3. Whip on medium speed for a few minutes. Cream will initially bubble a little bit, then start to thicken.
4. As the cream starts to thicken, add the vanilla bean paste (or vanilla extract) and powdered sugar.
5. Whip until stiff peaks form, for a total whipping time of about 5-7 minutes.
---
Nutrition
Serving Size:

1 Cookie Cup

Calories:

92

Sugar:

5.3 g

Sodium:

35.9 mg

Fat:

5.2 g

Carbohydrates:

10.3 g

Protein:

1 g

Cholesterol:

18.8 mg
Keywords: root beer recipe, root beer float, easy homemade cookies, homemade cookies recipe, homemade cookies, best cookies recipe, cherry cookies
Filed Under:
Enjoy!
Other Delicious Dessert Recipes
Fruit Cheesecake Sugar Cookie Cups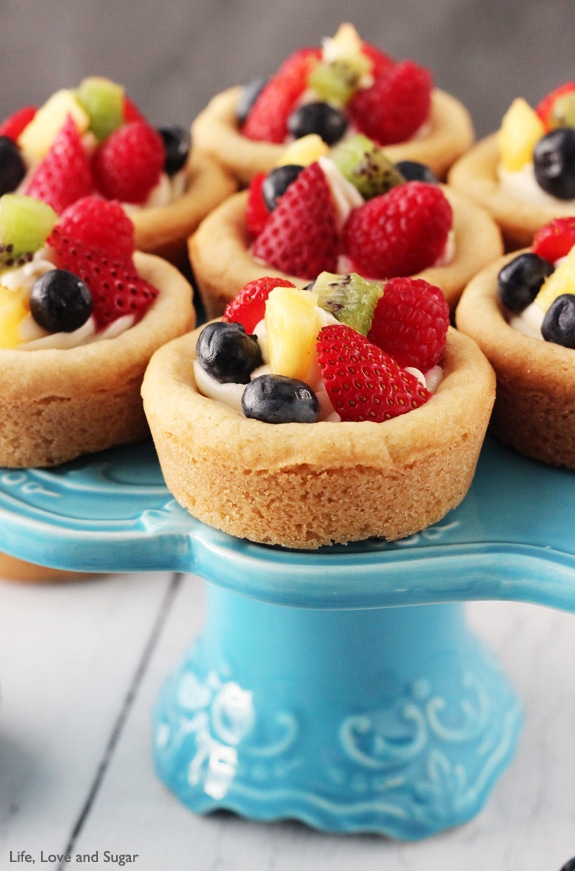 Moist and Fluffy Vanilla Cupcakes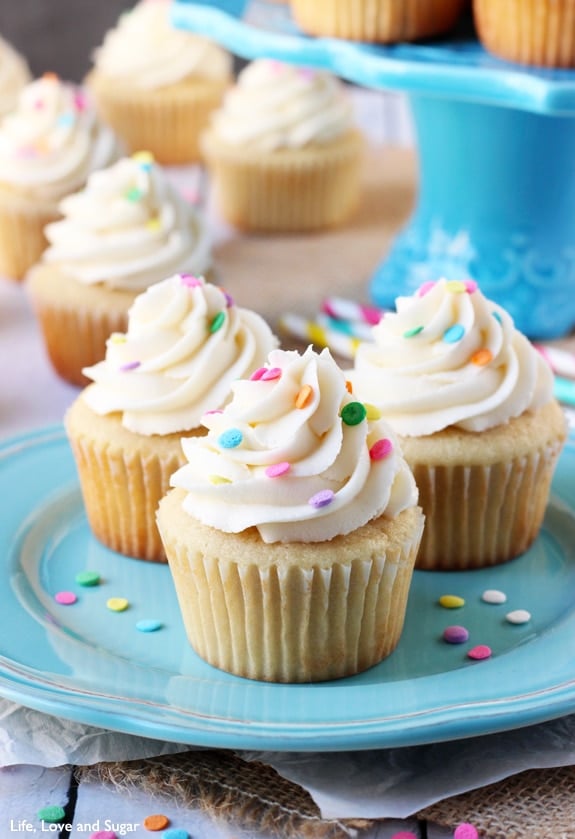 Oreo Cookies and Cream Cookie Cake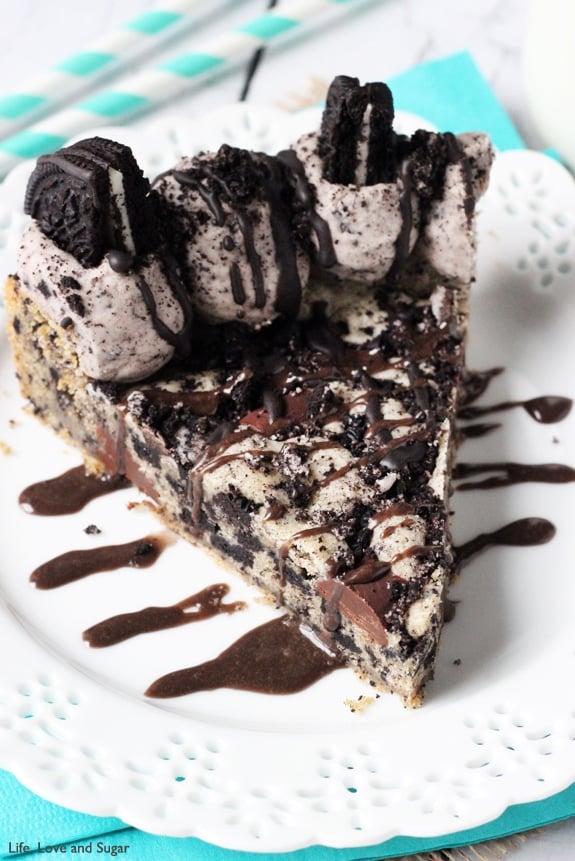 Recipes from friends
Root Beer Float Poke Cake from Wine and Glue
Root Beer Float Cupcakes from Beyond Frosting