January 19, 2015
Nutella Red Velvet Poke Cake
So if you haven't noticed yet, I'm a big fan of poke cakes. I love how easy they are and how they are soaked with yumminess and guaranteed to be moist for days. This Nutella Red Velvet Poke Cake is no exception. A delicious red velvet cake is soaked with a combination of sweetened condensed milk and Nutella and then topped with a Nutella whipped cream!
So the other day, the hubs and I were driving home and my car beeped at us to remind us that my one of my tires was still low on air. The beeping had started weeks ago, but we hadn't done anything about it yet. The hubs found a gas station with an air pump thingy (do those have a word?) and proceeded to fill up the tire.
Here's the conversation that ensued when he got back in the car:
Hubs: "Man, you're tire was really low. Like 10 PSI low. That's a lot."
Me: "Mmmm, yea, wow."
Hubs: "Babe, we need to teach you how to fill up your tires so you don't have to wait for me to do it. That's really low."
Me: "I know how to do it. You showed me."
Hubs: "Then why didn't you do it?"
Me: "Because I have you."
Hubs: "But what if you're in a really tight spot one day and need to be able to do it. You won't remember."
Me: "You just put the hose on the thing sticking out of the tire. I got it. Why would I do it when you like to do it for me? It's a man job. You're the man. Do you want me to do man jobs and you can do woman jobs?"
Hubs: "Good point. I got it."
🙂
Then we got back to the house and the trash and recycling cans were waiting at the end of the driveway for us. We have to put them in the garage before we pull the car in for space reasons. The hubs asked if I'd bring them in. Since it worked so well with the tires, I jokingly said, "I think that's a man job. It's like 20 degrees outside."
He immediately hoped out of the car and moved the bins himself, flexing his muscles the whole time. Then jumped back in the car and said he wanted no excuses from me on my woman jobs. 🙂
We were totally being goofy, but I do love it when I get to stay in the warm car while he does the man jobs. I'll make dinner any night in exchange. Win for me!
And this Nutella Red Velvet Poke Cake is pretty big win too. Like I said, I love poke cakes. And it's not just me that loves poke cakes – my Cannoli Poke Cake was my most viewed post of 2014! Crazy! I'm also a big fan of my Tiramisu Poke Cake, Cinnamon Roll Poke Cake and Baklava Poke Cake. They are all awesome.
This one is a little different from those though because instead of using a box mix, I made the red velvet cake from scratch. You could substitute with a box though, if you'd rather. Sometimes I just love the ease of a mix, but I do love this red velvet recipe so I used it.
Once the cake is baked, you poke holes all over the cake, hence the name poke cake. I use my knife sharpening rod (which has never sharpened a knife, but is great for this purpose. 🙂 ), but you could use the end of a wooden spoon or something similar. Then pour a mixture of sweetened condensed milk and nutella over the cake. It's a somewhat thick mixture, but it will slowly sink into the holes.
Once that's done, it's time to make the Nutella whipped cream. Sounds like heaven doesn't it? Well, it is. Nutella is heaven. And I can't get it off the brain recently. Did you see my No Bake Nutella Pretzel Bars from Friday?
Anywho, to make the whipped cream, you'll actually start by thinning out some Nutella so that it can be added to whipped cream. Put 3 tbsp of heavy cream into a bowl with 1/2 a cup of nutella. Use a rubber spatula to carefully mix them. It might seem at first like the Nutella is seizing up from the cream, but keep going. It will smooth out and make it easier to add to the whipped cream.
Once you've made your whipped cream, you'll gently fold in the thinned Nutella. You'll want to make sure the whipped cream has been whipped until stiff, because the Nutella will thin it out a little and you don't want to whip it again to try and thicken it. It will just deflate. So whip it good the first time.
Spread that glorious whipped cream on your cake and refrigerate the whole thing until you're ready to devour it. I'd recommend 2-3 hours of refrigeration before serving. Then dig in!
Nutella Red Velvet Poke Cake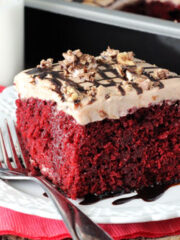 Yield:

15

-

20

Slices

1

x
Category:

Dessert

Method:

Oven

Cuisine:

American
Ingredients
CAKE
1 cup

vegetable oil

1 cup

buttermilk

2

eggs

1 tbsp

vinegar

1 tsp

vanilla extract

2 oz

red food coloring

2 1/2 cup

s all purpose flour

2 cup

s sugar

2 tbsp

cocoa

1 tsp

baking soda

14 oz

sweetened condensed milk

1/2 cup

Nutella
NUTELLA WHIPPED CREAM 
1/2 cup

Nutella

2 cup

s +

3 tbsp

heavy whipping cream

1 cup

powdered sugar

6

–

7

Ferrero Rocher candies, chopped, if desired
chocolate sauce, if desired
Instructions
1. Prepare a 9×13 cake pan. Preheat oven to 350 degrees.
2. Whisk together first 6 ingredients (wet ingredients) in a large bowl until combined. Set aside.
3. In a large mixing bowl, whisk together next 4 ingredients (dry ingredients) until combined.
4. Add wet ingredients to dry ingredients and mix on medium high until completely combined.
5. Pour batter into cake pan and bake for 30-33 minutes. Cake is done when a toothpick inserted comes out with a few crumbs.
6. After you remove the cake from the oven, poke holes all over the cake. I use a meat sharpening rod, but you could also use the end of a wooden spoon or something similar.
7. In a small bowl, combine sweetened condensed milk and 1/2 cup Nutella. Mixture will be a little thick.
8. Pour mixture over the top of the cake. It will slowly soak into the holes of the cake and leave a little layer on top.
9. In another bowl, use a rubber spatula to carefully mix together 1/2 cup of Nutella and 3 tbsp of heavy whipping cream. It will help to thin out the Nutella so that it's easier to add to the whipped cream. It might seem like it won't combine at first, but keep mixing and it'll smooth out.
10. To make whipped cream, whip 2 cups of heavy whipping cream until it begins to thicken.
11. Add powdered sugar and continue whipping until whipped cream is stiff. You'll want it to be plenty stiff, because the Nutella will thin it out a bit.
12. Gently fold the thinned Nutella into the whipped cream.
13. Spread whipped cream evenly over the cake, then top with chocolate sauce and crushed candies, if desired. Refrigerate unit already to serve, at least 2-3 hours.
Enjoy!

Layered Red Velvet Cheesecake Bundt Cake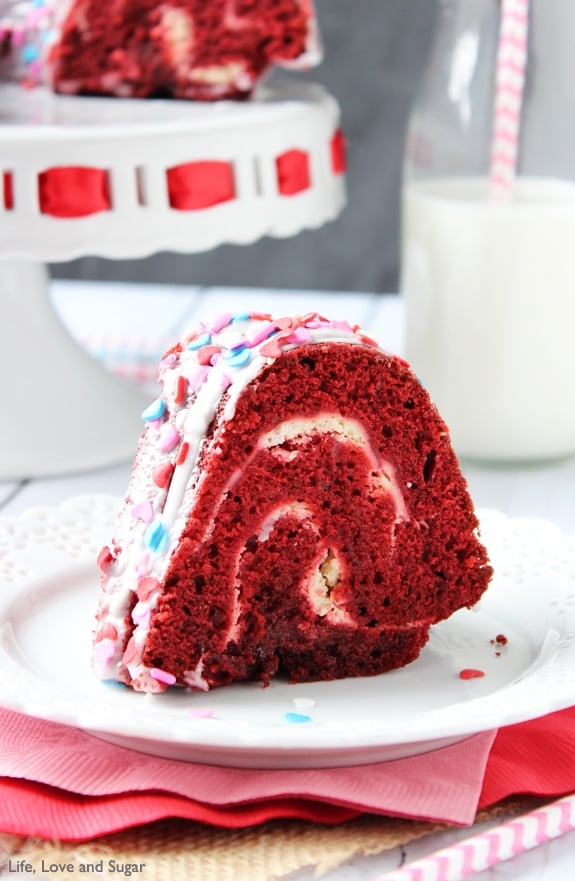 Nutella Cheesecake Chocolate Cookie Cups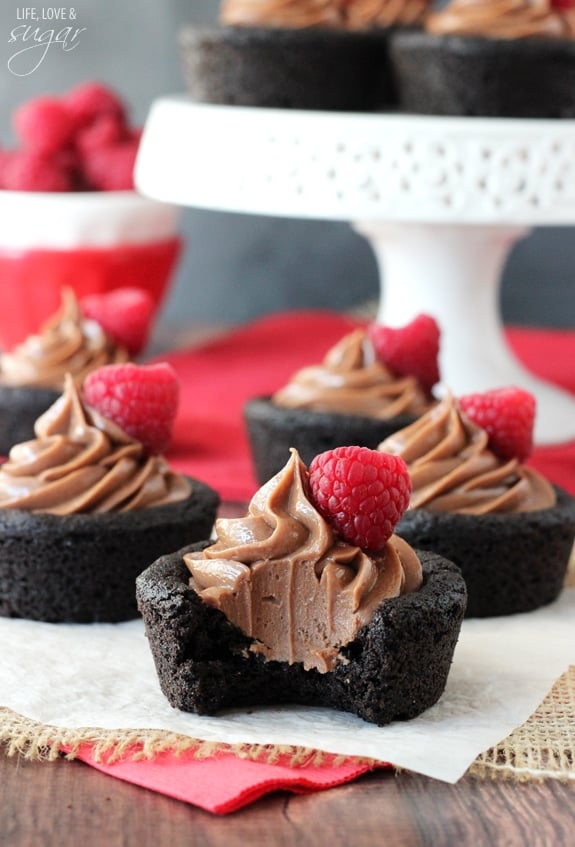 Recipes from friends:
Gooey Red Velvet Brownie Cake from Beyond Frosting
Red Velvet Brownie Cups from Crazy for Crust
Red Velvet Banana Bread from Something Swanky