Yellow Cupcakes with Chocolate Frosting
These Yellow Cupcakes with Chocolate Frosting are a classic combination! The cupcake is moist and fluffy and the chocolate frosting is rich and creamy! Plus, you only have to use one bowl!
Can't get enough cupcakes? You have to get a taste of my Nutella Cupcakes and my sweet Caramel Cream Cupcakes!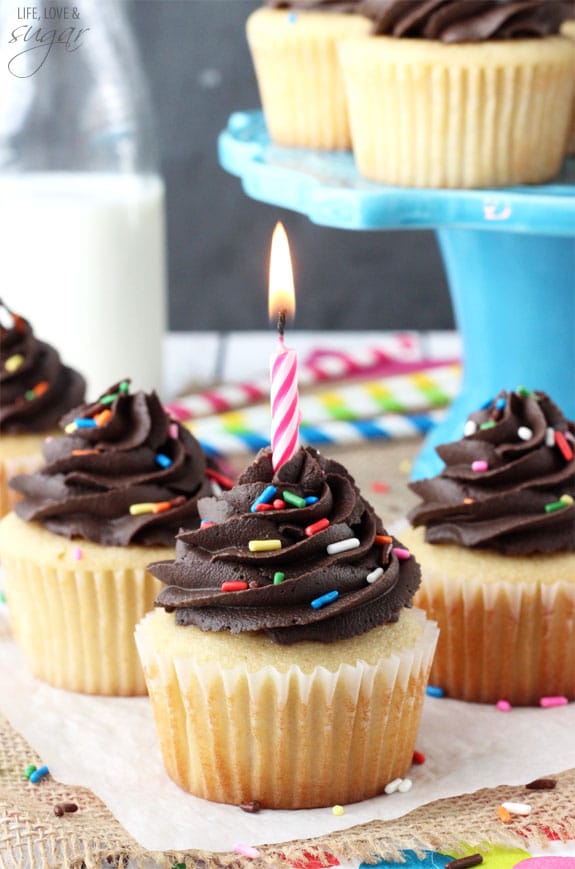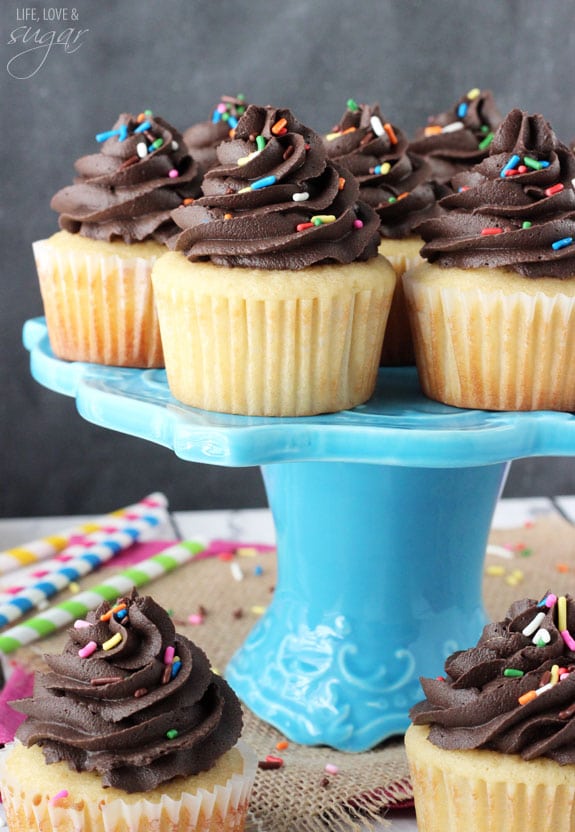 Yellow Cupcakes with Chocolate Frosting
I made these for a birthday last week in our small group. This is the birthday girl's favorite flavor combo. 🙂
Have you ever wondered what the difference is between a white and yellow cake? Well there's a little difference in the color of the cake, which is a result of a difference in the eggs. In a white cake, it's only egg whites that are used. In a yellow cake, you'll have more egg yolks than egg whites. The yolks will give a little denser cake than a white cake, but it can also be moister.
So the greatest thing happened Monday night while my parents were still in town from the weekend. You might have seen the picture on instagram, but my mom cleaned my kitchen like a crazy kitchen cleaning ninja! She seriously rocks.
And she didn't just do the easy stuff like clean the counters. She cleaned the blinds above the sink that get splatter and have been needing to be cleaned. She cleaned out the sink and made the faucet shinier than I have ever been able to get it. She has some magic cleaning secrets, because I don't think that faucet even shined like that when we bought the house.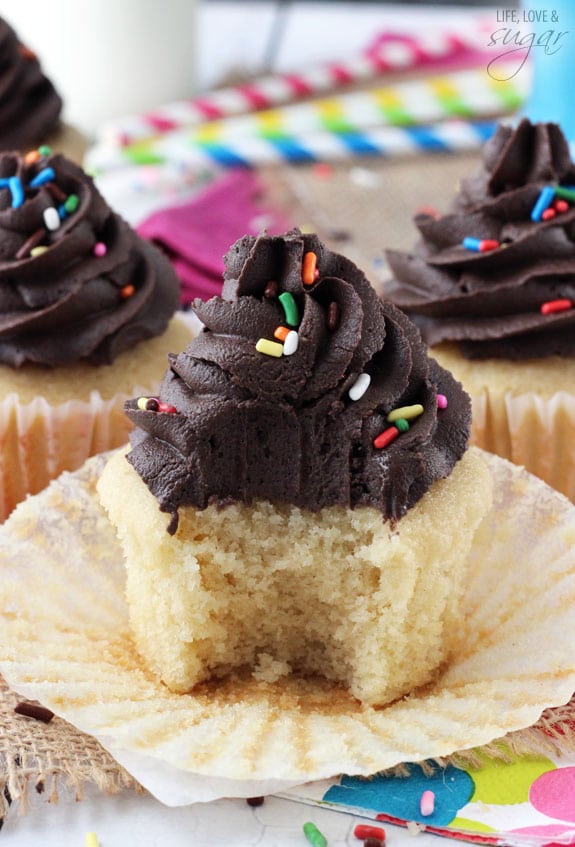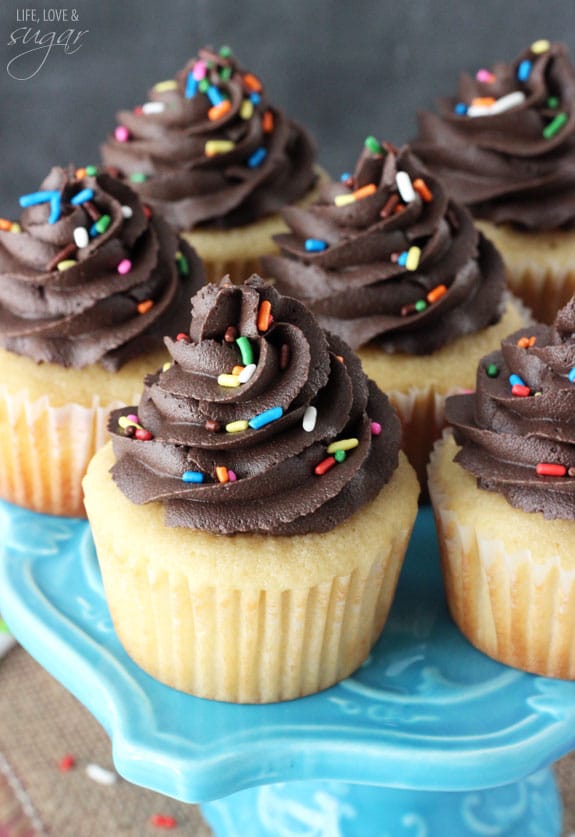 She cleaned the microwave and the stove. Then she cleaned out the refrigerator. She took everything out and wiped down the shelves and drawers. She threw away everything that had expired. Then she restocked it – with all the labels pointing forward and everything sorted – dressings on one shelf, condiments on another, etc.
As if that wasn't enough, the next day before she left, while I was at work, she did laundry. Then my dad felt like he should get in on the action and vacuumed and swept out the garage.
Jealous yet? 😉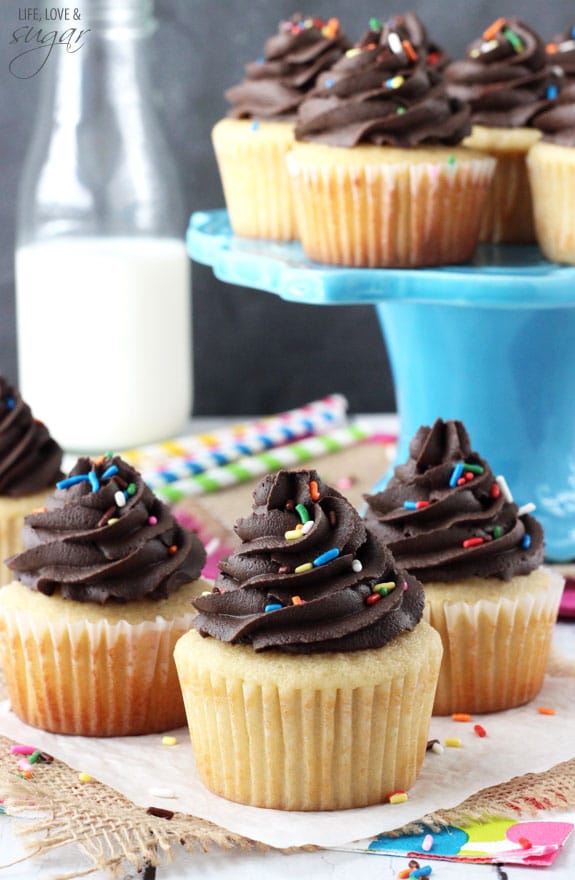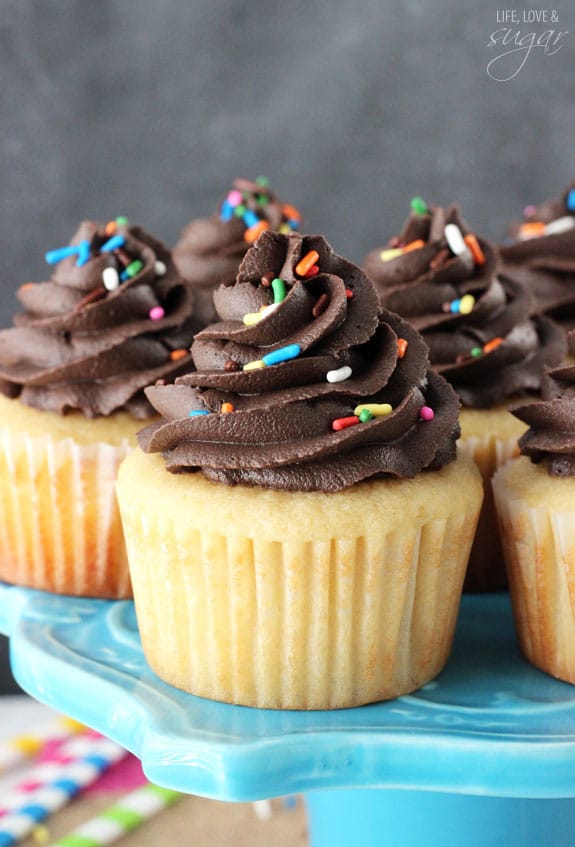 She knows my evenings are consumed with baking and blogging, so she likes to help with the cleaning when she can. It works – she hates baking and I hate cleaning. I don't think it's that weird to love baking, but I do think she's straight up crazy that she loves cleaning. She literally did a little happy dance when she started on the fridge.
So now I'm trying to hardest to keep it as clean as she left it. It's so lovely, I don't want to mess it up.
This week has been especially hard because not only am I distracted with baking, but the good part of the US Open is going on. Between the Murray/Djokovic match and the Federer/Monfils match last night, we've been watching a lot of fun tennis.
The hubs has been thrilled because I normally am only pumped to watch Nadal or Isner, but I've been excited to watch both of those matches with him. I figured they'd be pretty good tennis, which is fun to watch.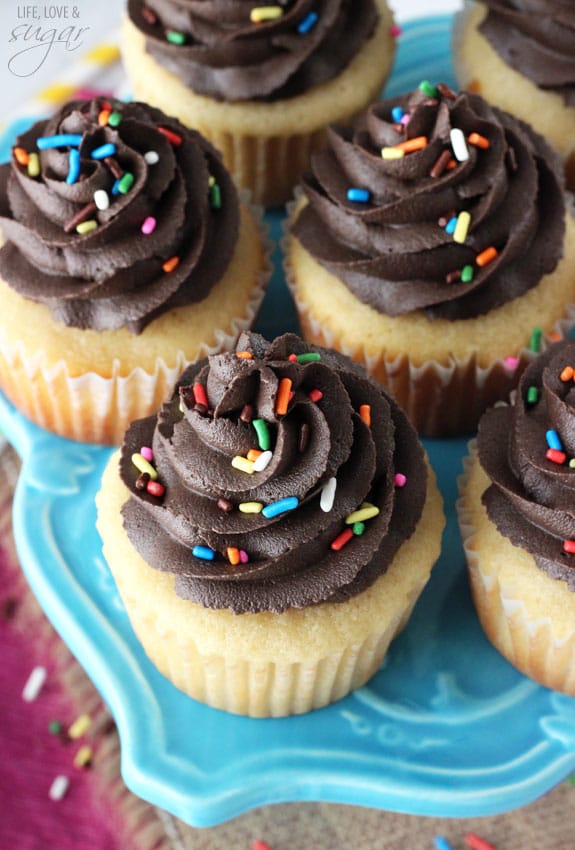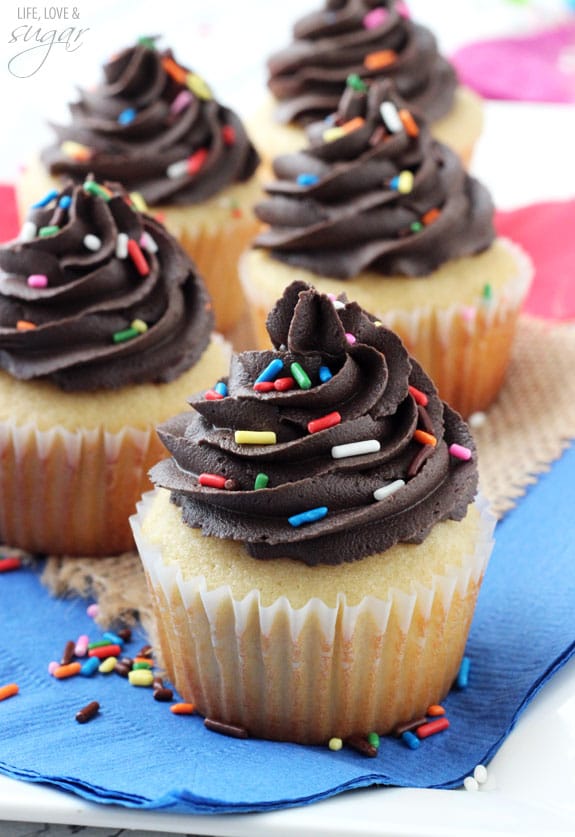 We'd actually talked about going to New York for the tournament (neither of us have ever been to a pro match), but then decided to apply the money towards a different, more important trip.
We are going to SOUTH AFRICA later this year! We absolutely cannot wait! The hubs was born there so most of his family is still there. He hasn't been back for almost 15 years and hasn't seen his grandparents since we got married 5 1/2 years ago. We can't wait to see his family and I can't wait to see the beautiful country he comes from. It's a trip we've been wanting to take forever.
So why don't we celebrate with this classic cupcake? It really is the perfect cupcake for a celebration!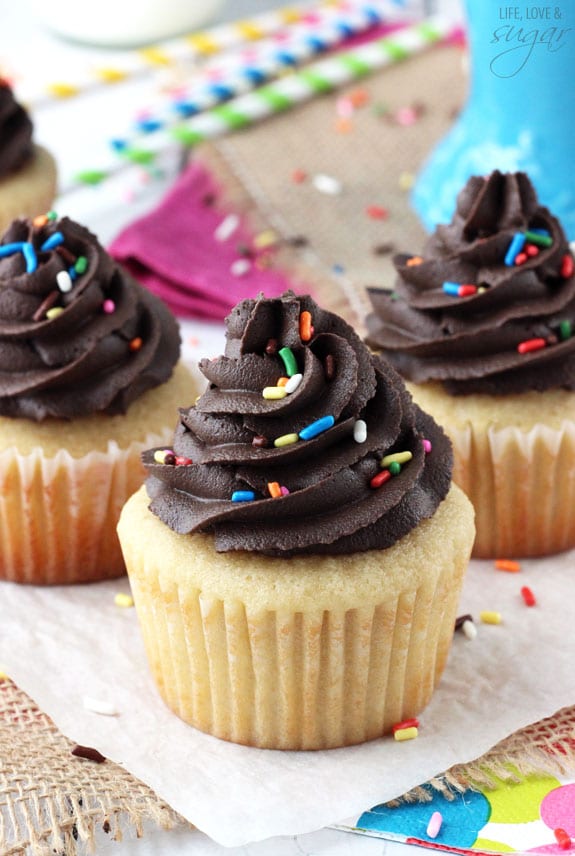 Other Classic Dessert Recipes
Moist Vanilla Layer Cake
Perfect Moist and Fluffy Vanilla Cupcake Recipe
Homemade Vanilla Cake Mix
Triple Peanut Butter Cupcakes
Old Fashioned Sugar Cake
Shop the recipe

Yellow Cupcakes with Chocolate Frosting
These Yellow Cupcakes with Chocolate Frosting are a classic combination! The cupcake is moist and fluffy and the chocolate frosting is rich and creamy! Plus, you only have to use one bowl!
Author:
Prep Time:

20 minutes

Cook Time:

18 minutes

Total Time:

38 minutes

Yield:

12

-

14

Cupcakes

1

x
Category:

Dessert

Method:

Oven

Cuisine:

American
Ingredients
YELLOW CUPCAKE
1 2/3 cups

(

240g

) all purpose flour

1 cup

(

200g

) sugar

1/4 tsp

baking soda

1 tsp

baking powder

3/4 cup

salted butter (

170g

), room temperature

1

egg

1

egg yolk

3 tsp

vanilla extract

1/2 cup

(120ml) sour cream

1/2 cup

(120ml) milk
CHOCOLATE FROSTING
1/2 cup

butter

1/2 cup

shortening

3 1/2 cups

powdered sugar

1/2 cup

cocoa

3

–

4

tbsp water or milk
Instructions
1. Preheat oven to 350 degrees.
2. Whisk together flour, sugar, baking soda and baking powder in a large mixing bowl.
3. Add butter, egg, egg yolk, vanilla, sour cream and milk and mix on medium speed just until smooth. Do not over mix.
4. Fill cupcake liners a little more than half way.
5. Bake 18-20 minutes.
6. Allow to cool for 1-2 minutes, then remove to cooling rack to finish cooling.
7. To make icing, beat butter and shortening until smooth.
8. Add 2 cups of powdered sugar and beat until smooth.
9. Add cocoa and beat until smooth.
10. Add remaining 2 cups of powdered sugar and 2 tbsp of water or milk and beat until smooth.
11. Add additional water or milk, until the right consistency.
Keywords: cupcakes with chocolate frosting, yellow cupcake recipe, chocolate frosting recipe, easy chocolate frosting recipe, easy chocolate frosting, best chocolate frosting, best cupcakes recipe
Enjoy!