October 14, 2015
Red Wine Chocolate Cake
Boy have I got a cake for you today! This Red Wine Chocolate Cake might be one of my favorite cakes I've ever made. Not only is it super moist and amazing in flavor, but I had so much fun decorating it! I can't even tell you how badly I've been dying to share it.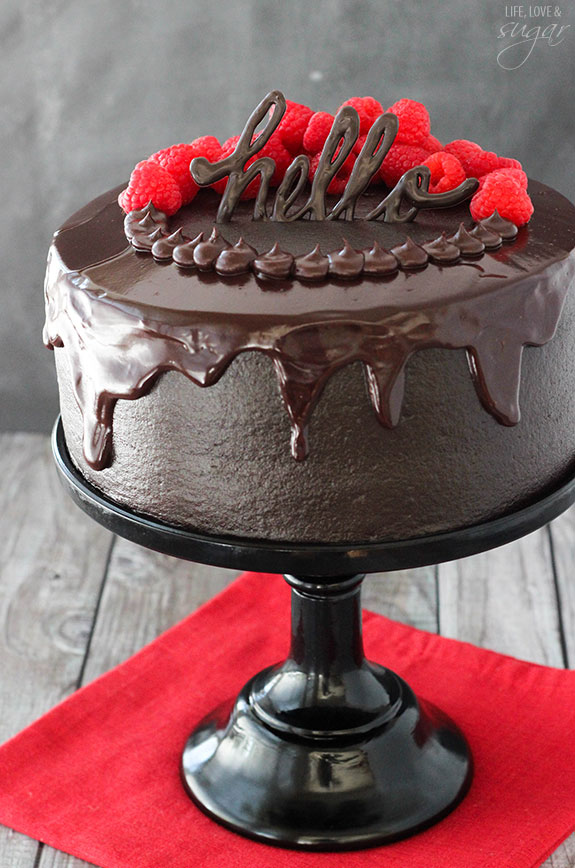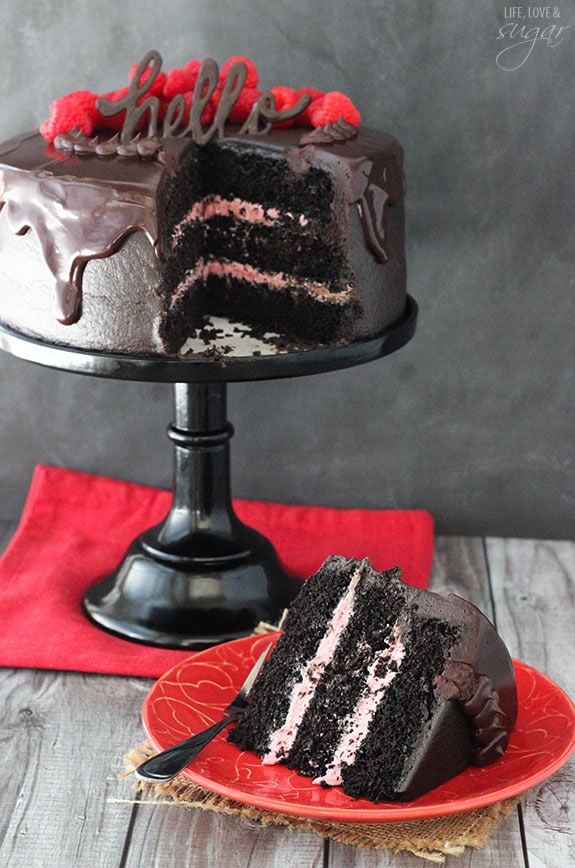 So this post is going to be jam-packed. Feel free to scroll right down to the recipe, but if you are interested in the decorating part keep reading. 🙂
You may or may not know by now, but one of my favorite things to make is cakes. All kinds of cake really, but layered cakes are especially fun to decorate. I'm totally a fan of decorating cakes in more simple ways too. The less I have to deal with fondant the better. While this cake may not look super simple to make, it's not hard. It's really just covered in a some raspberries and a bunch of chocolate. You're welcome. 🙂
Let's talk a bit about the cake. I used my very favorite chocolate cake and replaced the water with a sweet red wine. It is the moistest cake and I die every time I have it. Now it's even better with the addition of the red wine. The flavor isn't over powering, but it's unmistakably there.
I'm often asked if the temperature listed in the instructions is an error. It's not. The chocolate cake is a slow bake cake that bakes at 300 degrees. I've tried to simplify it by baking at 350 but it changes the cake. Go slow, my friends. The wait is torture, but it's worth it.
The filling is a raspberry buttercream. Super easy to make and literally the perfect compliment to the cake. The combination of the raspberry with the chocolate red wine will literally cause you to close your eyes and moan. Sorry, not sorry. It's true. This cake had rave reviews from everyone! Even if you have no interest in decorating it like I did, you should absolutely make it. You could totally just ice it with the chocolate icing and top it with some raspberries. You just need to make it – and eat it. Stat!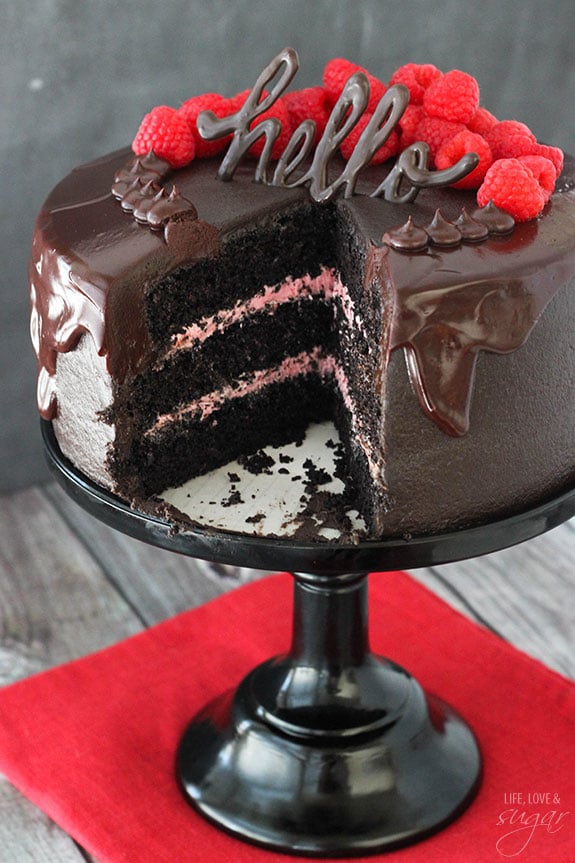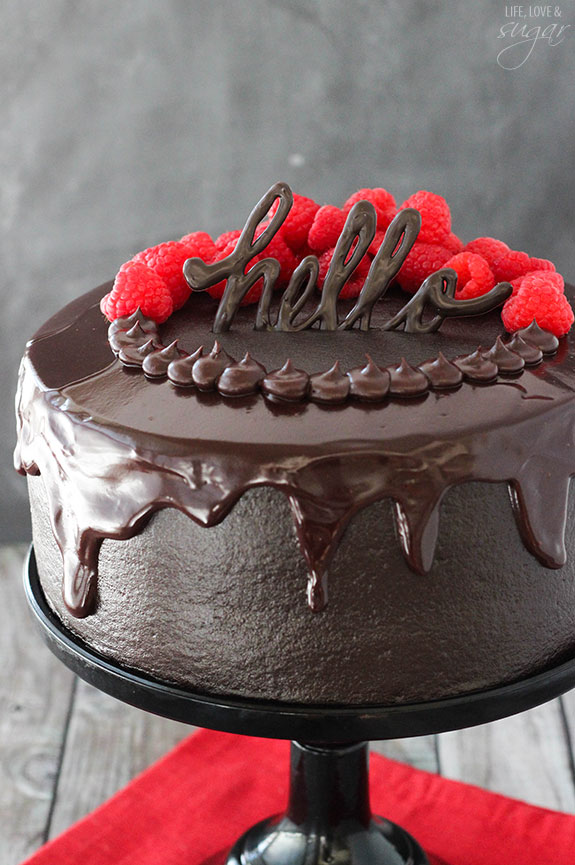 If you are interested in the decorating part, let's chat.
To start, you'll want to ice this bad boy like a champ. I can help you with that. I've got this great tutorial here on how to smoothly ice a cake with buttercream.
Once you've got your iced cake, it's time to play with chocolate!
For starters, make the chocolate ganache. If you haven't made ganache before, don't be intimidated. It really is one of the easiest things to make. You basically heat heavy cream (with red wine in it for this cake), pour the cream over the chocolate to melt it, whisk it all together and you've got ganache.
When your ganache is ready it will be fairly warm and thin. You want to let it sit for about 15-20 minutes, give or take, so that it has thickened but is still easily pourable and spreadable. You could also pop it in the fridge to speed the cooling up.
Because the ganache is only around the edge of this cake instead of covering the whole top, I added mine to a piping bag to give me more control over where it went on the cake. I definitely recommend it. Any large round tip will work. Keep a small amount of ganache aside for piping the dots along the front edge, about 1/4-1/2 cup.
Pipe the ganache around the edge of the cake, then work quickly (so that the ganache doesn't get too cool) and grab an offset spatula and spread the ganache around the edges. Use your spatula to push the ganache to the edges so that it falls over the sides.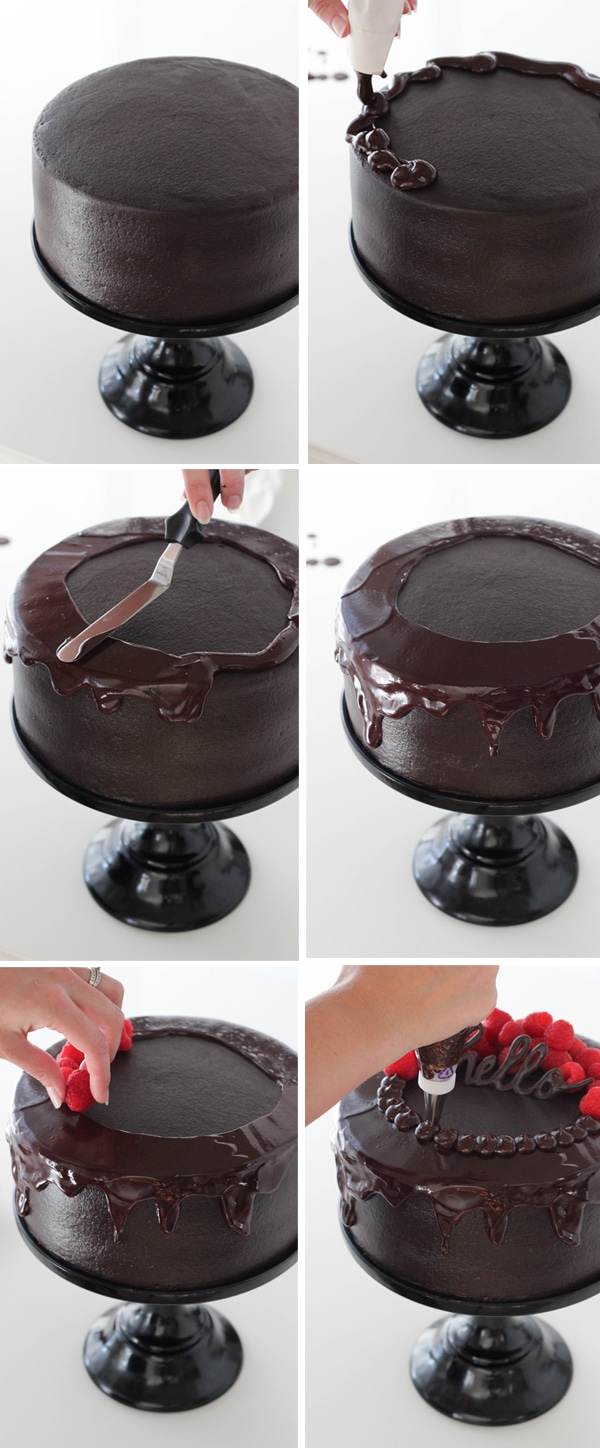 The next step is to add some fresh raspberries. I added them to just the back half of the cake.

MY OTHER RECIPES
Next is piping the remaining ganache in dots around the front edge of ganache on the cake. I used Wilton tip 12.
The finishing touch is the "hello" made from chocolate. I mean what's better than a cake that greets you? 😉 I loved this touch. I kind of wanted it to say "hello lover" but didn't have enough space. 🙂 Of course you could write whatever you want, but if you want to use the "hello", here is a pdf of the word I used so that you have the right size.
You could totally make this first, or even a few days ahead. I like to use Wilton Candy melts or something like Almond bark for this part. I find those dry firmer and will stand up better on the cake.
Melt your chocolate of choice and add it to a piping bag. I used Wilton tip 3 for the piping.
Print out the word you want to use (or do it freehand!) and place parchment paper over it. I have a little blue board underneath as well, so that I could move it around more easily while it dried.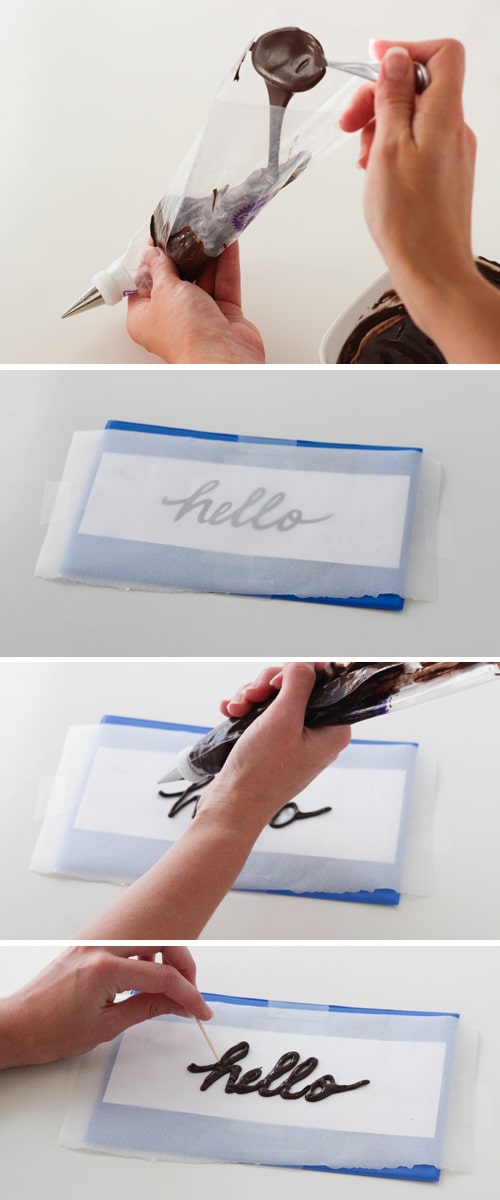 Pipe the melted chocolate onto the parchment paper, then use a toothpick to smooth out any areas that need it. Place it in the fridge to firm up, then lightly press it into the top of the cake. I'd recommend making the bottoms of the letters a little thicker so that there's more letter space for pushing into the cake to help it stand up.
And there you have it! A super fun Red Wine Chocolate Cake that greets you and is quite dressed up for whatever occasion it's going to. I love it! And I'm totally dying to make it again. SO SO yummy!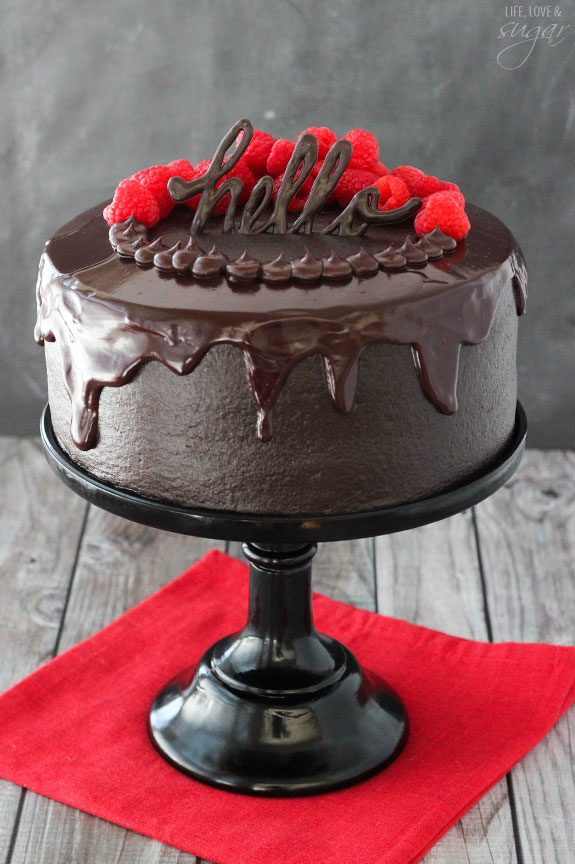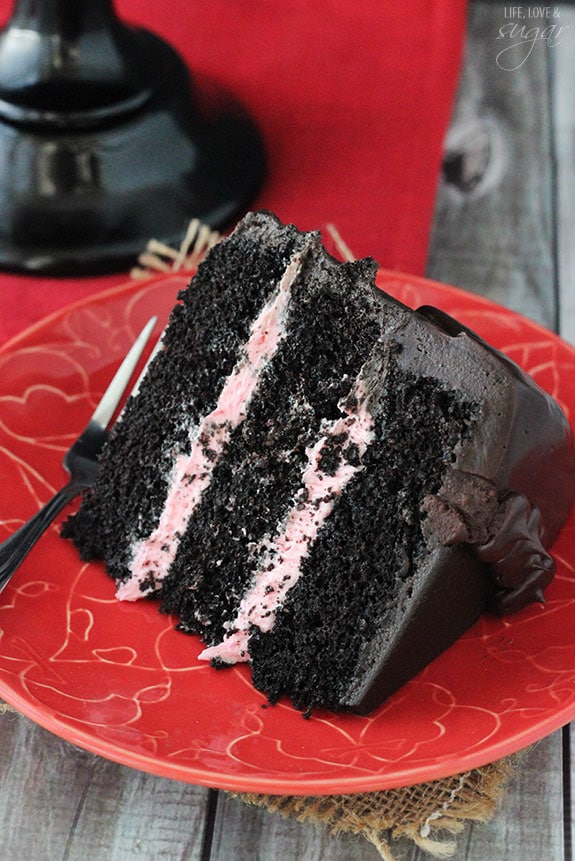 Red Wine Chocolate Cake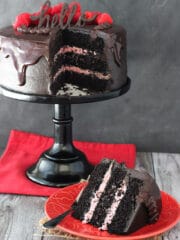 Moist red wine chocolate cake filled with raspberry buttercream, frosted with chocolate frosting and covered in red wine chocolate ganache!
Author:
Prep Time:

45 minutes

Cook Time:

33 minutes

Total Time:

1 hour 18 minutes

Yield:

12-14 Slices

Category:

Dessert

Method:

Oven

Cuisine:

American
Ingredients
RED WINE CHOCOLATE CAKE
2 cups (260g) all purpose flour
2 cups (414g) sugar
3/4 cup (85g) Hershey's Special Dark Cocoa powder
2 tsp baking soda
1 tsp salt
2 large eggs
1 cup (240ml) buttermilk
1 cup (240ml) vegetable oil
1 tsp vanilla
1 cup (240ml) sweet red wine
RASPBERRY BUTTERCREAM
1/2 cup (112g) salted butter
1/2 cup (95g) shortening*
2 1/2 cups (288g) powdered sugar
1/4 cup (60ml) raspberry puree (from about 1/2 cup of raspberries pureed in a food processor)
CHOCOLATE BUTTERCREAM
1 cup (224g) salted butter
1 cup (189g) shortening
3/4 cup (70g) dark cocoa powder
6 cups (690g) powdered sugar
1 tsp vanilla extract
4-5 tbsp (60-75ml) milk or water
CHOCOLATE GANACHE
6 oz (about 1 cup/170g) semi-sweet chocolate chips
1/4 cup (60ml) heavy whipping cream
1/4 cup (60ml) sweet red wine
ADDITIONAL INGREDIENTS AND TOOLS
Raspberries for top of cake**
Chocolate Wilton Candy Melts or something similar, like Chocolate Almond Bark
Piping bags
Wilton tips 3 and 10
Large round piping tip
Parchment paper
Toothpicks
9 inch offset spatula
Instructions
1. Prepare three 8 inch cake pans with parchment paper circles in the bottom, and grease the sides. Preheat oven to 300 degrees.
2. Add all dry ingredients to a large bowl and combine.
3. Add eggs, buttermilk, vegetable oil and vanilla to the dry ingredients and mix well.
4. Slowly add wine. Mix well.
5. Divide batter evenly between cakes pans and bake for about 30-33 minutes, or until a toothpick comes out with a few crumbs.
6. Remove cakes from oven and allow to cool for about 10 minutes, then remove to cooling racks to cool completely.
7. While cakes cool, make icings. 
To make the raspberry buttercream,
 beat the butter and shortening together until smooth.
8. Add 2 cups of powdered sugar and beat until smooth.
9. Add raspberry puree and beat until smooth.
10. Add remaining powdered sugar and beat until smooth. Set buttercream aside while you make the chocolate buttercream.
11. 
To make the chocolate buttercream,
 beat the butter and shortening together until smooth.
12. Add the cocoa and 2 cups of powdered sugar and beat until smooth.
13. Add vanilla extract and 3-4 tbsp of water or milk and beat until smooth.
14. Add remaining powdered sugar and beat until smooth, adding remaining water or milk as needed to thin out the icing.
15. When the cakes are cool, 
put the cake together.
 Remove the tops of the cakes with a large serrated knife so they are flat.
16. Place the first layer of cake on cake stand. Top with half of the raspberry buttercream and spread into an even layer.
17. Add second layer of cake and remaining raspberry buttercream and smooth into a smooth layer.
18. Top cake with remaining cake layer.
19. Ice the outside of the cake with the chocolate buttercream. 
Here's a tutorial
 for getting a smooth finish.
20. 
To make the chocolate ganache,
 place chocolate chips in a medium sized bowl.
21. Combine heavy cream and wine and microwave just until it begins to boil.
22. Pour heated cream/wine over the chocolate chips and cover the bowl with clear wrap. Allow to site for 5-7 minutes, then whisk until smooth. Allow ganache to sit for 10-20 minutes to thicken. You could also set in the fridge to cool more quickly. You want the ganache to be pourable and spreadable, but not too thin.
23. Pipe ganache around the top outside of the cake, then use an offset spatula to spread it out and over the edges of cake.
24. Place raspberries around the back of the back, near the edge of the ganache.
25. Place "hello" chocolate wording onto cake. For instructions, please refer to blog post above. You'll use the chocolate Wilton candy melts for this.
For detailed instructions on decorating the cake with ganache and lettering, please refer to the post above.
*the shortening can be replaced with butter, if preferred.
**I used a full pint of raspberries for topping the cake.
Keywords: red wine dessert recipe, chocolate cake recipe, valentines day dessert recipe
Enjoy!

You might also like:
Peach Raspberry Sangria Trifle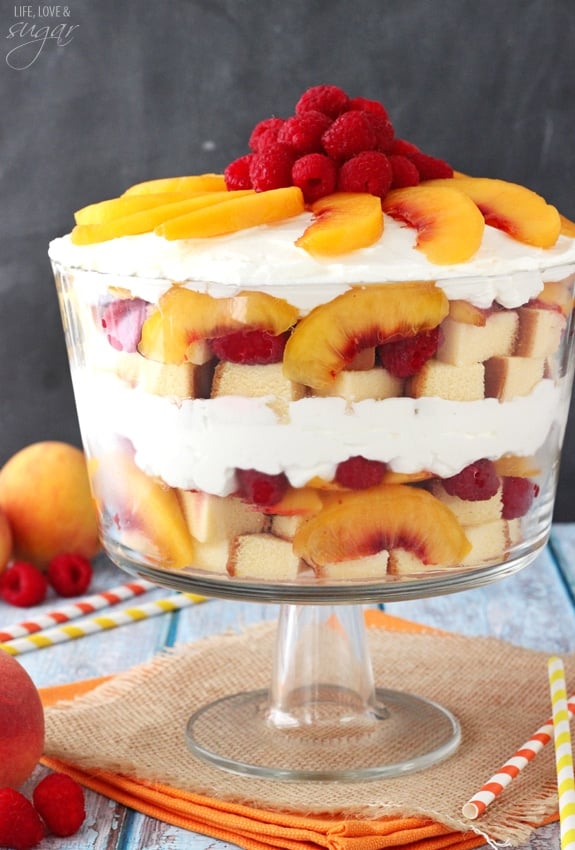 How to frost a smooth cake with buttercream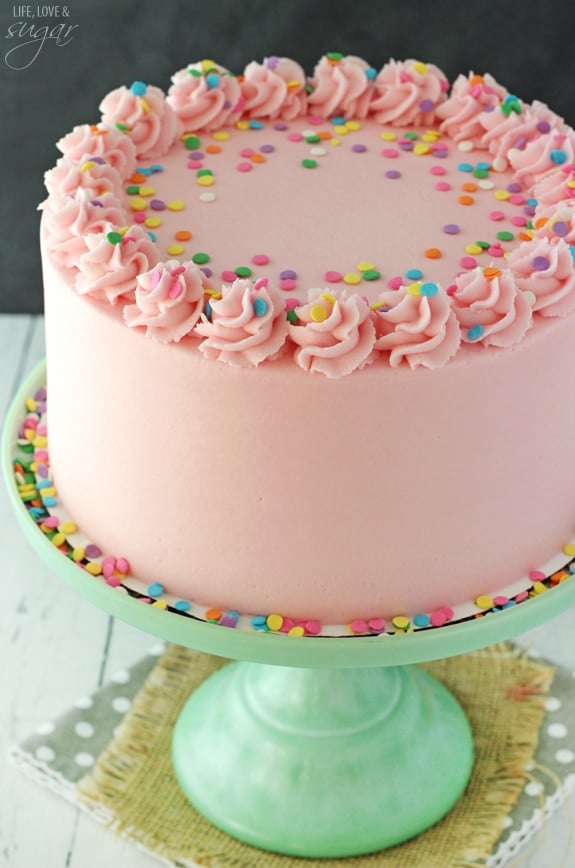 Recipes from friends:
Bourbon Chocolate Tipsy Cake from I Am Baker
Sinful Samoa Cake from Beyond Frosting
Chocolate Cherry Dr Pepper Cake from Bethcakes
Vanilla Malt Layer Cake with Cashews and Salted Caramel from Baking A Moment