This post may contain affiliate sales links. Please read my disclosure policy.
These Bat Oreo Cookie Balls are the perfect Halloween food idea for your next party! Learn how to make this fun & simple recipe with only a handful of ingredients!
For more great Halloween food ideas, check out these Mummy Rice Krispie Treats, Mini Candy Corn Cheesecakes and Dirt Cake!
Perfect Make Ahead Halloween Party Food
Now that we have a couple kiddos, it has brought new life to Halloween for the hubs and I. The twins don't exactly know what's going on yet, but this year will be the first time they go trick or treating and we can't wait to start some traditions with them.
Naturally a tradition has to be tasty treats! Not only is that just fun, but it also seems like something that would be expected of me, LOL.
And as far as Halloween treats go, these Bat Oreo Cookie Balls are perfect. Super fun and most importantly, they can be made ahead! These would be great to make 5 days or so ahead. You can store them in the fridge and pull some out for a party or bring them out on Halloween – or both! Prep them ahead and then enjoy the 31st with the fam!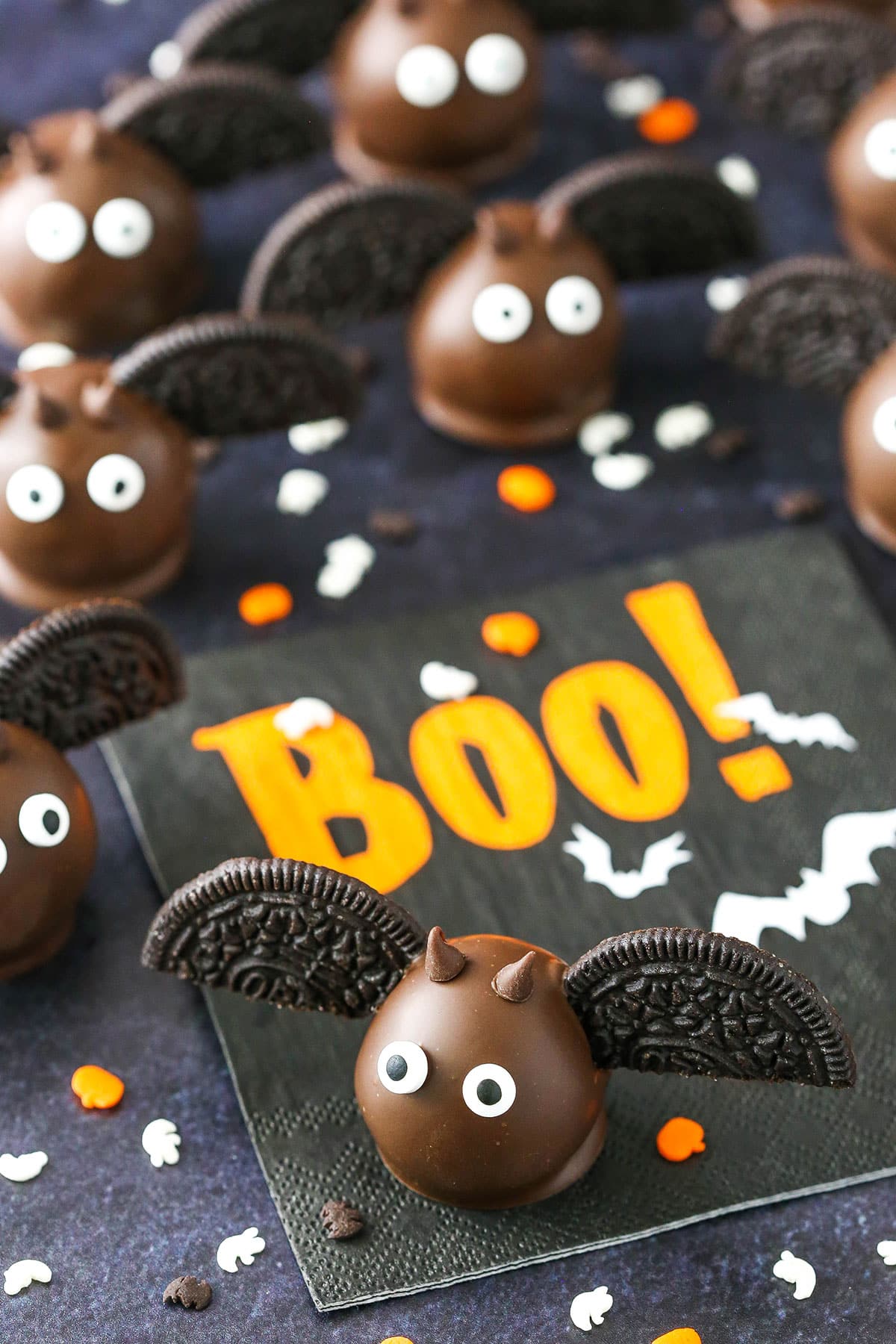 To get started making these truffles, you'll grind your Oreos into crumbs. I use a food processor, but a blender should work fine as well.
Combine the crumbs and cream cheese and stir together until they are well combined and there aren't any more chunks of cream cheese.
Next, form the mixture into balls. I use a tablespoon-sized scoop. Set them in the fridge for about an hour. I find that timing works well for getting the balls firm enough to dip, but not so cold that the chocolate firms up too quickly. Your fridge might be more or less cold, so you can adjust that timing as needed.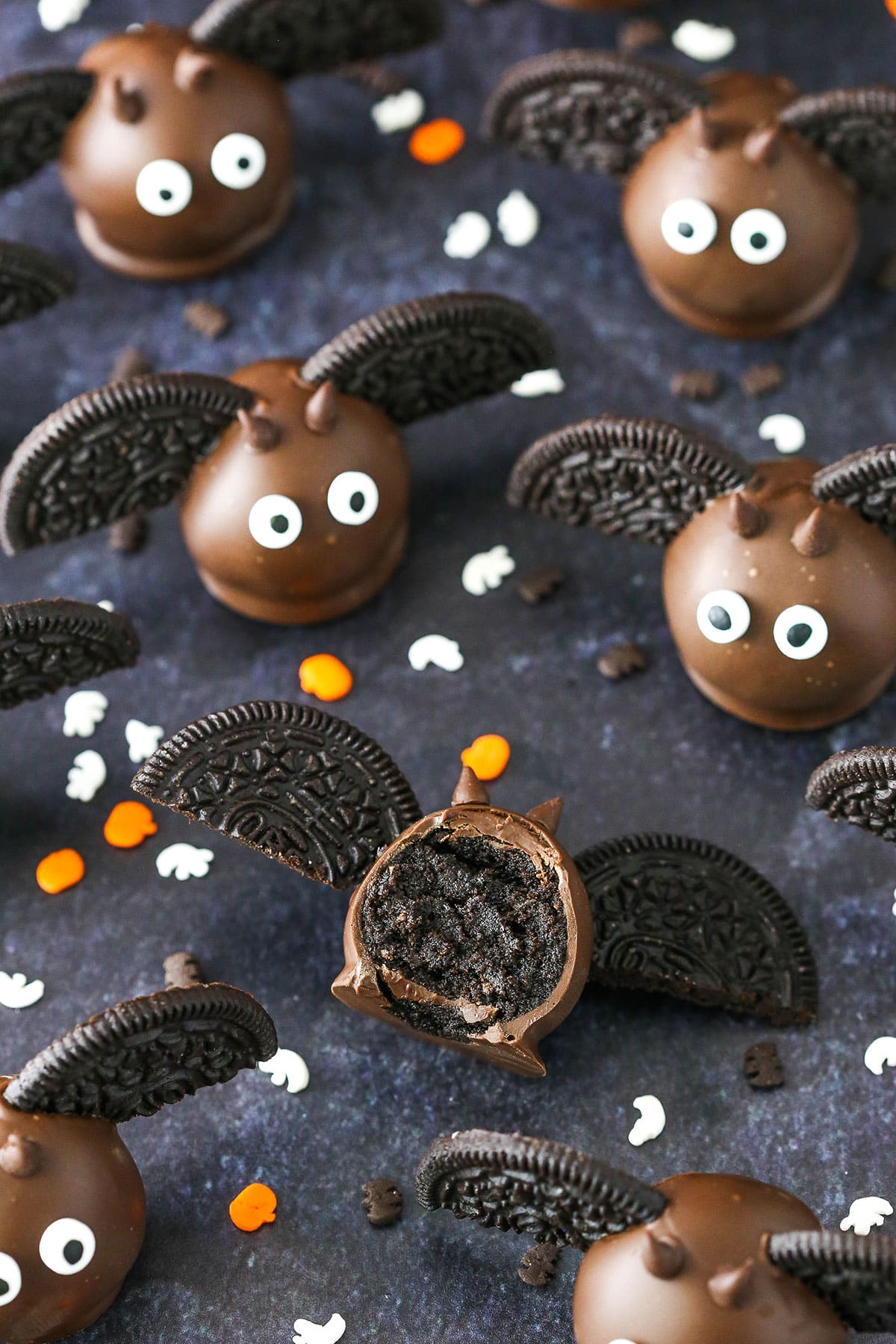 From there, you'll dip your balls into the melted chocolate. You can use any chocolate candy coating. I used Ghirardelli chocolate melting wafers, but Wilton Candy Melts and Almond Bark work well too.
While the chocolate is still soft, add the wings and hold them in place for a few seconds, while the chocolate starts to firm up. Then add the eyes and ears. Use a little extra chocolate to attach them, if needed.
Finally, let them dry and try not to eat them all at once! These Bat Oreo Cookie Balls are SO good and SO cute, they are hard to resist!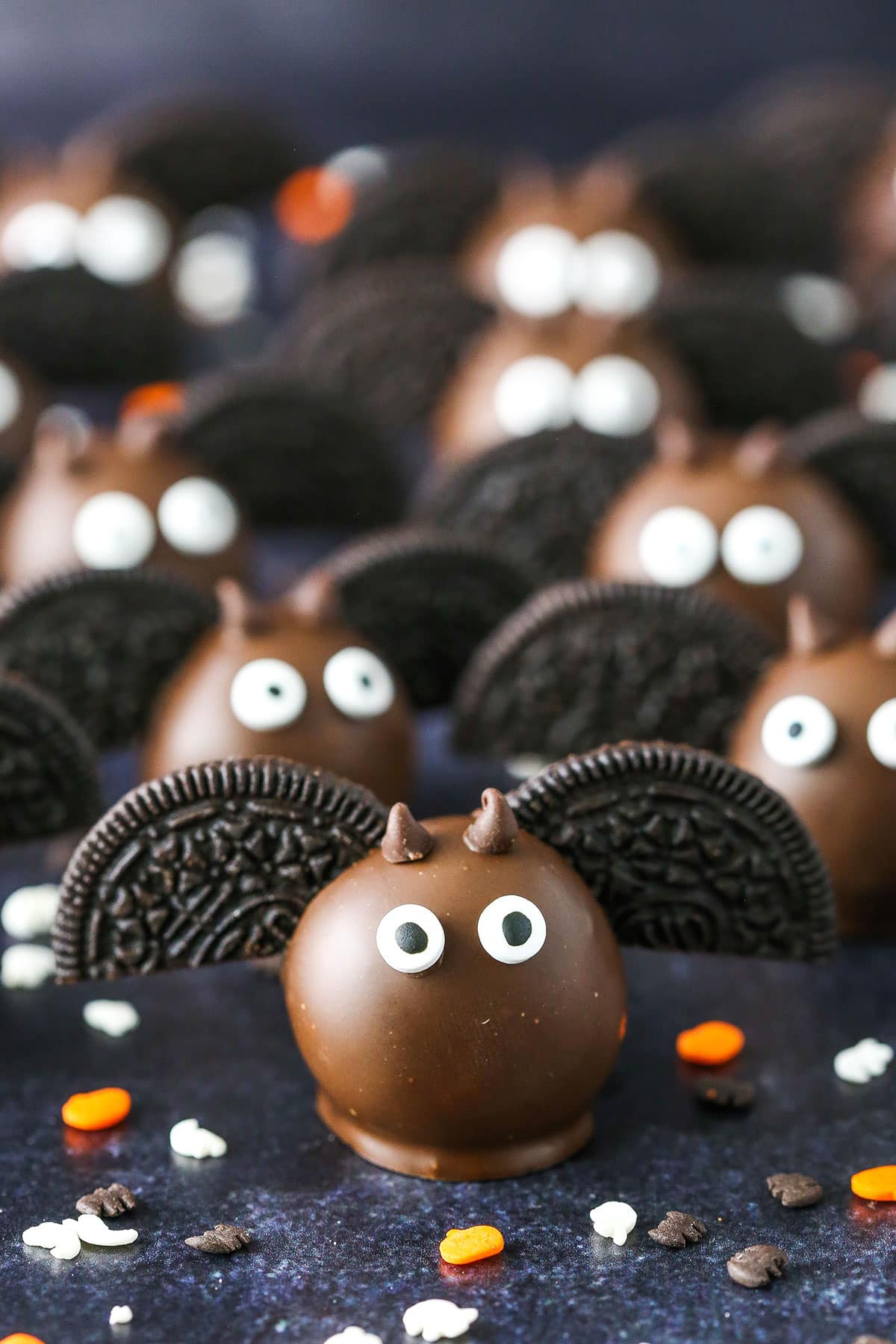 Cut the Oreos with a small sharp knife. I find that using a sawing motion and working gently with them keeps them from breaking too much.
Along those lines, you can use regular Oreos or the THIN ones. I used regular ones, since I had those on hand, but THIN ones would probably be easier to cut without breaking them.
You want to the cookie balls to be cool when you dip them into the chocolate, if they are too warm, they will be harder to dip.
Work quickly to get the wings attached before the chocolate firms up too much. Because the balls are cool from the fridge, it'll happen quickly.
If you're finding that the chocolate is firming up really quickly and you are having trouble attaching the wings, try letting the balls warm up just a bit before dipping them in the chocolate. They should be cool, but not too cold. The cold from the ball is what makes the chocolate firm up more quickly.
After the wings are attached, use a toothpick to dab a little melted chocolate on the back of the eyes and chocolate chips to attach them to the cookie ball.
More Great Halloween Food Ideas
Mummy Rice Krispie Treats
Mini Candy Corn Cheesecakes
Dirt Cake
Candy Corn Icebox Cake
Spiderweb Chocolate Cake
Candy Corn Chocolate Chip Cookie Cake
Oreo Spider Halloween Snack
Melting Witch Brownies
Print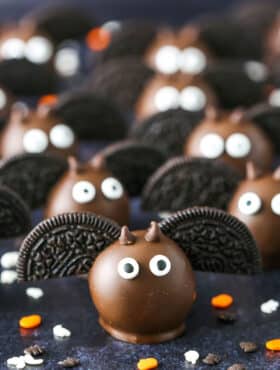 Recipe
Author:

Prep Time:

1 hour 30 minutes

Total Time:

2 hours 30 minutes

Yield:

28-30 cookie balls

Category:

Dessert

Method:

No Bake

Cuisine:

American
---
Description
These Bat Oreo Cookie Balls are the perfect Halloween food idea for your next party! Learn how to make this fun & simple recipe with only a handful of ingredients!
---
Ingredients
14.3 oz

package (

36

cookies) Oreos, crushed into crumbs

8 oz

cream cheese, room temperature

10 oz

chocolate candy coating, melted
Oreos, for wings*

56

–

60

eyeball candies

56

–

60

mini chocolate chips
---
Instructions
1. Add chocolate sandwich cookies to a food processor or blender and crush into crumbs.
2. Mix together the cream cheese and cookie crumbs in a bowl until well combined. You should easily be able to form balls.
3. Form balls from the cookie mixture about 1 inch in size. I used about 1 tablespoon of the mixture per ball.
4. Put the balls in the fridge for about 1 hour to firm up a bit.
5. While the balls chill, remove the filling from the Oreos and cut the cookie part into halves for the wings. You'll want about 30 pairs of wings.
6. Dip the chilled balls into the melted chocolate and set on parchment paper. NOTE: If you chill the cookie balls for longer than an hour prior to dipping in chocolate, you might want to let them warm up a bit. If the balls are too cold, the chocolate will harden too quickly and it'll be harder to attach the wing. You do want the balls to be chilled enough that they are easy to dip into the chocolate though.
7. Quickly add the wings to the cookie ball and hold them there for a few seconds until they stay in place. It's best to place the wings just behind the center, so they have enough support, but aren't too far forward.
8. Add the eyes and the mini chocolate chips as ears, using a little extra chocolate to attach them, if needed.
9. Store cookie balls in the fridge. Cookie balls should be good for about 1 week.
---
Notes
1. You can use the regular Oreos or the THINS. The THINS may be a little easier to cut without breaking. The number of Oreos you need depends on how many break. I'd have 20-25 Oreos handy for the wings.
2. You can leave the filling in the Oreos that are crushed for the balls. Remove the filling from the ones used for the wings.
Nutrition
Serving Size:

1 oreo ball

Calories:

175

Sugar:

14.7 g

Sodium:

104.7 mg

Fat:

9.5 g

Carbohydrates:

21.9 g

Protein:

2.3 g

Cholesterol:

7.6 mg
Keywords: bat oreo balls, bat oreo cookie balls, bat oreo truffles, halloween dessert, halloween food ideas, halloween party food, halloween themed food, halloween recipe