Mini Lemon Raspberry Cheesecakes
These Mini Lemon Raspberry Cheesecakes are a wonderfully sweet and tart treat in one! With plenty of lemon and raspberry flavor to go around, these are a delicious and fun dessert!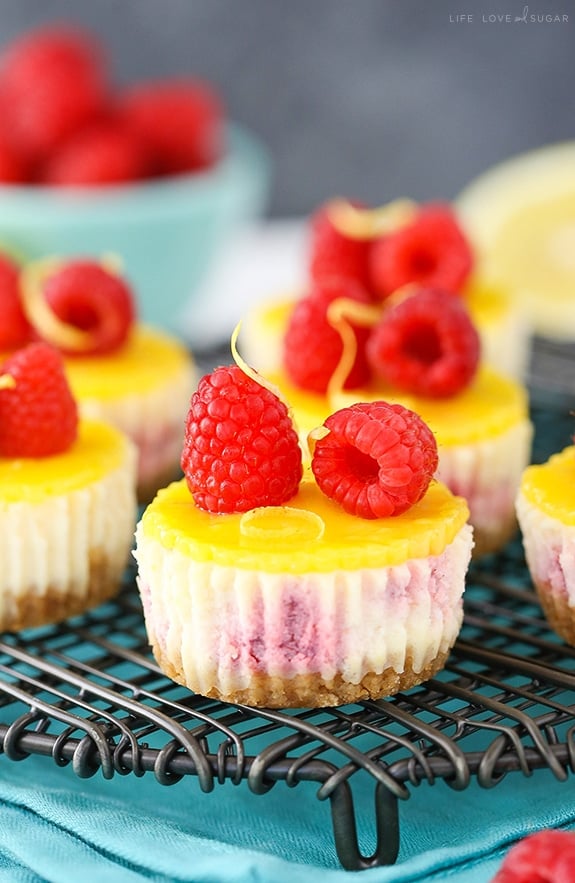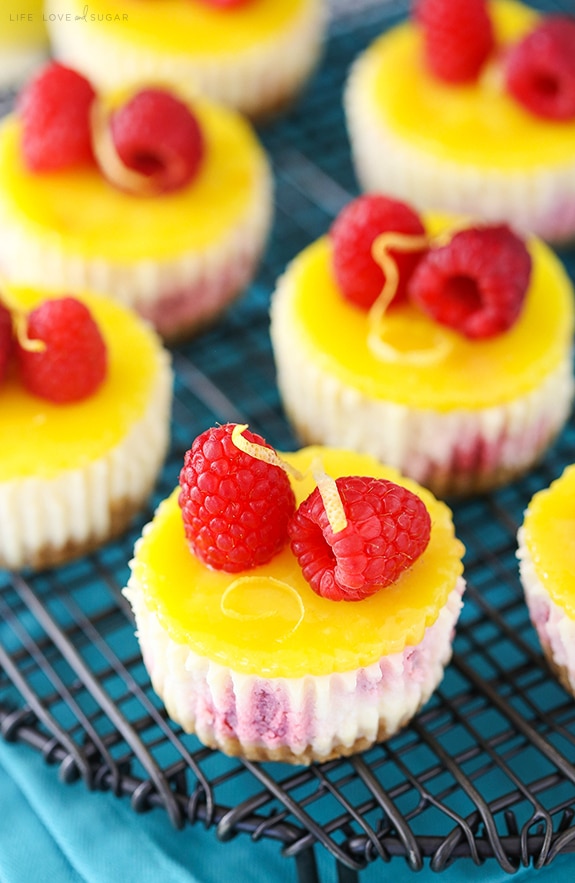 I have a confession to make: I am a binge drinker. I know what you're thinking, but don't judge me. It's not what you think. 🙂
See, I've grown to love coffee over the last year. I didn't like coffee in my younger days and slowly started to like it after college, but in the last year in particular it has become one of my favorite things. I think it's because of the cookbook. It basically helped me survive all the late nights and early mornings baking like a crazy person.
I also love soda. I do. I know it's not super healthy, but it's the truth. I like flavored beverages. Even flavored water. Flavored is better. Always.
So how exactly am I a binge drinker? Well, most of the day I drink some combination of flavored beverages. Then at night, I'm all "man I'm thirsty and really should be drinking more water" so I binge drink it. Then I wake up at night several times to go to the bathroom. It's a problem.
Someone please help me break free from my flavored beverage addiction so that I don't have to binge drink water at night. 🙂 Water is just so boring!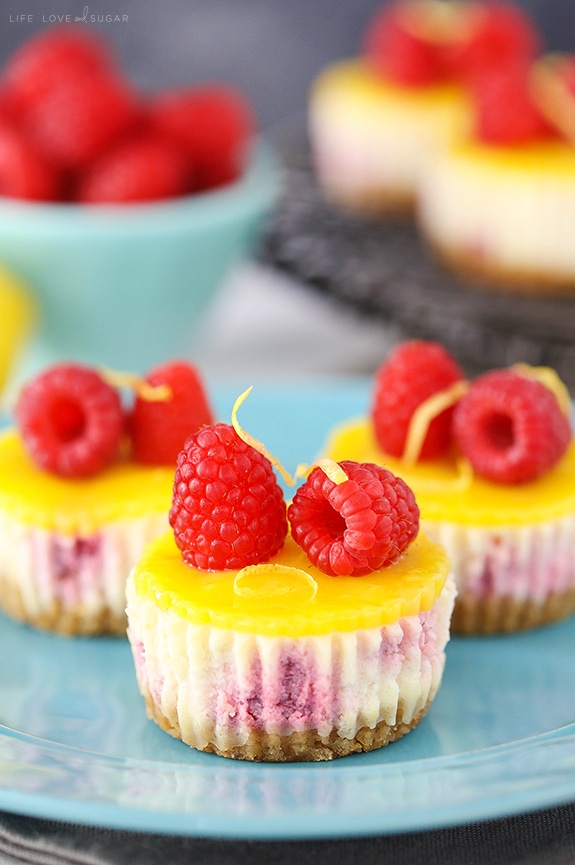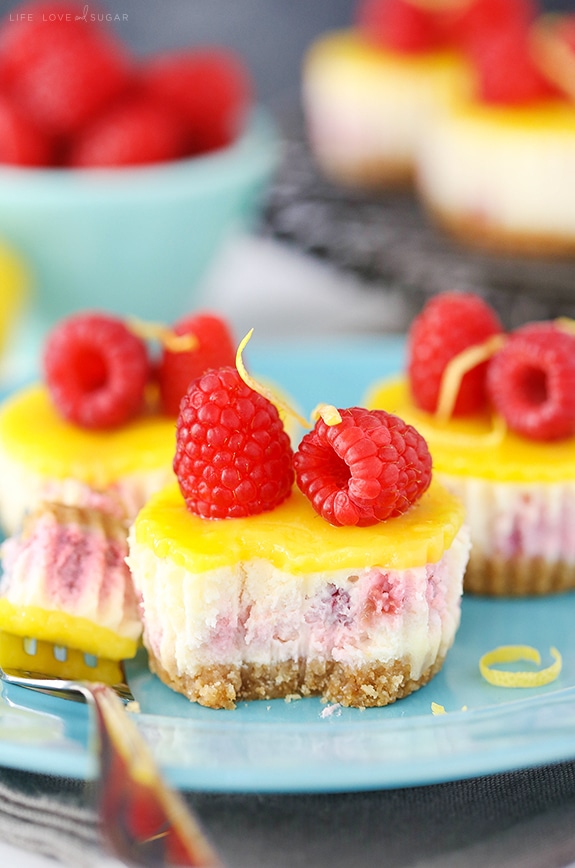 When tasty treats like these mini cheesecakes are around, I'm also in major danger of binge eating with a side of binge water drinking. I pretty much give desserts away as quickly as possible, or freeze them to take to my mom. Binge water drinking is one thing. Binge eating desserts would be especially disastrous – though tasty. 🙂
These mini cheesecakes are super easy to make and perfect for sharing. Because they are minis, you don't have to cart around forks or knifes if you take them somewhere. They transport easily and you can totally just pick them up with your fingers and eat them like a cupcake if you want.
The cheesecake is flavored with both lemon and fresh raspberries, then topped with lemon curd just to make sure there's plenty of lemon flavor. If you've never made or had homemade lemon curd, you really are missing out. It is seriously one of the best things ever. I dipped a few shortbread cookies into mine before adding the curd to the top of the cheesecakes. 🙂 Best ever.
These babies are great for celebrating fun summer flavors and fruit! I hope you enjoy them!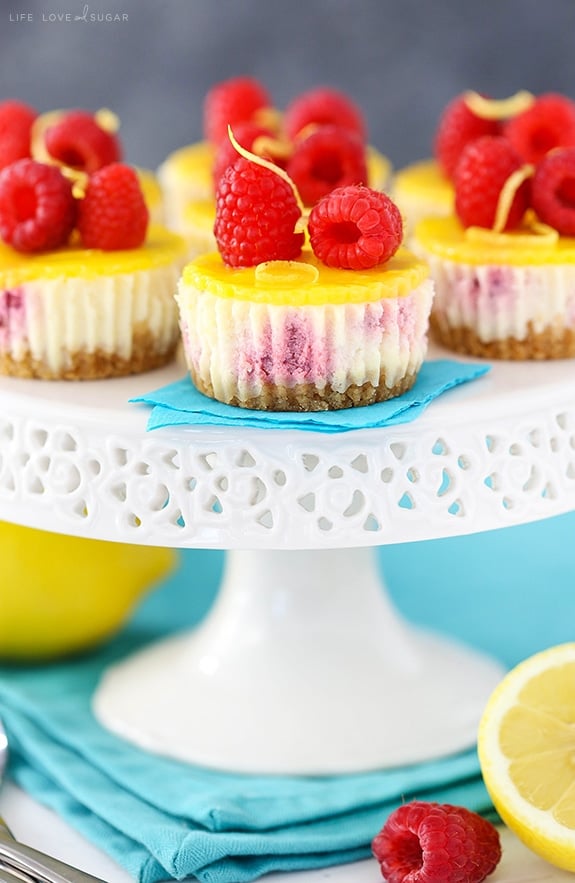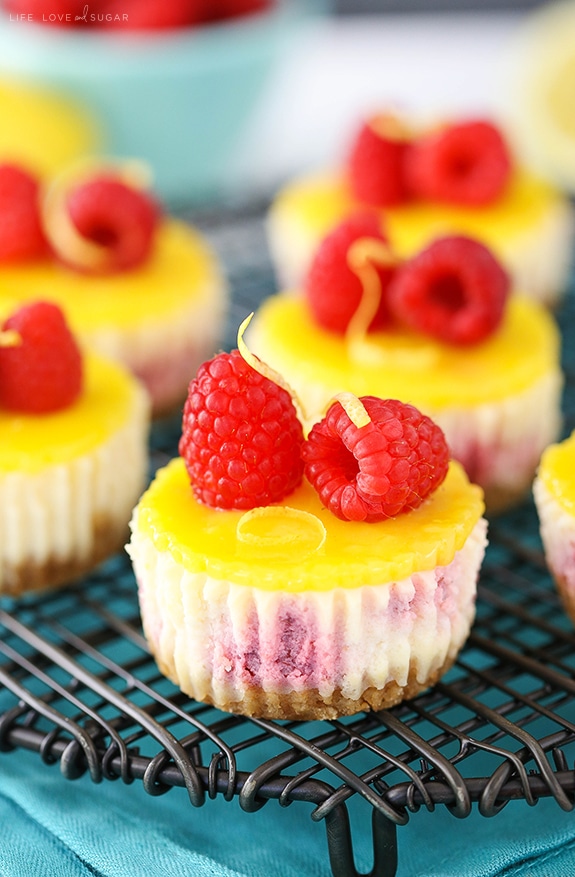 You might also like:
Fluffy Lemon Raspberry Cupcakes
Lemon Raspberry Layer Cake
Lemon Raspberry Cookie Sandwiches
Raspberry Dream Cake
Raspberry Almond Poke Cake
Raspberry Lemon Bars
Mini Lemon Raspberry Cheesecakes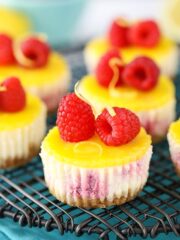 Yield:

12

-

14

Mini Cheesecakes

1

x
Category:

Dessert

Method:

Oven

Cuisine:

American
Ingredients
CRUST
1 cup

(134g) vanilla wafer crumbs

4 tbsp

(56g) butter, melted
CHEESECAKE FILLING
12 ounce

s (339g) cream cheese, room temperature

1/2 cup

(104g) sugar

3 tbsp

(24g) flour

1/2 cup

(115g) sour cream

1/2 tsp

vanilla extract

1 tsp

finely grated lemon zest

3 tbsp

(45ml) fresh lemon juice (

1

–

2

lemons)

2

eggs

2/3 cup

(107g) chopped raspberries
LEMON CURD
1/4 cup

(60ml) fresh lemon juice (about

1

–

2

lemons)

2 tsp

finely grated lemon zest

1/3 cup

(69g) sugar

4

egg yolks

3 tbsp

(42g) salted butter
raspberries, for topping
Instructions
CRUST
1. Preheat oven to 325°F (162°C). Add cupcake liners to a cupcake pan.
2. Combine the vanilla wafer crumbs and melted butter. Divide the mixture between the cupcake liners and press into the bottoms.
3. Bake crusts for 5 minutes then remove from oven. Allow to cool while you make the filling.
CHEESECAKE FILLING AND LEMON CURD
1. Reduce oven to 300°F (148°C).
2. In a large bowl, mix the cream cheese, sugar and flour until combined (Use low speed to keep less air from getting into the batter, which can cause cracks). Scrape down the sides of the bowl.
3. Add the sour cream, vanilla extract and lemon zest. Beat on low speed until well combined.
4. Add the lemon juice and mix until well combined.
5. Add eggs one at a time, beating slowly and scraping the sides of the bowl after each addition. Gently fold in the raspberries.
6. Divide the batter between the cupcake liners and fill most of the way.
7. Bake cheesecakes for 15 minutes, then turn off oven and leave the door closed for another 5 minutes.
8. Crack the oven door and allow cheesecakes to cool for 15-20 minutes, then put in the fridge to finish cooling.
9. To make the lemon curd, combine all the ingredients in a double boiler (or in a metal bowl over a pot of simmering water). Heat while whisking constantly until mixture thickens and reaches 160 degrees, or coats the back of a spoon.
10. Spread about 1 tbsp of lemon curd onto the top of each cheesecake while it's still warm, then place back into the fridge to finish cooling.
11. Top the cheesecakes with some fresh raspberries, then serve.
Enjoy!