Enjoy the hot cocoa of your dreams with this quick and easy Homemade Hot Chocolate Mix. It only uses 4 ingredients, and it can be customized with all your favorite hot cocoa flavors!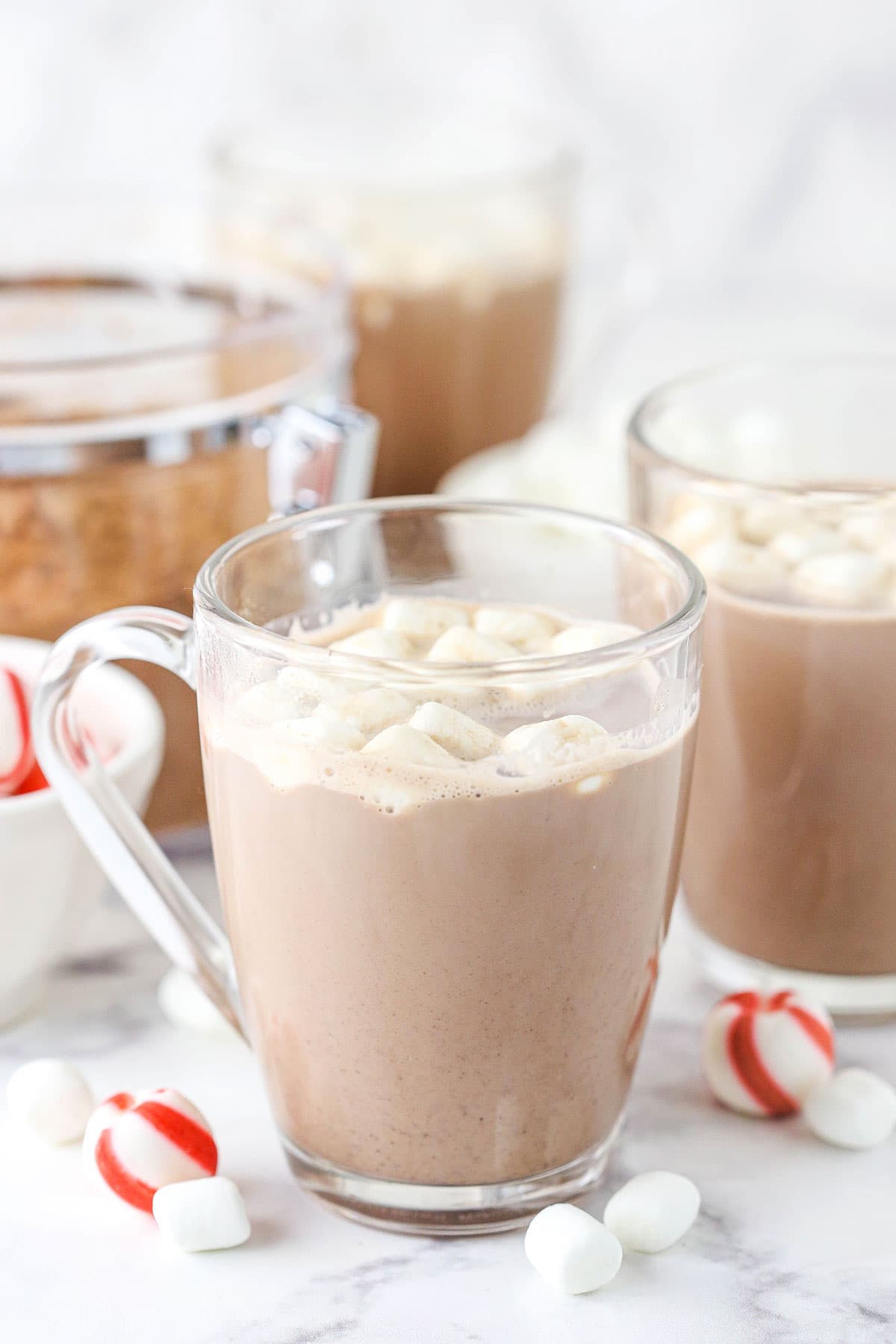 The Best Homemade Hot Chocolate Mix
During the winter, it's so important to have a stash of hot cocoa mix on standby. You could go out and buy some at the store, or you could whip some up at home in seconds! This simple guide will show you how to become a master hot chocolatier.
It all starts with a combination of 4 simple ingredients, and then you can customize your hot cocoa from there! There are so many different flavors you can make, from peppermint hot chocolate to mocha hot cocoa. Or you could stick to the basics and cozy up with some classic hot chocolate topped with melty mini marshmallows.
Why I Love This Recipe
Homemade hot chocolate mix makes a lovely gift. It's an inexpensive option that has all the charm of a homemade present, and it can be adapted to suit any holiday or occasion. When you make someone cookies, they can enjoy them for about a week, but hot cocoa mix will stay good all year long!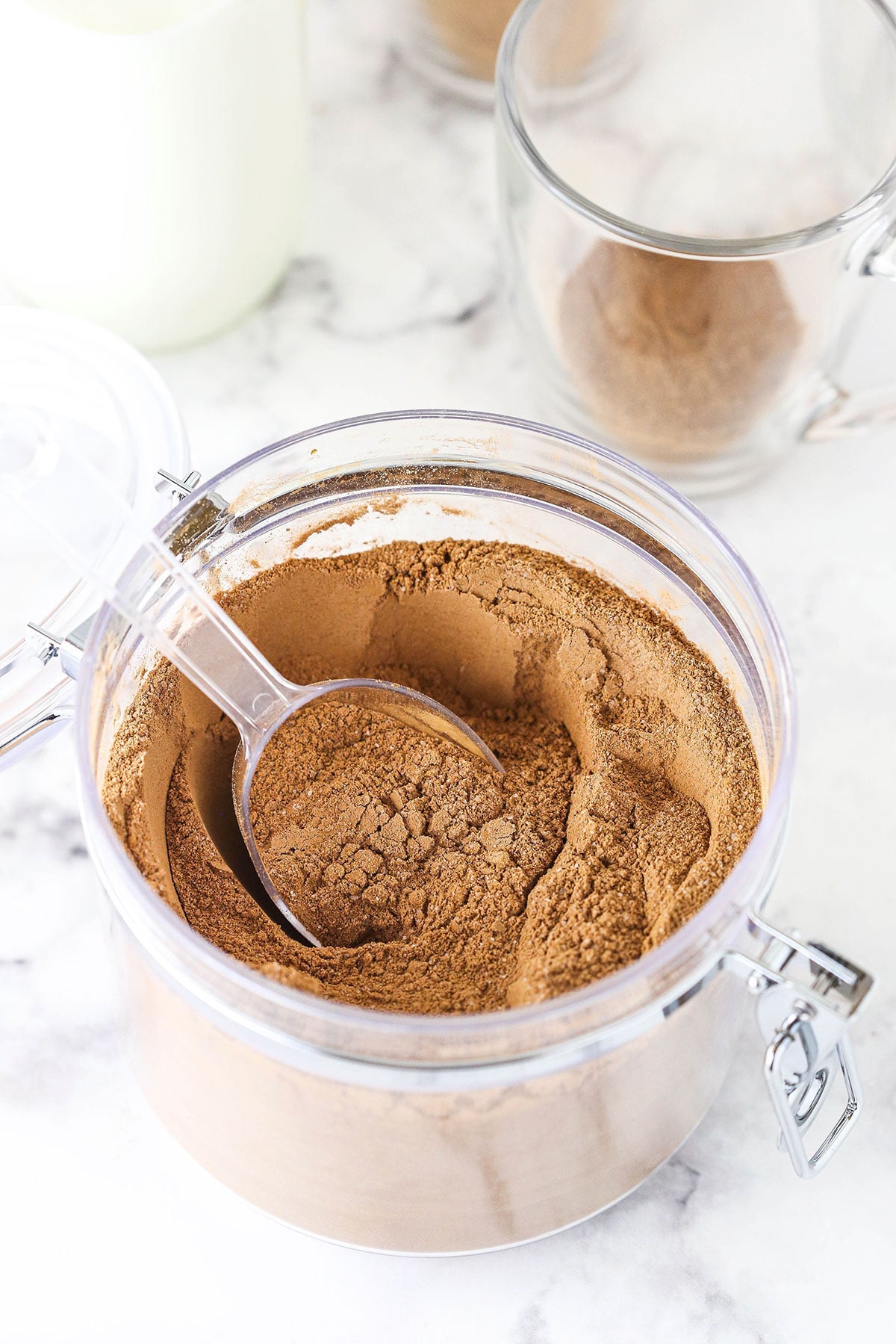 What You'll Need
When combined, the ingredients below produce a rich and creamy hot chocolate that's not too bitter or too sweet. You can always adjust the amount of sugar if you'd like to tweak the sweetness level.
Dry Milk Powder: Nonfat or whole milk – your call!
Cocoa Powder: Use natural and unsweetened cocoa powder. This way, you have complete control over the amount of sugar added.
Sugar: Since this recipe calls for unsweetened cocoa powder, sugar is a must. I use granulated sugar and much prefer it to powdered sugar.
Salt: A small pinch of salt will enhance the chocolate flavor big-time.
How to Make Hot Chocolate Mix
This might be the easiest recipe in the whole wide world! You just have to mix everything up in a bowl.
Combine Ingredients: Whisk all of the ingredients together in a medium-sized bowl.
Store: Store the mix in an airtight container or jar.
Make Hot Chocolate: When you're ready to make a cup of hot cocoa, mix 2-3 tablespoons of the hot chocolate mix with 8 ounces of hot water or milk in a mug. Serve with mini marshmallows or other toppings of choice.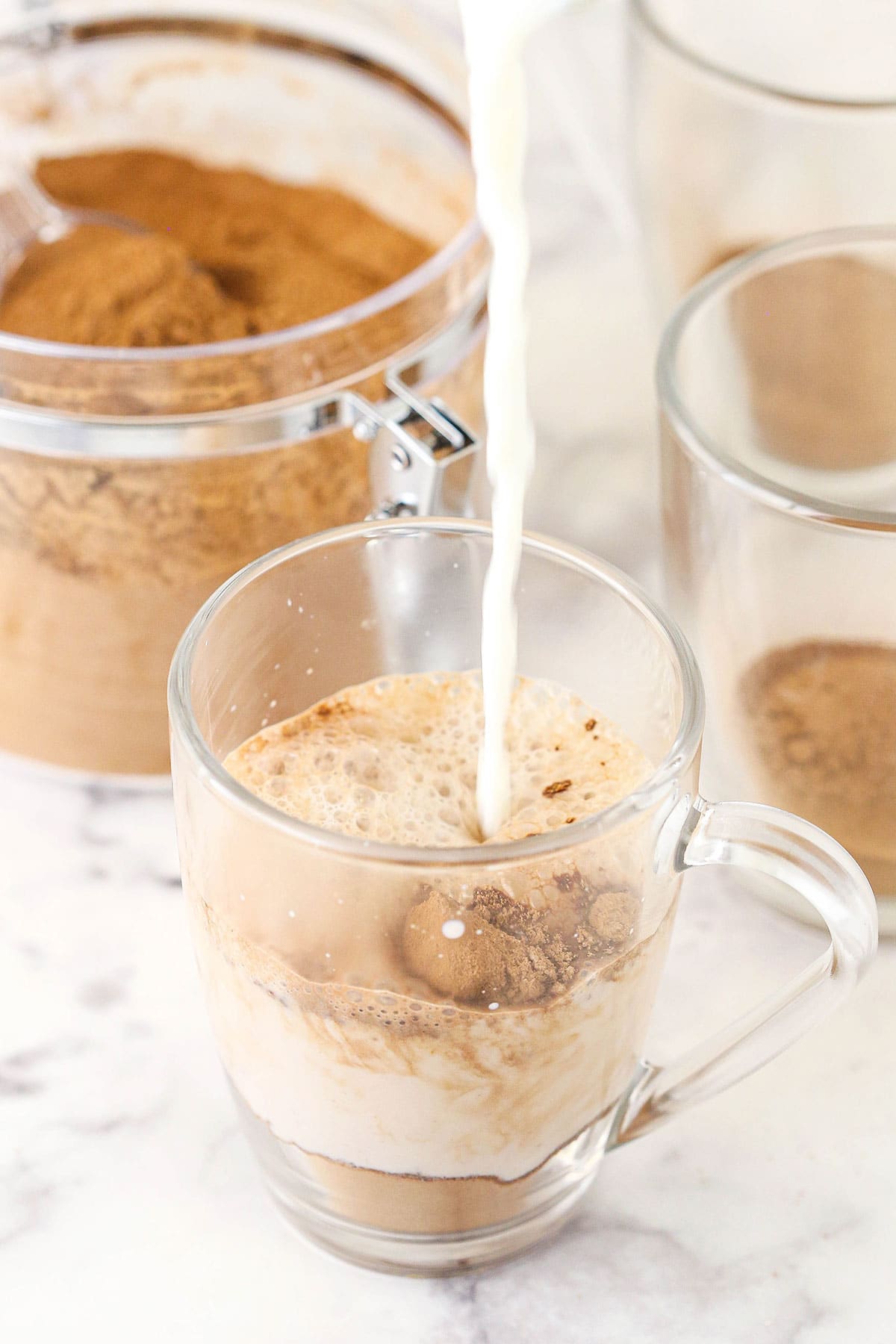 Tips for Success
Before you combine any ingredients, take a look at these quick tips and suggestions. They'll guide you toward your ideal hot cocoa!
For Maximum Creaminess: Go for whole milk powder rather than nonfat milk powder if you like a creamier hot cocoa. Because it contains fat, whole milk powder will naturally add a little more creaminess.
Don't Add Extra Chocolate: I tried adding chopped chocolate to the mix and wasn't crazy about it. Even when chopped quite small, it didn't melt super well, nor did it seem to add much additional flavor.
Use Granulated Sugar: I encourage you to stick with regular granulated sugar. Powdered sugar won't provide the same amount of sweetness.
Don't Omit the Salt: Please don't forget the salt! Salt can so easily be overlooked, but it really does enhance the flavor of everything – even hot chocolate.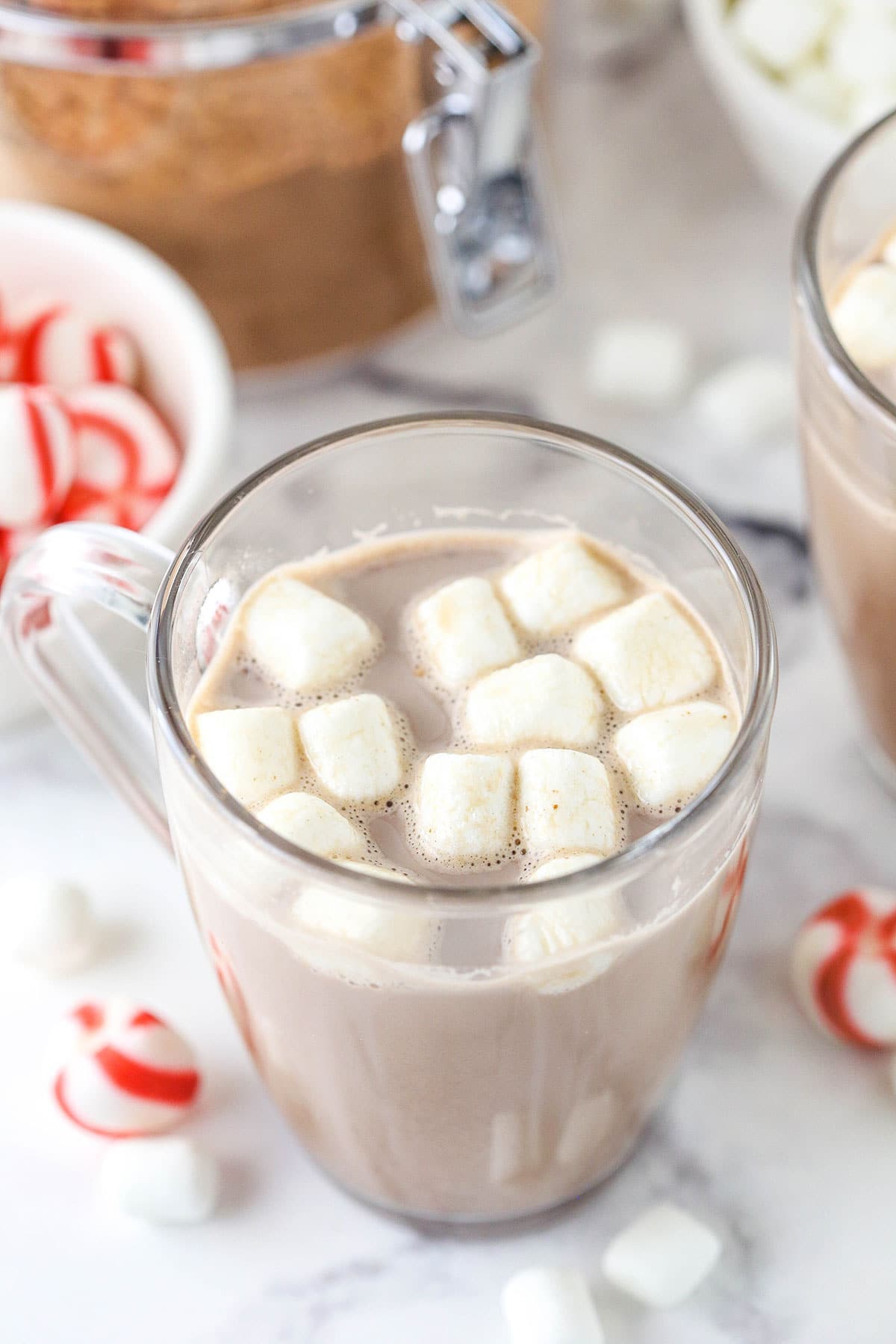 Hot Cocoa Variations
Need a specific kind of hot cocoa to satisfy your craving? I've got you covered!
Peppermint Hot Chocolate: Adding crushed peppermint to your hot chocolate mix makes it look and taste more festive! The bits of mint will melt in the hot cocoa and infuse it with peppermint flavor.
Spiced Hot Cocoa: I often like to add some warm spices to my hot chocolate, especially during the fall. You can use cinnamon, clove, nutmeg or a combination!
Drinking Chocolate: If you want to make a richer, more intense drinking chocolate rather than classic hot cocoa, simply replace about half of the sugar with unsweetened cocoa powder.
Mexican Hot Chocolate: A lot of people prefer a certain amount of spiciness in their hot cocoa. If this applies to you, go ahead and add in some cayenne pepper to taste.
Mocha Hot Cocoa: Feel free to toss in a scoop of espresso powder if you'd like a mocha flavored hot chocolate. Use decaf espresso powder if desired.
Spiked: I'm a big fan of some Irish cream in my hot chocolate for a fun twist. You could even try some Kahlua.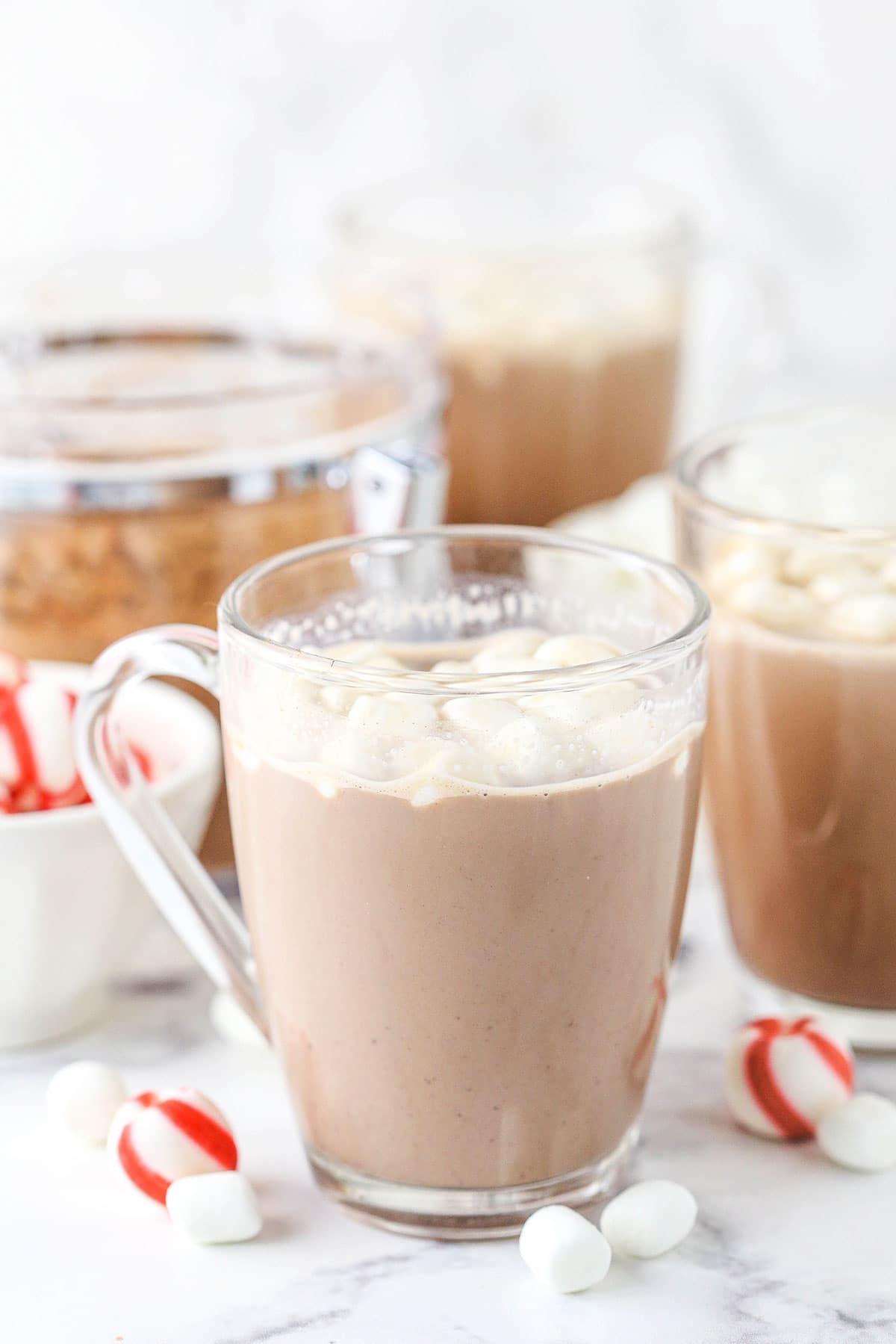 Serving Suggestions
When it's time to serve your hot cocoa, you probably want to spruce it up with a quick topping or two. Here are some ideas besides the classic mini marshmallows!
Add Whipped Cream: When it comes to classic hot chocolate toppings, whipped cream is also at the top of the list. And it's super easy to make yourself! You can keep it traditional or throw together this Baileys Chocolate Whipped Cream for added flavor.
Top with Salted Caramel: I'm a huge sucker for the rich, sweet and salty flavor combination of salted caramel hot cocoa. Drizzle some Homemade Salted Caramel Sauce over your drink to try it!
Set Up a Hot Chocolate Bar: For more fun serving ideas, be sure to check out my Hot Chocolate Bar Fiesta! If you're going to make hot chocolate, why not throw a whole party for it?
Print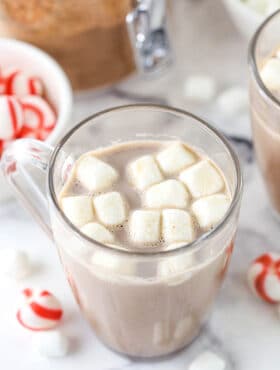 Recipe
How to Make Hot Chocolate Mix
Author:

Prep Time:

2 minutes

Cook Time:

0 minutes

Total Time:

2 minutes

Yield:

20

Category:

Drink

Method:

Bowl

Cuisine:

American
---
Description
Enjoy the hot cocoa of your dreams with this quick and easy Homemade Hot Chocolate Mix. It only uses 4 ingredients, and it can be customized with all your favorite hot cocoa flavors!
---
Ingredients
2 cups

(

184g

) dry milk powder, nonfat or whole milk

3/4 cup

(

85g

) natural unsweetened cocoa powder

3/4 cup

(

155g

) sugar
Pinch of salt
---
Instructions
Whisk all of the ingredients together in a medium sized bowl.
Store in an airtight container.
When ready to serve, mix 2-3 tablespoons of hot chocolate mix with 8 oz hot water or milk in a mug.
Serve with marshmallows or other toppings.
---
Nutrition
Serving Size:
Calories:

41

Sugar:

8 g

Sodium:

17.1 mg

Fat:

0.4 g

Carbohydrates:

9.6 g

Protein:

1.3 g

Cholesterol:

0.4 mg
Keywords: homemade hot chocolate mix, how to make hot chocolate, hot chocolate with cocoa powder
More Hot Chocolate Inspired Recipes
If you're a big fan of hot chocolate, you'll be in heaven with these hot cocoa inspired desserts!
This post may contain affiliate sales links. Please read my disclosure policy.