February 10, 2013
Chocolate Chip Cookie Cake
So yesterday I told you that the chocolate chip cookie throw down wasn't quite over yet. No, I'm not actually adding another cookie to the lineup. But I've been telling you all week that one thing I want to be able to do with my perfect chocolate chip cookie is easily use it for cookies or a cookie cake without having to worry about making a bunch of changes. So I tested my fave as a cookie cake.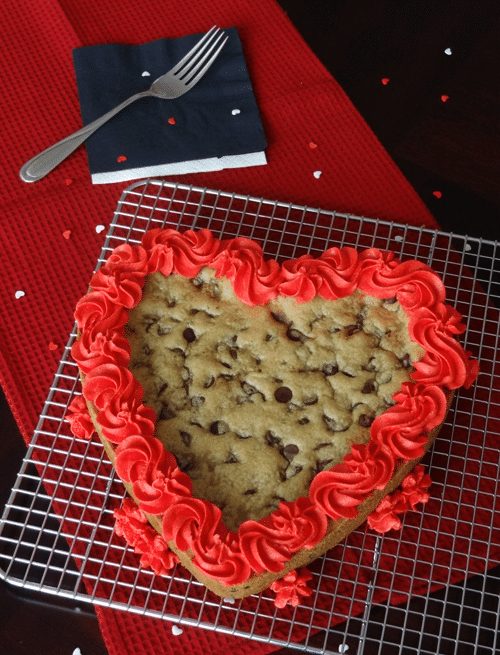 My favorite was a tie between Sally's Baking Addiction and Cook's Illustrated for taste. For method however, I prefer the ease of Sally's Baking Addicion, so that one moved on to the cookie cake test.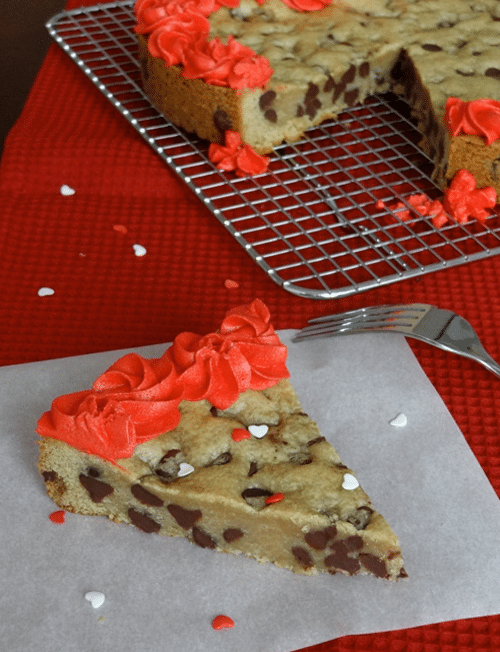 I used a Wilton 9 in heart cake pan for my cookie cake, given that Valentine's Day is so close. I also used the full recipe for the cookies. I had a feeling that cutting the recipe in half would have not been enough dough, and I was right. But using the whole recipe does make a pretty thick cookie cake. So if you are into a thick cookie cake – and trust me it's still soft and chewy and delicious when it's nice and thick – go for the whole recipe in an 8 or 9 inch pan. In fact, a 9 in round pan might be perfect. Even though the heart pan I used is technically a 9 incher, when you put it up against my 8 or 9 in round pans, it seems more similar in size to the 8 in. So I'm thinking a 9 in pan would make a cookie cake that's a bit thinner and just right.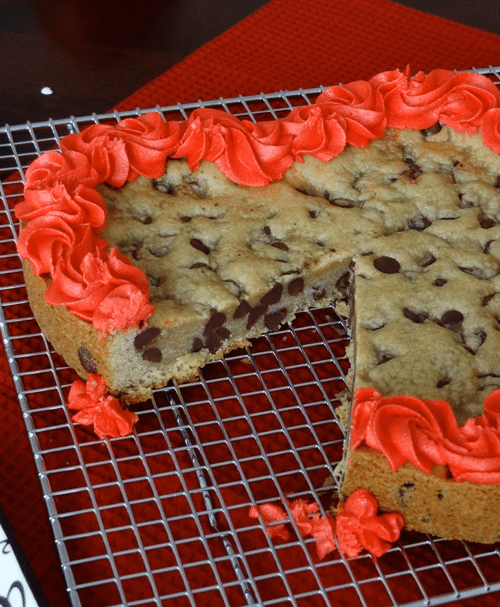 And as I said earlier this week, this is such an easy recipe to work with. No crazy ingredients and a very straightforward method. It's got a thick dough, so it takes a little work to spread it out in the pan, but nothing difficult. And keep in mind that however thick it is before being baked is about how thick it will be when baked. It doesn't rise like a cake. 🙂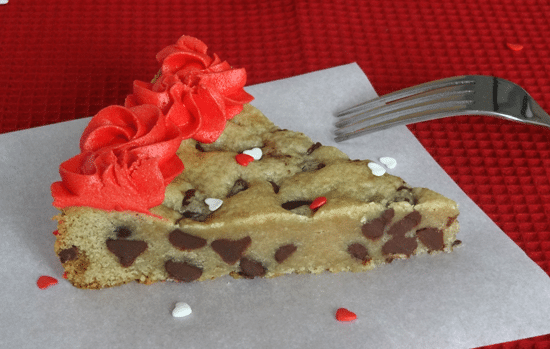 So now the throw down really is over! Go forth and make your favorite! Then report back and let me know what you think!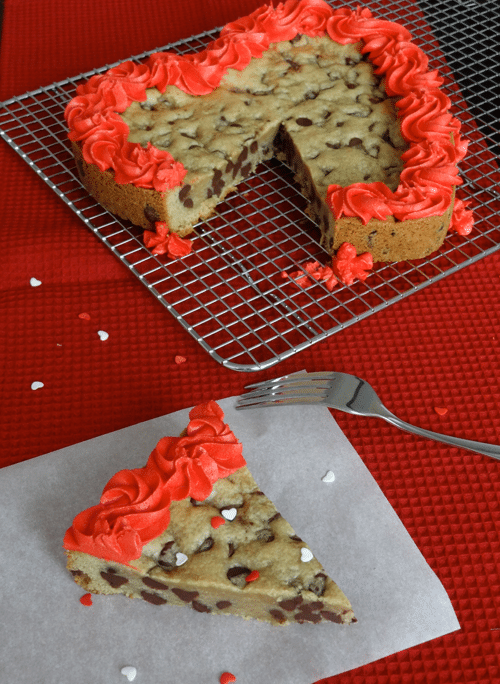 You might also like:
Ultimate Chocolate Chip Cookie Layer Cake
Funfetti Cake Batter Cookie Cake
Samoa Cookie Cake
Reeses Peanut Butter Chocolate Chip Cookie Cake
Triple Chocolate Cookie Cake
Oreo Cookie Cake
Chocolate Chip Cookie Bottomed Cheesecake
Chocolate Chip Cookie Cake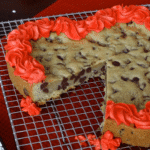 Category:

Dessert

Method:

Oven

Cuisine:

American
Ingredients
COOKIE CAKE
3/4 cup

unsalted butter, room temperature

3/4 cup

dark brown sugar

1/4 cup

sugar

1

egg

2 tsp

vanilla extract

2 cup

s all purpose flour

2 tsp

cornstarch

1 tsp

baking soda

1/2 tsp

salt

1 1/4 cup

s semi-sweet chocolate chips OR about

1 cup

of chocolate chunks
VANILLA BUTTERCREAM
1/4 cup

butter

1/4 cup

shortening

2 cup

s powdered sugar

1/2 tsp

vanilla extract

1

–

2

tbsp water
Instructions
COOKIE CAKE:
1. Cream butter and sugar together until light and fluffy, about 3-4 minutes.
2. Mix in egg and vanilla extract.
3. With the mixer on low speed, add flour, cornstarch, baking soda and salt.
4. Stir in chocolate chips. Dough will be thick.
5. Chill for at least 30 minutes or overnight.
6. When ready to bake, preheat oven to 350 degrees.
7. Place parchment paper into the bottom of your cake pan to help the cookie not stick.
8. Spread the dough out into the cake pan. Bake for 18-20 minutes or until the edges are slightly golden.
9. Remove from oven and allow to cool mostly in the cake pan, then transfer to cooling rack to cool completely.
VANILLA BUTTERCREAM:
1. Beat the shortening and butter until smooth.
2. Slowly add 1 cup of powdered sugar. Mix until combined.
3. Mix in the vanilla extract and 1 tbsp water.
4. Add the rest of the powdered sugar and mix until smooth. Add more water to get the right consistency.
Enjoy!
Recipe from Sally's Baking Addiction, originally from Apple A Day.