This post may contain affiliate sales links. Please read my disclosure policy.
One of the best parts of Christmas is all the baking and sweets. And while I love a good cake or cheesecake, there's doubt that this time of year is all about the Christmas cookies! Most of us have some classic Christmas cookie recipes we've been using since we were kids, but it's also fun to change it up every once in a while and add in something new.
From decorated sugar cookies and drop sugar cookies, to gingerbread men, spritz cookies, shortbread and peanut butter blossoms, you'll find it all in this list – plus SO much more! A couple of my favorites are the pecan pralines and caramel coconut macaroons (they're no-bake!). They are all perfect for a cookie platter or for gifting and are sure to be a hit!
Weigh Your Ingredients: One of the best things you can do for your cookie baking is invest in a food scale and weight your ingredients, particularly your dry ingredients like flour. Cookies are actually far more likely to have issues turning out correctly with small adjustments than things like cakes or cheesecakes, making a scale even more important. For the best results and the same results every time, I high recommend one. I have this food scale, which is a little more pricey, but this food scale would work great as well and isn't as much of an investment.
Measure Accurately: If you really don't want to invest in a food scale, check out my post for how to measure flour accurately. It's one of the most important things you can do for your cookie baking.
Silicone Baking Mat: Use a good quality silicone baking mat for baking. It promotes the best spread and even browning. Using non-stick baking spray right on a cookie sheet adds greasiness that can lead to extra spreading. If you don't want to invest in a silicone mat, then use parchment paper.
Let Cookie Sheets Cool Between Batches: You don't want the bottom your cookies to start cooking before the rest of it by placing them on hot sheets. Have a couple that you rotate so they have time to cool between batches.
Oven Temperature: The wrong temperature can totally change the outcome of a cookie and often ovens read the wrong temperature. You may have it set to 350°F, but it's actually baking at 325°F. The wrong temperature can lead to over-browning, over-spreading, under baking, etc. Get an oven thermometer and put it in the middle of you oven to check that the temperature is accurate.
Don't Over Bake Your Cookies: Use bake times as a guide. Ovens can vary, so pay attention to your cookies. Typically they are done when the edges are set and the just beginning to brown. The middle can look a little under baked if you want a softer and chewier cookie, but they shouldn't look super shiny or glossy. Cookies bake a little more as they cool, so if they look over baked, they'll be even more over baked by the time they cool. Also keep in mind that if you're baking more cookies at a time, you're baking time will likely increase a bit. Similarly, if you bake fewer cookies at a time, it may decrease a bit.
Bake One Batch at a Time: This will give you more evenly baked cookies.
Cool on Cookie Sheet: Allow your cookies to cool for about 5 minutes on the cookie sheet before moving them so that they don't break apart. Also, be sure they are fully cool before decorating them so that icing and other decorations don't melt.
Here are some troubleshooting tips for cookies. While all recipes vary, this is a good place to get started when trying to figure out what when wrong.
If your cookies are spreading too much.
Cookie dough is a little too warm (which could mean your butter was too warm).
You didn't refrigerate the cookie dough. When the cookies are refrigerated, moisture is absorbed by the dry ingredients. If you skip that step (and it was required by the recipe you're using), the moisture is still hanging out in there and ends up making your cookies spread more.
You added too much milk or mis-measured an ingredient. Keep in mind that even the type of sugar you use can affect moisture. If you try reducing sugars or adding more, it will affect your cookies' spread.
Your cookie dough balls might be too big – bigger balls spread more.
You added less mix-ins – the fewer white chocolate chips/nuts in a cookie, the more likely they are to spread more.
If your cookies didn't spread enough.
The number one culprit here is going to be over-measuring the flour. A food scale is always most accurate. Try pressing the cookies down a little bit before baking them to help them spread more, or try adding a teaspoon of milk (don't add too much) to bring the cookie dough together.
Cookie dough could be a little too cool.
Mix ins – if one particular cookie has a lot of mix ins, they may stay in a mound in the center of the cookie so it ends up not spreading as well. I know – a pain.
Did you reduce the sugar at all or mis-measure it? That makes a difference. Sugar adds moisture, which adds to the cookies' spread.
Did you make smaller cookie balls? They will likely spread less. Try flattening them out a bit prior to baking.
If you're looking to frost your cookies, royal icing is always a great option. I have a great guide on how to decorate cookies with royal icing, if you want to check that out. If royal icing isn't something you want to deal with, try out this Easy Sugar Cookie Icing. It tastes great, dries hard and lasts just as well. You just can get quite an intricate with your decorations. And finally, chocolate is always a great option. If you want to add something special to your cookies without bothering with icing, try dipping them in chocolate and adding sprinkles. I love the extra texture of the chocolate, plus it'll actually help keep your cookies fresh for longer. I recommend something like Ghirardelli melting wafers, but almond bark also works well.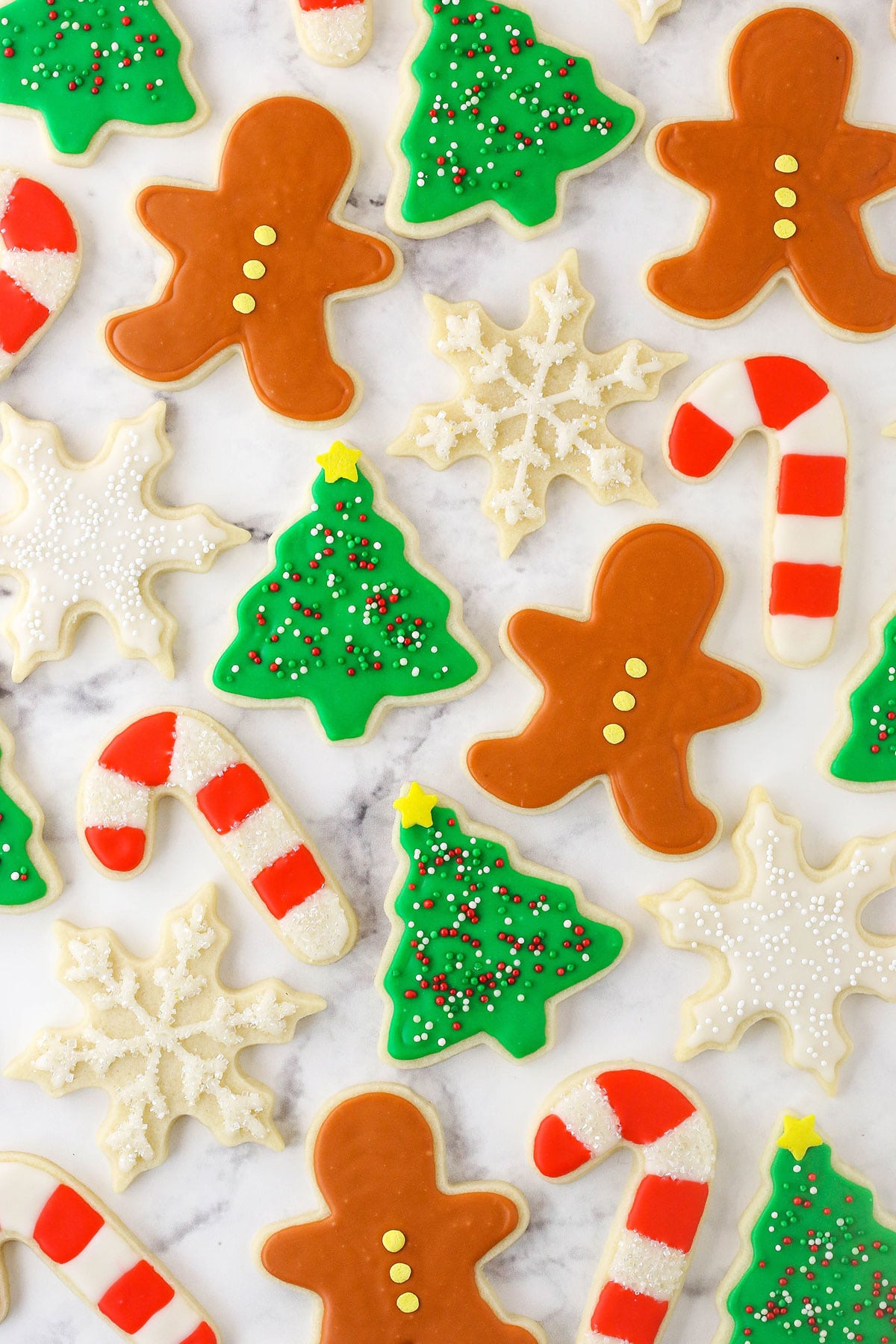 This depends a little on the cookie, but generally speaking Christmas cookies last for about 3-5 days. Cookies that are covered in icing, like frosted cutout cookies or these gingerbread cookies, or dipped in chocolate, like these butter cookies, can often last up to a week or longer.
It's always best to store cookies in an airtight container. Unless they're required to be refrigerated, I recommend leaving them at room temperature. If storing them for longer than 3-5 days, you can put them in the fridge or freeze them.
Freezing Baked Cookies
This is convenient for leftover cookies or for making things ahead of time. Plus, having already-made cookies in the freezer to pull out and snack on is a bonus. Here's how to do it:
Flash Freeze: To freeze cookies, you have the option of flash freezing them first. Flash freezing helps make sure the cookies won't stick to each other, and it helps make sure certain decorations won't get messed up if your cookies are stacked. To do that, freeze them for about an hour first, then proceed with wrapping and storing them.
Add to Container: Put your cookies in an air-tight container or freezer bag. You can separate layers with parchment paper or try not to stack them if you really don't want any decorations getting messed with. Be sure to write the date on the bag or label the container.
Freeze: Most cookies freeze well for up to 3 months.
Thaw: To thaw them, place them in the fridge to thaw overnight. In a pinch, you can thaw them on the counter, but keep in mind that condensation can form, which could affect your cookies. Also, if you are trying to keep decorations nice and you have the cookies stacked, you can unstack them before thawing. Keep in mind that colored icings and sprinkles can bleed if exposed to condensation when thawing.
Freezing Unbaked Cookie Dough
Freezing cookie dough is easy and most drop cookie dough freezes well. Plus, it's handy to have cookie dough ready to go in the freezer for when you need it. To freeze cookie dough:
Roll Balls: Go ahead and roll your made cookie dough into balls and flash freeze it. To do that, freeze them for about an hour first, then proceed with wrapping and storing them.
Add to Container: Put your cookie dough balls into an air-tight container or freezer bag. Be sure to write the date on the bag or label the container.
Freeze: Most cookie doughs freeze well for up to 3 months.
Thaw and Bake: Some cookies may do well baking from frozen. If so, add a couple minutes to the bake time. Otherwise, thaw the cookie dough in the fridge or on the counter and bake as directed.