These Stacked Sugar Cookie Christmas Trees are soft and chewy sugar cookies stacked with green vanilla buttercream and decorated like Christmas trees! They are so festive and a fun treat for the holidays!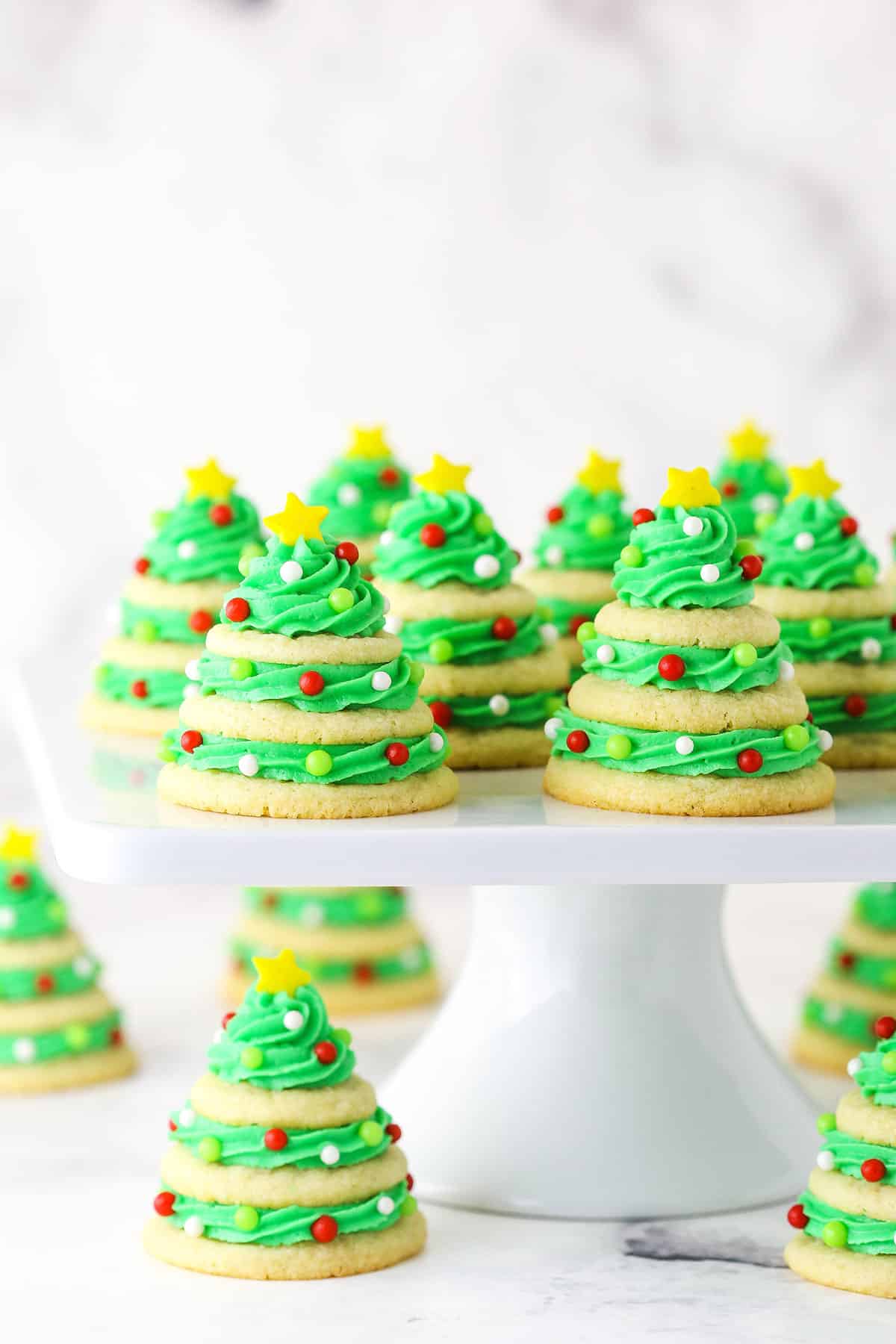 These cookies could not be any more perfect for Christmas. They do take a little while to make because of all the cookie dough ball rolling and stacking and decorating, but that's what kids are for! Get them involved in these when you do your holiday baking and they'll have a blast!
If you've ever tried my Soft and Chewy Sugar Cookies, then you've already made the base cookie for these stacks. It's the same recipe, just repurposed. Those sugar cookies are already so awesome, why change them? The cookie dough is straight forward to make and doesn't require any refrigeration, which is a plus in my book. That means you get to move into baking and decorating more quickly.
Recipe Ingredients
These cookies are made primarily with pantry staples. If you don't have gel icing color or the sprinkles, you might need those. But otherwise, you should have most things on hand.
For the Sugar Cookies
All-purpose flour
Baking soda and baking powder – I'm a big fan of using both. Only baking powder can give you a firmer, more cakey cookie. Only baking soda will give you a chewy but thin cookie. Combining the two makes it just right.
Salt
Butter
Sugar – This sugar cookie recipe uses mostly white sugar, with a touch of brown sugar for some added flavor.
Egg
Vanilla extract
For the buttercream and decor
Butter
Powdered sugar
Vanilla extract
Milk or water
Green gel icing color
Sprinkles – I use a few different sprinkles on these. Ideally, you'll have some stars for the top of the trees and then red, green and white balls for the tree itself. You could do any color scheme though. Silver and gold would also look nice. I had some sprinkle mixes that I pulled sprinkles from that might be hard to find now, but there are lots of options out there and you can always look for mixes in your local stores. Here are a few options available online:

– A similar star mix to the one that I pulled my yellow stars from.
– Gold stars would also be a great option.
– White Pearl Sprinkles – pearl size is 5mm
– Green Pearl Sprinkles – pearl size is 4mm
– Red Pearl Sprinkles – pearl size is 8mm
– More pearl sprinkle options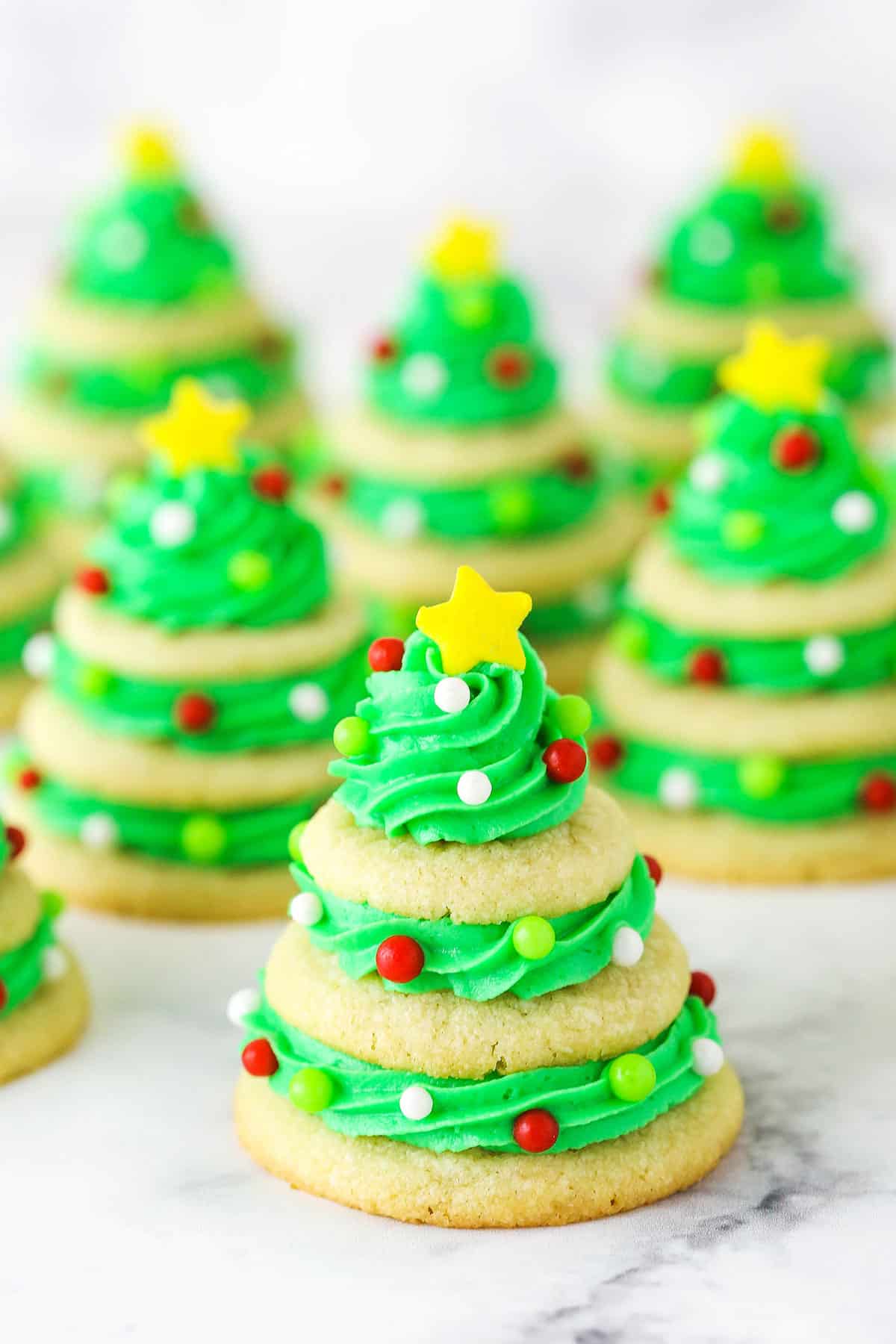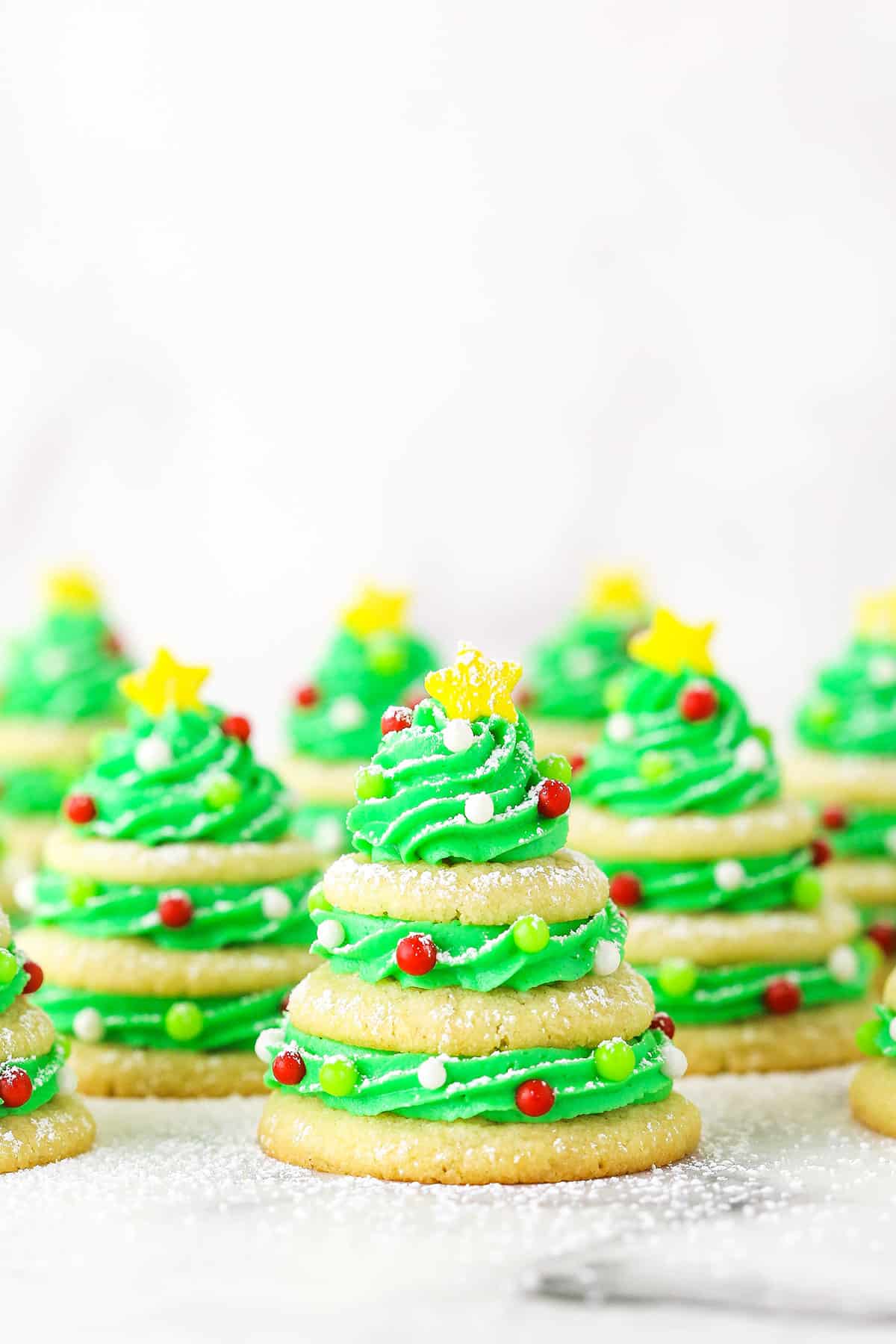 Step 1: Make the sugar cookies
First up is making the cookie dough. You'll cream your butter and sugars together, add the egg and then vanilla extract, and then add your dry ingredients. Pretty quick and painless.
From there, the work begins. You'll need 3 sizes of cookie dough balls in order to get the 3 sizes of cookie for each tree. The smallest is one teaspoon, the middle one it 2 teaspoons and the largest is 3 teaspoons. I personally find it easiest to put on some Christmas music and just go to town making a whole bunch of teaspoon sized scoops.
Then, when they're all measured, you can set about 25 aside for the smallest cookies and use the rest to make your larger ones. Grab two at a time to get about 25 medium sized balls and then three at a time to make the largest ones. It takes time, but that feels like the most efficient way to me.
Bake your cookies – making sure to bake the same size ones together – and then let them cool.
Step 2: Make the buttercream
Add the butter to a large mixing bowl and beat until smooth, then add about half of the powdered sugar and mix until well combined.
You'll add the vanilla extract and some water or milk and mix again until nice and smooth.
Now it's time for the rest of the powdered sugar. While it can sometimes seem like a lot of powdered sugar (4 cups to be exact), it's a pretty standard American buttercream and the powdered sugar is what adds volume and stability to the frosting. While you could reduce it a bit, you want to be sure that your buttercream is stable enough to support the building of the trees.
Finally, you'll add the green gel icing color and stir. Add as much as you need to get a nice shade of green. Keep in mind that a little bit goes a long way.
Step 3: Build and decorate trees
You'll need one of each size cookie to make each tree. Start with the largest cookie on the bottom and pipe an even layer swirl of frosting on top. Add your middle sized cookie and another layer of frosting. Finish off the tree with the smallest cookie and a final swirl that piles up to make the top of the tree.
Decorate your trees with sprinkles, if you like. You could use just about any kind of sprinkle, including fun shapes so definitely have a good time with it.
When you're done, serve your cookies or store them in an air tight container until you're ready to serve them.
There's no doubt that these Stacked Sugar Cookie Christmas Trees make a statement for Christmas! They are unique and delicious and will definitely be the star of your cookie tray or party. Enjoy them!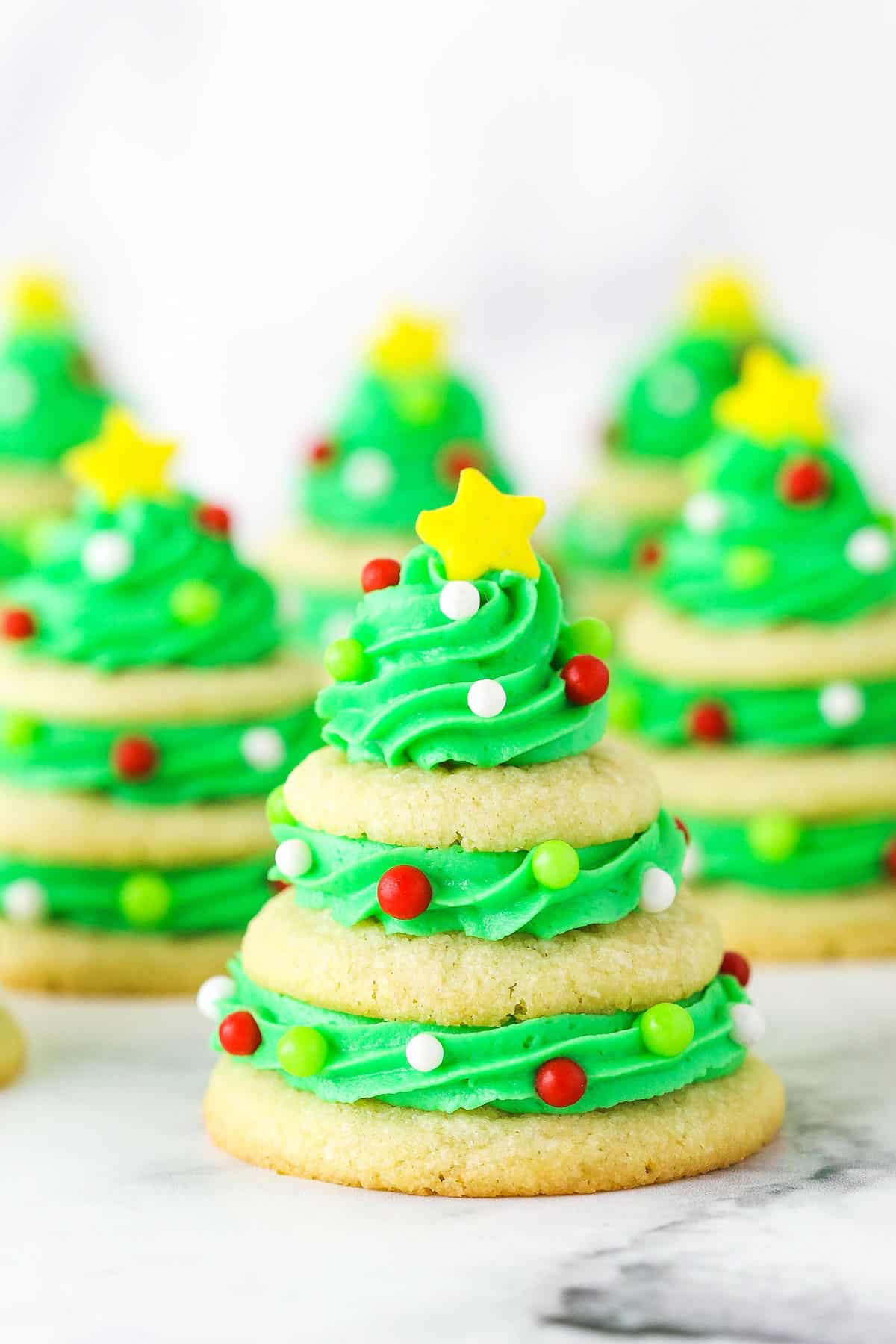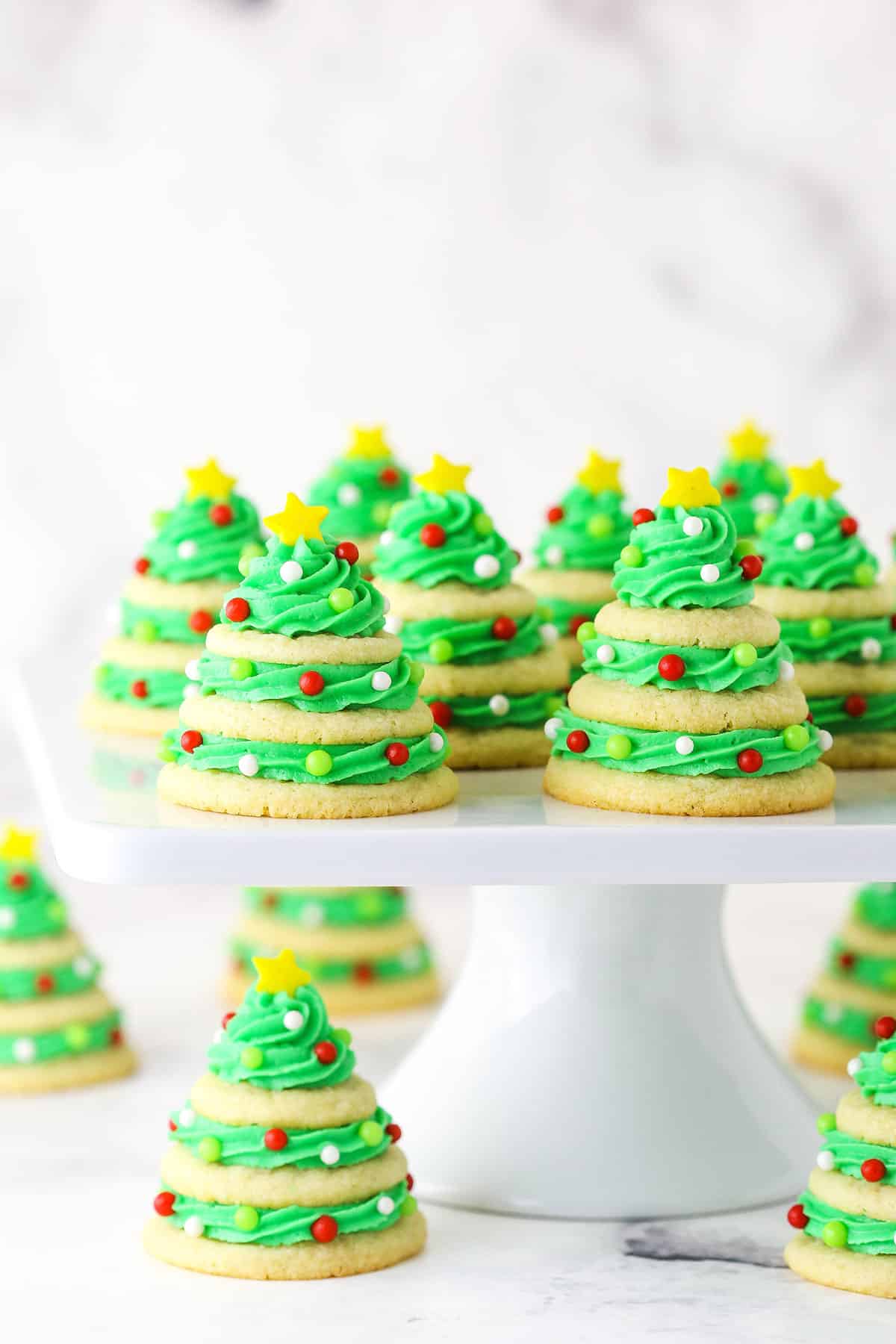 Christmas Tree Chocolate Chip Cookie Cake
Reindeer Cookie Balls
Candy Cane Cookies
Buttery Classic Spritz Cookies
Italian Ricotta Cookies
Best Gingerbread Cookies
Chewy Snickerdoodle Cookies
Peanut Butter Blossoms
Cutout Sugar Cookies
Print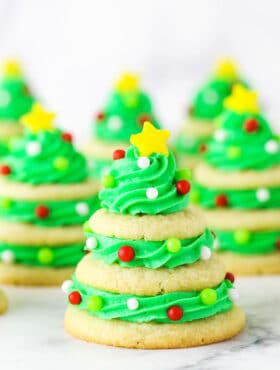 Recipe
Author:

Prep Time:

2 hours 30 minutes

Cook Time:

36 minutes

Total Time:

3 hours 6 minutes

Yield:

25 cookie trees

Category:

Dessert

Method:

Oven

Cuisine:

American
---
Description
These Stacked Sugar Cookie Christmas Trees are soft and chewy sugar cookies stacked with green vanilla buttercream and decorated like Christmas trees! They are so festive and a fun treat for the holidays!
---
Ingredients
Sugar Cookies
2 3/4 cups

(

358g

) all-purpose flour

1 tsp

baking soda

1/2 tsp

baking powder

1/2 tsp

salt

1 cup

(

224g

) unsalted butter, room temperature

1 cup

+ 2 tbsp (

233g

) granulated sugar

2 tbsp

(

28g

) light brown sugar

1

large egg

2 tsp

vanilla extract
Vanilla Buttercream
1 cup

(

224g

) unsalted butter, room temperature

4 cups

(

460g

) powdered sugar

1 tsp

vanilla extract
Pinch of salt

2

–

3

tbsp water or milk
Green gel icing color

2

–

3

tbsp red and white pearl sprinkles

16

–

18

yellow star sprinkles
---
Instructions
1. Preheat oven to 350°F (180°C). Line baking sheets with parchment paper or silicone baking mats. Set aside.
2. Combine the flour, baking soda, baking powder and salt in a medium sized bowl and set aside.
3. Cream the butter and sugars together in a large mixer bowl on medium speed until light in color and fluffy. You should be able to see the change in color happen and know it's ready.
4. Add the egg and mix until well combined.
5. Add the vanilla extract and mix until well combined.
6. Add the dry ingredients and mix until the dough is well combined. It will be thick and shouldn't be sticky. Do not over mix. Once it's well combined, use a rubber spatula to help it come together to form a more cohesive ball.
7. Make three sizes of balls of the cookie dough – 1 teaspoon, 2 teaspoons and 3 teaspoons. You should have an even number of each.
8. Bake the large cookies for 7-8 minutes, the medium sized cookies for 6-7 minutes and the small cookies for 5-6 minutes.
9. When cookies are done, remove from the oven and allow to cool for 2-3 minutes, then move to a cookie rack to finish cooling.
10. To make the frosting, beat the butter until smooth.
11. Add half of the powdered sugar and mix until smooth.
12. Add the vanilla extract and 2 tablespoons of water and mix until smooth.
13. Add the remaining powdered sugar and mix until smooth.
14. Add green gel icing color to the frosting and mix until you have your desired shade of green.
15. To put the cookies together, you'll need one of each of the three sizes of cookie. Fit a piping bag with a medium sized star piping tip (I used Wilton 21) and fill the bag with the green frosting.
16. Pipe a swirl of frosting onto the largest cookie, then add the second medium sized cookie on top. Pipe a swirl of frosting onto the second cookie, then top with the third and smallest cookie. Pipe a swirl on top of the final cookie and decorate with a star and round "ornament" sprinkles.
17. Store cookies in an air tight container. Cookies are best if eaten within 3-4 days.
---
Nutrition
Serving Size:

1 cookie tree

Calories:

293

Sugar:

27.6 g

Sodium:

102.9 mg

Fat:

15.1 g

Carbohydrates:

38.5 g

Protein:

1.8 g

Cholesterol:

46.5 mg
Keywords: sugar cookie christmas trees
This post may contain affiliate sales links. Please read my disclosure policy.