Goodness gracious, how time flies!! The boys are a year old, but if we are going by months, they are 13 months old now. We took some photos the day after their birthday and it took a few weeks to get them, and then another couple weeks to finally gather my thoughts on the last 6 months. SO MUCH has changed!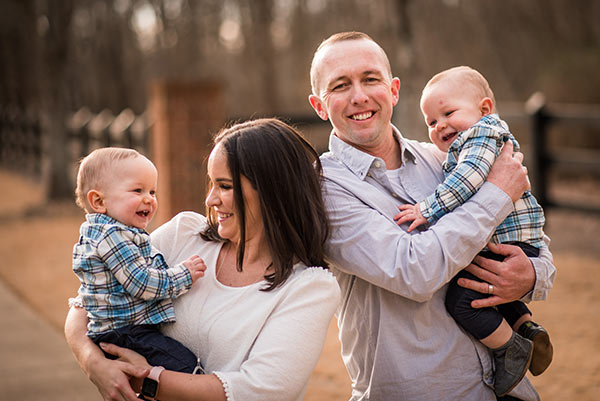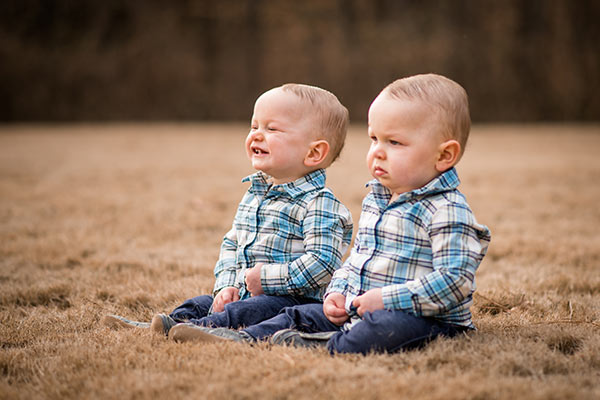 Also, I now know that photos of babies should not be taken just before dinner time. These babes were not thrilled about the delay in getting their dinner, ha!
So as I sat down to write an update, I had to go back and re-read my last update at 7 months old. So much happens so quickly, it gets hard to remember what happened and when. Looking back over photos and videos of their last several months, it's amazing how much they've grown and changed. So much growth happens in the first 6 or so months, yet it feels like so little changes. And then the last 6 months or so have just been full of milestones that feel so big!
So last we "chatted", the boys could sit on their own pretty well but would occasionally tip over and now they are walking and have been for about a month! They are busy, busy, busy. But lets go back and talk about 8 months and on.
We took the boys on their first beach trip at the end of the summer. That was certainly an experience – for both them and us. Beach trips are not like they used to be. 😉 No laying back and sipping on cocktails and taking beach naps. No, it's all about running after babies and their nap schedule, ha! They were still napping several times a day, so it seemed like we were never at the beach for long. Brooks was more into playing in the sand and Ashton was pretty into the water, but they didn't last long. Walks were definitely the best way to enjoy the beach for a longer period of time. But it was nice to take their first trip and we look forward to many more.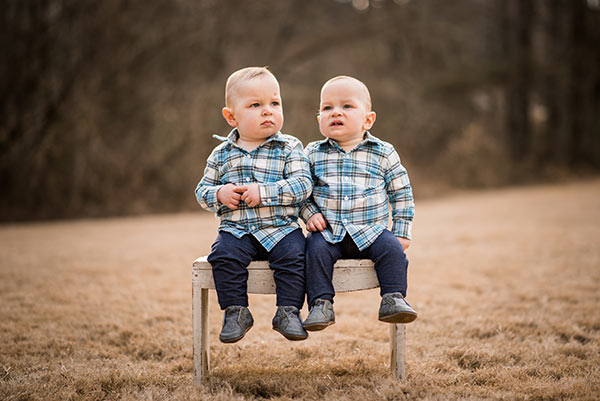 Not long after that, during their 9th month, things really felt like they were starting to change. The boys went from being babies that were always laying down or sitting, to using walkers (we used this walker)! It felt totally life changing! The boys LOVED being able to be on the move and we loved that for the first time, they seemed a little more independent.
Perhaps other twin moms can relate to this? I feel like friends would often tell us that things get harder when the baby starts moving. One of my very best friends had a baby boy two weeks after these guys and she'll tell me all the time that she's in no hurry for things like sitting, crawling and walking. But we were TOTALLY on board! Not only has every level of movement led to them spitting up less (which I wrote about in my last update), but it has made life so much EASIER! The boys would be so frustrated sometimes with not being able to move around and get things they wanted. I think they wouldn't have been so frustrated if they could be held more and move around that way, but holding two babies isn't easy. Even if they aren't super heavy, you have no hands to do anything else with. You're just standing there with two babies in your arms. So that really wasn't something that could be done for long, and certainly didn't equal much entertainment.
So when they finally got into walkers and could move around, we were all thrilled and they were adorable. They'd race around and we had a blast pushing them down hallways and listening to them laugh.
When they were 9 months old, they also got their first teeth. Those little teeth were doozies! The boys had been unusually fussy for them for like a week or so, so when teeth finally started to show, we were glad to know the reason. That first round of four teeth was the worst as far as them seeming uncomfortable.
They also started pulling up and trying to cruise around a bit while holding onto things at around 9 months. They had no interest at all in crawling, but clearly wanted to stand and walk.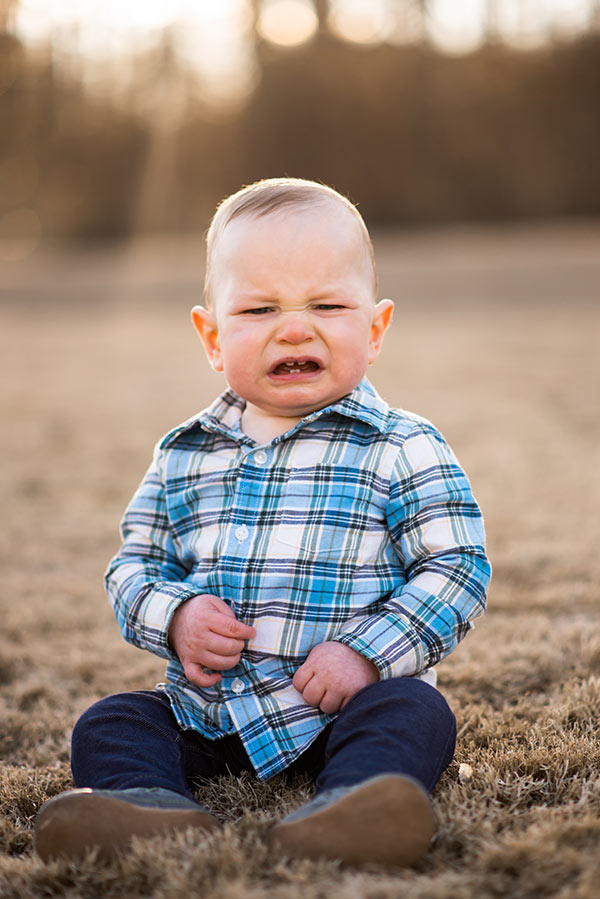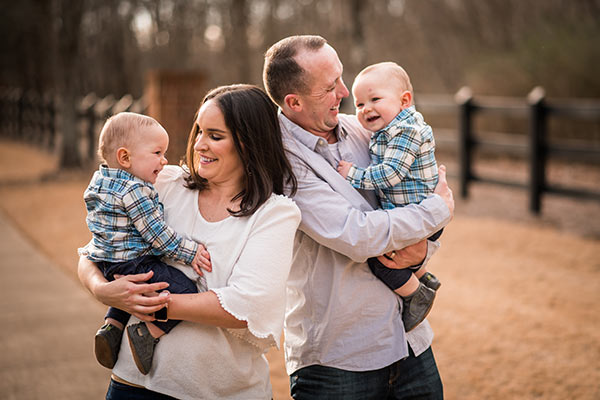 The 10th and 11th months for them were literally FULL of laughter! Even though these guys are still babies and have their moments, they really are such happy babies and so much fun! It didn't seem to matter what we did, they'd think it was funny. Dancing around with daddy? Hilarious. Me saying "yah" over and over? Almost choking it was so funny. Daddy coughing? SO much laughter!
They also started interacting more, focusing on each other and grabbing at each other, which was fun to see.
They were 10 months old for their first Christmas, which was kind of a great age. They had already started pulling themselves up while holding onto things and cruising around, but weren't crawling so we were able to have a Christmas tree without too much of an issue. 🙂 They'd go over to it in their walkers, but could only reach a small part of the tree and it stayed pretty safe.
Brooks did finally figure out how to push himself up from laying down to sitting in December (a few weeks before Ashton) and boy did that mess up his sleeping (and mine). They say babies practice things in their cribs and the boys don't actually do that much, but they definitely did when they learned how to sit themselves up. Brooks would wake up at least 4 times a night, sit himself up and then cry because he couldn't lay back down. I was thrilled when he could finally lay back down on his own.
Of course once Brooks figured that out, Ashton started sitting up on his own and started doing it at night too, LOL. It was about a solid month of bad sleep.
They also got their first fevers in December. Fortunately that was pretty much all it was and it didn't last for too long, but Brooks got it first and had the pleasure of his first ER visit in the middle of the night. He ended up being totally fine – just a fever. Ashton got it a week or so later and since we'd seen Brooks go through it, we knew it was fine. We've been fortunate though that other than those little fevers, they haven't been sick.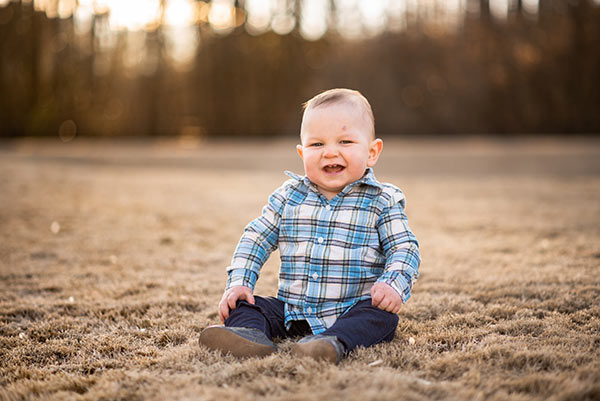 Brooks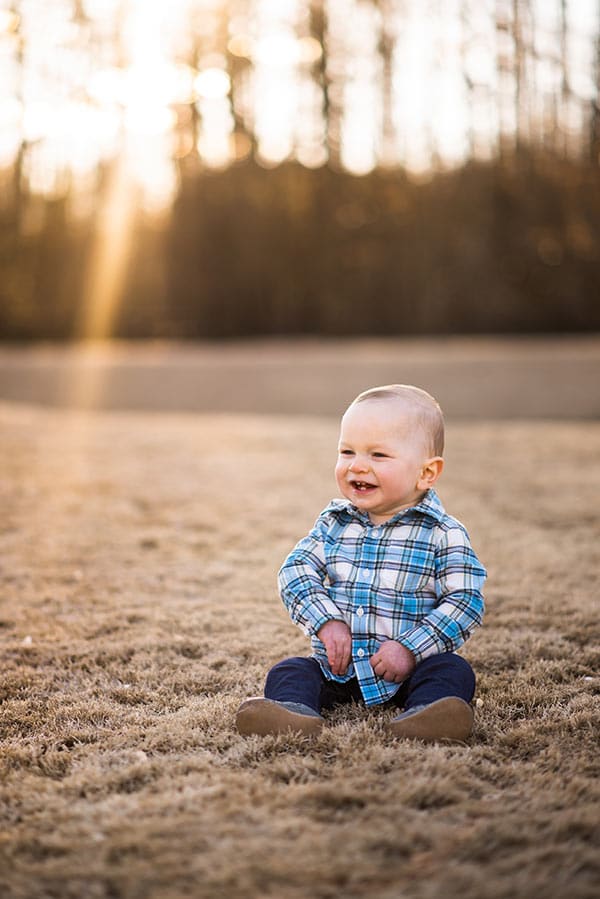 Ashton
And I would say since January, things feel like they have just been changing more and more rapidly. The boys weren't interested in crawling for the longest time, but in January they started and it wasn't long at all before they were walking. They actually started using the kind of walkers they stand behind and push (we have two of these car walkers) just after Christmas, then they started crawling, then within a few weeks, they were taking steps on their own. About two weeks after their birthday, Brooks was full on walking. Ashton started about 10 days later.
Brooks also started opening doors! Ahh! He's gotten very good it now, so you really have to watch him. He and Ashton love breaking into bathrooms and playing with toilet water and unrolling all the toilet paper. They can unroll a roll of toilet paper in like 5 seconds. It's amazing.
And they are so quick! Their little walks have turned into fast little runs. And they love to wrestle each other. They'll just grab on and pull each other down and then kind of lay on top of each other and roll around. It's pretty cute and funny.
They can crawl up the stairs now too, but we need to work on how to get down them. Baby gates are everywhere!
Honestly, these boys are such a joy! They are always into something – squealing, laughing and having fun. Yes, they have their fussy times, but it's usually from being tired or more recently, from teething. After getting their first 4 teeth around 9 months, they didn't get any others until the last few weeks. Now it seems like they've gotten so many at once. Six teeth each in the last about 3 weeks. Nutty! Fortunately it hasn't been too unsettling for them – just a little.
As far as personalities, Brooks seems to be the more gentle, laid back one. Ashton is a little more vocal. We like to say he's "scrappy". He might be the smaller one, but it certainly doesn't hold him back. They are both sweet little loves that enjoy snuggles and love being held. They love dancing to music and enjoy books, though Brooks really loves the books! Ashton has started shooting the basketball into their new basketball goal and Brooks is really getting into pushing these pull back cars around on the floor. They also have a food truck they love playing with. They both love petting Jessie and she's great with them – so gentle.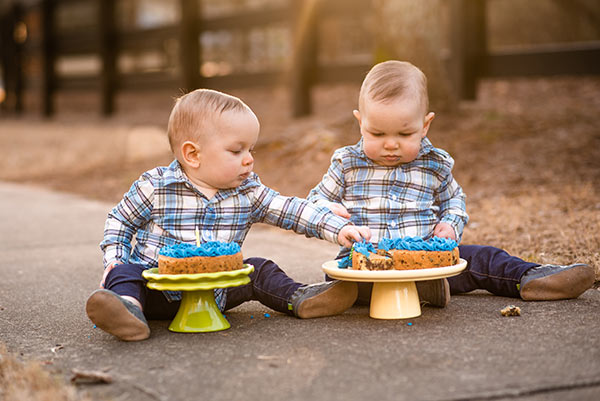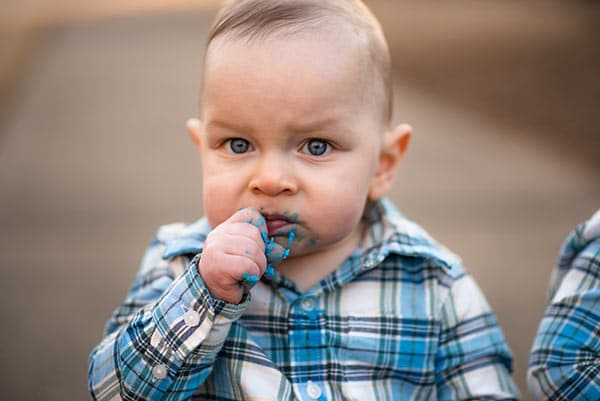 They are good eaters – mostly loving fruit. They are particular fans of berries and mandarins, but eat all fruit. They are also currently into avocado and asparagus. They aren't much into meat, but do alright. They love cheese eggs in the morning and, of course, Cheerios.
Yogurt pops are big for them too. They've loved them for some time, but lately we've been giving them to help with teething. These silicone pops are awesome!
Gosh, what else? They LOVE water and bath time and LOVE being outdoors. I'm so glad it's starting to get warm again because they just love going on walks and being pushed around in their Little Tykes Coupes outside. They've learned now that when it's time to put on their jackets and shoes, it's time to go outside so they get excited.
They aren't really talking yet. They seem like they're trying to and babble all the time. They say "mamamama" and "dadadada", but they don't really say it just to us as if they know that's who we are, you know? But they are getting so much more aware and understanding, so I'm sure it's coming.
Going back to the whole twin thing and making life easier, the fact that they can walk and understand me when I tell them to follow me or something is quite nice. Together, they weigh about 55 pounds, so it's getting REALLY hard to carry them both at the same time. I can't hold them at the same time for long, and if I pick one up, the other is sure to come over to be picked up shortly after. So being able to tell them to follow me into the bathroom for bath time, rather than have to carry them, is pretty nice.
And finally, a quick update on Ashton's SVT. He hasn't had a single episode since he was two weeks old! It's been pretty awesome. We still check his heart rate every morning and night, but he's been totally fine.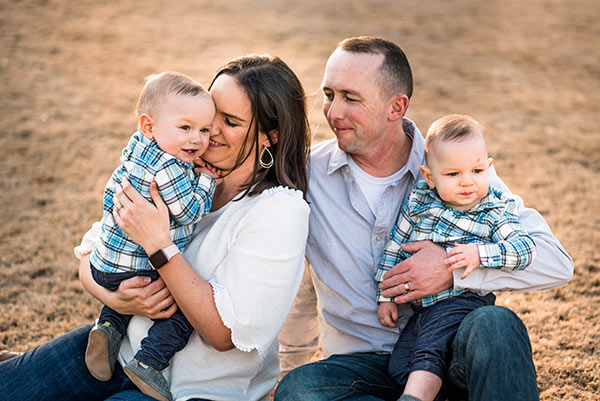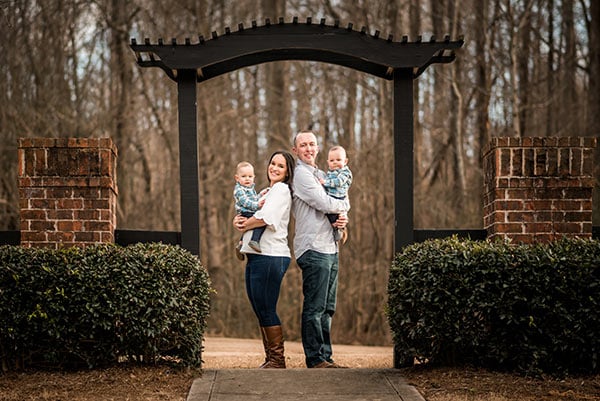 And since I gave an update about me last time, I'll carry that over this time. Mom is doing pretty well. Still don't shower as often as I used to, but it's better. 😉 I mentioned my ab split last time and while that has improved, there's still a lot of work to do. Man, it's a beast to fix that!
I haven't lost the baby weight I had, so that's a downer for me, but I've been changing up my habits the last few weeks and finally feel like I can give myself a little attention. I think one of the hardest things about being a new mom to twins for me has been being able to take care of myself. I stuck with breastfeeding the boys until they were 12 months old and that was WORK! Brooks nursed (not all the time, but a couple times a day) until 10 months, when he started biting with teeth and we just couldn't do it anymore. But I pumped for them both (aside from the little bit of nursing) all the way to 1 year. It was at that point that I got a little of myself back and felt like I could give myself a smidge of "me time". Being done with breastfeeding was the biggest relief. Not the nursing – the day I knew that was over, I totally cried. But the pumping – I celebrated. I do not miss that pump.
So now I'm working on myself a bit. It's not easy to find time. The days are busy and full and by the time the boys go to bed, I'm worn out. But I just love them so much, so it's all worth it.
I think that's about it! It's crazy how the first 6 months-ish were super hard in many ways, but the last several months have been so much fun. These little guys are the best. We love them so much! I often look at them and am reminded of just how special they are. Not just because they are super awesome little boys, but because they are our miracles. We worked hard for them and I see God's handiwork when I look at them. I feel so privileged to be their mom. It's a beautiful blessing to be able to wake up to them every day and watch them grow. I'm looking forward to all they year two brings us.
This post contains affiliate links.
This post may contain affiliate sales links. Please read my disclosure policy.