White Chocolate Butterscotch Tart
This White Chocolate Butterscotch Tart is the perfect treat for the butterscotch and white chocolate lover – which I am. Layers of ganache combine to make this wonderfully easy tart.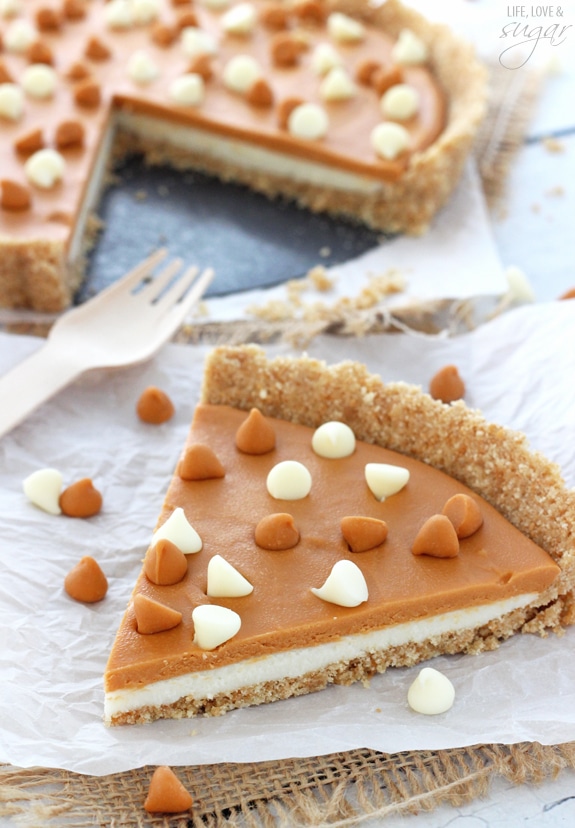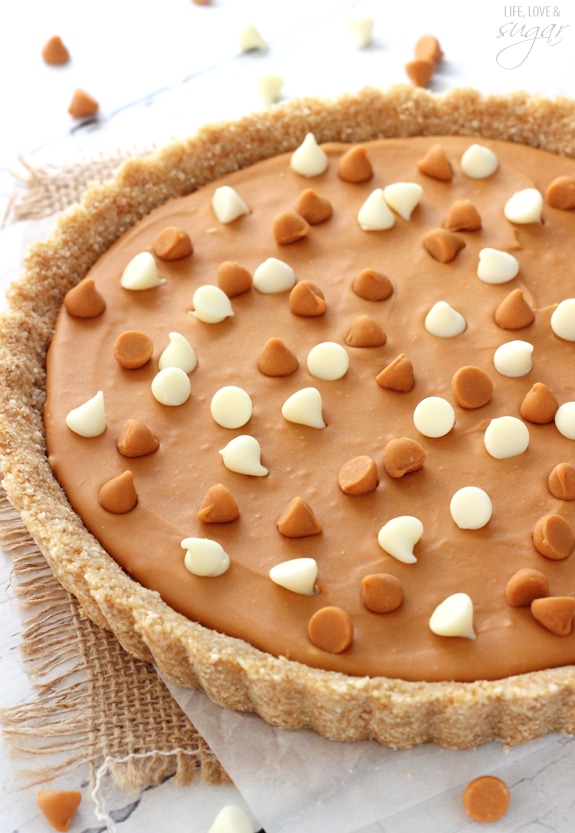 This past weekend we had a bunch of my family in town. My parents, grandmother and the reason for the gathering – my cousin, her husband and their new baby. It was my first time meeting him in person. I was actually in Chicago, where they live, just after his due date (he was late). I was hoping to meet him then, but he was stubborn and only arrived 3 days after I left. #naughty
You might think he's a stubborn little thing even out of the womb, but I have to say he is one of the sweetest babies. So calm and chill. And at 9 months, he could be passed around from one person to the next and not even let out a little cry. It certainly made it fun to play with him. I even danced around the kitchen with him to some good oldies.
It was his first time being around a dog and he was totally fascinated with Jessie. She wasn't quite as interested in him, but she also wasn't terribly bothered by him either. Since the day we got her, the hubs has played with her and gotten her used to being touched on the face, having her paws touched – you name it. He plays with her in more annoying ways than most kids just so that she won't be bothered when kids do it. My nieces have even been able to paint her toenails while she laid there. She has pink toenails for a month, no joke.
Anywho, the baby was adorable and I didn't want to let him go. I'll miss those sweet, warm little baby hugs.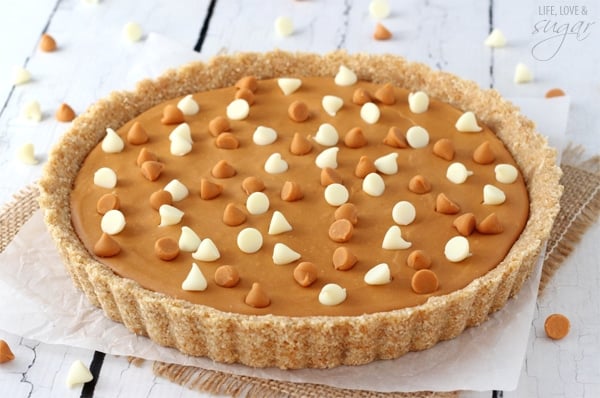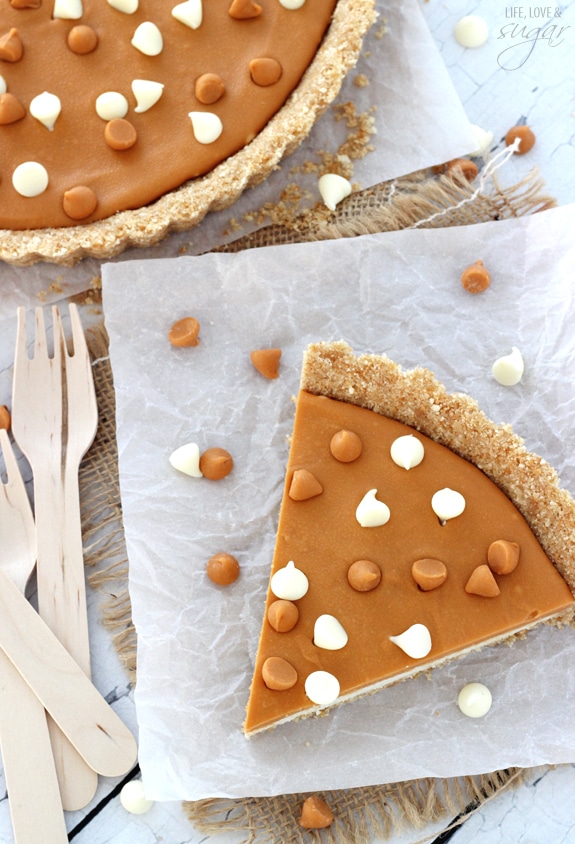 I had taken the weekend off of baking while everyone was staying with us, but now it's back to it! Lucky for me (and you!) this tart is actually no bake and so easy to make.
The crust is pretty straight forward. Mix together vanilla wafer crumbs, brown sugar and melted butter. Press it into a 9 inch tart pan and set that aside to move on to the fun stuff.
To get the separate white chocolate and butterscotch layers, they are made separately. Both are basically layers of ganache. You make the white chocolate layer, allow it to cool and firm a bit, then repeat with the butterscotch layer. Easy, right?
And don't be afraid of ganache if you haven't made it before. I used to be afraid of it but once I tried it, I never wanted to stop making (and eating) it. You basically just heat heavy cream, pour it over white chocolate/butterscotch chips (or chocolate, or whatever flavor you're making), allow the heat from the cream to melt the chips, then whisk until smooth. Occasionally I don't wait long enough for the chips to melt and I'll need to microwave the mixture for a few seconds, but other than that it's hard to mess up.
There's no doubt this tart is sweet. White chocolate and butterscotch are much sweeter than any regular chocolate treat. Which is probably why I've always loved white chocolate. Leave it me to like the least healthy chocolate out there. I mean, is it even really chocolate if there's no cocoa? Whatever. I love it and I blame it on my grandmother. We share the love of white chocolate with one another.
And now I'm sharing it with you. Aren't you lucky? 😉 Enjoy!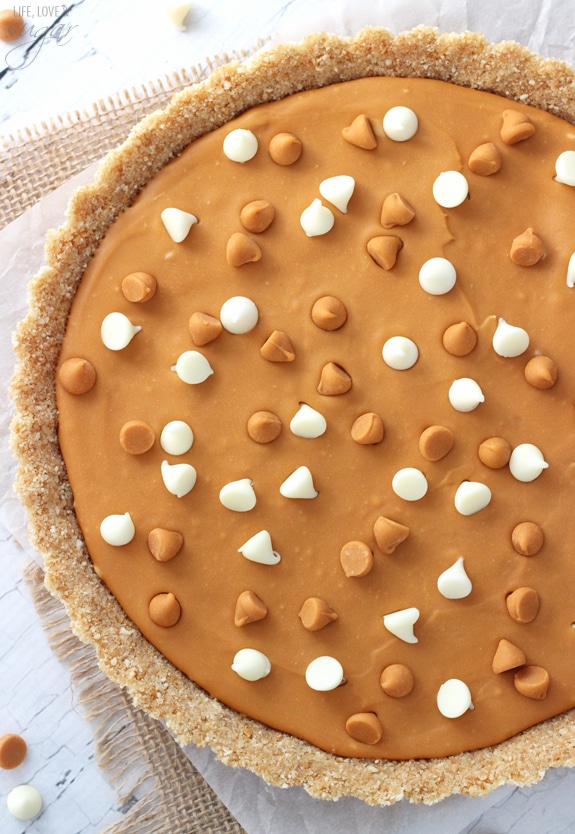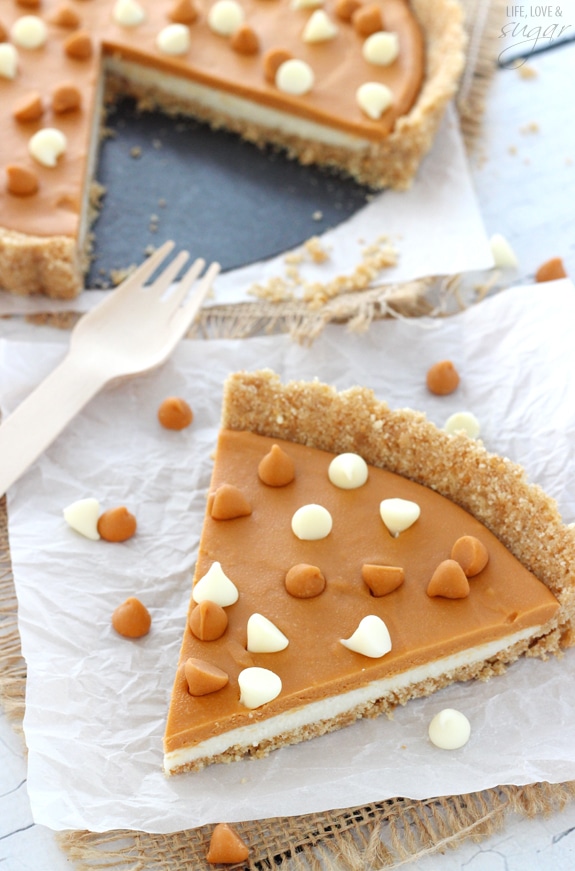 You might also like:
Ultimate Butterscotch Cake
Pumpkin Butterscotch Chip Cookies
Double Pumpkin Butterscotch Rice Krispy Treats
Loaded Butterscotch Cheesecake
Pumpkin Butterscotch Fudge
White Chocolate Butterscotch Tart
Yield:

8

-

10

Slices

1

x
Category:

Dessert

Method:

No Bake

Cuisine:

American
Ingredients
1 1/2 cup

s vanilla wafer crumbs

3 tbsp

brown sugar

5 tbsp

butter, melted

6 oz

white chocolate chips

8 tbsp

heavy whipping cream, divided

6 oz

butterscotch chips
Instructions
1. Add melted butter to cookie crumbs and brown sugar and mix until combined.
2. Press cookie mixture evenly into the bottom and up the sides of a greased 9 inch tart pan, with removable bottom, then set aside.
3. Add the white chocolate chips to a medium sized bowl.
5. Put 4 tbsp heavy cream into a microwave safe container. I used a glass measuring cup. Microwave heavy cream until it begins to boil, about 1 minute.
6. Pour heavy cream over the white chocolate chips and let it sit for about 30 seconds.
7. Whisk mixture until smooth, microwaving for about 10-15 seconds, if needed to completely melt chips.
8. Pour white chocolate ganache into crust and spread into an even layer. Refrigerate for about 15 minutes, or until fairly firm.
9. Put butterscotch chips into a microwave safe bowl.
10. Add remaining 4 tbsp of heavy whipping cream to microwave safe container. Microwave heavy cream until cream begins to boil, about 1 minute.
11. Pour heavy cream over butterscotch chips and let it sit for about 30 seconds.
12. Whisk mixture until smooth, microwaving for about 10-15 seconds, if needed.
13. Pour butterscotch ganache over white chocolate ganache and spread into an even layer.
14. Top with some extra white chocolate and butterscotch chips.
15. Refrigerate until firm, about an hour.
Enjoy!