January 11, 2016
Cannoli Tart
This Cannoli Tart has all the great flavor of a cannoli wrapped into one easy-to-make tart! With a touch of cinnamon and mini chocolate chips, it's got all the things I love most about cannolis.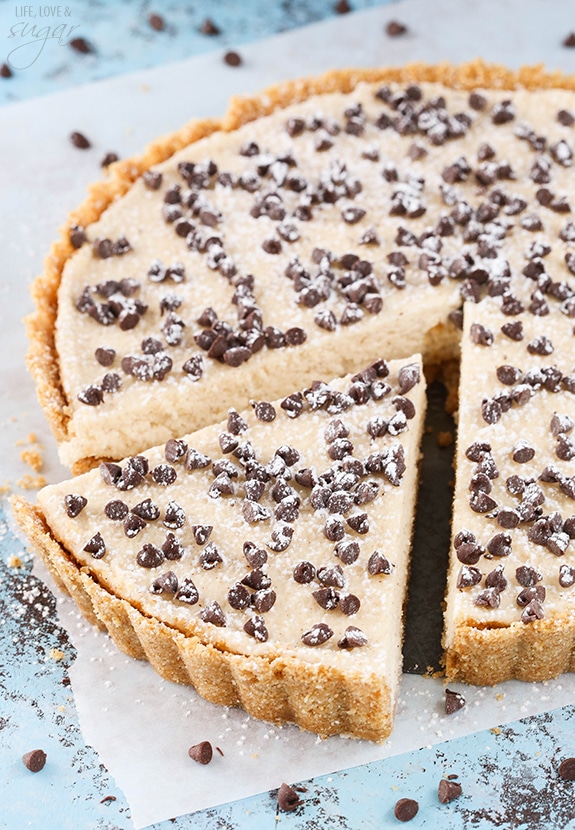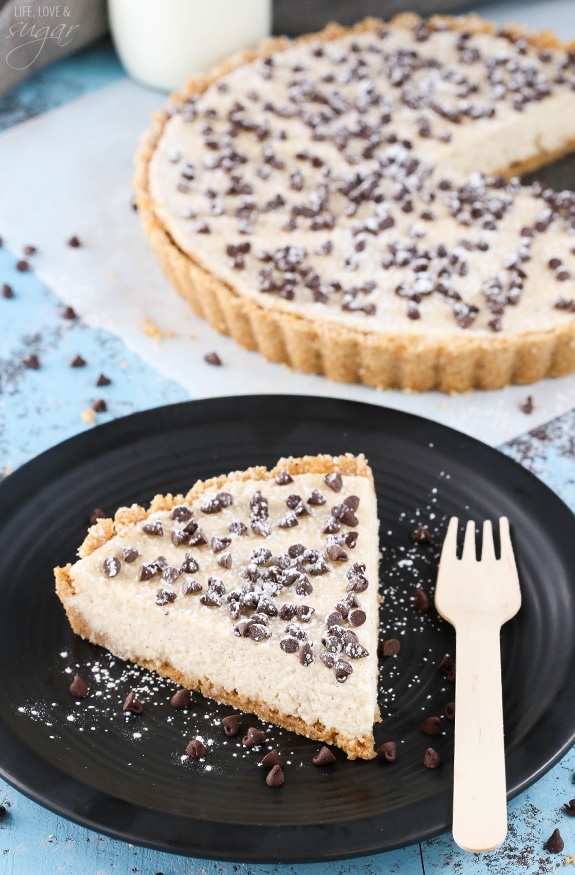 So I spent most of my baking time this past week on this one darn recipe for the cookbook. It just would not cooperate. It wasn't bad, per se, but it also wasn't just right. And truly, I'm quite picky. Especially when it comes to a book that's going to be published. Talk about scary.
So I had several versions of said recipe stacked in several cupcake carriers around the kitchen. Saturday morning I came down early to keep working on it. Several hours later when the hubs came down, he revealed that he'd had trouble sleeping the night before and when he came downstairs to watch tv, he got into the cupcakes.
Of course my brain immediately went into panic mode – for about 5 seconds. Did he eat ones I needed for comparison purposes?! Oh no!
But then he followed up with, "But I ate ones from different tiers so they weren't all the same batch."
Phew! 😉
He could see my relief – and laughter – and claimed that he was proud of himself because he now knows how to properly steal cupcakes from me. Ha! Thief!
It was also his birthday, so I couldn't be too mad. 🙂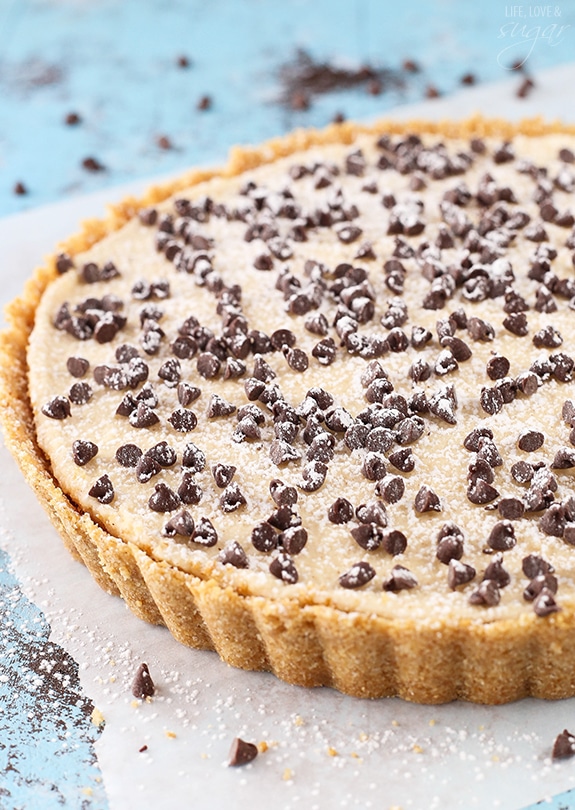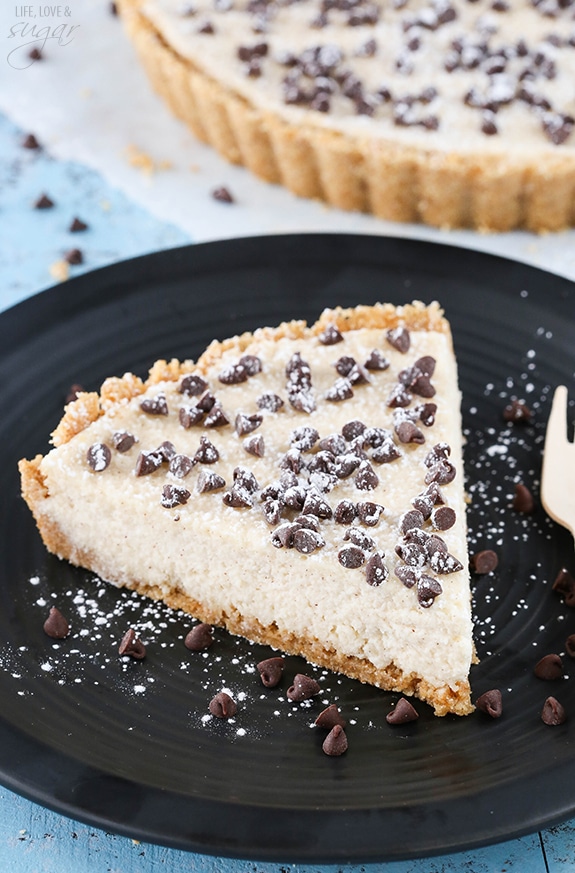 This cannoli tart is absolutely worthy of some major thievery.
If you've hung around this blog for a while, you've probably realized that I love cannoli desserts. I don't always love getting cannolis from bakeries. I find they tend be to super sweet, which is weird to hear me say, but it's true. But I love making my own cannoli-inspired desserts. A poke cake, icebox cake and now a tart. And I'm sure there's more to come. I can make them just sweet enough with just the right amount of cinnamon. Mmm mm mm!
And this particular dessert is nice because it's so easy. It's almost completely no bake, but I did actually bake the crust. I wanted to be sure it held together a little better when sliced.
The filling is made first by making homemade whipped cream. It lightens up the tart filling nicely.
The next step is to combine the mascarpone cheese, powdered sugar, vanilla and cinnamon. I love using mascarpone cheese. It's so darn yummy. Some cannolis actually use a combination of mascarpone and ricotta, but because ricotta can be a little finicky with the amount of water I stuck to mascarpone. Feel free to replace some of it with ricotta if you prefer.
Carefully fold the whipped cream into the mascarpone mixture. You want to use a folding motion so that you don't deflate the whipped cream.
Spread the filling into the tart, top with some mini chocolate chips and sprinkle with powdered sugar. Refrigerate it until firm and devour! Such an easy to way to enjoy a wonderful cannoli dessert! Yum!!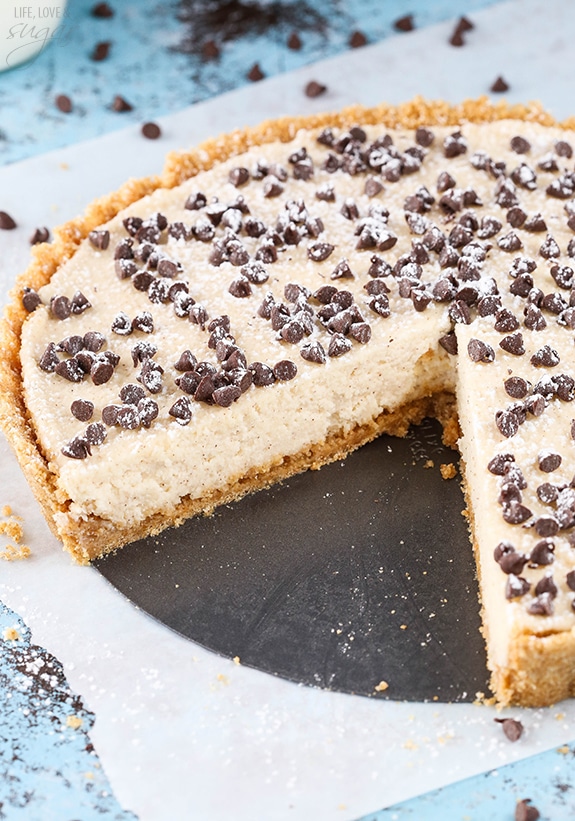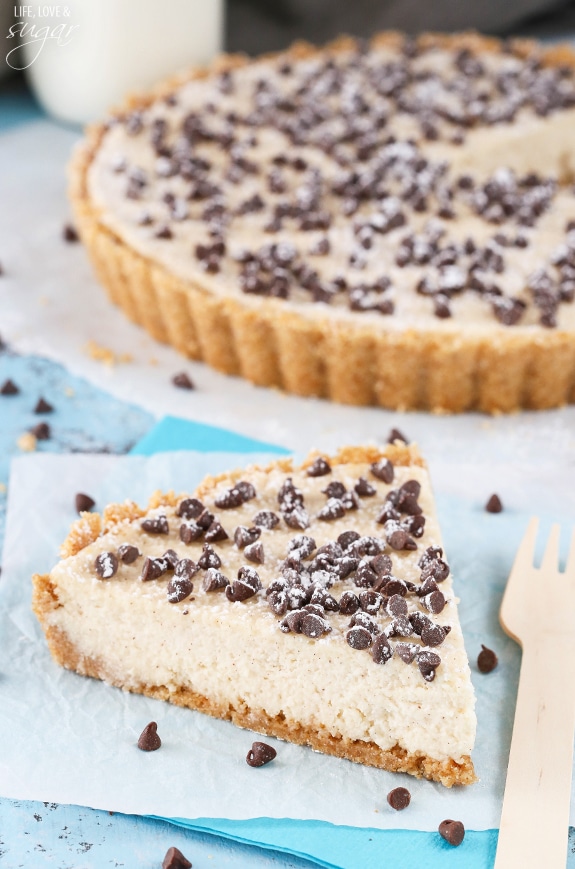 Cannoli Tart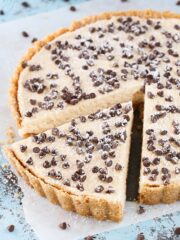 Category:

Dessert

Method:

Oven

Cuisine:

American
Ingredients
CRUST
1 1/4 cup

s graham cracker crumbs

3 tbsp

sugar

5 tbsp

butter, melted
CANNOLI FILLING
3/4 cup

heavy whipping cream

3/4 cup

powdered sugar, divided

12 oz

mascarpone cheese, room temperature

1/2 tsp

vanilla extract

1/2 tsp

cinnamon
Instructions
1. Preheat oven to 325 degrees and grease a 9 inch tart pan.
2. Combine ingredients for crust and press into the bottom and up the sides of the pan.
3. Bake crust for 7 minutes, then remove from oven and allow to cool completely.
4. To make the whipped cream, whip heavy whipping cream on high speed for 2-3 minutes. Cream will initially bubble a little bit, then start to thicken.
5. As the cream starts to thicken, add 1/4 cup of powdered sugar.
6. Whip on high until stiff peaks form, for a total whipping time of about 5-7 minutes.
7. Set whipped cream aside and combine mascarpone cheese, remaining powdered sugar, vanilla extract and cinnamon. Mix on slow speed until combined. Do not over mix.
8. Carefully fold the whipped cream into the mascarpone mixture.
9. Spread filling into the tart crust and refrigerate until firm, 3-4 hours.
Enjoy!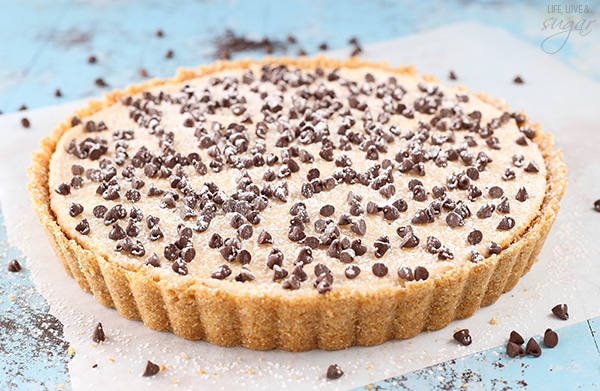 You might also like:
Recipes from friends:
Cannoli Cheeseball from Taste and Tell
Cannoli Chimichangas from Chef in Training
Pumpkin Cannoli Recipe from Roxana's Home Baking