July 9, 2014
Banana Split Icebox Cake
This Banana Split Icebox Cake is a blend of some of my favorite fruity flavors! Banana, pineapple, strawberry and cherry all make an appearance and are topped with chocolate and caramel sauce! No bake, easy to make banana split heaven!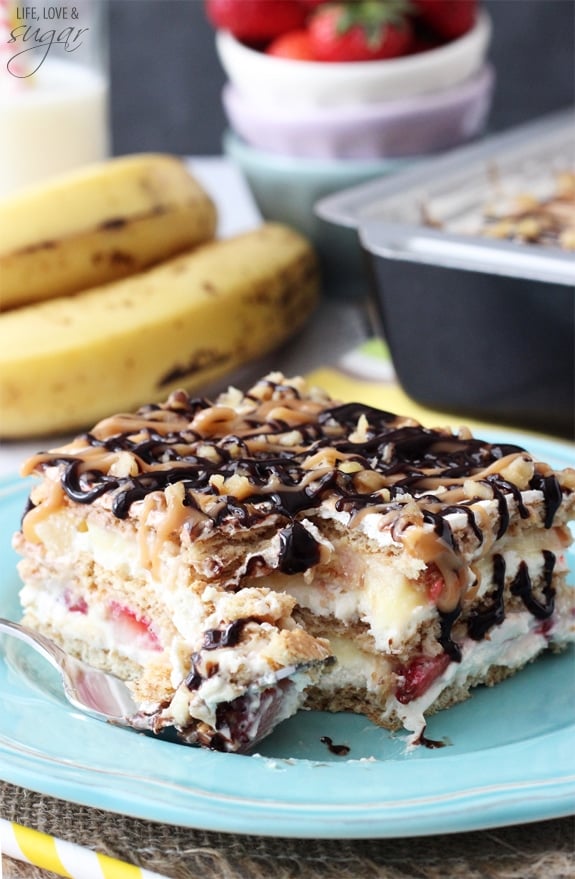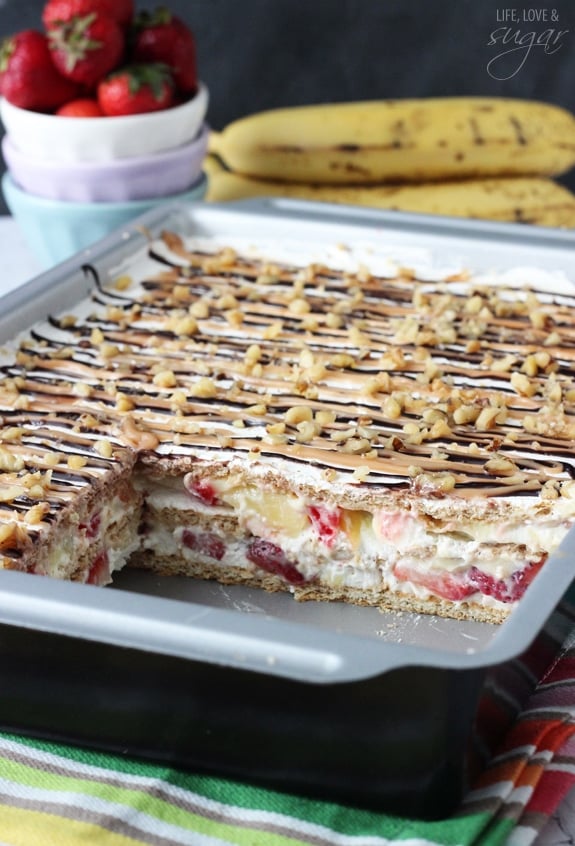 No bake desserts like this one are great right now, since it's getting so darn hot. Our upstairs bedroom has been heating up during the day recently and it hasn't been so good.
We need to get someone out to service the air conditioning, but can't seem to get on it. Instead, we bought fans.
The hubs and I have been talking about getting fans for forever, even before the bedroom started getting warm. But Lowes had a 20% off deal over the weekend, so we jumped on it.
Of course once we had the fans, the hubs wouldn't rest until they were installed. So Sunday night at 10:30 p.m. he decides we need to install the one in our room. The other one was done the next day.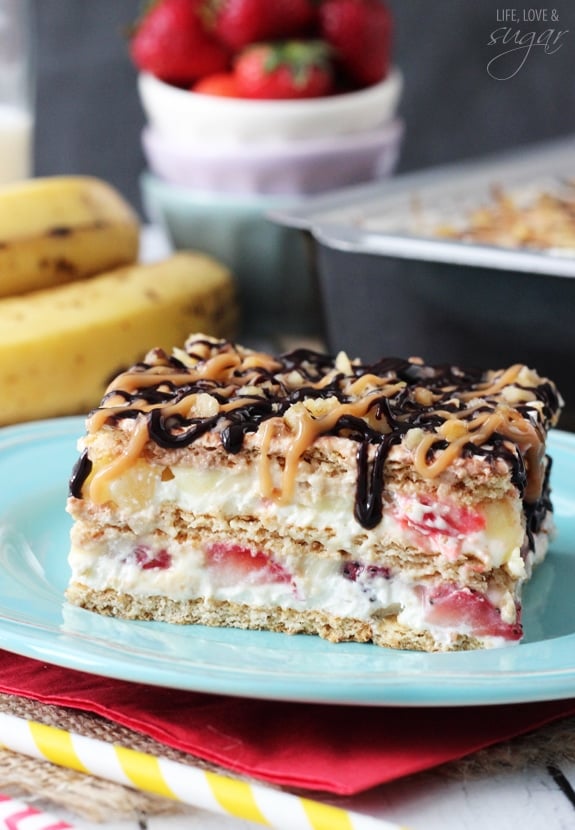 It was our first time installing fans and I got the job of assistant. Since it was dark out at that point and the power in the room had to be off for the installation, that meant holding a flashlight, reading instructions and handing the hubs things while he was on the ladder installing things.
In a moment of waiting, I of course checked instagram. What else would I do with a free 30 seconds?
The hubs wasn't really a fan and gave me his disapproving look, but instead of saying something negative he smiled, in a joking way, and said "I love you."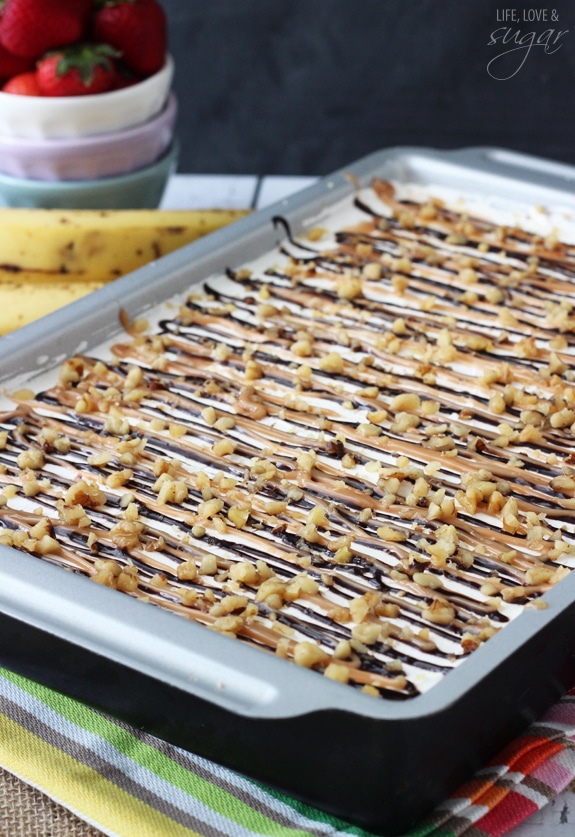 It was quite effective.
I got what he was saying, laughed and didn't look at the phone again. The last few days saying "I love you" instead of how annoyed we are has been our thing. It's been pretty effective at making us laugh and even more effective at accomplishing…whatever we are trying to accomplish.
Fortuantely both fans got installed without too much difficulty. And they really do look great and help a lot with keeping the air circulating and the rooms cooler. I'm a fan…no pun intended. 😉
I'm a dork, I know.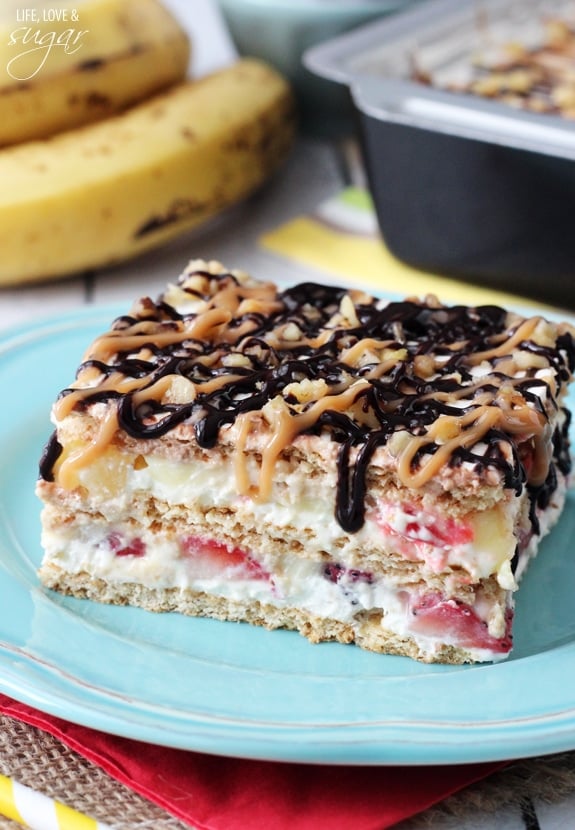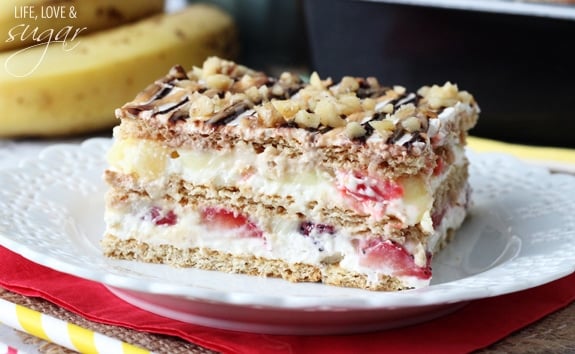 But back to the icebox cake.
It actually reminds me a lot in flavor of the Banana Split Blizzard from Dairy Queen. It's my fave. I very rarely get another flavor unless it's some special flavor that I'm curious to try, or I'm craving cookie dough. I can't remember not loving it.
This icebox cake is the same way. It's the perfect summer dessert. I love the flavors and how it all comes together so well, I can't imagine not loving it. I know it will be that way for you too. 🙂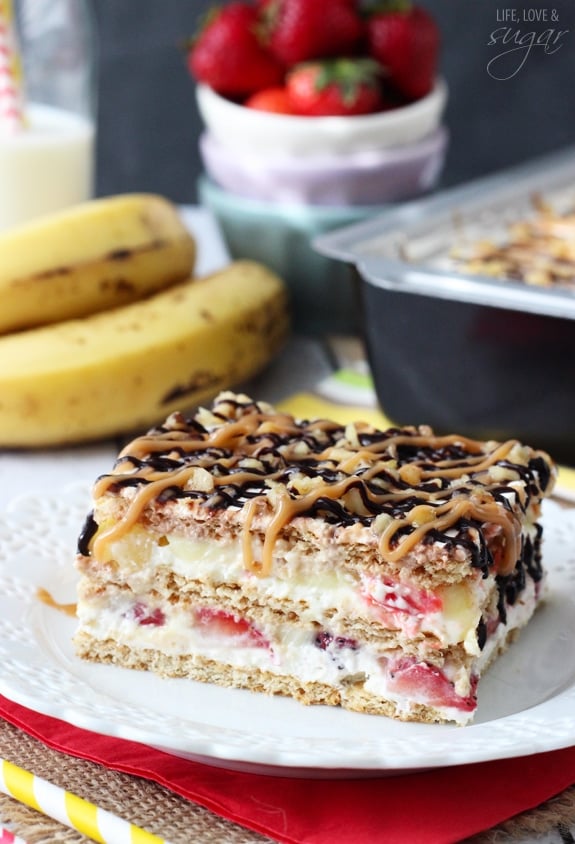 Banana Split Icebox Cake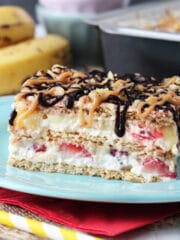 Yield:

15

-

18

Slices

1

x
Category:

Dessert

Method:

No Bake

Cuisine:

American
Ingredients
5.1 oz

box instant banana pudding mix

3 cup

s milk

8 oz

cream cheese, room temperature

1/2 cup

powdered sugar

8 oz

Cool Whip (or homemade whipped cream)

14.4 oz

box graham crackers

1

lb strawberries, washed, dried and sliced

8 oz

can pineapple tidbits, drained, washed and patted dry

10

–

12

marachino cherries, chopped
chocolate sauce
caramel sauce
handful of chopped walnuts
Instructions
1. Make the banana pudding by whisking together the pudding mix and milk according to package directions.
2. Beat together cream cheese and powdered sugar until smooth.
3. Add 1/2 a cup of banana pudding to cream cheese mixture and mix until incorporated.
4. Fold in 2/3 of the cool whip to cream cheese mixture.
5. To begin the layers, put a single layer of graham crackers in the bottom of a 9×13 pan. You might have to break some to fill in the gaps. I used about one sleeve per layer (there were 3 in the box).
6. Top graham crackers with half of the cream cheese mixture and spread evenly.
7. Top cream cheese mixture with a layer of thinly sliced strawberries.
8. Top strawberries with 1/2 of the banana pudding. Spread into an even layer
9. Add another layer of graham crackers.
10. Top with the other half of the cream cheese mixture and spread into an even layer.
11. Top with pineapple tidbits and cherries.
12. Add remaining banana pudding and spread into an even layer.
13. Add another layer of graham crackers.
14. Top with remaining 1/3 of cool whip and spread into an even, thin layer.
15. Top with chocolate and caramel sauce and walnuts.
16. Refrigerate for 3-4 hours or until ready to serve. The graham crackers will soften as it sits and the flavors will meld together.
Enjoy!

You might also like:
Strawberry and Blueberry Cheesecake Icebox Cake

Moist and Chewy Banana Oatmeal Cookies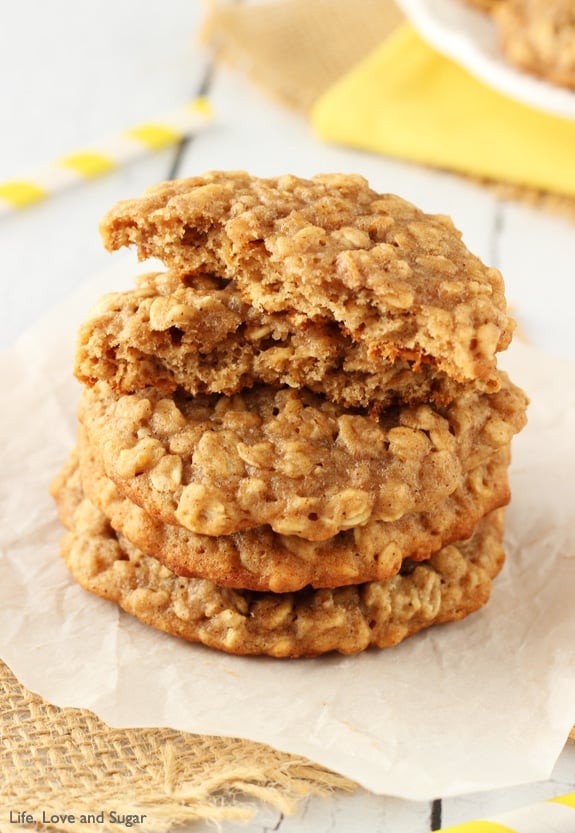 Recipes from friends:
Banana Split Bundt Cake from Inside BruCrew Life
Banana Split Poke Cake from Shugary Sweets
Oreo Banana Split Bites from The Domestic Rebel
Banana Split Dump Cake from Lemon Tree Dwelling
Strawberry Banana Split Milkshake from Roxana's Home Baking