This Caramel Apple Cheesecake recipe is the perfect apple dessert for Thanksgiving! It's full of cinnamon, apples, homemade caramel sauce and is absolutely delicious!
This cheesecake is made with my easy salted caramel sauce recipe. It's so good!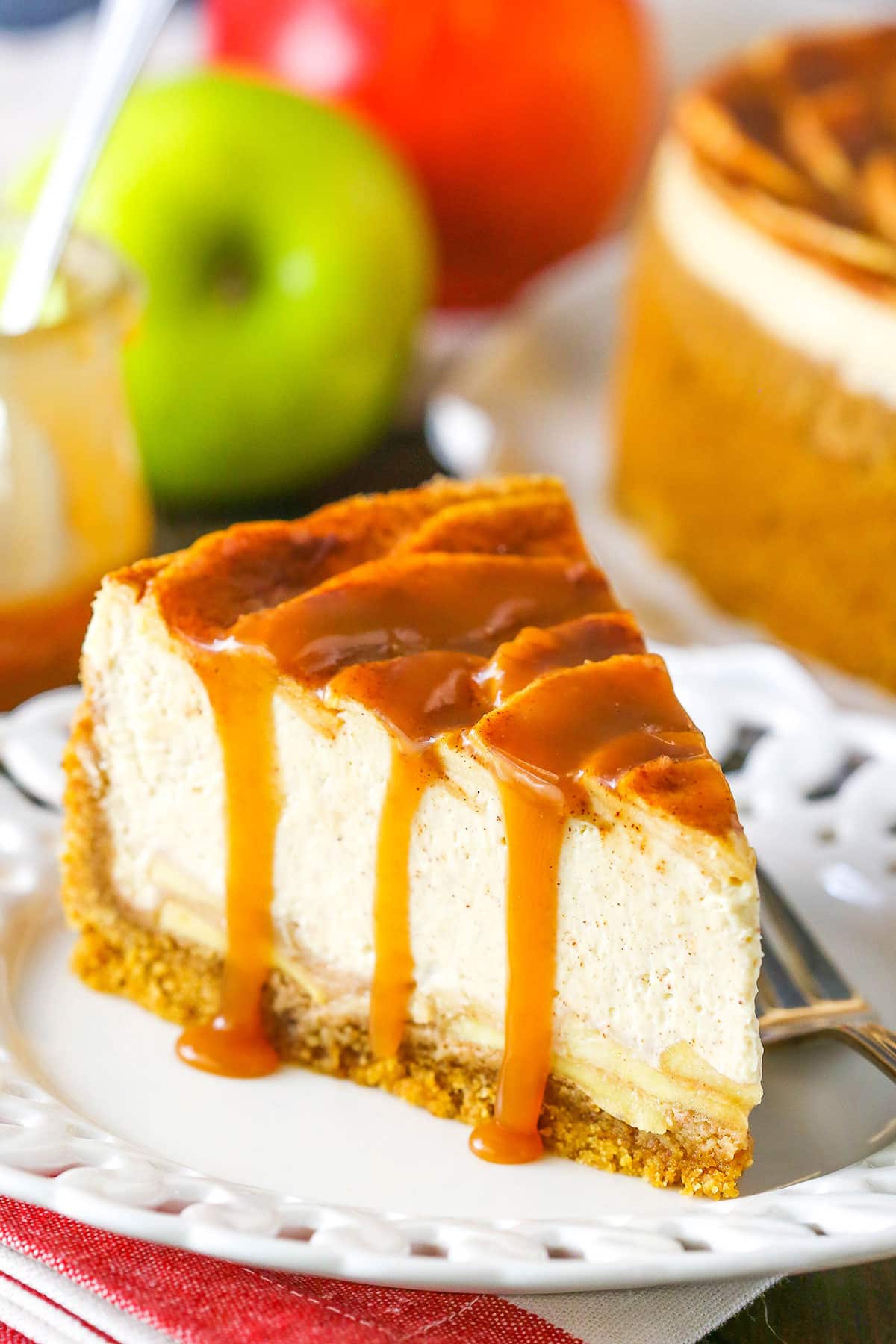 Easy Caramel Apple Cheesecake
This cheesecake is thick, creamy and full of everything you could want in an apple cheesecake. It's made with:
– A graham cracker crust that's filled in the bottom with sliced apples tossed in cinnamon and caramel sauce
– A cheesecake filling made with brown sugar, cinnamon and applesauce for some amazing flavor
– A topping that's not only delicious because it's made with cinnamon-sugar covered apple slices, but also pretty
It's packed full and you'll never need another Caramel Apple Cheesecake recipe!
How to Make Caramel Apple Cheesecake
This cheesecake begins with my classic graham cracker crust recipe. It's easy to put together and pre-bakes in the oven for about 8 minutes.
From there, you'll add a layer of thinly sliced apples that have been tossed in some ground cinnamon, and pour an amazing, easy-to-make homemade caramel sauce over the top. A few tablespoons of flour is stirred into the caramel sauce first, which helps keep it from kind of disappearing into the cheesecake while it bakes.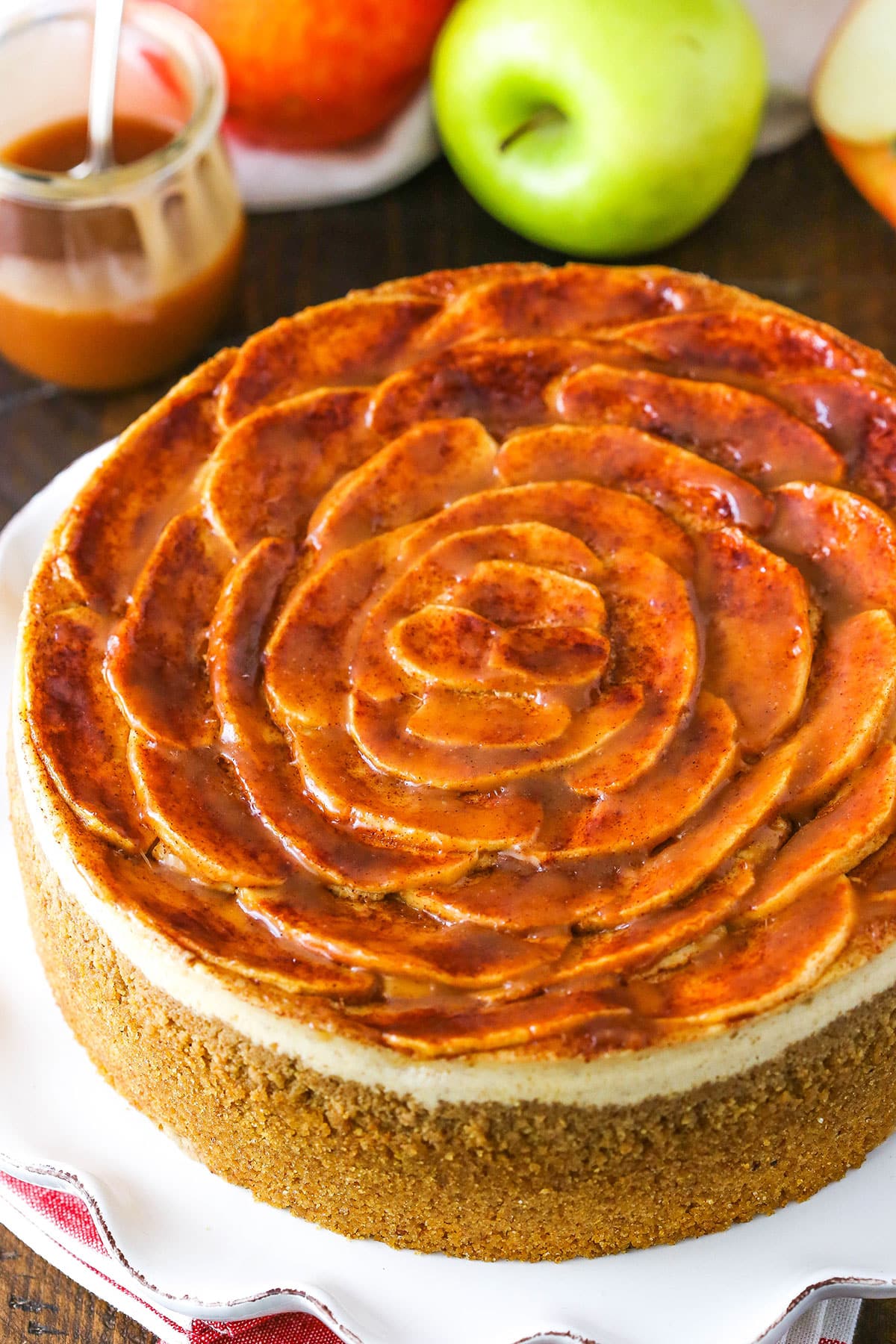 The apples are topped with the cheesecake filling. To make the filling, you'll begin by combining the cream cheese, brown sugar and flour. Be sure to always stir on a low speed so that you don't incorporate too much air into the filling. Air is the enemy of a crack-free cheesecake. Big bubbles can come to the surface and pop, leaving you with cracks.
Next, you'll add some sour cream, applesauce, vanilla and cinnamon. All of them contribute to the great flavor of this cheesecake. The applesauce and cinnamon are where it's really at though. As simple as it may seem, adding applesauce takes the flavor of this cheesecake to a whole new level. So good!
Finally, you'll add your eggs and then it's time to add the filling to the pan and add your topping.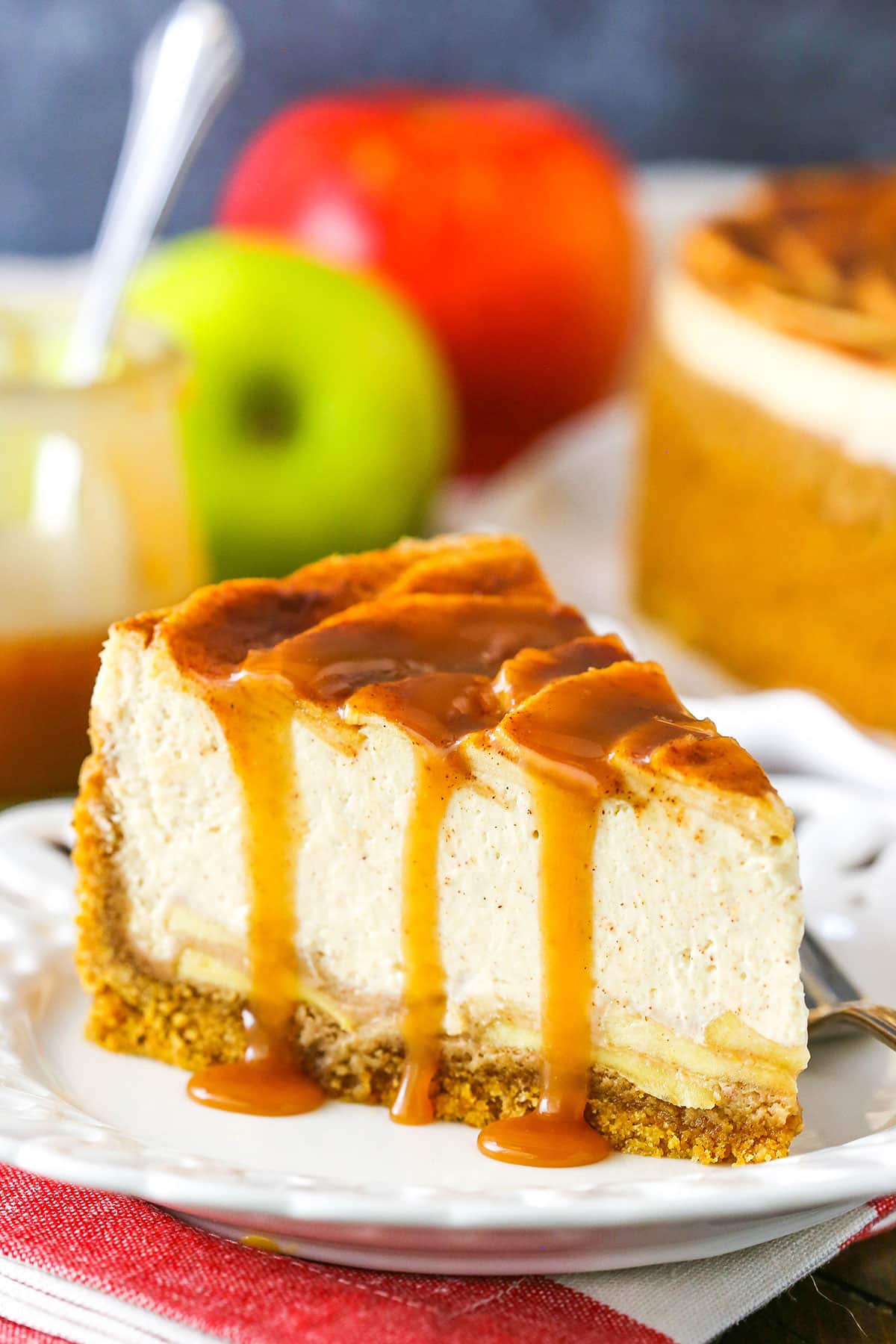 Caramel Apple Cheesecake Topping
To top this cheesecake, I made a bit of an apple rose out of sliced apples. You want to use very thinly sliced apples for this part. It makes them much easier to shape and mold, not to mention that it keeps all those apples on the top of the cheesecake from getting too heavy.
While it may seem a little strange when you're adding the apples on top, the cheesecake will hold them all. Just start from the outside and work your way in to the center.
All that said, you could totally avoid doing that design on top. As an alternative, you could just chop up the apples and sprinkle them over the top and bake it that way. You could even bake it without the apples on top, and instead cook them on the stove and add them before serving it. Totally up to you! Lot's of great options that all result in the same great-tasting cheesecake!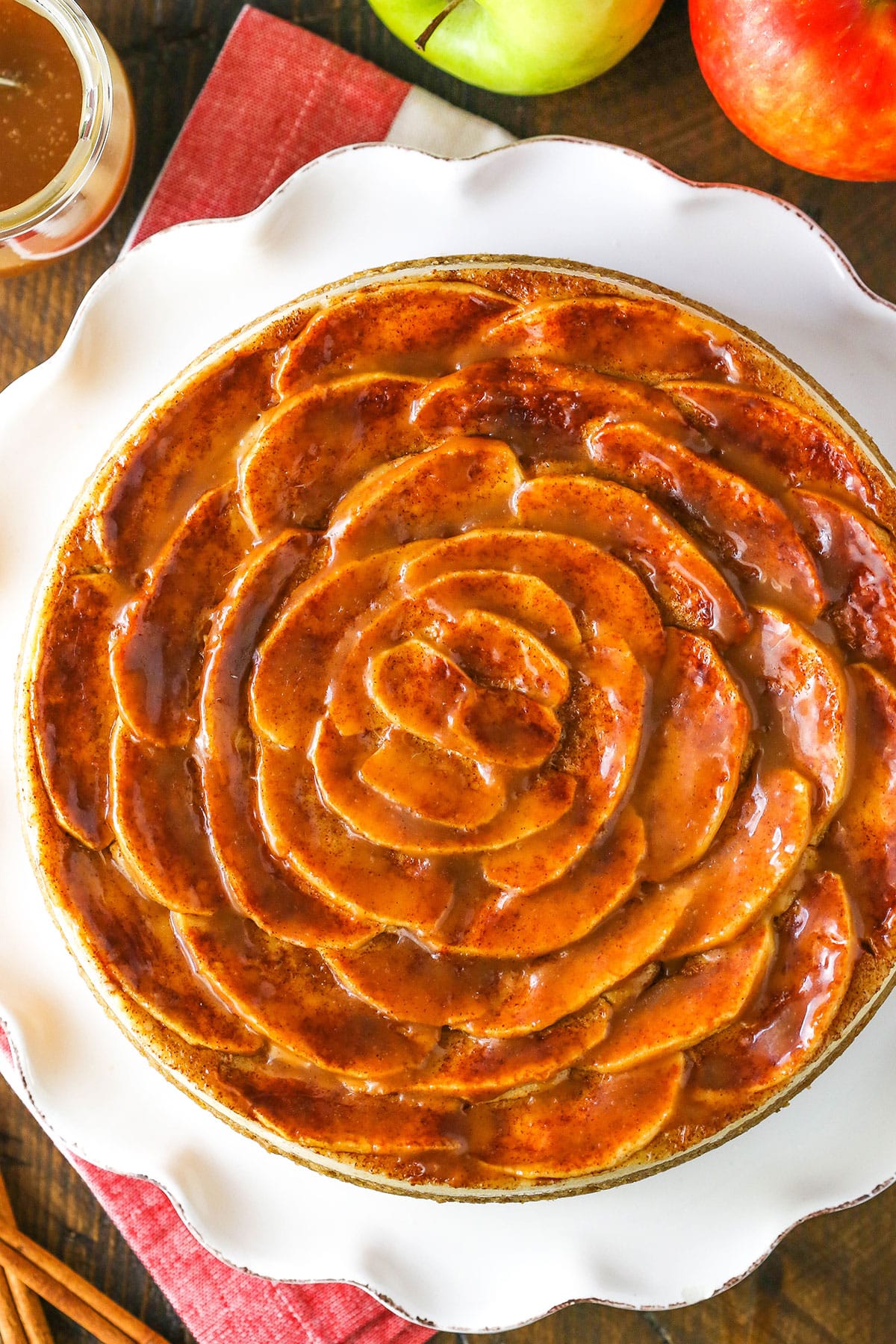 How to Bake this Cheesecake in a Water Bath
As with most of my cheesecakes, this one does use a water bath. The moisture it adds to the baking process helps to keep the cheesecake from over-browning, falling in the center when it cools, and cracking. It's definitely worth the extra few steps.
And if you tend to have trouble with your water bath leaking, check out my tutorial for how I avoid a leaking water bath.
An Amazing Thanksgiving Dessert Idea
This Caramel Apple Cheesecake will make you fall in love! The combination of flavors and textures is heavenly and exactly what you want in a fall treat! Thick, creamy, with a little crunch from the apples!
This cheesecake is perfect for sharing at work, with friends, or for Thanksgiving. However you share it (or keep it all for yourself), I hope you enjoy it!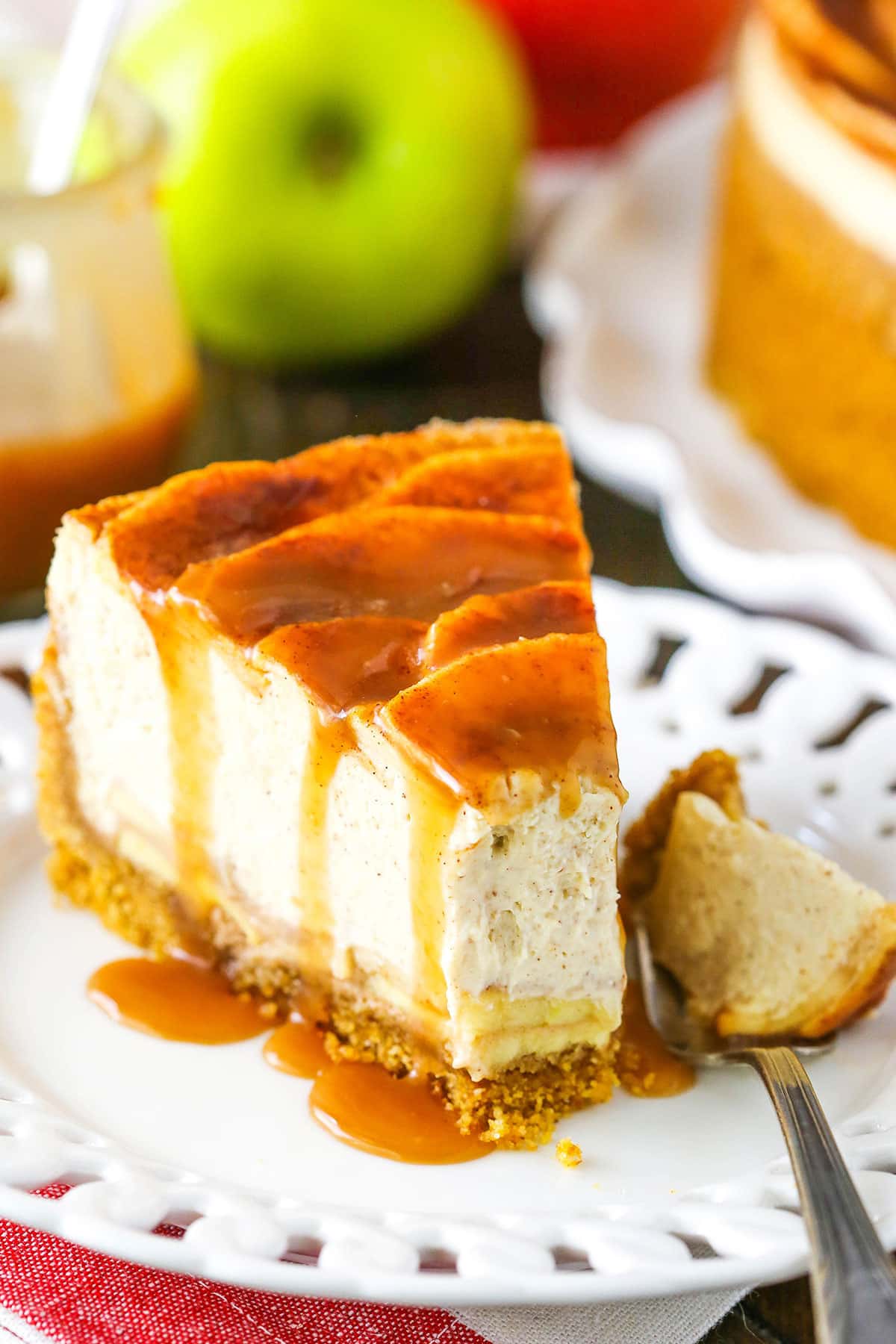 More great apple dessert recipes:
Caramel Apple Blondie Cheesecake
Easy Caramel Apple Cheesecake
Caramel Apple Cookie Cups
Apple Crumb Cheesecake Pie
Cinnamon Apple Layer Cake
Caramel Apple Cheesecake Blondie Trifle
Apple Crisp
Apple Streusel Cheesecake Bars
Apple Cheesecake Napoleons
Print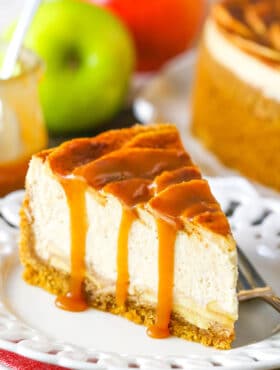 Recipe
Caramel Apple Cheesecake Recipe
Author:

Prep Time:

1 hour 35 minutes

Cook Time:

2 hours 20 minutes

Total Time:

3 hours 55 minutes

Yield:

12-14 servings

Category:

Dessert

Method:

Oven

Cuisine:

American
---
Description
This Caramel Apple Cheesecake recipe is the perfect apple dessert for Thanksgiving! It's full of cinnamon, apples, homemade caramel sauce and is absolutely delicious!
---
Ingredients
Crust
2 1/4 cups

(

302g

) graham cracker crumbs (about 17 full sheet graham crackers)

5 tbsp

(

65g

) sugar

1/8 tsp

salt

10 tbsp

(

140g

) unsalted butter, melted
Apple Filling Layer
1 1/2

medium sized apples (about

260g

), thinly sliced

1/2 tsp

ground cinnamon

1/2 cup

caramel sauce, from above

3 tbsp

all purpose flour
Cheesecake Filling
24 ounces

cream cheese, softened

1 cup

(

144g

) loosely packed brown sugar

3 tbsp

(

24g

) all purpose flour

1/2 cup

(

115g

) sour cream

1/2 cup

(

130g

) applesauce

2 tsp

vanilla extract

1 1/2 tsp

ground cinnamon

3

large eggs
Apple Topping
1

–

2

medium sized apples, thinly sliced

1 1/2 tbsp

sugar

1/2 tsp

ground cinnamon
---
Instructions
1. Prepare the caramel sauce according to the recipe and allow to cool to at least room temperature. You can prepare the caramel sauce several days ahead, if you like.
CRUST
2. Preheat oven to 325°F (163°C). Line a 9-inch (23cm) springform pan with parchment paper in the bottom and grease the sides.
3. Combine the crust ingredients in a small bowl. Press the mixture into the bottom and up the sides of the springform pan.
4. Bake the crust for 8-10 minutes, then set aside to cool.
5. Cover the outsides of the pan with aluminum foil so that water from the water bath cannot get in (see how I prepare my pan for a water bath). Set prepared pan aside.
CHEESECAKE
6. Reduce oven temperature to 300°F (148°C).
7. Toss the apples for the apple filling layer with the ground cinnamon and add to the bottom of the crust.
8. Add the flour to the caramel sauce (which was prepared in step 1), then pour the caramel sauce evenly over the apples. Set pan aside.
9. In a large bowl, beat the cream cheese, brown sugar and flour on low speed until well completely combined and smooth. Be sure to use low speed to reduce the amount of air added to the batter, which can cause cracks. Scrape down the sides of the bowl.
10. Add the sour cream, applesauce, vanilla extract and ground cinnamon and mix on low speed until well combined.
11. Add the eggs one at a time, mixing slowly to combine after each addition. Scrape down the sides of the bowl as needed to make sure everything is well combined.
12. Pour the cheesecake batter into the crust, over the top of the apples.
13. Use the thinly sliced apples for the topping to create the "rose" pattern on top of the cheesecake filling. Start from the outside edge, slightly overlapping each apple as you add it, and work your way around to make a full circle. Continue creating circles until you reach the center of the cheesecake.
14. Combine the sugar and cinnamon and sprinkle it evenly over the apples.
15. Place the springform pan inside another larger pan, trying not to jostle it around too much. Fill the outside pan with enough warm water to go about halfway up the sides of the springform pan. The water should not go above the top edge of the aluminum foil on the springform pan.
16. Bake for 1 hour 30 minutes. The edges should be well set, but the center couple of inches will still be jiggly because of the caramel sauce in the filling.
17. Turn off the oven and leave the door closed for 30 minutes. The cheesecake will continue to cook, but slowly begin to cool as well.
18. Crack the door of the oven for 30 minutes to allow the cheesecake to continue to cool slowly. This process helps prevent cracking.
19. Remove the cheesecake from the oven and water bath wrapping and refrigerate until firm, 5-6 hours or overnight.
20. Remove the cheesecake from the springform pan and place on a serving dish. I used some remaining caramel sauce to brush over the top of the apples and give it a shine. Cover cheesecake and refrigerate until ready to serve.
---
Notes
This is the caramel sauce I would recommend. I haven't tried using store-bought caramel sauce, but it's much thinner than the homemade version. I'm not sure how well it'd hold up.
Nutrition
Serving Size:

1 slice

Calories:

484

Sugar:

33 g

Sodium:

526.6 mg

Fat:

29.4 g

Carbohydrates:

50.1 g

Protein:

7.1 g

Cholesterol:

113.7 mg
Keywords: caramel apple cheesecake, apple cheesecake, easy apple cheesecake recipe, thanksgiving dessert idea, thanksgiving desserts
Categories
This post may contain affiliate sales links. Please read my disclosure policy.