September 13, 2017
Easy Caramel Apple Cheesecake
This Easy Caramel Apple Cheesecake recipe is perfect for using the delicious apples that are in season right now! With the cinnamon cheesecake and caramel apple topping, it's heavenly!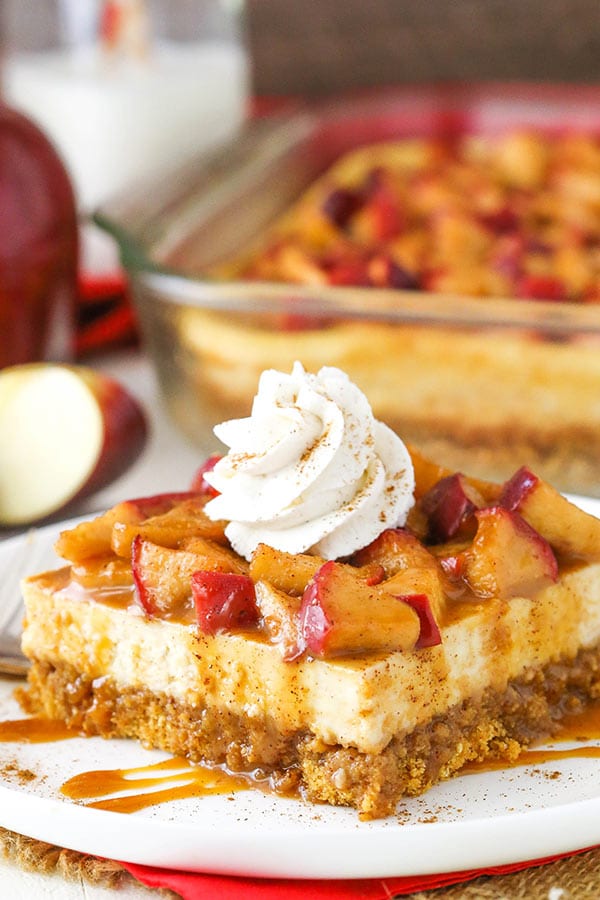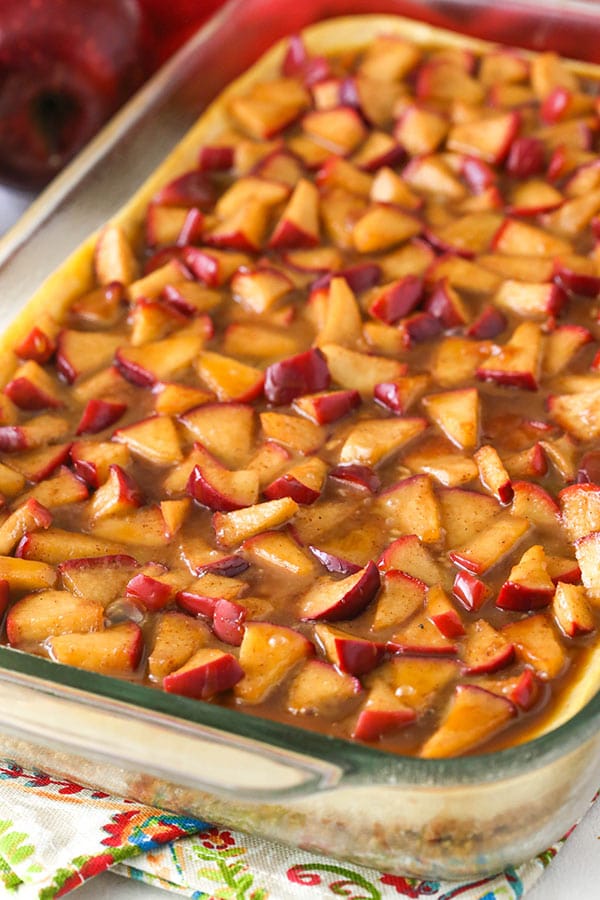 So I've always been a fan of food. Probably too much of a fan sometimes. Sweet, savory, you name it. There are very few foods that I'm not into. In fact, I have always assumed that one of the things I'd have to be careful of during pregnancy was overeating and weight gain. Especially considering I'm surrounded by delicious sweets all the time.
But it's like God read my mind and sent a solution. During my first trimester, pretty much anything I ate upset my stomach, so eating was unpleasant and basically only done because it had to be. I've been looking forward to the second trimester to hopefully be able to enjoy food a little more.
Well, now eating doesn't necessarily upset my stomach all the time, but I am hungry all the time. Like, I'm on an every two hour eating schedule. If I don't eat, bad things happen. Like heartburn. So I eat. And eat. And eat. I never thought it'd be possible to get me to a point where I didn't want to eat anymore, but it has happened. Having to force myself to eat all the time – even right before bed, otherwise I wake up hungry in the middle of the night – has officially cured me of a love for food. And my goodness I hope it passes soon. I LOVE food! 🙂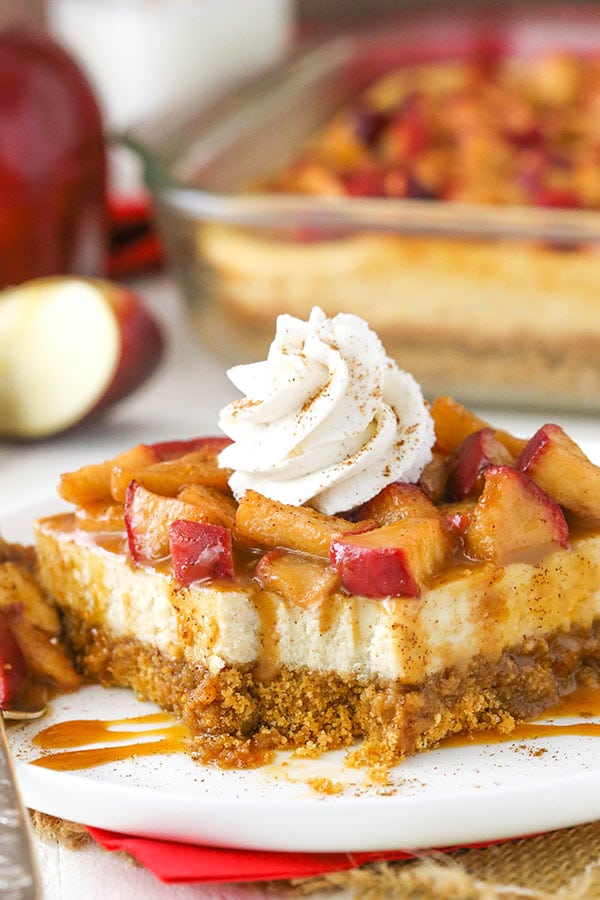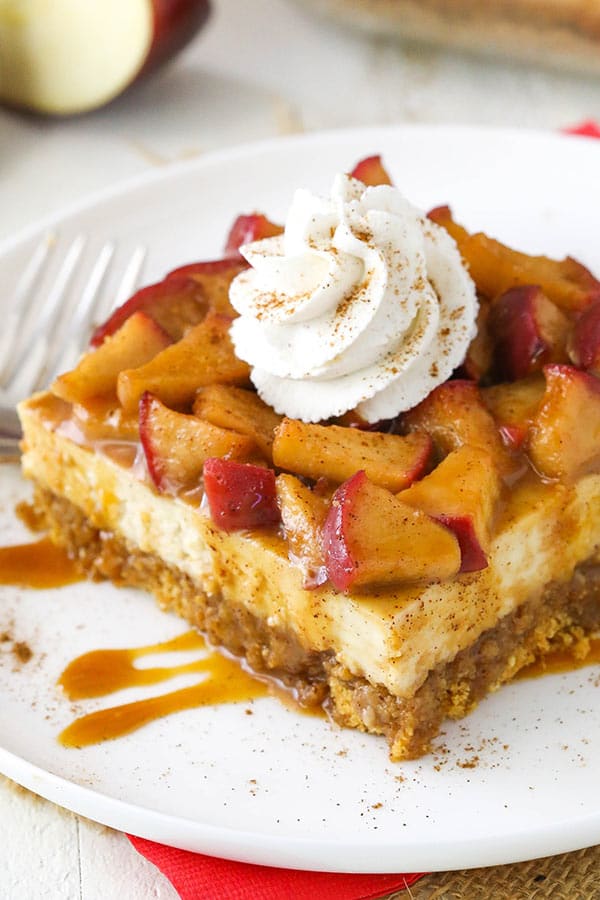 But even though eating hasn't been my favorite past time lately, I can still appreciate some good dessert. And this cheesecake totally fits the bill. Unlike a more traditional round cheesecake, this one is made in a 9×13 pan, making it great for sharing and super easy to put together. No need for a water bath either – score!
The first thing to make is the crust. I've always been a big crust fan. A good crust can make or break a cheesecake. In this crust, there's a little hint of cinnamon. I have really come to love crusts with that pop of cinnamon. It just takes it up a notch.
Next is the filling, which is classically thick and creamy and again includes cinnamon. Are you noticing a trend here? I LOVE cinnamon! It could nearly be another food group for me.
On top is where it's at though. The cinnamon apples mixed with the caramel sauce make the perfect topping and in this case, it's what this cheesecake is all about. All the apples, all the cinnamon and all the caramel. Is there really anything more perfect about fall than these three things? I think not.
The hubs was a HUGE fan of this cheesecake! The texture and flavors were on point. And because it's so easy to make, you could totally have it ready to enjoy in no time. What do you say we get started? 🙂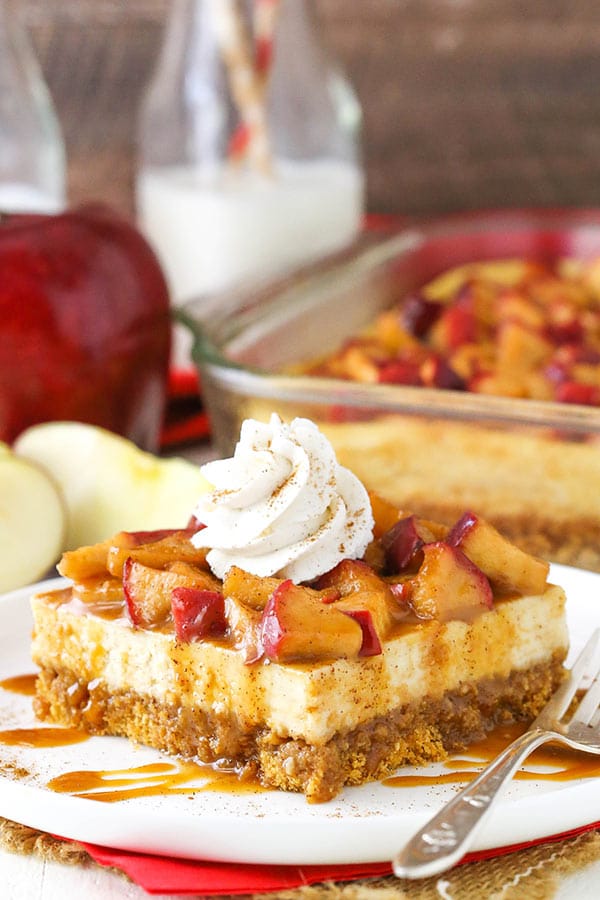 Easy Caramel Apple Cheesecake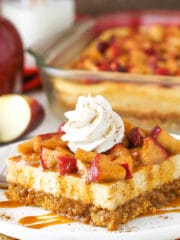 This Easy Caramel Apple Cheesecake is perfect for using up delicious apples in the Fall! It's heavenly with cinnamon cheesecake + caramel apple topping!
Author:
Prep Time:

45 minutes

Cook Time:

2 hours

Total Time:

2 hours 45 minutes, plus cooling time

Yield:

12

-

15

Servings

1

x
Category:

Cheesecake

Method:

Oven

Cuisine:

American
Ingredients
CRUST
2 1/4 cup

s (302g) graham cracker crumbs

3 tbsp

(39g) sugar

1 tsp

cinnamon

1/2 cup

(112g) salted butter, melted
FILLING
24 ounce

s (678g) cream cheese, room temperature

1 cup

(207g) sugar

3 tbsp

(24g) all purpose flour

3/4 cup

(173g) sour cream, room temperature

1 1/2 tbsp

vanilla extract

1 tsp

ground cinnamon

3

large eggs, room temperature
APPLE TOPPING
2

large apples, chopped

1/4 cup

(56g) light brown sugar, packed

1 teaspoon

ground cinnamon

1/8 tsp

ground nutmeg
sprinkle of lemon juice

1/2 cup

(120ml)caramel sauce
WHIPPED CREAM
1/2 cup

(120ml) heavy whipping cream, cold

1/4 cup

(29g) powdered sugar

1/2 tsp

vanilla extract

1/4 tsp

ground cinnamon
Instructions
1. Preheat oven to 325°F (163°C). Grease a 9×13 pan.
2. Combine the crust ingredients in a small bowl. Press the mixture into the bottom of the prepared pan.
3. Bake the crust for 10 minutes, then set aside to cool.
4. Reduce the oven temperature to 300°F (148°C).
5. In a large bowl, blend the cream cheese, sugar and flour on low speed until well completely combined and smooth. Be sure to use low speed to reduce the amount of air added to the batter, which can cause cracks. Scrape down the sides of the bowl.
6. Add the sour cream, vanilla extract and cinnamon and mix on low speed until well combined.
7. Add eggs one at a time, mixing slowly to combine. Scrape down the sides of the bowl as needed to make sure everything is well combined.
8. Pour the batter into the pan with the crust and spread evenly.
9. Bake the cheesecake for 30 minutes.
10. Turn off the oven and leave the cheesecake in the oven with the door closed for 20 minutes.
11. Crack the door of the oven, with the cheesecake inside, for 15 minutes. This slow cooling process helps prevent the cheesecake from cracking.
12. Put the cheesecake in the fridge to cool completely, 3-4 hours.
13. To make the apples for the top of the cheesecake, add the chopped apples, brown sugar, cinnamon, nutmeg and lemon juice to a pan. Stir together until apples are well coated.
14. Cook apples on medium heat until at desired tenderness, about 10 minutes.
15. Allow the apples to cool for a minute, then spread evenly over the cooled cheesecake.
16. Drizzle the caramel sauce over the top of the cheesecake, then serve.
17. If you'd like to serve the cheesecake with the whipped cream, add the heavy whipping cream, powdered sugar, vanilla extract and cinnamon to a large mixer bowl and whip on high speed until stiff peaks form. Serve with the cheesecake slices.
Keywords: cinnamon cheesecake, apple caramel topping, apple dessert idea, caramel cheesecake topping
Enjoy!