August 10, 2012
Smores Chocolate Cake
I could not stop taking pictures of this cake. I was a woman obsessed. The layers are just so pretty. I mean, just look at those toasted marshmallows poking out the side! I didn't want to eat them.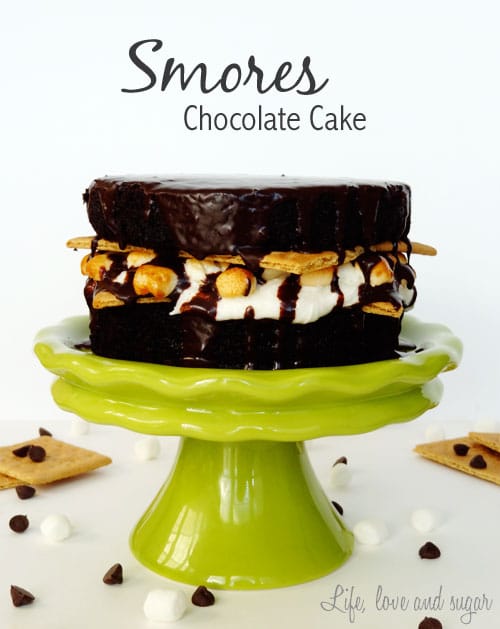 But I did. And they are so tasty, OMG. The middle of this cake is almost literally a smore. A party in my mouth for sure.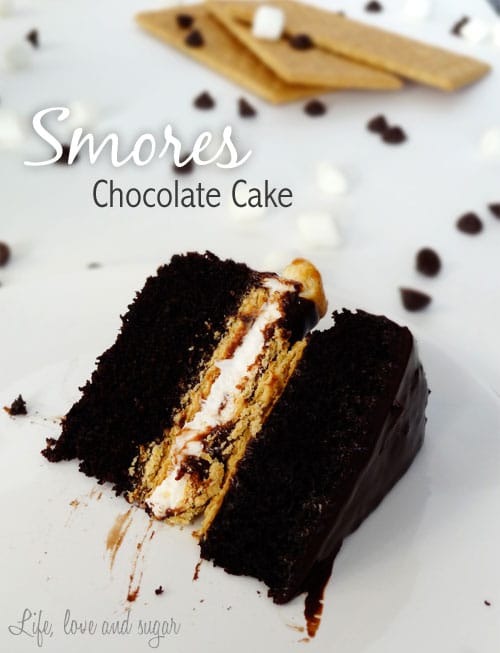 And while you might wonder about having whole graham crackers in the middle of a cake, there's no need. The moisture from everything around them seeps in perfectly. They retain their necessary graham cracker taste, but melt into the the cake by moistening up enough to be perfectly sliced.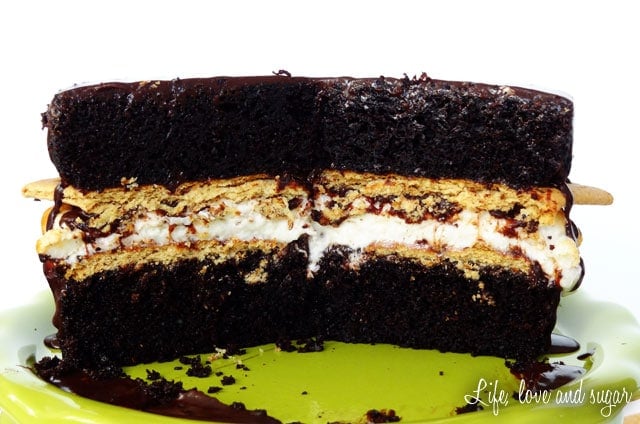 It's marshmallow and chocolate heaven in a cake. Enjoy. Please. You won't regret it.

MY OTHER RECIPES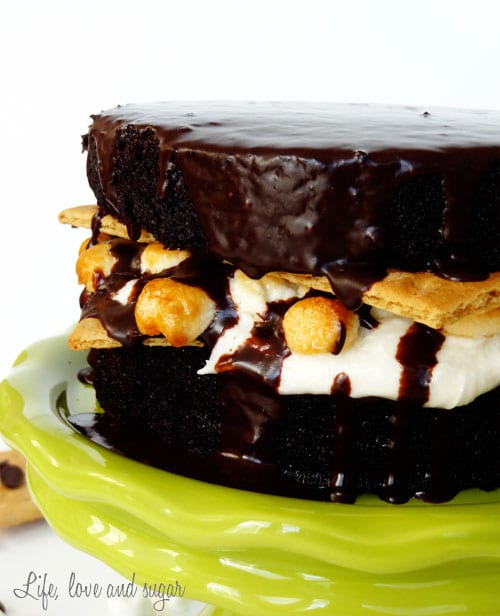 Smores Chocolate Cake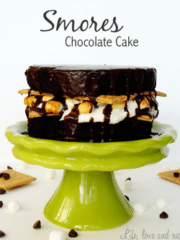 Category:

Dessert

Method:

Oven

Cuisine:

American
Ingredients
CHOCOLATE CAKE
2 cups cake flour
2 cups sugar
3/4 cup Hershey's Special Dark Cocoa powder (I am a firm believer in the Special Dark)
2 tsp baking soda
1 tsp salt
2 large eggs
1 cup buttermilk
1 cup vegetable oil
1 1/2 tsp vanilla
1 cup boiling water
DARK CHOCOLATE GANACHE
8 oz dark chocolate chips (I used Hershey's special dark)
8 oz heavy cream
MARSHMALLOW BUTTERCREAM
1 cup marshmallow fluff
1/4 cup butter
1/4 cup shortening
1-3 tbsp water (you could also use milk)
2 cups powdered sugar
ADDITIONAL
A bag of mini marshmallows for toasting
Instructions
CHOCOLATE CAKE:
Preheat oven to 300°F
1. Put all dry ingredients in a large bowl and combine.
2. Add eggs, buttermilk and vegetable oil to the dry ingredients.
3. Add vanilla to boiling water and add to mixture.
4. Mix at medium speed.
5. Pour into pans and bake 1 hour.
DARK CHOCOLATE GANACHE:
1. Place dark chocolate chips in a bowl.
2. Microwave heavy cream until it simmers.
3. Pour heavy cream into bowl with chocolate. Immediately cover with saran wrap and allow to sit for about 7 minutes.
4. Whip until smooth.
For a thick, spreadable ganache, refrigerate overnight. For this particular cake, I refrigerated for a couple hours, until thicker but still pourable.
MARSHMALLOW BUTTERCREAM:
1. Mix butter and shortening until smooth.
2. Add marshmallow fluff and mix until smooth.
3. Add powdered sugar 1 cup at a time.
4. Add 1-3 tbsp water, depending on how think you want it.
This icing has a texture similar to marshmallow fluff. I tell you this because it is a little hard to spread. Just FYI.
TOASTED MARSHMALLOWS:
1. Preheat oven on confection bake to 400 degrees.
2. Place a circle of marshmallows about 8 inches around on a baking sheet (use parchment paper underneath marshmallows to keep them from sticking).
3. Place marshmallows in oven for 3-5 minutes. Keep a close eye on them. You want them to just start to turn brown on top.
4. Remove from oven and allow to cool.
TO ASSEMBLE THE CAKE:
1. Put a thin layer of ganache on the bottom layer of the cake.
2. Add a layer of whole graham crackers.
3. Put another thin layer of ganache on the graham crackers.
4. Add a layer of marshmallow buttercream.
5. Top the buttercream with a layer of toasted marshmallows.
6. Cover the toasted marshmallows with a thin layer of ganache.
7. Add another layer of graham crackers.
8. Add ganache to the bottom of the top layer of the cake, then put the ganached side of the cake on top of the graham crackers.
9. Pour more ganache over the top of the cake and let it drizzle down the sides.
Enjoy!
Marshmallow buttercream modified from Cookies and Cups