This Angel Food Flag Cake is light, airy and perfectly sweet! It's easy to make and perfect for feeding a crowd. Paired with fresh whipped cream and fresh fruit in the design of a flag – it's the perfect dessert for the Fourth of July!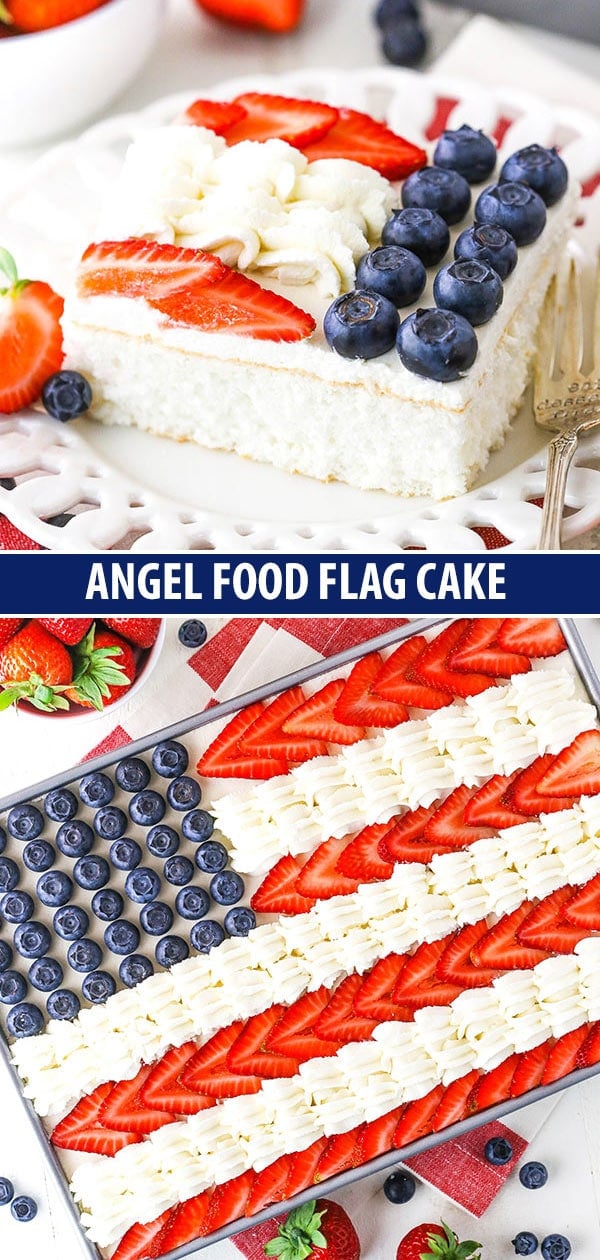 The Perfect Fourth of July Dessert
I'm so in love with this Angel Food Flag Cake and wanted to sit down with a fork and just eat the ENTIRE thing! It's so light and easy to eat! The angel food cake has wonderful, sweet vanilla flavor and when it's paired with the light whipped cream and fresh berries, it's like heaven on Earth. So, so yummy.
And since the 4th of July is such a warm holiday, the lightness of this cake makes it absolutely perfect! Not to mention that fresh fruit should be enjoyed all summer long while it's at it's best and usually on sale. The flag design on top is simple and quick to do but will be sure to impress all who enjoy their very own slice of this cake.
The other thing I love about this cake is that it can easy be prepared ahead of time. The angel food cake lasts well for several days, as does the whipped cream. The only thing I'd probably suggest adding the day you're going to serve it is the sliced strawberries. Those tend to look a little less ideal after sitting on a cake for 24 hours.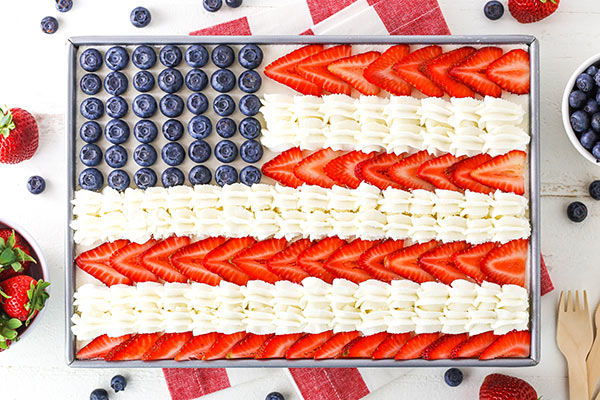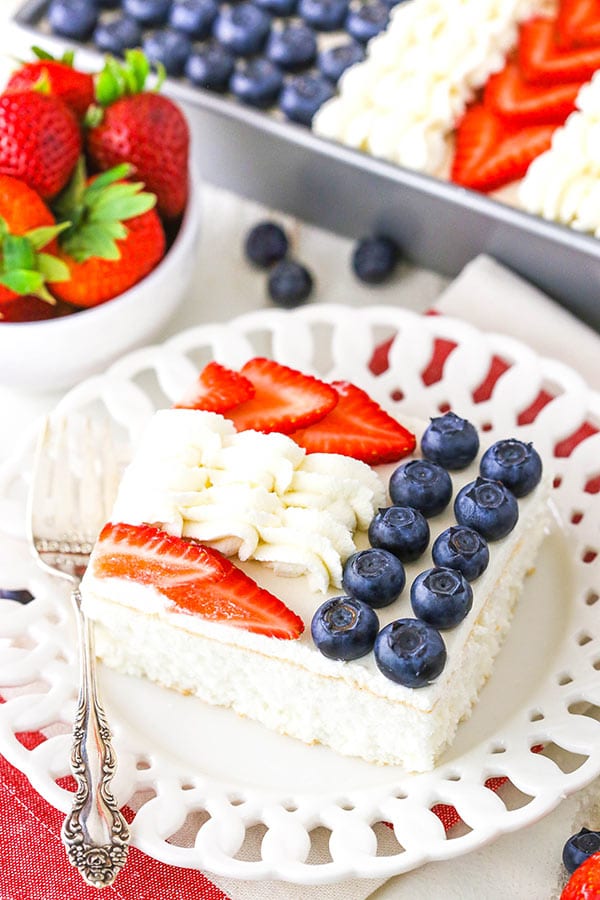 How to Make an Angel Food Flag Cake
If you've ever been afraid to try an Angel Food Cake, I totally hear you. It seems like a million things could go wrong. And yet as long as you keep an eye out for a few things, it really is super simple to put together. So before you get started, keep these things in mind:
– Make sure you use eggs that are room temperature, not cold and straight out of the fridge. They whip much better that way.
– Don't over whip your egg whites. Just whip them until you get a stiff peak, then stop.
– Gently fold the flour mixture into the egg whites. Do not mix or stir them together or you'll deflate the egg whites.
– It feels weird to do it, but DO NOT grease your pan! The cake needs to be able to cling to the sides of the pan to rise and you need to be able to turn it upside down to cool. A greased pan won't work.
– Cool the cake upside down so it doesn't collapse while it cools.
To get started on your Angel Food Flag Cake, combine the flour, half of the sugar and salt and sift them together 5 times. Yes, 5 times. This will make sure you have a very fine texture that will incorporate easily into the egg whites and give you a light cake.
Next, whip the egg whites with some vanilla extract and cream of tarter, which helps stabilize the egg whites. As you whip, you'll add the remainder of the sugar one tablespoon at a time, waiting about 5 seconds between each addition. Continue whipping just until you get stiff, glossy peaks.
Add the flour mixture to the egg whites about a fourth of a cup at a time, then gently fold them together. Repeat until all the flour mixture has been added, then add the batter to your ungreased cake pan.
Before baking, run a knife through the batter quite well to remove any air bubbles. Bake the cake until lightly golden on top, which should take about 15 to 20 minutes. Be sure to set out four cans, or something similar, to rest the four corners of the cake pan on for about an hour while the cake cools.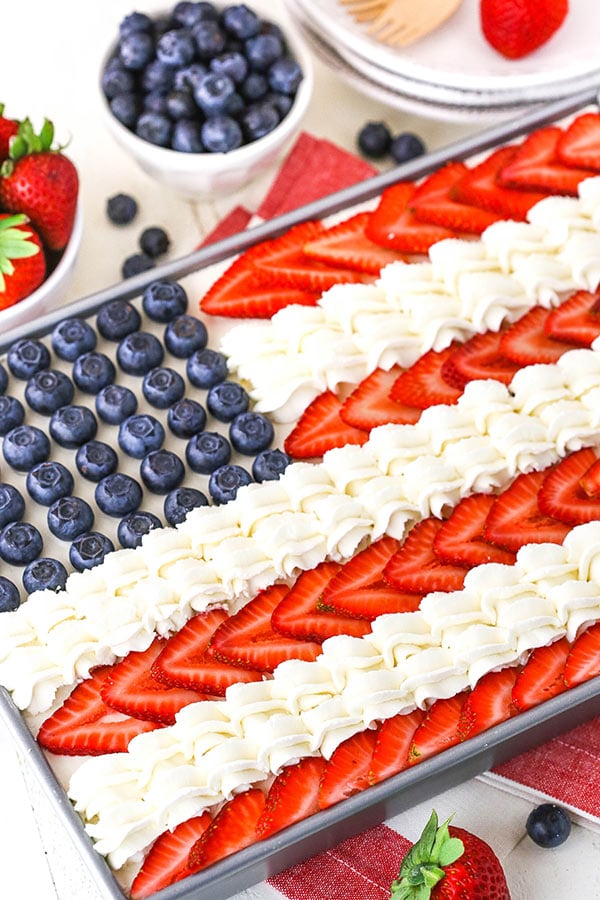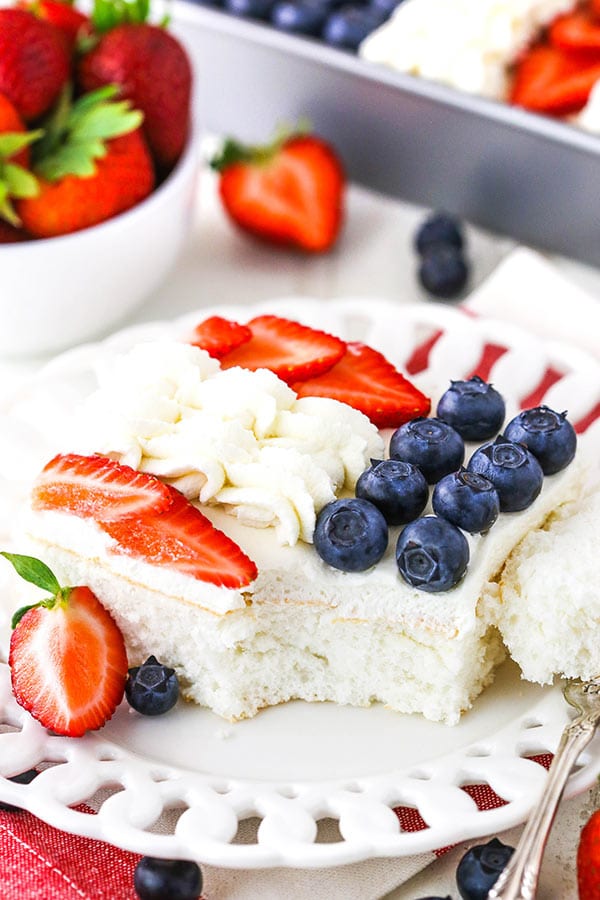 How to Decorate Your Flag Cake
To decorate this beautiful flag cake, we're going to start with a good, stable whipped cream. I use powdered sugar to stabilize it and it stays firm and perfect for days and days!
Whip up the cream, vanilla and powdered sugar until you get stiff peaks, then set aside about 1 1/2 cups. Use the rest to spread a layer of whipped cream onto the top of the cake. Place the blueberries in the top left corner of the cake to emulate the "stars" on the flag, then use the strawberries for the red "stripes". Finally, use the whipped cream that was set aside to pipe the white "stripes".
The final cake is such a lovely, light dessert that's so festive for the fourth of July! The flavor is truly amazing, and yet so simple. I have no doubt that you'll love this Angel Food Flag Cake and come back to it year after year!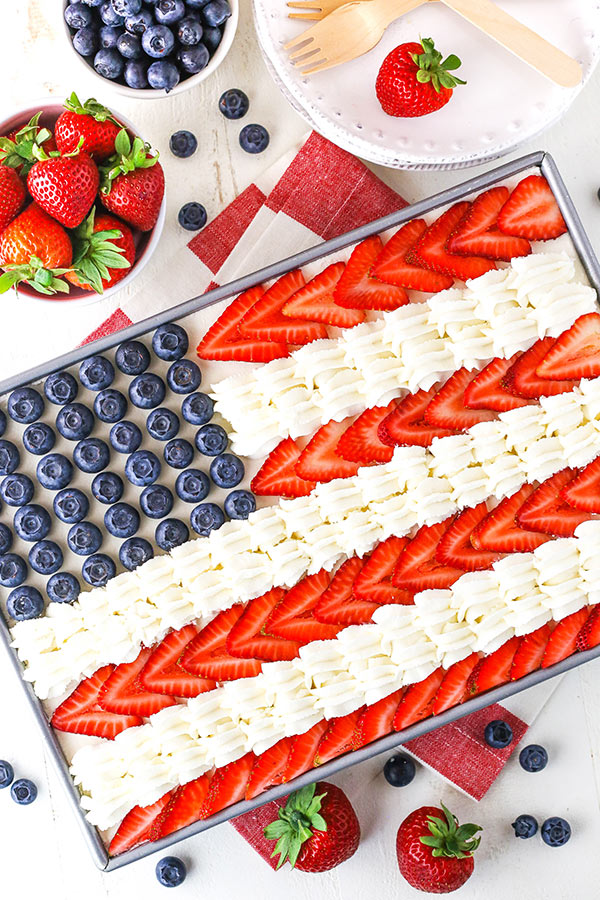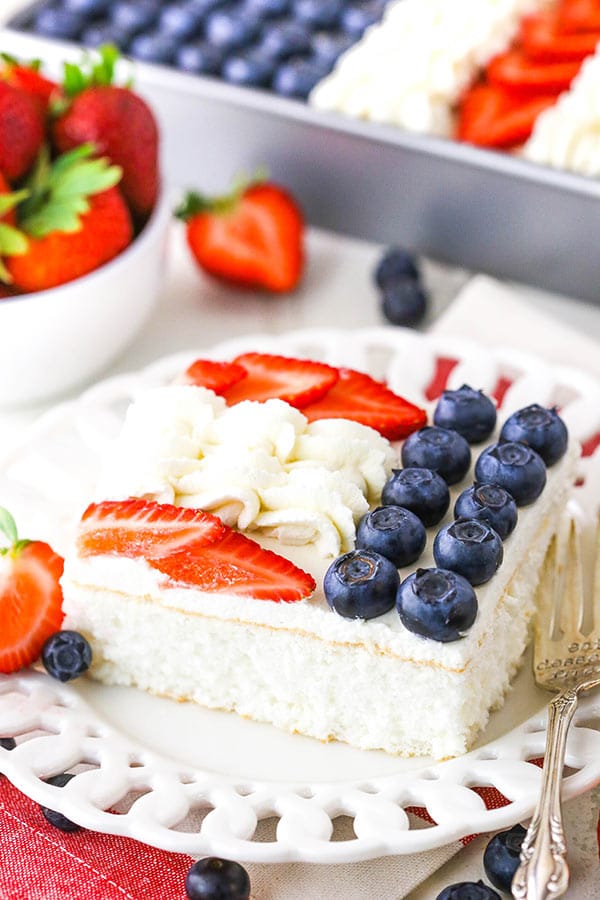 More Fourth of July Desserts
Red, White and Blue Mini Cheesecakes
Flag Chocolate Chip Cookie Cake
Red, White and Blue Ice Cream Cake
Berry Mascarpone Layer Cake
Patriotic Chocolate Chip Cookie Cups
How to Throw an America Party and Red, White and Blue Rice Krispy Treats
Triple Berry Trifle
Red Velvet Blondie Cheesecake
Strawberry Shortcake Cheesecake
Strawberry and Blueberry Cheesecake Icebox Cake
Red, White and Blue Sangria
Read transcript
Print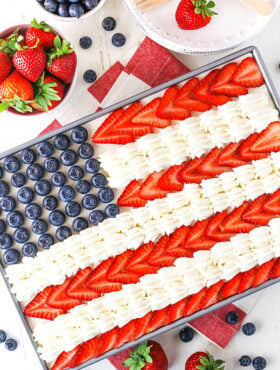 Recipe
Angel Food Flag Cake
Author:

Prep Time:

1 hour 45 minutes

Cook Time:

20 minutes

Total Time:

2 hours 5 minutes

Yield:

12-15 slices

Category:

Dessert

Method:

Oven

Cuisine:

American
---
Description
This Angel Food Flag Cake is light, airy and perfectly sweet! It's easy to make and perfect for feeding a crowd. Paired with fresh whipped cream and fresh fruit in the design of a flag – it's the perfect dessert for the Fourth of July!
---
Ingredients
Angel Food Cake
2/3 cup

(

87g

) cake flour

1 cup

+ 2 tbsp (

233g

) sugar, divided

1/4 tsp

salt

1 cup

egg whites (about

8

egg whites)

1 tsp

cream of tarter

1 tsp

vanilla extract
Whipped Cream
2 cups

(480ml) heavy whipping cream, cold

1 cup

(

115g

) powdered sugar

2 tsp

vanilla extract
Strawberries, sliced
Blueberries
---
Instructions
1. Preheat oven to 375 degrees F. Have an ungreased 9×13 cake pan ready.
2. Sift half of the sugar with the flour and salt. Repeat 5 times. Set aside.
3. Whip egg whites with a mixer on low speed until frothy, then add vanilla extract and cream of tartar.
4. Increase speed to medium and continue whipping, adding remaining sugar 1 tablespoon at a time.
5. Increase to medium-high and whisk until stiff, glossy peaks, scraping sides and bottom of bowl once if needed.
6. Sift about 1/4 cup of the flour mixture on top of the whipped egg whites and fold gently to incorporate. Repeat until all flour the flour has been added.
7. Add the batter to the cake pan, smooth the top, then run a knife through batter to break any air bubbles.
8. Bake until lightly golden on top and a toothpick inserted in the middle comes out clean, about 15-20 minutes.
9. Cool upside down for about an 1 hour. I used 4 cans that are the same height and put one can under each corner of the pan.
10. 
Once cooled, run a thin knife or offset spatula between the cake and the sides of the cake pan to loosen it.
11. To make the whipped cream, add the heavy whipping cream, powdered sugar and vanilla extract to a large mixer bowl. Whip on high speed until stiff peaks form.
12. Set aside about 1 1/2 cups of whipped cream and spread the rest into an even layer on top of the angel food cake.
13. Used the sliced strawberries and blueberries to create the flag design.
14. Use the remaining whipped cream to pipe "stripes" between the strawberry rows. I used Ateco piping tip 844, but you could also use Wilton 1M or 2D
15. Refrigerate cake until ready to serve. Cake is best when served the day it's made because of the fresh fruit on top. If you want to make it ahead a day ahead, I'd suggest adding the fruit and whipped cream "stripes" shortly before serving.
---
Nutrition
Serving Size:

1 slice

Calories:

230

Sugar:

21 g

Sodium:

36.1 mg

Fat:

11.6 g

Carbohydrates:

28.3 g

Protein:

3.4 g

Cholesterol:

35.9 mg
Keywords: flag cake, angel food cake, angel food cake recipe, angel food cake with strawberries, fourth of july dessert, red white and blue cake, fourth of july cake, memorial day dessert, american flag cake
This post may contain affiliate sales links. Please read my disclosure policy.