August 31, 2012
Triple Lemon Cake
I have been meaning to post this recipe for Triple Lemon Cake for a while now. However I've been busy baking it over and over for my parents' birthdays. Now that both birthdays are over with and I finally have some time, here is the recipe.
And it's good. The lemon curd is the best part, so sweet and perfectly tangy. Mmmm. I could bathe in it. And the buttercream is so light and sweet, yet still with just enough tang. The cake is nicely dense and delicious. It's all a perfect combo.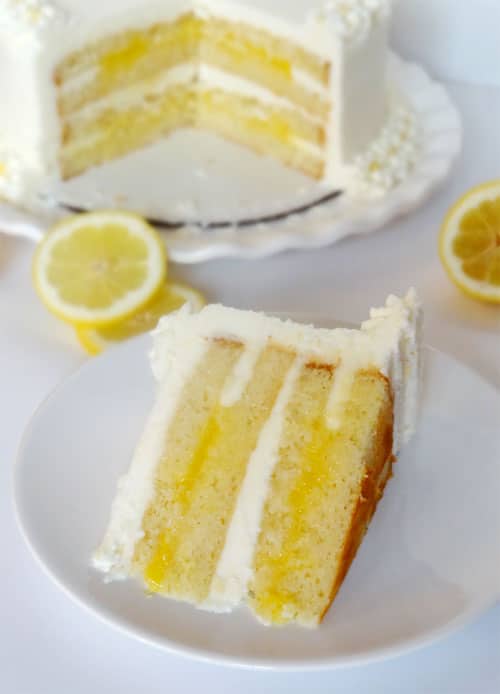 I made it the first time for my mom's birthday in July and I was surprised how much of a hit it was.
My family has never really been big on lemon. My grandmother loves lemon and we've had lemon cakes for her birthday before. But I can't say anyone else was ever really into it.
So imagine my surprise when my mom requested it for her birthday. Her cake was two-tiered, so I made the smaller tier the lemon cake because I thought for sure it would be less popular than a chocolate cake.
I was wrong.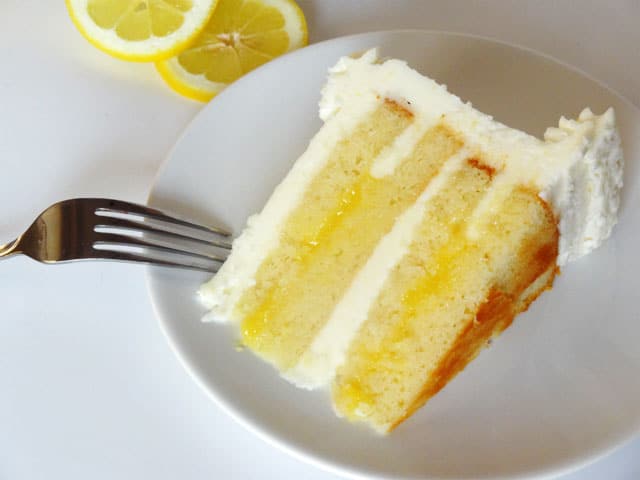 My mom was fighting people off it! She finally cut off a big chunk and put it in the freezer (She likes to save cake and stockpile it for when she feels like a piece. My kind of lady.)
And then an even crazier thing happened. My dad requested it for his birthday! Never in my life did I think my dad would request a lemon cake!
The only person that doesn't knock someone over for a piece of this cake is my husband. Of all people I thought he'd love a lemon cake. Part of the reason I think I like lemon more now is that he got me into using fresh lemon on seafood.
But he would barely even taste this cake. I was blown away. How is it that my family likes a lemon cake and he won't even touch it? Apparently, he thinks lemon should only go on seafood.
Seriously? He's missing out.
Oh well, more for the rest of us! 🙂
You might also like:
Lemon Curd
Lemon Cake with Lemon Bavarian Cream
Lemon Mascarpone Layer Cake
Lemon Raspberry Layer Cake
Lemon Blueberry Cheesecake
Lemon Yogurt Breakfast Cake
Triple Lemon Cake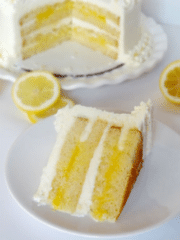 Yield:

12

-

14

Slices

1

x
Category:

Dessert

Method:

Oven

Cuisine:

American
Ingredients
CAKE
2 cup

s all purpose flour

1 1/2 cup

s sugar

3/4 tsp

baking powder

1 tsp

baking soda

1/2 tsp

salt

3

eggs

2/3 cup

vegetable oil

2/3 cup

fresh lemon juice

3/4 cup

sour cream
LEMON CURD
1/4 cup

fresh lemon juice (about

1

–

2

lemons)

2 tsp

finely grated lemon zest

1/3 cup

sugar

4

egg yolks

3 tbsp

butter (I used unsalted)
LEMON BUTTERCREAM
1 1/2 cup

s butter

1 1/2 cup

s shortening

12 cup

s (

3

lbs) powdered sugar

3 tsp

finely grated lemon zest

6 tbsp

fresh lemon juice

3/4 tsp

vanilla

1

–

2

tsp water – plus more to the consistency you want
Instructions
CAKE:
1. Combine flour, sugar, baking powder, baking soda and salt in a large bowl and whisk together.
2.Add eggs, oil and lemon juice. Beat until smooth.
3. Add sour cream and beat until smooth.
4. Bake at 350 degrees in two 8-inch pans for about 25 minutes or until done.
LEMON CURD:
1. Combine all ingredients in a double boiler (or in a metal bowl over a pot of simmering water, like I did).
2. Heat while stirring constantly with a whisk.
3. It is done when it's thick enough to coat the back of a spoon. You will be able to tell it has thickened, but I wouldn't say that it's "thick."
4. Refrigerate until cool and thick.
LEMON BUTTERCREAM:
1. Beat butter and shortening together until smooth.
2. Add 6 cups of powdered sugar, one at a time, beating to combine.
3. Add lemon juice, lemon zest and vanilla and combine.
4. Add the remaining powdered sugar and beat to combine.
5. Add water to get the consistency you want, starting with 1/2 tsp, beat to combine.
TO ASSEMBLE THE CAKE:
1. Divide the cake into four layers by slicing each cake in half.
2. Fill two layers with lemon buttercream and the other two with lemon curd.
3. Frost the outside of the cake.
Enjoy!
Cake recipe modified from Bakerella. Lemon curd recipe from Glorious Treats.