This Super Moist Carrot Cake with Cream Cheese Icing recipe is easy to make and the perfect dessert for Easter. It has tons of flavor from the steamed carrots and pineapple, and has the best homemade cream cheese icing!
Looking for more carrot cake inspiration for Easter? Try my Carrot Cake Cheesecake Cake or this recipe for The Best Carrot Cake.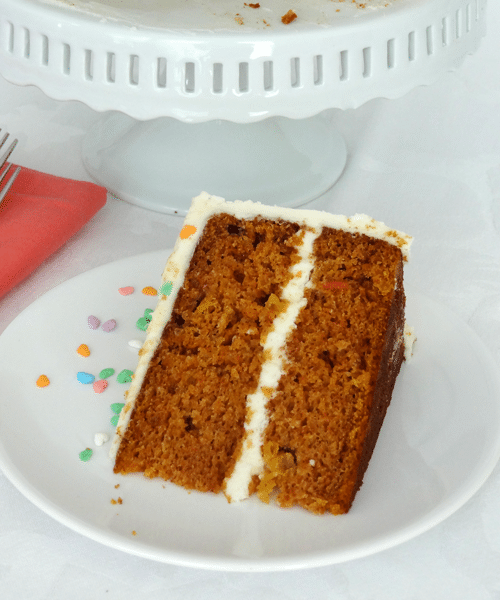 This Homemade Carrot Cake Is Perfect For Easter
Carrot cake is a classic for Easter. If there's one thing bunnies like just as much as hiding Easter eggs it's carrots, right? Or did I just make that up? Whatever. It sounds good. And since the Easter bunny likes carrots (in my world anyways) it makes sense we'd put carrots into cake form to celebrate, no?
You Can Easily Customize This Carrot Cake Recipe
So that's what I did. And I don't know about you, but while I really love the flavor of carrot cake (with cream cheese icing – swoon) I'm not really a fan of nuts in my cake. Or raisins. Raisins go in cookies, not cake. So while you could easily add nuts and raisins to your cake, I didn't include them in mine. Or the coconut. I like coconut flavor, but not the flakes. It's like eating paper.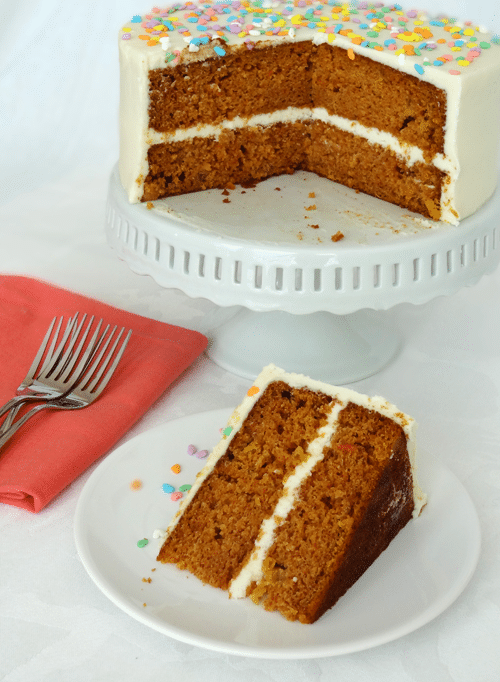 This Carrot Cake Recipe Is Made With Pineapple
Ok now that I've told you all the things I don't like, here are the reasons I am in love with this cake (besides the fact that bunnies will love it 🙂 ). I made it for the first time last Easter and it was a hug hit with everyone. My uncle, who loves carrot cake was a fan, as well as my nieces who were 5 and 7 at the time. I was surprised they loved it so much – it's named after a veggie! – but they not only loved it, they wanted to take the rest of it home. This cake also has so much flavor. Just the right mix of spices, pineapple and carrot. And while it is super moist from the moment you bake it, I really believe that a good cake gets even moister a day or two after it's been frosted and this cake is no exception.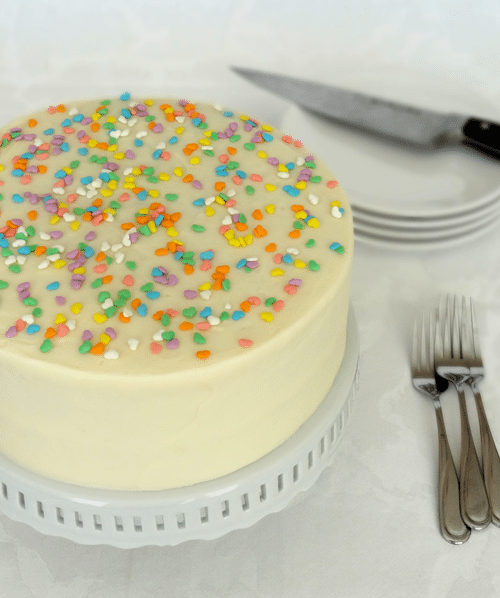 I Love How Moist This Carrot Cake Is
One big difference between this cake and other carrot cakes is that is doesn't use grated carrots. I LOVE that! It adds so much moisture to the cake AND you don't have to deal with all the grating. Instead you just steam those suckers and puree them. Easy peasy. And like I said – crazy moist.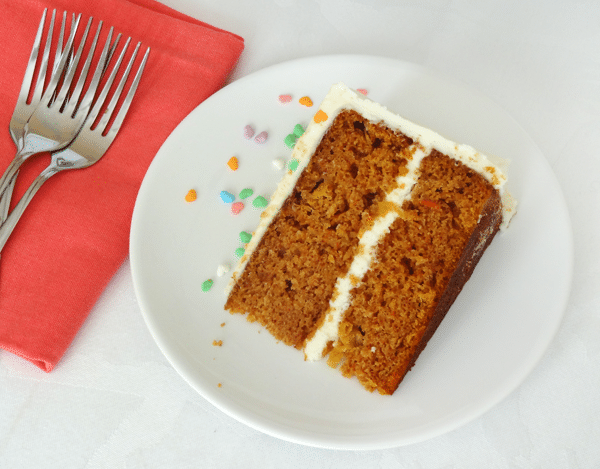 So if you're looking for a great carrot cake recipe, look no further. Really. This one rocks!
Print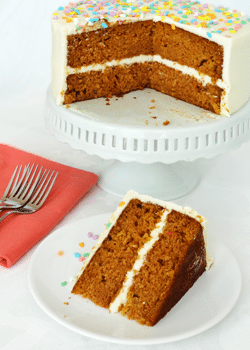 Recipe
Super Moist Carrot Cake with Cream Cheese Icing
Author:

Prep Time:

30

Cook Time:

55

Total Time:

1 hour 25 minutes

Yield:

12-14 Slices

Category:

Dessert

Method:

Oven

Cuisine:

American
---
Description
This Super Moist Carrot Cake with Cream Cheese Icing recipe is easy to make and the perfect dessert for Easter.
---
Ingredients
CAKE
2 cups

flour

3/4 cup

plus 2 tbsp cake flour

2 cups

sugar

3/4 tsp

salt

2 1/2 tsp

baking soda

2 1/4 tsp

cinnamon

1/2 tsp

ground nutmeg
Large pinch of ground cloves

1/2 cup

vegetable oil

1/4 cup

unsalted butter, melted and cooled slightly

3/4 cup

buttermilk, room temperature

4

large eggs, room temperature and lightly beaten

2 tsp

vanilla extract

2 tsp

unsulphured molasses

1 1/3 cups

pureed cooked carrots (from about 1 lb.

2 oz

. raw)

8 oz

. can of crushed pineapple, drained (about

3/4 cup

after draining)

1 cup

walnuts or pecans, optional

3/4 cup

sweetened flaked coconut, optional

2 tsp

freshly grated ginger, optional

1/2 cup

raisins, optional (is using, reduce sugar to

1 2/3 cup

)
***If adding raisins, save the drained off pineapple juice for soaking raisins (soak for about an hour)
ICING
16 oz

cream cheese

3/4 cup

butter

2 tsp

vanilla extract

6

–

7

cups powdered sugar
---
Instructions
CAKE:
1. Clean and peel carrots and chop into large pieces.
2. Steam carrots for 15 minutes, or until very tender.
3. While the carrots are warm, puree in a food processor or blender until mostly smooth. Set aside to cool.
4. Sift together flours, sugar, salt, baking soda and spices in a large mixing bowl.
5. Add oil, melted butter, buttermilk, eggs, vanilla and molasses. Mix until well combined and no lumps remain.
6. Fold in pureed carrots and pineapple as well as walnuts, coconut, ginger and raisins if using.
7. For a cake, pour batter into 2 9-inch greased pans and bake at 350 degrees for 40-50 minutes. Let cool in pan for about 10 minutes, then transfer to wire rack to cool completely. For cupcakes, pour batter into cupcake pans and bake for 18-22 minutes. Allow to cool in pans for about 5 minutes, then remove to wire rack.
ICING:
1. Beat the cream cheese and butter until smooth.
2. Slowly add 3 cups of powdered sugar. Mix until combined.
3. Mix in the vanilla extract.
4. Add the rest of the powdered sugar and mix until smooth.
---
Keywords: carrot cake recipe, homemade carrot cake, carrot cake with cream cheese frosting, carrot cake with cream cheese icing, best carrot cake recipe, easy carrot cake recipe, carrot cake with pineapple
Recipe from 6 Bittersweets
Enjoy!
This post may contain affiliate sales links. Please read my disclosure policy.