I had a blast Visiting Santa Barbara with my food blogger friends! Check out the delicious food we ate and the beautiful sights we saw in Santa Barbara.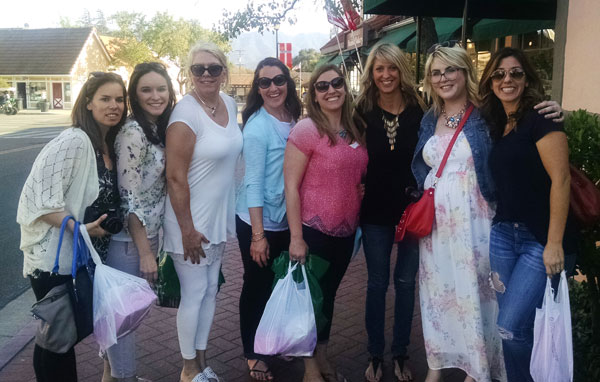 Santa Barbara Foodie Escape Recap
So a couple weeks ago, I mentioned that I went to Santa Barbara with some blogging friends for a weekend. It was a retreat hosted by myself, Julianne from Beyond Frosting and Dorothy from Crazy for Crust. Eight bloggers met up in Santa Barbara to learn from each other, share experiences and have a great time.
After close to three years of blogging, I can say without a doubt that one of my favorite parts of blogging is all of the wonderful bloggers I've met. I began enjoying blogging exponentially more after getting to know those in my online community. Not only are they all such fun, but they are so supportive. Conferences are a wonderful place to meet everyone, but often they are so big and there's so much going on that you don't get as much quality face to face time with everyone. This retreat was all about that.
It was a blast and I left feeling encouraged and inspired by some of my favorite bloggers. If you followed along on instagram, you probably have an idea of all that we did, but for those who didn't, here's what went on.
I flew into LAX Thursday night and stayed at Julianne's place along with Krista from Joyful Healthy Eats. Julianne and I have been bloggy besties for more than a year now, and she got to visit our house in February so it was fun to see her place and meet her boyfriend. We'd met via FaceTime before, but in person is better. Super nice guy, btw.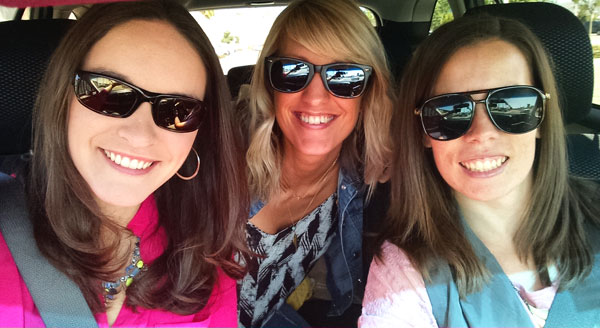 Friday we went up to the house we were staying in called the Opryland Estate. It was absolutely beautiful. Looking out of the front of the house you saw mountains and farmland, and looking out the back, you saw the ocean in the distance. How could you not relax just stepping foot there?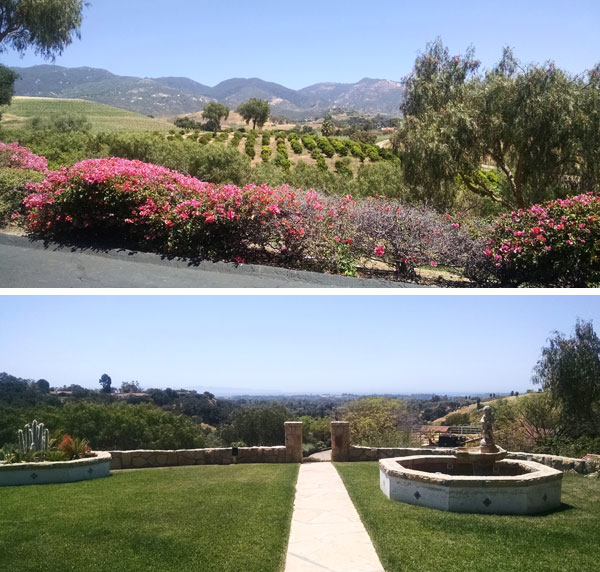 We got the rooms set up with the welcome bags (yay for swag!) and itinerary for everyone's arrival. We had some wonderful sponsors who helped make the weekend possible. Lucky Leaf was our primary sponsor and helped with our housing costs. Everyone was welcomed with a little note from them and some delicious pie filling. Thank you Lucky Leaf!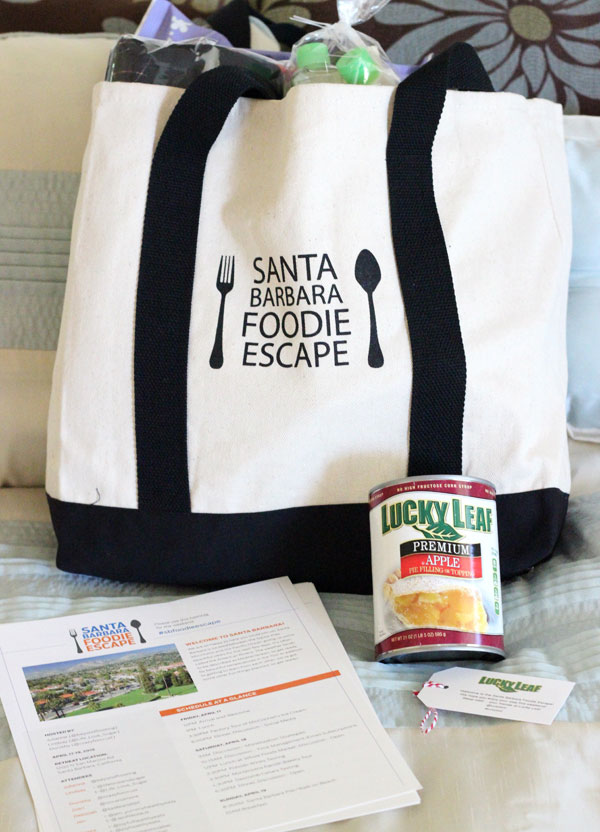 Then it was time for lunch! If there's one thing a group of food bloggers know how to do, it's eat. Cabot was wonderful enough to send us some cheese to use for a grilled cheese bar and it was AMAZING! I have always loved their cheese and the grilled cheese totally hit the spot. We enjoyed lunch out back, overlooking the view.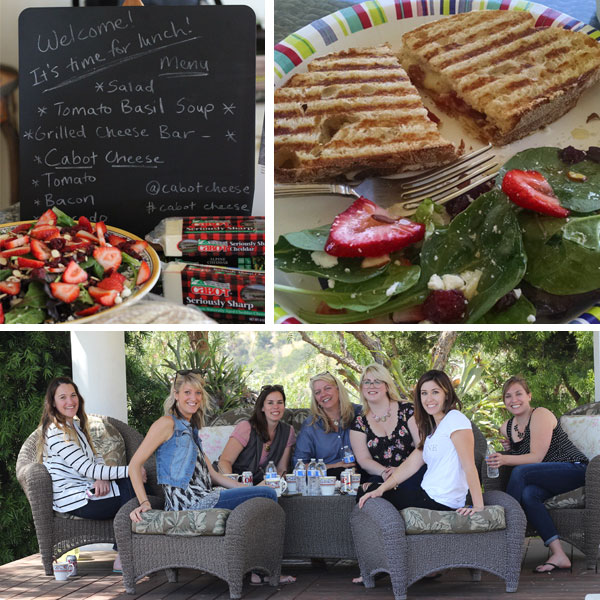 Then Friday afternoon, we were fortunate enough to get a tour of McConnells's Fine Ice Cream. They don't normally do tours, so it was a special treat. Micheal, the owner, was a hoot! I could have listened to him joke around all afternoon. The care they put into their ice cream really impressed me and it was evident that they are passionate about what they do. They even pasteurize their own milk. That's dedication.
Of course the best part was when he broke out the ice cream at the end! You guys. SO good. I'm totally bummed it's not on the East Coast yet, but you can order it online. I fully recommend the Salted Caramel Chip (OMG!) and the Churros con Leche (OMG!!). And honestly, they were all amazing.
That evening we had great discussion around social media over some delicious tacos! Julianne made homemade tortillas and the best guacamole I've ever had. I had no idea she made such a mean guac. You need to beg her to share the recipe. No joke. It's legit. And thanks to California Avocados, there was no shortage of guacamole to go around.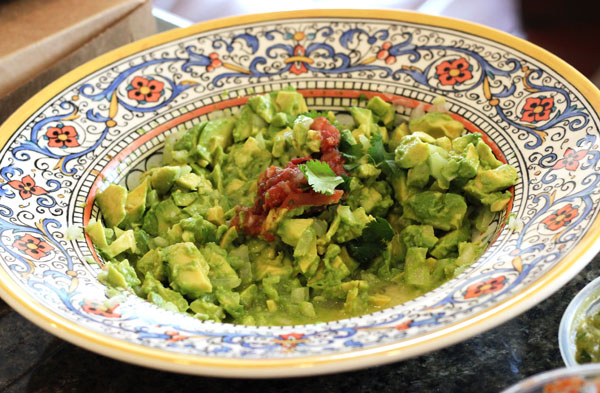 Saturday began bring and early – it was full day. Deborah made her Easy Waffle Recipe. They were so good and made with whipped egg whites. Fluffy city! We chowed down and were sure to top our waffles with some Lucky Leaf pie filling. What's better than to have pie for breakfast?!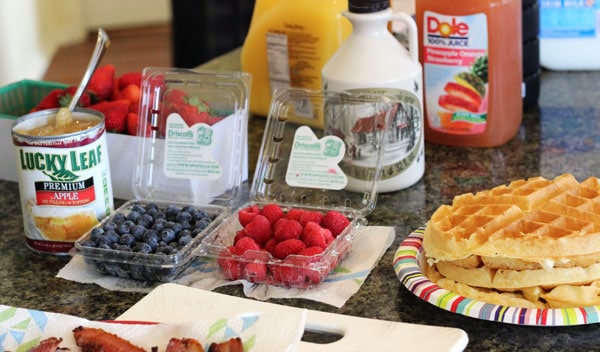 We also continued with some terrific conversation about bloggy things. You guys, I learn more from these discussions with other bloggers than anything else. And Dorothy and Krista so kindly helped me get my email subscriptions changed over to something so much more fun. If you get my emails, you have probably noticed the change this week. Is it not SO much better?! We have them to thank!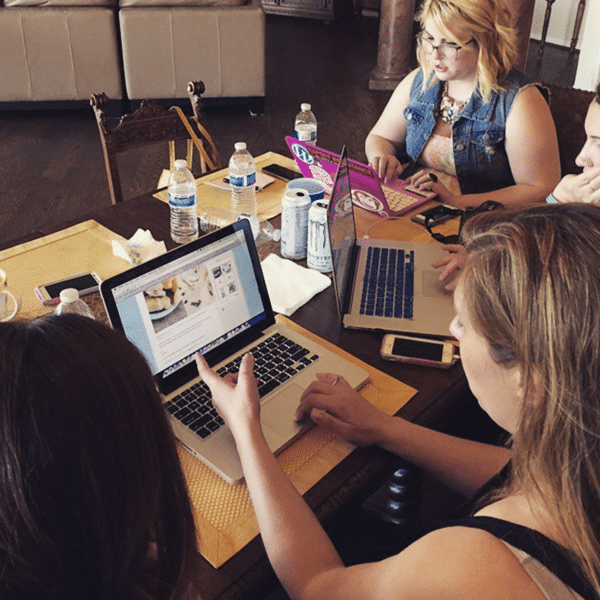 Then, for a mid-morning pick me up, Best Food Facts – who so kindly covered most of our food costs for the weekend (thank you!!) – surprised us with cupcakes! How awesome are they for sending this fun surprise? Delish!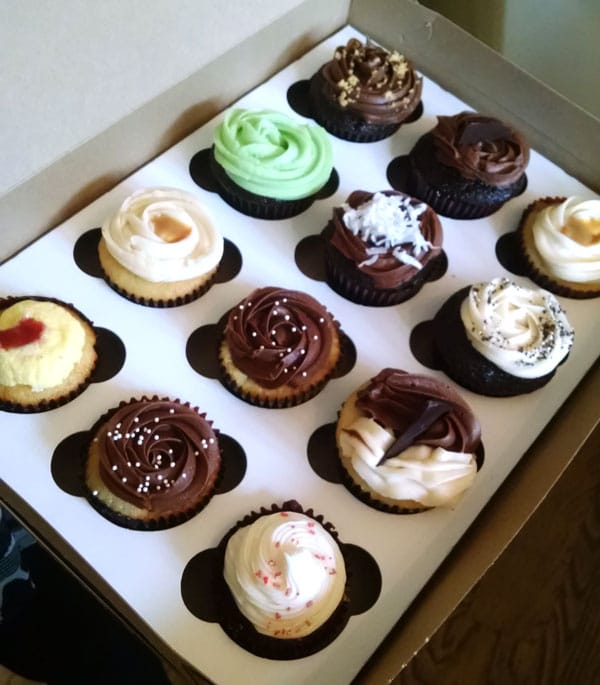 And if we weren't full enough at this point, Whole Foods Market made sure to finish us off with such a wonderful lunch. Everything was so delicious and well done. My mom is already bugging me to see if they gave us the recipes because the food looked so great (note: I don't have the recipes, sorry!).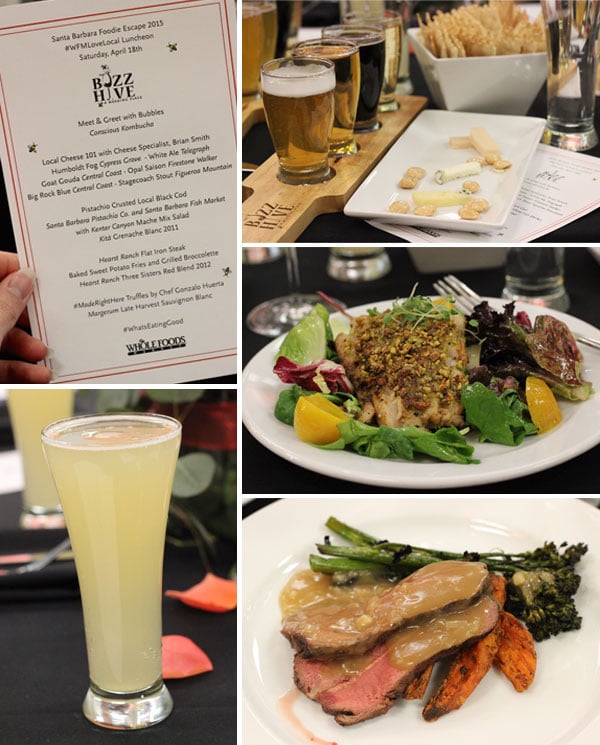 The menu was amazing! Different drinks with every course, a beer and cheese tasting (bring on the gouda!), the most delicious cod salad, steak and a deconstructed truffle for dessert. It was all wonderful! And of course dessert was my favorite part. 🙂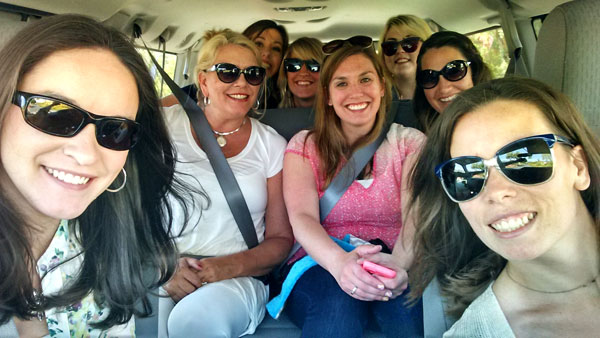 After lunch, we headed to the most adorable town – Solvang. It's a Danish town and I immediately fell in love with it. We started with a wine tasting at Predisio Winery. You know one great thing I learned this weekend? I'm not the only one that likes sweet wine!! I'm really only a sweet wine drinker. I know, I know. But when I tell you I have a sweet tooth, I mean it. And you know who loves it with me? Joan from Chocolate, Chocolate and More! I was so excited to learn I'm not the only one!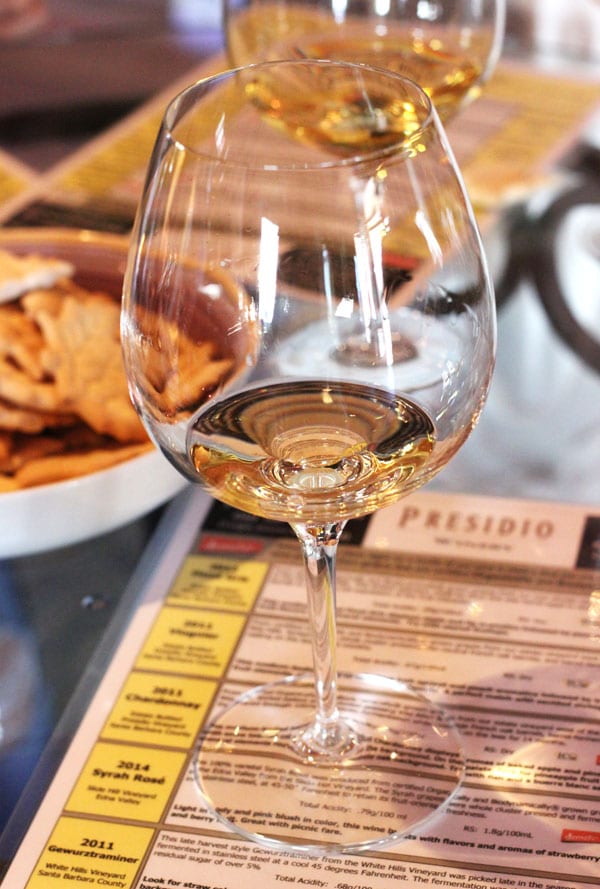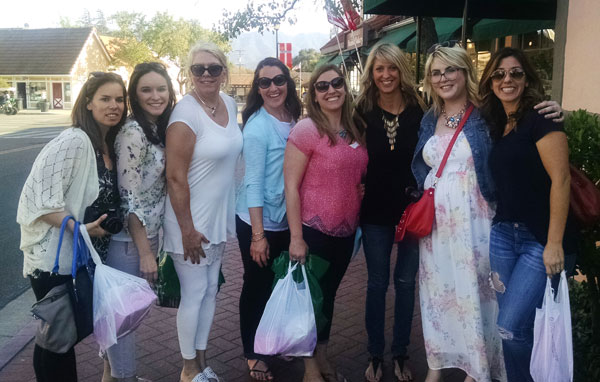 Next, we headed to Mortenson's Danish Bakery. We got a behind the scenes peek at the bakery and got to try a couple treats. Every single one was amazing. I wanted them ALL!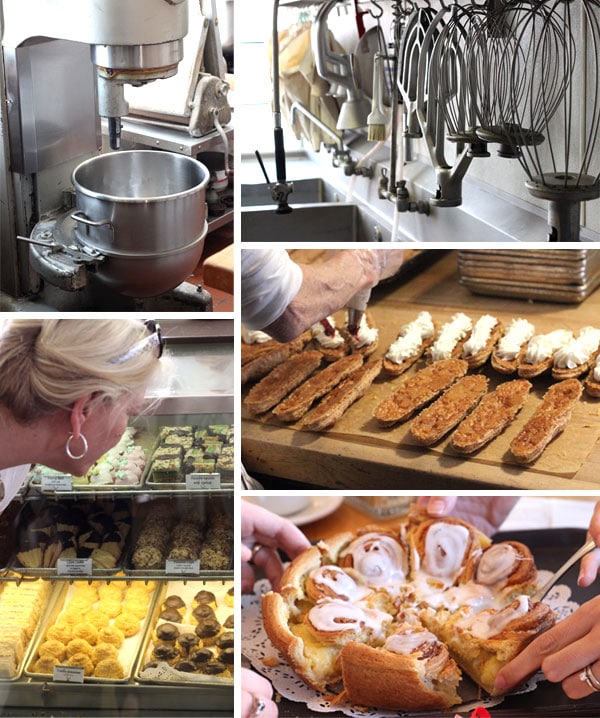 Then, dinner. If you're like my mom, you're wondering at this point how we could possibly eat another thing. It's like I told my mom. We are food bloggers. We basically train for weekends like these year round. This weekend was the main event. You gotta hang.
Dinner was at SY Kitchen and you must go there if you're ever nearby! Some of the most delicious food and such a great atmosphere. The Valley Girl drink that I had was to die for – vodka, elderflower (yum!), mint, strawberry, lime and vanilla. So good!
They treated us to a little bit of everything – baked artichoke, homemade ravioli and pasta, wood fired pizza, salad – it was all wonderful and it was so much fun to get to try a little bit of everything.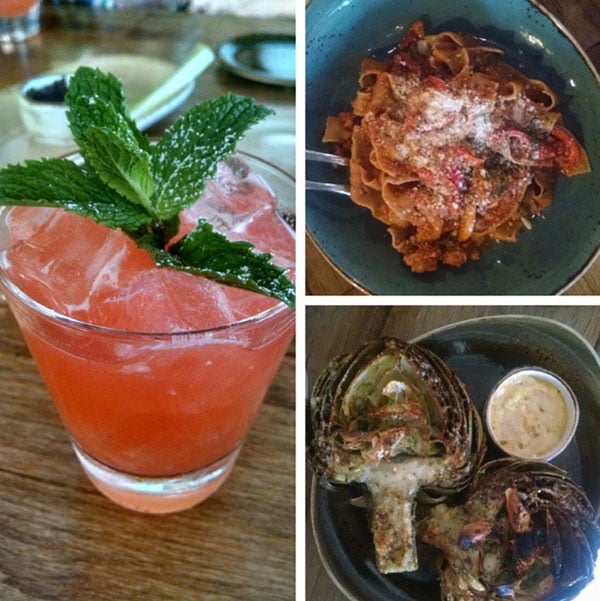 As usual, dessert was amazing. Dorothy has already made a copycat of the tiramisu and I've already made some panna cotta (which will be shared with you in a couple weeks – sorry to hold out on you). I'd never had panna cotta before and I am now IN LOVE! Omg.
When we got home, we all put on our PJs faster than we ate dessert (maybe) and hung out on the couch and shared more blogging tips. We didn't want to go to bed, because then it was going to be over. 🙁
We woke up Sunday and had another great breakfast and said our goodbyes. It was such an awesome trip and I'm so glad I was able to be a part of it. All these women are wonderful and I admire all of them. I'm so blessed to be able to call them friends. Be sure to check out Jen, Deborah, Krista, Dorothy, Joan, Hayley and Julianne on their blogs if you haven't yet.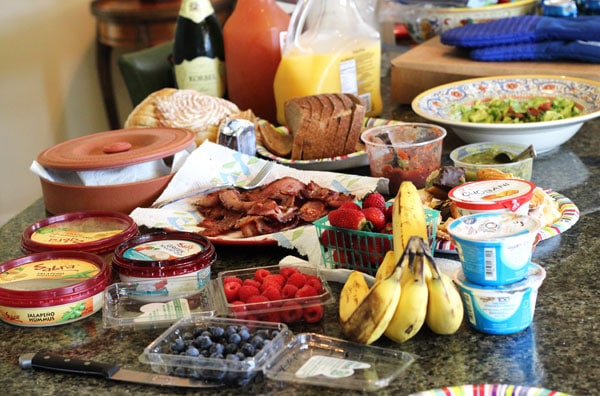 Also, another thank you goes out to the rest of our sponsors for providing us with food and goodies for this weekend in Santa Barbara! King Arthur Flour, Baileys Coffee Creamers, Wilton, OXO, Sabra Dipping Co, Cabot Cheese, California Avocados and Skippy Peanut Butter – thank you all so much!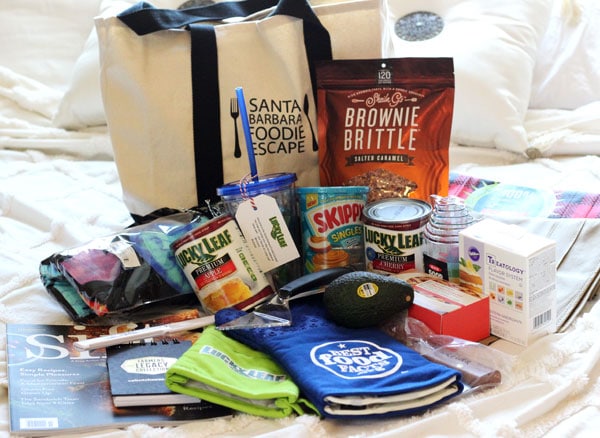 This post may contain affiliate sales links. Please read my disclosure policy.