These Salted Caramel Stuffed Chocolate Cookies are to die for! A dark chocolate cookie is stuffed with a Milky Way bar and sprinkled with sea salt. They're ultra gooey and delicious!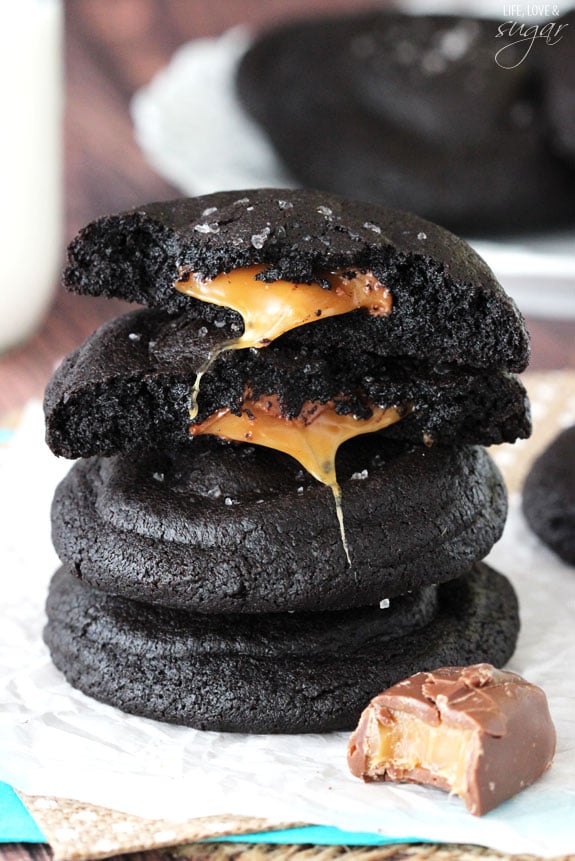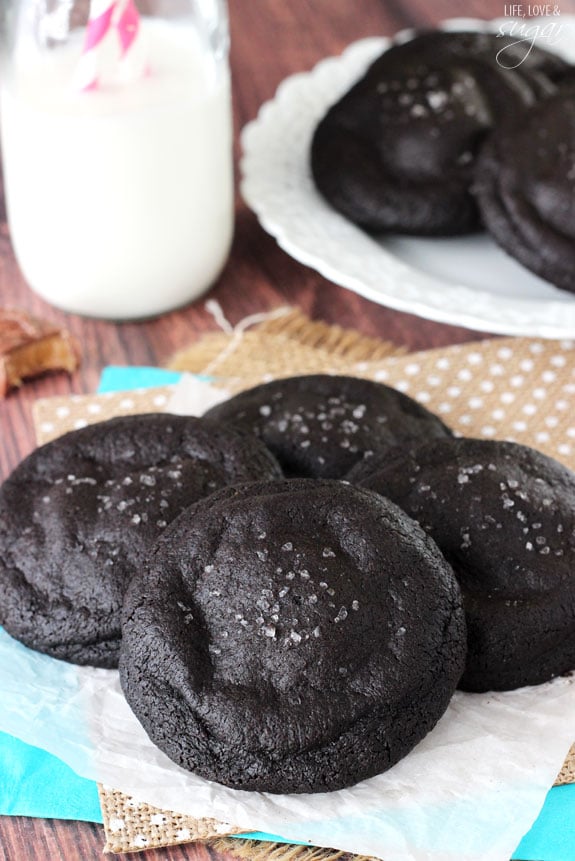 Salted Caramel Stuffed Chocolate Cookies
So yesterday the hubs and I finally got around to starting to stain our fence that was installed in January. We'd waited for it to warm up and finally stop raining, so now it's time.
And it is going to be a big job. Like whoa.
We got a quote for someone to do it for us and decided to do it ourselves. With the expense of our upcoming trip to South Africa, we decided to save a little, but it's going to take several weekends. It's a pretty big fence. I do love the color we picked though and I can't wait to see it done.
The only thing is, now that it's warm, we aren't the only ones to come out of hiding. The bugs are out in force. And they were toying with us.
First, I was sitting and eating lunch outside while the hubs painted and a wasp came around. Jessie was sitting next to me (duh, there was food) and she all of a sudden snapped at it! She hates the buzzing of bees and wasps. Hates it. We'll be on a walk and she'll stop right in the middle of walking to snap at a bee. It always freaks me out because if she misses and pisses it off, it might come for me. I would not be happy.
She managed to get the wasp this time, but it wasn't hurt and flew off. So I started screaming. Not like a crazy scream, but an "oh, crap! The wasp is going to come back and sting me" scream. It didn't though. We survived.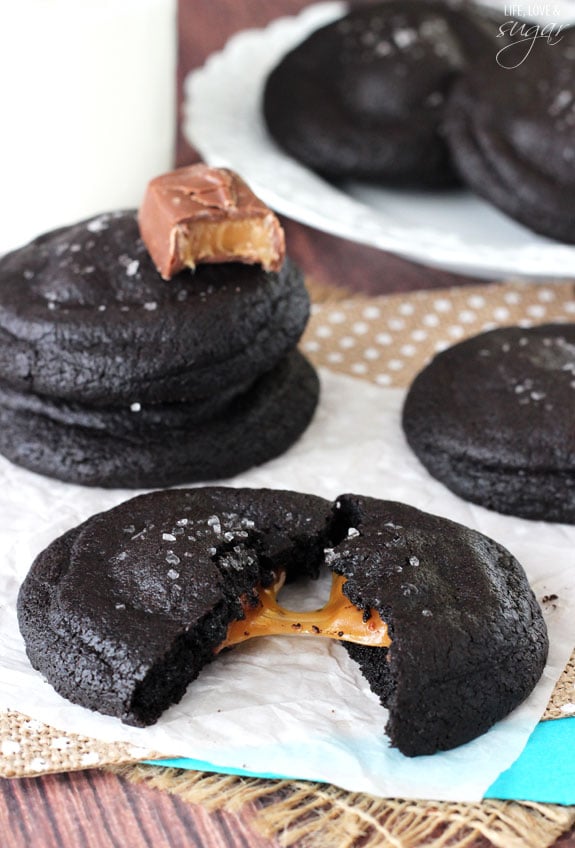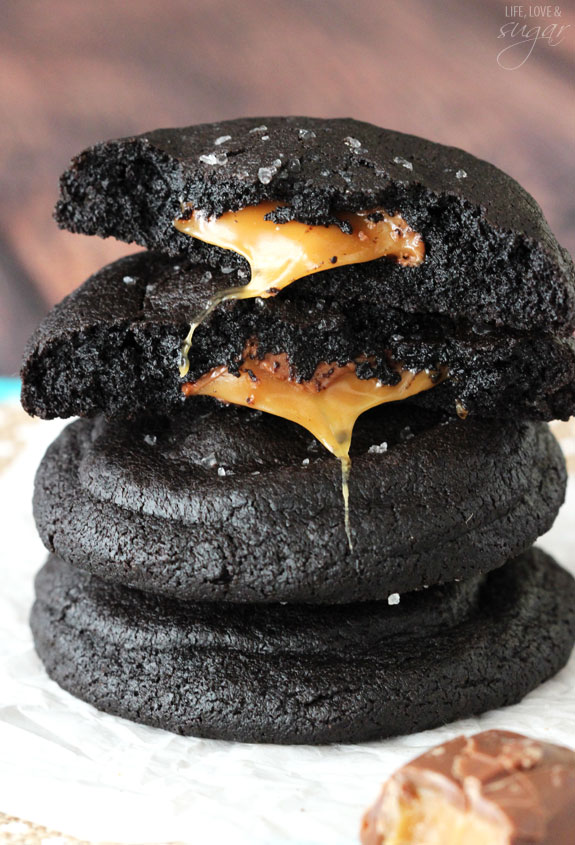 Then a few minutes later, it looked like the hubs was having a seizure as he thrashed around – paint brush in hand. Some crazy critter had ATTACKED! He survived.
Then, I was painting the fence and heard a bug and lifted my arm with the paint brush up to swat at it. All of sudden I felt several things hit my arm and I screamed like mad thinking it was bugs! Scared the crap out of the hubs! But it was just paint dripping from my brush onto my arm. 🙂 Oops.
Clearly I was jumpy. Too many bugs – and I don't do bugs.
Shortly after that I went back inside and baked. I need full body armor next time.
While I actually like helping with stuff like painting the fence (I'm weird, I know), it's much safer inside making things like these cookies.
They are so yummy! They are made with my usual chocolate cookie base. They are soft, chewy and so chocolatey. I stuffed them with half of a caramel filled milky way. A full milky way is a little big.
I actually tried using Dove caramels first, but I didn't care much for the way they melted in the cookie. The milky way was much better. I'd think Rolos would also work well, but may be be a little smaller.
To add the candy bar to the cookie, make your ball of dough (about 2 tbsp in size), break it in half and sandwich the candy between the dough. Press the edges of the dough together, sealing the candy inside.
Place the balls of dough onto a cookie sheet lined with either parchment paper or a silicone baking mat. I personally love silicone baking mats because they are reusable.
Sprinkle a little sea salt on top and bake! Don't pass on the sea salt – it adds a whole lot of fun. My mom was super excited when she bit into these and tasted the salt. She couldn't believe how awesome a little sprinkle of salt made a cookie.
These cookies are the jam! So good! And they are especially delicious warm. A warm chocolate cookie with melted caramel inside, and a little sea salt. Yum! Put a fork in me, I'm done.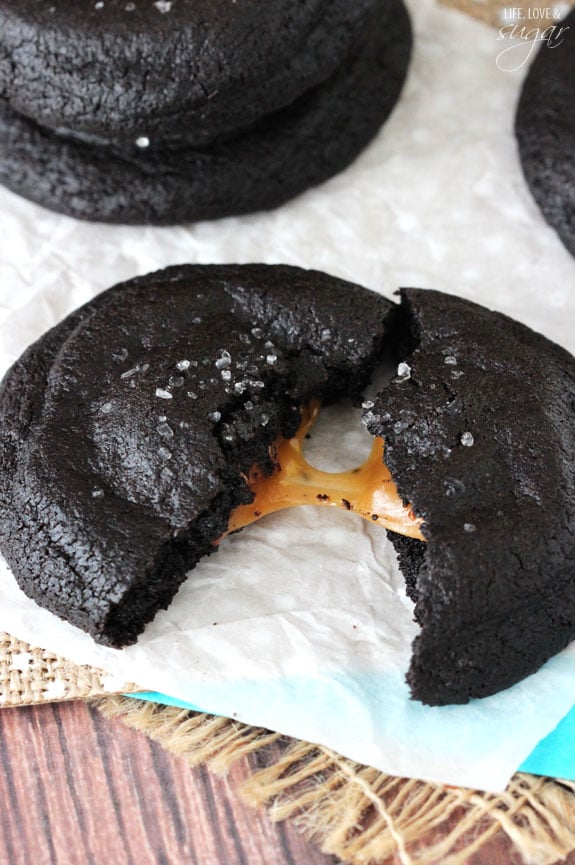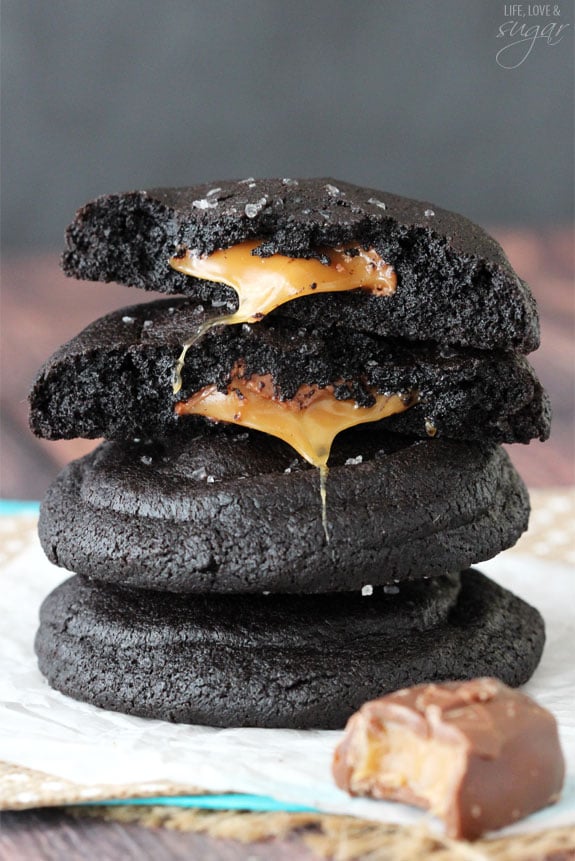 You might also like
Easy Salted Caramel Sauce
Salted Caramel Cheesecake
Salted Caramel Coconut Macaroons
Kahlua Chocolate Cupcakes with Salted Caramel
Salted Caramel Chocolate Pecan Pie


Print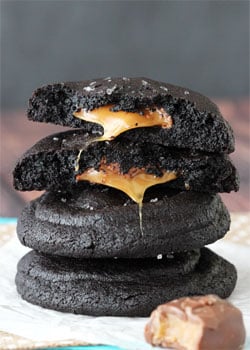 Recipe
Salted Caramel Stuffed Chocolate Cookies
Author:

Prep Time:

10 minutes

Cook Time:

8 minutes

Total Time:

18 minutes

Yield:

About 16 Cookies

Category:

Dessert

Method:

Oven

Cuisine:

American
---
Description
These Salted Caramel Stuffed Chocolate Cookies are to die for! A dark chocolate cookie is stuffed with a Milky Way bar and sprinkled with sea salt. They're ultra gooey and delicious!
---
Ingredients
3/4 cup

salted butter, room temperature

1/2 cup

brown sugar, lightly packed

1/2 cup

sugar

1

egg

1 tsp

vanilla extract

1 1/4 cups

all purpose flour

1/2 cup

cocoa (I use Hershey's Special Dark)

1 tsp

baking soda
Fun Size Simply Caramel Milky Ways Bars, cut in half
---
Instructions
1. Preheat oven to 350 degrees.
2. Cream butter and sugars together until light and fluffy, about 3-4 minutes.
3. Mix in egg and vanilla extract.
4. Add flour, cocoa and baking soda and mix until well incorporated and thick.
5. Make balls of cook dough about 2 tbsp in size.
6. Break balls of dough in half, add candy bar to the middle, then press dough halves back together and seal edges.
7. Place cookies on a parchment or silicone baking mat lined cookie sheet and sprinkle with sea salt.
8. Bake for 8-10 minutes. Center might look a little undercooked, but edges should be done.
9. Remove cookies from oven and allow to cool for 2-3 minutes, the remove to cooling rack to cool completely.
---
Nutrition
Serving Size:

1 Cookie

Calories:

178

Sugar:

12.9 g

Sodium:

159.7 mg

Fat:

10.2 g

Carbohydrates:

21.6 g

Protein:

2.4 g

Cholesterol:

34.8 mg
Keywords: chocolate cookies recipe, chocolate cookies, caramel dessert, easy cookies recipe, best cookies recipe, homemade cookies recipe, homemade cookies
Filed Under:
Enjoy!
This post may contain affiliate sales links. Please read my disclosure policy.