This Giant Cinnamon Roll Cookie Cake has all the delicious flavors of a cinnamon roll in cookie form. Just like a classic cinnamon roll, this breakfast cookie is covered in a sweet vanilla glaze! It's so good!
For another tasty cinnamon cake, you have to try my scrumptious Cinnamon Roll Snack Cake!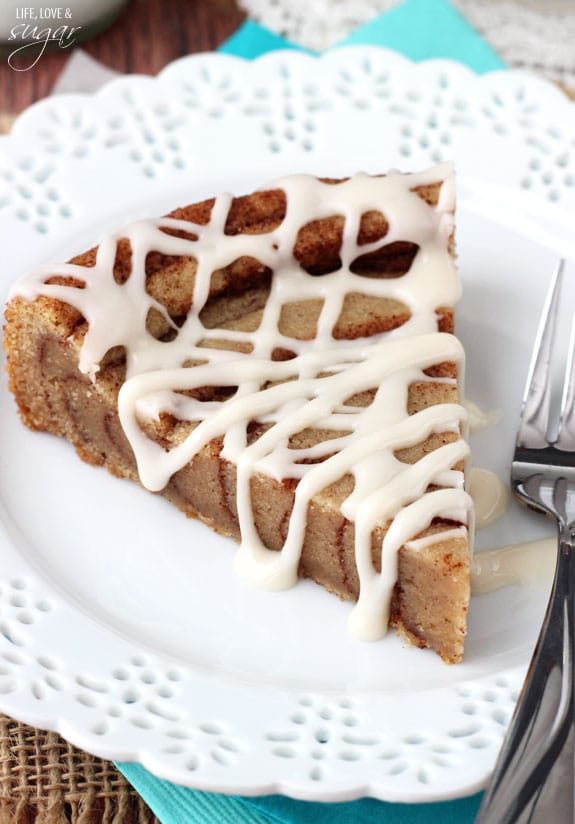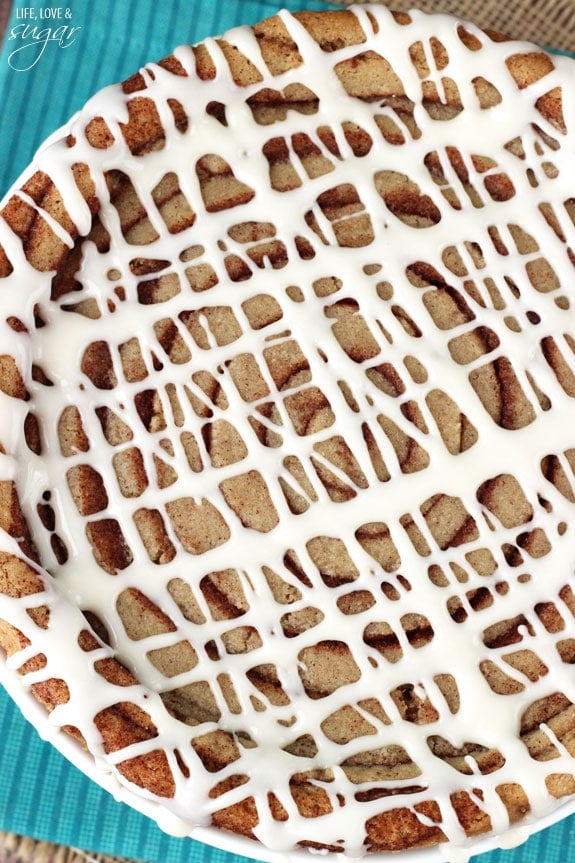 So we all have our things that we are a bit anal about, right? I think I have a few. But the one that the hubs makes fun of pretty much every night is my obsession with our sheets and covers on our bed.
For some reason, our fitted sheet won't really ever stay in place. We've even tried different sheets and it's always the same. Every morning, it's moved around and wrinkly underneath me. So before we go to bed, I always fix it. Always. I've even made the hubs get out of bed after he's laid down so that I can fix it.
After 5 years, he seems to finally be over being annoyed by it and now just laughs and gives me a hard time. He calls me the "Cover Nazi", inspired by the "Soup Nazi" from Seinfeld. 🙂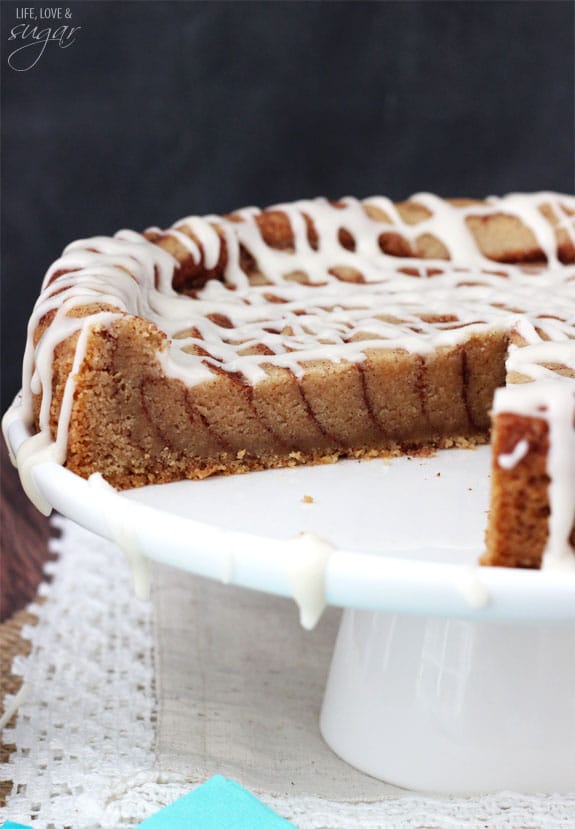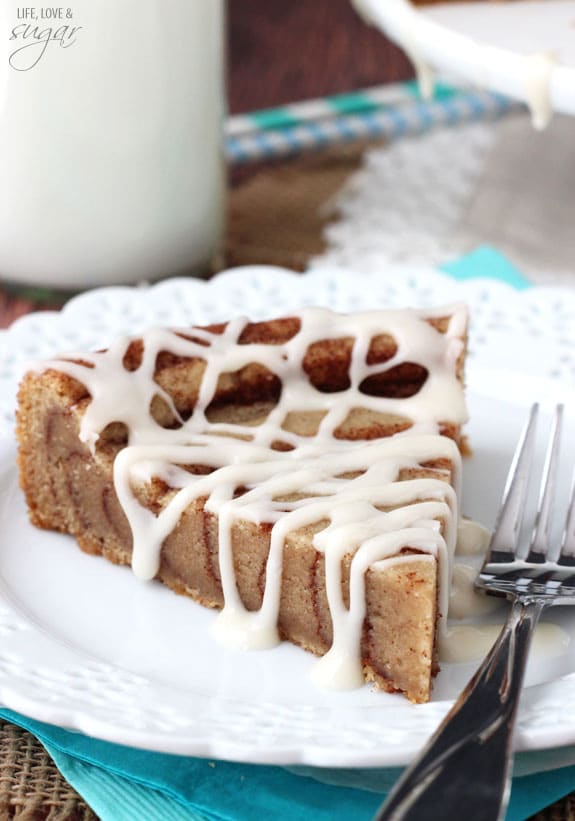 I go around to each of the 4 corners and re-tuck and smooth them. Then I make sure the sheet and comforter are lined up at the top corners so they are the same length when I pull up on them. If they are un-even, or the fitted sheet is all wrinkly underneath me, I can't deal. Drives me crazy.
So there you have it. I am a little crazy, but the hubs loves me anyways. You can't accuse me of not having a strong opinion on sheets.
And now that'd I'm done revealing my craziness, lets talk about this cookie cake. It's not crazy in the way that I am, just crazy good.
I've been marinated the idea of a cinnamon roll cookie cake in my head for quite some time. That's the usual course of an idea for me.
Then I remembered this deliciousness, Giant Cinnamon Roll Cake by Sally's Baking Addiction, and decided to apply the same concept to a cookie cake. I knew I'd love it and I was right!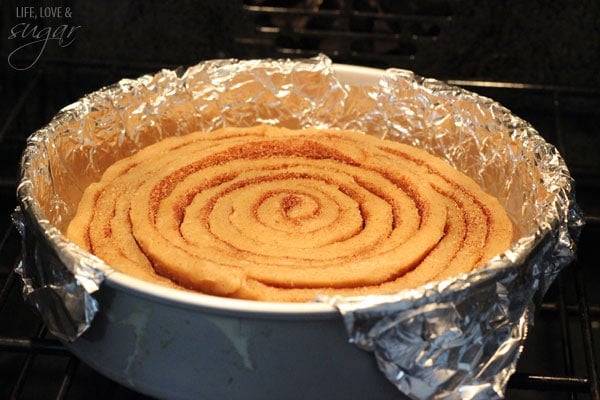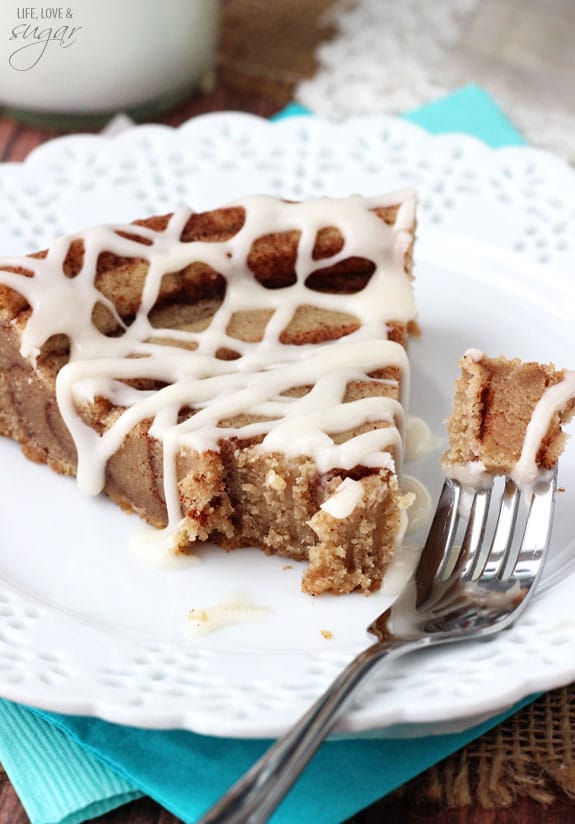 How to Make The Best Cinnamon Roll Cake
While it takes a little time to make, it's not hard. It starts with a regular cookie dough. The cookie dough is cut into strips and rolled into a cookie cake right in the pan.
Using shorter strips helps a lot with moving the dough around. And keeping it cold and firm is also important. You'll start from the center and work your way out.
It won't actually reach the edge of the pan completely, but it will expand to fill the pan as it bakes.
Once covered with the glaze, it really is like eating a denser, cookie-like cinnamon roll. It's FULL of cinnamon! And like a good cinnamon roll, it must have plenty of glaze. 🙂 This is easily one of my favorite cookie cakes. So yummy!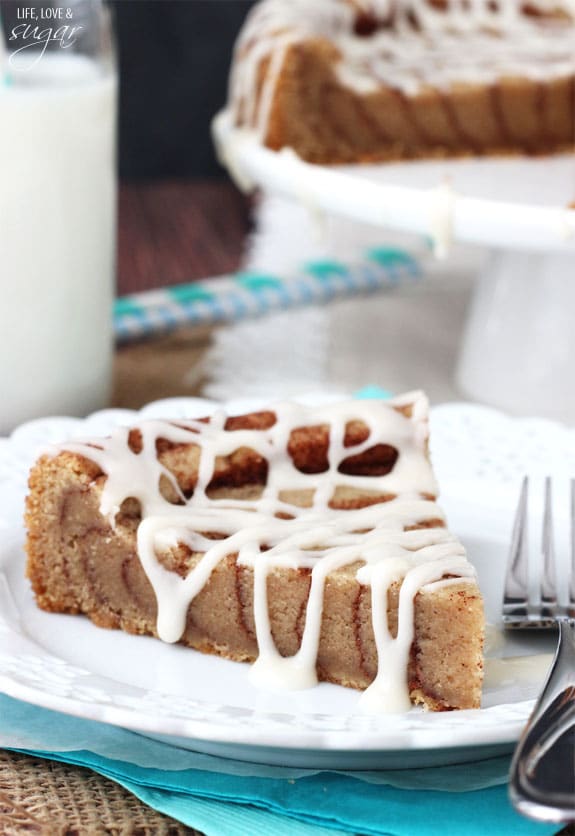 You Might Also Like
Cinnamon Roll Poke Cake
Mini Cinnamon Roll Cheesecakes
Cinnamon Roll Layer Cake
Monster Cookie Cake
Cinnamon Roll Muffins


Print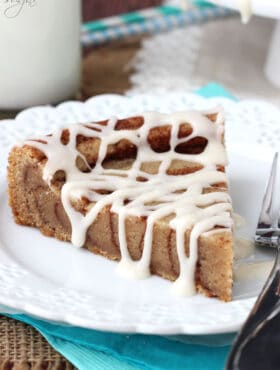 Recipe
Author:

Prep Time:

15 minutes

Cook Time:

22 minutes

Total Time:

1 hour 37 minutes

Yield:

12-14 slices

Category:

Dessert

Method:

Oven

Cuisine:

American
---
Description
This Giant Cinnamon Roll Cookie Cake has all the delicious flavors of a cinnamon roll in cookie form. Just like a classic cinnamon roll, this breakfast cookie is covered in a sweet vanilla glaze! It's so good!
---
Ingredients
COOKIE
3/4 cup

unsalted butter, room temperature

1/2 cup

brown sugar

1/2 cup

sugar

1

egg

2 tsp

vanilla extract

1 tsp

cinnamon

2 cups

all purpose flour

2 tsp

cornstarch

1 tsp

baking soda
CINNAMON ROLL FILLING
1/4 cup

sugar

1 1/2 tbsp

cinnamon

2 tbsp

butter
GLAZE
3/4 cup

powdered sugar

4 tsp

milk

1 tsp

vanilla extract
---
Instructions
1. Cream butter and sugars together until light and fluffy, about 3-4 minutes.
2. Mix in egg and vanilla extract.
3. Add cinnamon, flour, cornstarch and baking soda and mix to combine.
4. Chill for at least 1 hour or until firm. It will make the dough easier to roll out and work with.
5. Preheat oven to 350 degrees. Line an 8 inch cake pan with aluminum foil that comes up over the sides of the pan.
6. When dough is firm, combine sugar and cinnamon in a small bowl. Melt butter in another small bowl.
7. Remove smaller balls of dough at a time, so the rest stays firm. Roll out dough to about 1/4 – 1/2 an inch thick on a non-stick surface.
8. Cut strips of dough about an inch wide. Brush the strips with melted butter, then sprinkle with cinnamon sugar.
9. Roll up the first strip and place it in the center of the cake pan.
10. Coil the rest of the dough around the center, moving outward. Start each new strip at the end of the previous strip. Shorter strips are easier to work with and it's easiest to coil it right in the pan. All pieces don't have to line up perfectly, it'll all come together as it bakes. The dough won't go all the way to the edge of the pan. There will be about 1/2 an inch left, but it will spread in the pan as it bakes and fill it completely.
11. Bake for 22 minutes or until edges are slightly brown.
12. Remove cookie from oven and allow to cool completely in the pan.
13. Remove the cookie from the pan, lifting with the aluminum foil.
14. Combine powdered sugar, milk and vanilla for glaze in a small bowl and drizzle over cookie.
---
Nutrition
Serving Size:

1 Slice

Calories:

264

Sugar:

21.3 g

Sodium:

99.7 mg

Fat:

12.1 g

Carbohydrates:

36.9 g

Protein:

2.5 g

Cholesterol:

43.8 mg
Keywords: cinnamon roll cookie, cinnamon roll cake, cinnamon roll cake recipe, cinnamon cake recipe, cinnamon cookie recipe, cinnamon roll recipe, cinnamon roll glaze, breakfast cake
Filed Under:
Enjoy!


This post may contain affiliate sales links. Please read my disclosure policy.