Banoffee Cupcakes
I have been quite excited to share these Banoffee Cupcakes with you! I almost couldn't wait. A banana filled cupcake is topped with a thin layer of dulce de leche, then finished off with dulce de leche icing! They are so delicious and so fun – you have to make them!
So yesterday, our church wrapped up a great first series for the beginning of the year. It basically turned the New Year's Resolution on its head and instead of asking what you can do to make yourself better, it asked what we could do to make the world better.
It was basically all about the idea that if you want to become a better person, do something to make the world a better place. Often through doing for others, we grow so much more as people than when we focus on ourselves.
Certainly there's nothing wrong with wanting to lose those 10 pounds – I'm with you there. But I thought it was a great message and reminder. So much of our culture is me, me, me. But God wants us to engage with and help others. Through doing His works, we grow so much more.
I just thought I'd share. It's a wonderful and thought provoking message. The question they asked was "What breaks your heart?" What can you do to help?
While cupcakes certainly don't help with the 10 pounds or change the world, they are delicious.
But before I go any further on the Banoffee Cupcakes – Banoffee. Have you heard of it? Is it foreign to you? Banoffee Pie is totally a thing. It's a pie made with bananas and toffee made from cooked sweetened condensed milk, also known as dulce de leche. Banana + toffee = banoffee.
I am huge lover of all things banana and dulce de leche, so I decided why not make it into a cupcake?
I am so glad I did. I only wish I'd made them a week earlier so that I could've taken some to Miami. The friend that we stayed with LOVES dulce de leche and I think he'd have loved these cupcakes.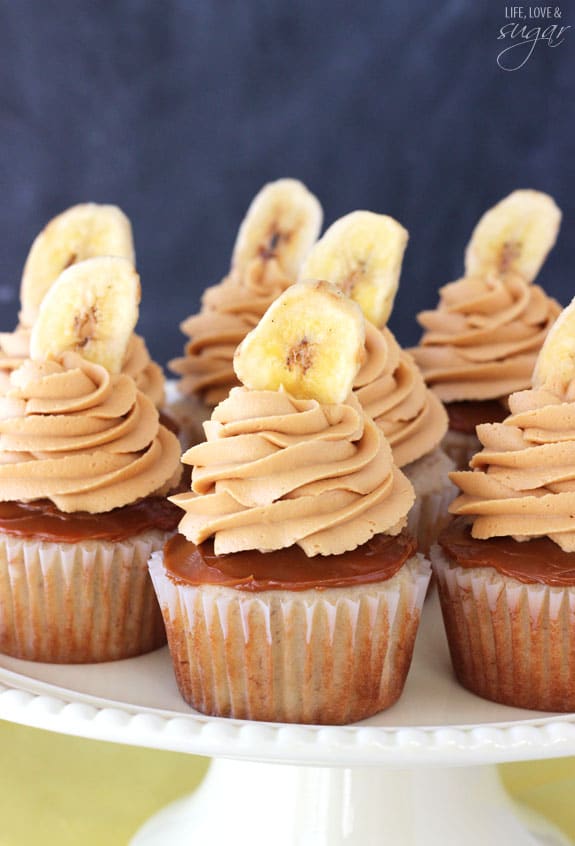 The bottom of the cupcake – the actual cupcake – is all about the banana. There's a 1/2 cup of mashed bananas in the batter giving it full on banana flavor. The cupcakes alone are wonderful. Oh banana, how I love you.
I used my vanilla cupcake recipe and went from there. So like those cupcakes, these only use one bowl (except for the mashing of the bananas) and are easy peasy to make.
I thought about just topping them with dulce de leche icing, but then decided to not only have dulce de leche icing, but to put a thin layer of dulce de leche right onto the cupcake as well.
Best. decision. ever.
It just ups the ante a little bit and takes these babies from good to great.
I know. It's just a thin layer. How could it make that much difference? It does. Just trust me.
The flavor of both the banana and the dulce de leche is unmistakable and they combine so perfectly in this cupcake. You might just find you do not want to share. And I won't judge you one bit for it. Promise.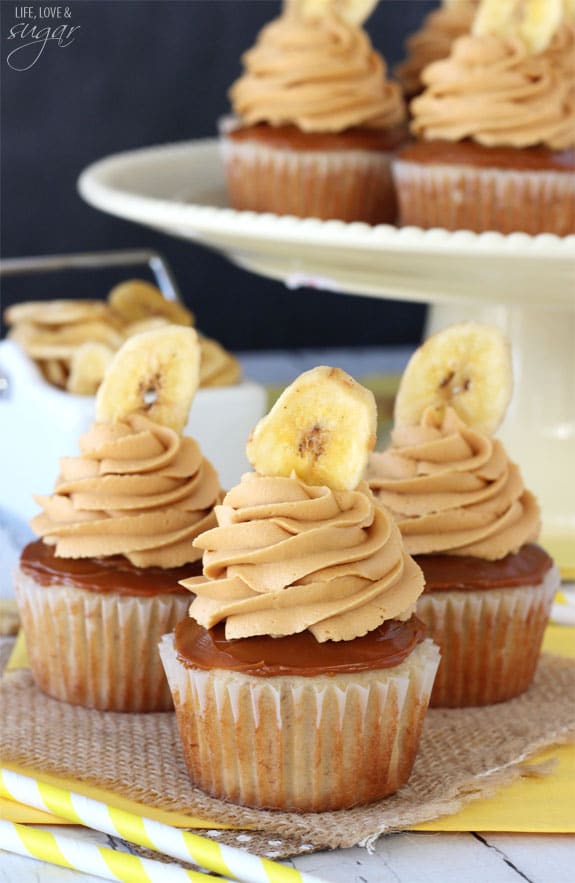 You might also like:
Overnight Bake Banana French Toast Casserole
Banana Cream Cheesecake
Easy Banana Bread
Soft and Moist Banana Cake
Bananas Foster Cheesecake
Banana Split Fluff

Banoffee Cupcakes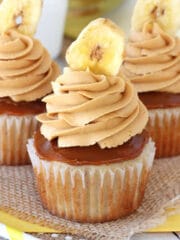 Yield:

12

-

14

Cupcakes

1

x
Category:

Dessert

Method:

Oven

Cuisine:

American
Ingredients
BANANA CUPCAKES 
1 2/3 cup

s all purpose flour

1 cup

sugar

1/4 tsp

baking soda

1 tsp

baking powder

3/4 cup

salted butter, room temperature

1

egg white

1

egg

1 tsp

vanilla extract

1/2 cup

mashed ripe bananas

1/2 cup

milk
DULCE DE LECHE ICING 
1/2 cup

butter

1/2 cup

shortening

4 cup

s powdered sugar

3/4 cup

dulce de leche

1

–

2

tbsp water or milk
banana chips, if desired for garnish
Instructions
BANANA CUPCAKES 
1. Preheat oven to 350 degrees.
2. Whisk together flour, sugar, baking soda and baking powder in a large mixing bowl.
3. Add butter, egg white, egg, vanilla, mashed bananas and milk and mix on medium speed just until smooth. Do not over mix.
4. Fill cupcake liners a little more than half way.
5. Bake 18-20 minutes.
6. Allow to cool for 1 minute, then remove to cooling rack to finish cooling.
DULCE DE LECHE ICING 
1. Combine butter and shortening and mix until smooth.
2. Add 2 cups of powdered sugar and mix until smooth.
3. Add dulce de leche and mix until smooth.
4. Add remaining powdered sugar and mix until smooth.
5. Add water or milk, if needed, until desired consistency is reached.
6. Spread a thin layer of dulce de leche on top of each cupcake.
6. Top cupcakes with icing and banana chips, if desired.
Notes
The shortening in the icing can be replaced with butter, if you prefer.
Enjoy!