This post may contain affiliate sales links. Please read my disclosure policy.
This Conversation Heart Chocolate Bark is a great, easy treat for Valentine's Day and it uses one of my favorite things about the holiday – conversation hearts!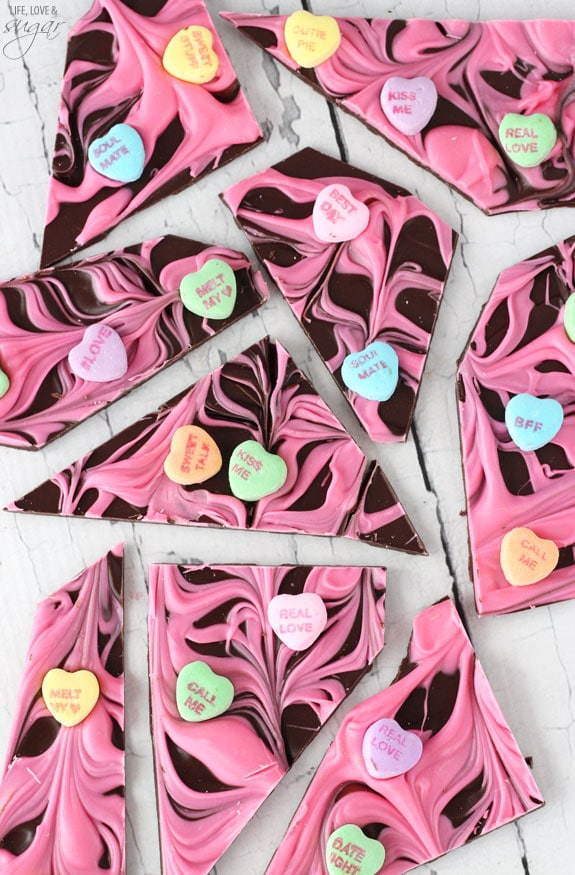 Conversation Heart Chocolate Bark
Is it just me, or is it hilarious that the little things the conversation hearts say are all hip now with things like hashtags? Cracks me up. 🙂
So lately I've been trying to be healthier. I got way off track over the holidays, with so much going on and so much good food. Now I'm eating better, working out harder and eating very little of what I'm baking. It's kind of sad to not eat as much of the yummy stuff I make, and yet I feel much better in general when I feel healthier.
So much of healthy eating and working out for me is about how I feel. Sure, I care about my weight, probably too much, but I hate it even more when I don't feel good in my skin.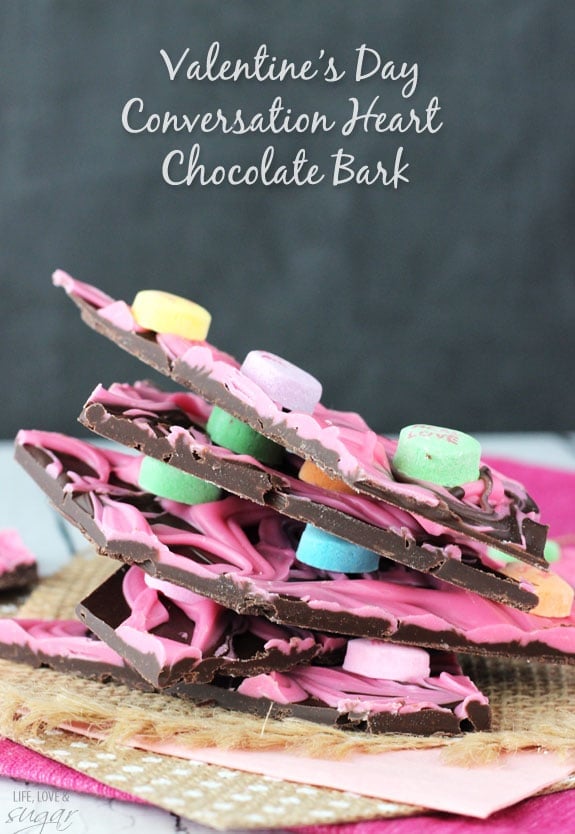 I have such a love-hate relationship with working out. On the one hand, I hate it. I'd gladly give it up if one day scientists discovered it was actually very bad for you. I'd rejoice. And yet, I always feel good after I work out. And it's one of the few times during my day that I actually stop doing and thinking about a million things at once and just relax a little. I actually think it's quite mentally, as well as physically, good for me.
I even got a fitbit a couple weeks ago at the encouragement of my friend Julianne from Beyond Frosting. She kicked my butt in number of steps last week, so I've been trying to step up my game this week.
I've really liked wearing the fitbit. I love that it shows me my sleep (which is actually better than I thought it'd be) and how many minutes of restlessness and wakefulness I had at night and I love that it makes me more aware of how much or how little activity I've had. Trying to get the right number of steps, calories, etc has become kind of fun way to try and reach a goal every day. Definitely motivating.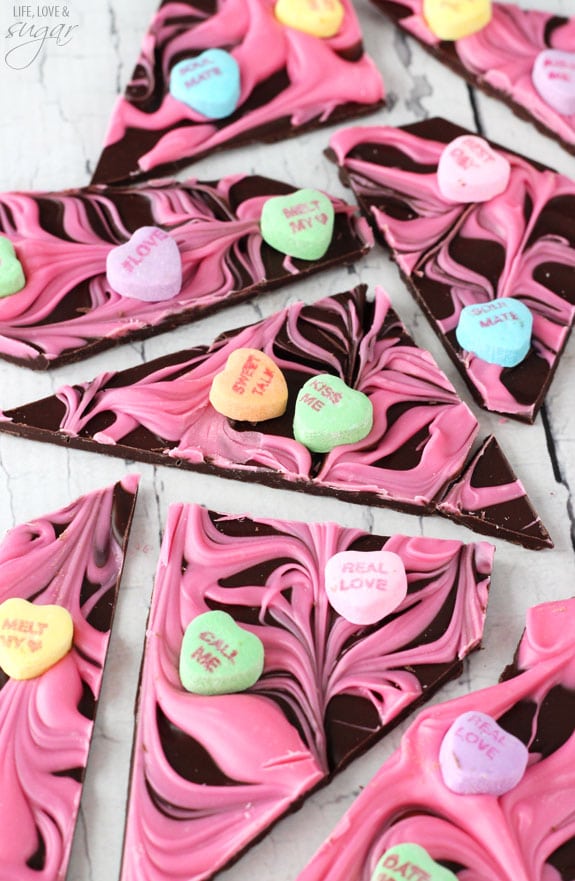 Fortunately this chocolate bark is a treat that feels a little less guilty than some of my cakes – though I've got some tasty cakes coming next week. Get ready!
This bark also great because it's an easy thing to put together and share for Valentine's Day. I've been on a bit of a Valentine's kick this week. I hope you don't mind. Even though I don't have kids and don't do as much for the holiday, I love all the hearts, flowers, red and pink. What girl doesn't? It's just so festive! I want all the heart things! And I love love. 🙂
So if you want to tell someone you love them on Valentine's Day, why not pick out some conversation hearts and do it with this bark? They'll totally love it.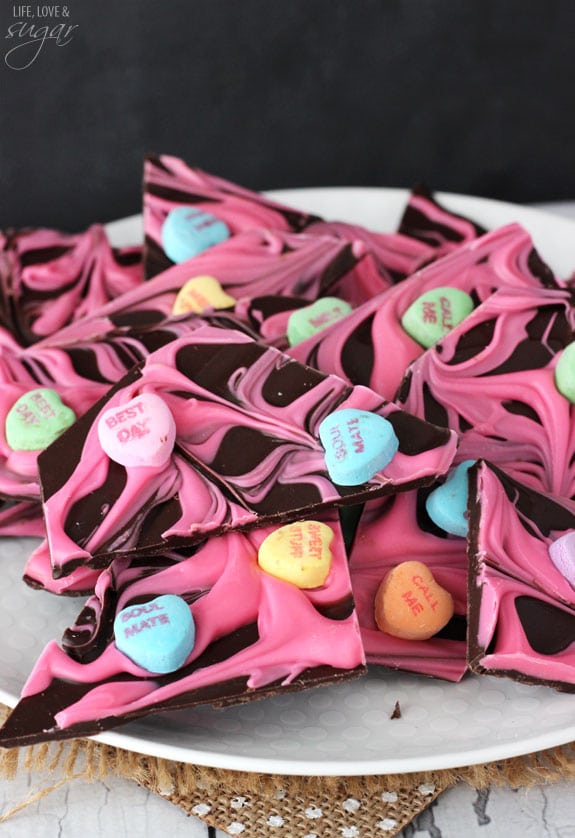 Print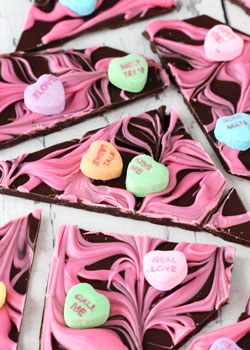 Recipe
Conversation Heart Chocolate Bark
Author:

Prep Time:

10 minutes

Total Time:

10 minutes

Category:

Dessert

Method:

No Bake

Cuisine:

American
---
Description
This Conversation Heart Chocolate Bark is a great, easy treat for Valentine's Day and it uses one of my favorite things about the holiday – conversation hearts!
---
Ingredients
8 oz

dark chocolate candy melts

4 oz

bright pink vanilla candy melts
conversation hearts
---
Instructions
1. Spread a piece of parchment paper out over a cookie sheet.
2. Melt chocolate candy melts in a microwaveable bowl, microwaving for about 30 seconds at a time and stirring each time so that the chocolate doesn't burn, until fully melted and smooth.
3. Repeat the same melting process with the pink candy melts.
4. When both kinds of candy melts are melted, spread the dark chocolate into an even layer over the parchment paper, being careful not to make it too thin.
5. Quickly drizzle the pink candy melts over the chocolate, then use a toothpick or spatula to swirl it through the chocolate.
6. Quickly drop conversation hearts onto the chocolate before it hardens.
7. Allow chocolate to hard completely, then cut into pieces.
---
Keywords: chocolate bark recipe, valentines dessert, valentines day dessert, valentines day recipe, valentines recipe, easy dessert recipe, easy dessert recipe few ingredients, easy homemade dessert
Enjoy!
You might also like
Valentines Day Heart Cut Out Cookies
Valentine's Day Rice Krispie Treat Cupcakes
Valentine's Day Strawberries and Cream Puppy Chow
Valentine's Day Sugar Cookies