November 8, 2012
Cheesy Hash Brown Casserole
This Cheesy Hashbrown Casserole is one of my very favorite things to make and eat – especially at holidays! The mix of salty and sweet is amazing! Plus, it's so easy to throw together.
Post updated 12/14/16.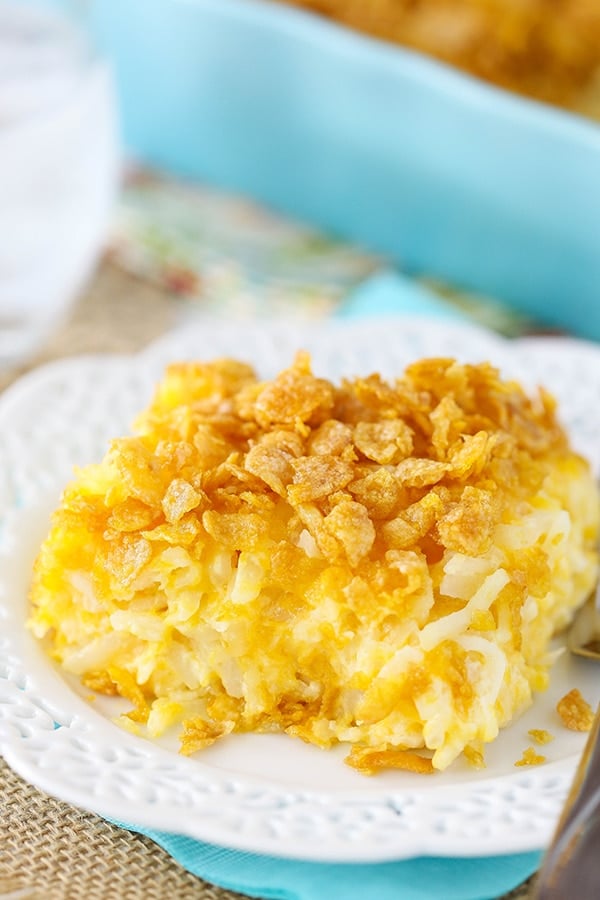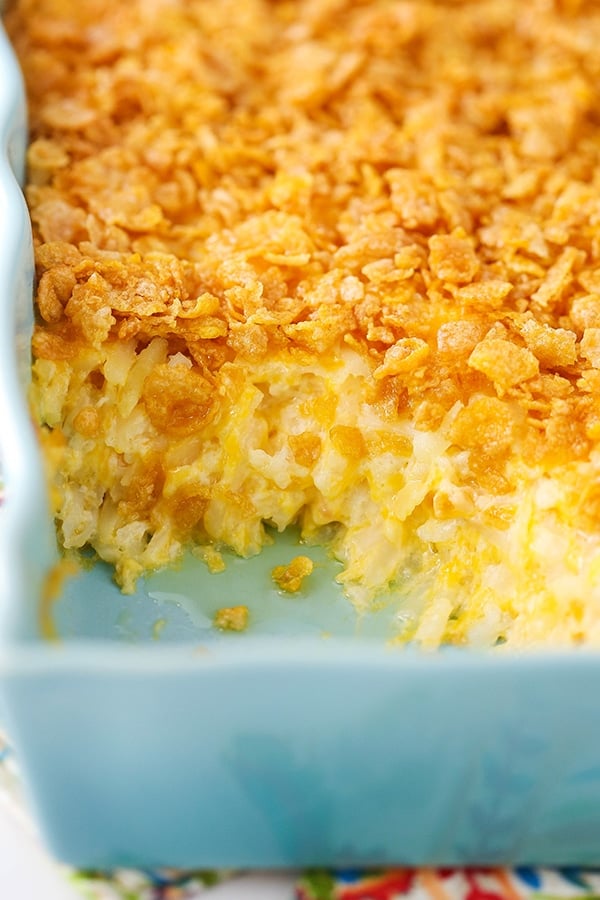 I've been making this casserole for many years. I first time I had it was when a family friend brought it for Christmas. My mom got the recipe from her and we've been making it ever since!
The ingredients are fairly straight forward and readily available, so that's a big plus. But really my favorite part about this casserole is the fact that it's sweet and salty. The salty is obviously from the main part of the casserole itself. Cheese, potatoes, sour cream, butter, onion – what's not to love?
The topping is where it's at though. That's where the sweet comes into play. The original recipe called for regular cornflakes crushed up and mixed with butter on top. I did that for a while, but my only problem with that was that after I used the 2 cups of crushed cornflakes that I needed, I still had quite a few cornflakes left over – and I don't eat unsweetened cereal. Boring! So one day I decided to try Frosted Flakes. That way I could eat the leftover cereal. I have NEVER gone back and I never will. The sweet with the salty is the jam! The more topping, the better!

MY OTHER RECIPES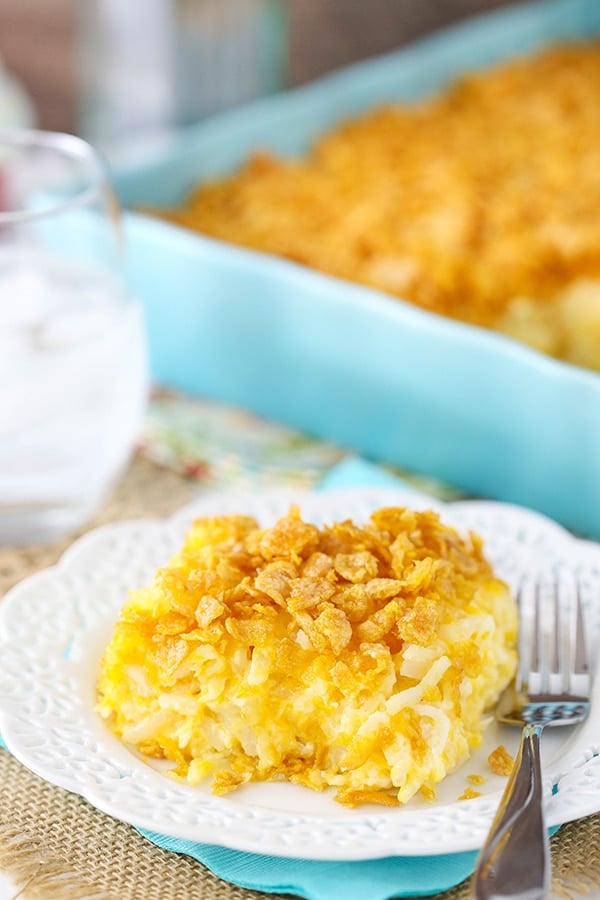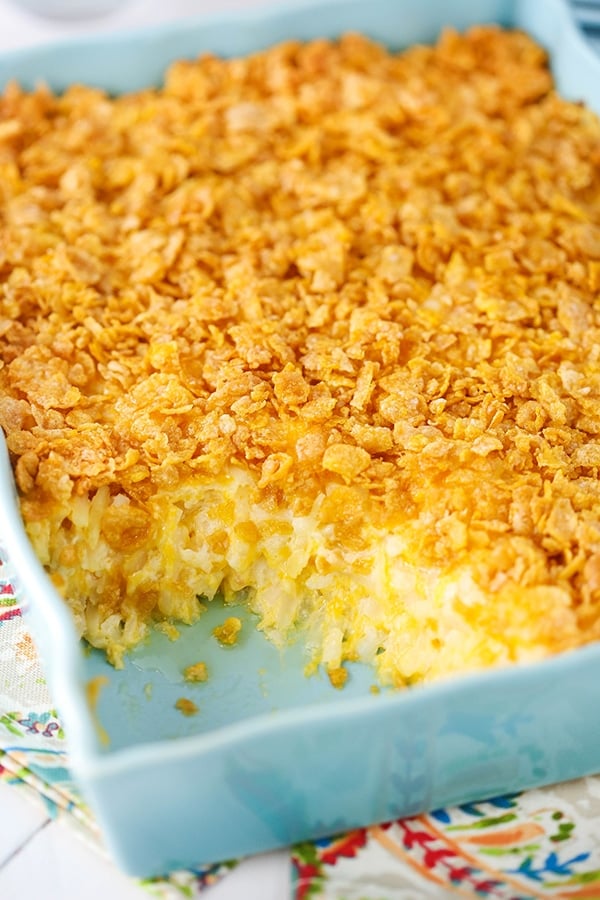 The other great thing about it recipe is that since it's hash browns, it could totally be a side with a meal, or breakfast. Hello leftovers in the morning! Bring it!
I love making this for holidays – Thanksgiving, Christmas, East – you name it and it better be on my table! I'm a big fan and if you give it a try, I know you will be too!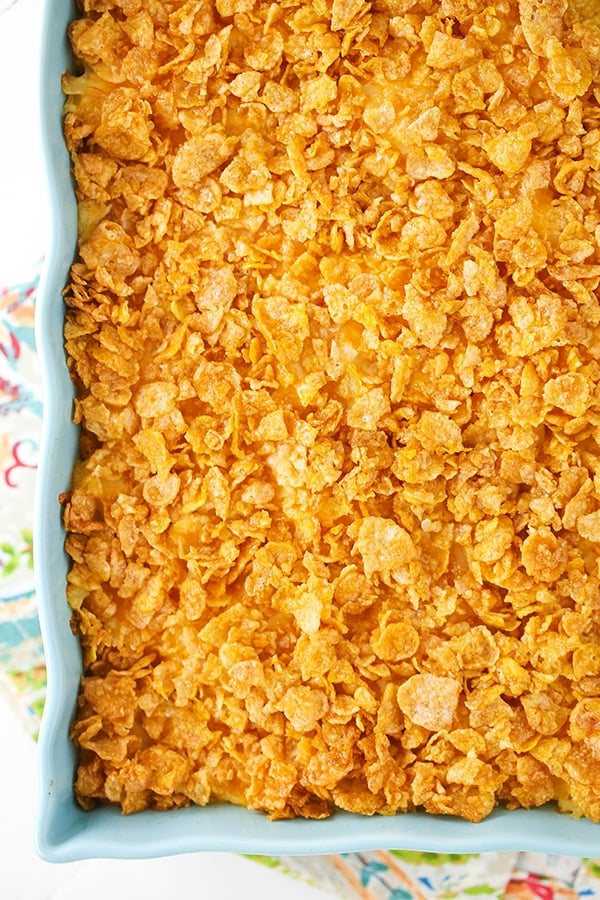 Cheesy Hashbrown Casserole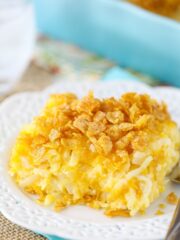 Ingredients:
30oz frozen hash browns, thawed
12 oz shredded cheddar cheese
8 oz sour cream
1 tsp salt
1/2 onion, chopped
10.5 oz cream of chicken soup
1 cup butter, melted, divided
2 cups cornflakes, crushed (or Frosted Flakes, as I use)
Directions:
1. Preheat oven to 350 degrees.
2. Combine hash browns, cheese, sour cream, salt, onion, soup and 1/2 cup butter in a large bowl. Mix well.
3. Spread mixture evenly into a 9×13 casserole dish.
4. Combine cornflakes and 1/2 cup butter and sprinkle over the top of the casserole.
5. Bake for 30-45 minutes or until heated through.
Enjoy!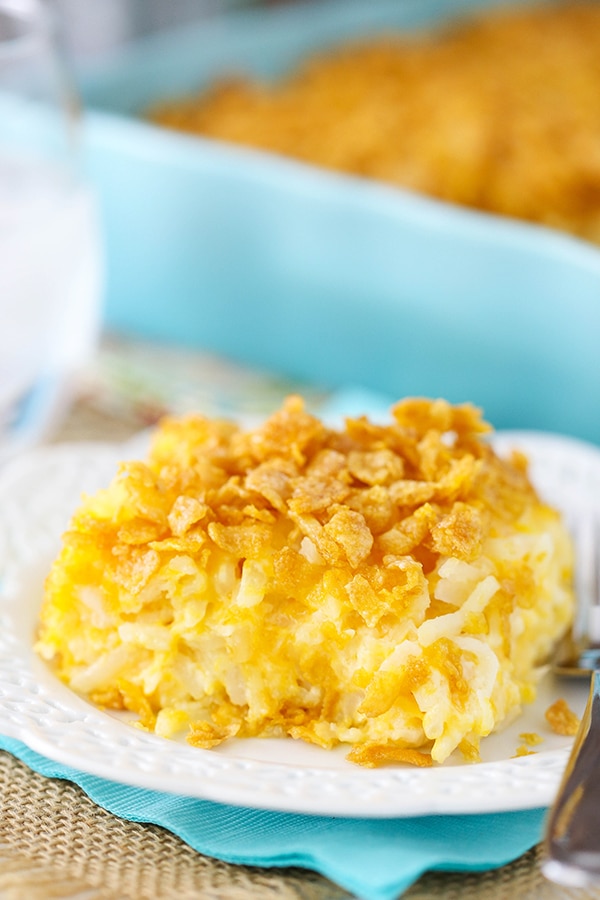 original photo below