Raspberry Cheesecake Ice Cream Cupcakes are so creamy and delicious, you'll want to eat them all. These ice cream cupcakes are a quick and easy no bake dessert, and it doesn't require an ice cream maker to make!
If you enjoy this dessert recipe you might also like these Ultimate Ice Cream Chocolate Cupcakes or these Lemon Raspberry Cupcakes.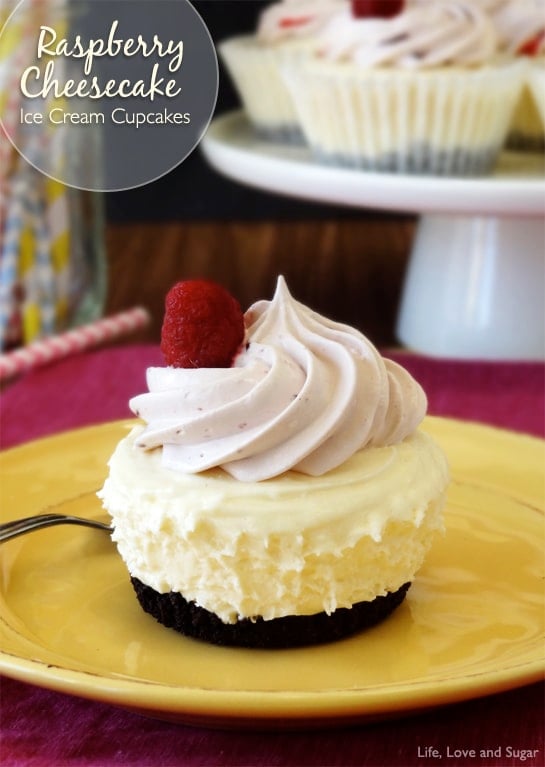 Raspberry Cheesecake Ice Cream Cupcakes
I can't believe tomorrow is Christmas! Merry Christmas! Happy Holidays!
Christmas is my favorite holiday. For me, it's all about getting to spend time with the family and celebrate the birth of our savior.
We also get to celebrate my birthday. Yes, my birthday is on Christmas day. 🙂
So far, it's been a fantastic birthday week, not that I usually celebrate for a week or anything.
We went to the Carolina Panthers football game on Sunday and it was an AWESOME game! Such a big win that clinched a spot in the playoffs. Plus, we beat the New Orleans Saints!
I don't know if you watch football or saw the game on TV, but in the third quarter it absolutely poured rain! But with it being such an important game, the fans were fired up and most of them stayed out in the rain and cheered even harder, ourselves included.
It was the most excited and loud I've seen that crowd in years. It might be the best environment in that stadium since the last time they had a home playoff game. I hope we get another home playoff game in January!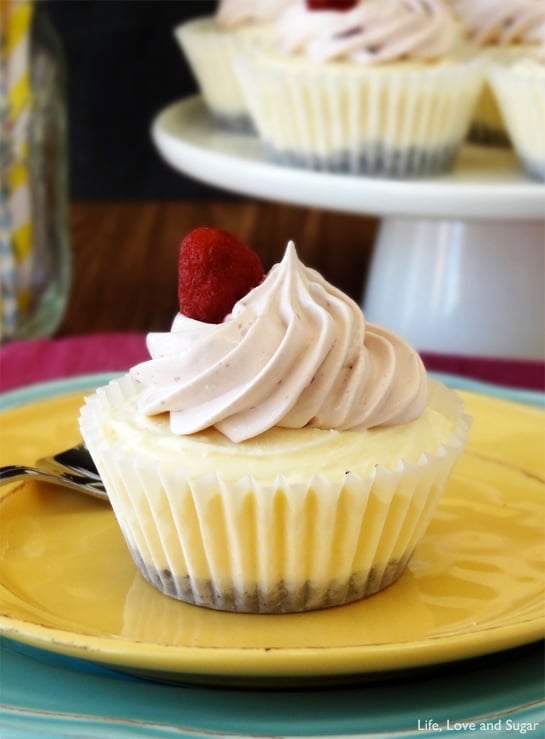 For as long as I can remember, we've been celebrating my birthday with dinner at home on either Christmas Eve or Christmas. But last night, we went to one of my favorite places to celebrate – The Melting Pot. I think that might become a new tradition.
In case you've never been, The Melting Pot is a fondue restaurant. We usually do a cheese fondue, the meat fondue and then of course, the chocolate fondue.
It was only the second time my younger brother had been. The hubs and I usually go for our anniversary so we know the drill. He was the first person to ever take me there – for my birthday 11 years ago. 🙂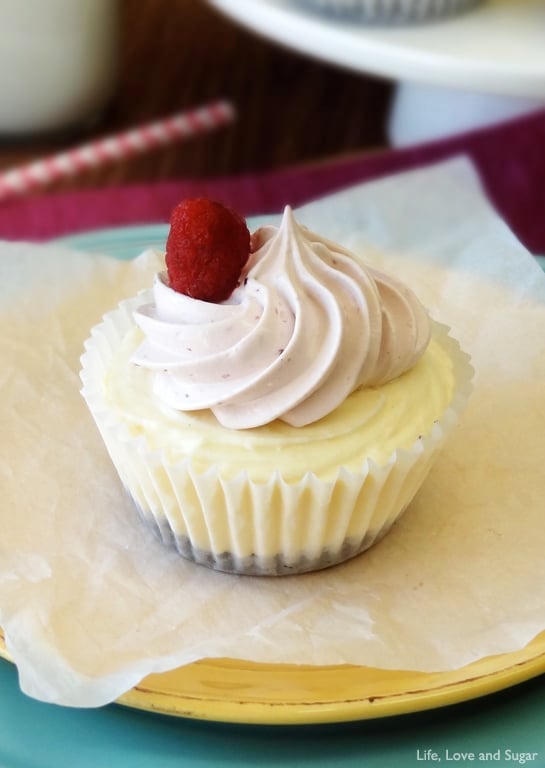 We introduced my brother to the mushrooms with the green goddess sauce. Every server we've ever had has told us that's their most popular sauce and way that people eat it. Truthfully, I'm not a fan. I don't like mushrooms. I'm a texture person and the texture of them just grosses me out.
But the hubs looks forward to them every time and he showed my brother how it was done. Part way through, my brother said that if he didn't stop eating the green goddess, he was going to become one (you know, a green goddess?). Maybe you had to be there, but it was pretty funny.
It was an awesome meal with great company. It was so fun to watch everyone enjoy the food so much.
We got 2 chocolates – the best part. They had a special Snickers chocolate that we got and then since I'm a huge white chocolate and banana fan, we got the bananas foster chocolate. So stinkin' good.
Just so you know, this post is in no way sponsored by The Melting Pot, I just really love it. 🙂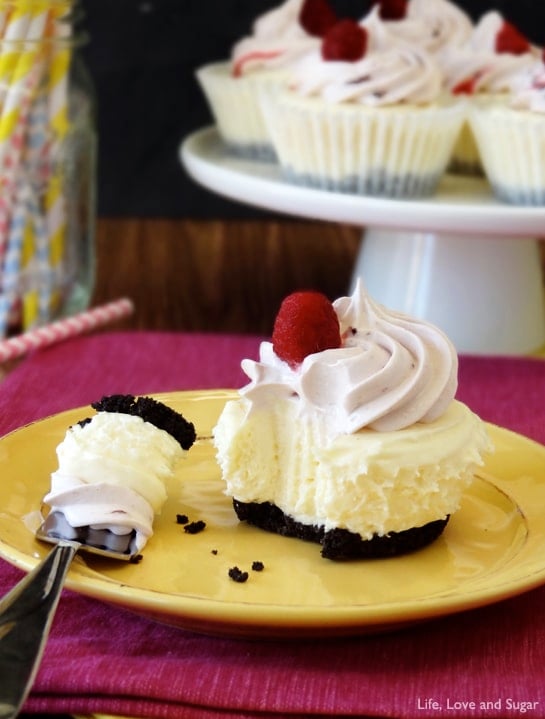 I Love Frozen Desserts On My Birthday
To celebrate my birthday with you on the blog, I decided these Raspberry Cheesecake Ice Cream Cupcakes would be perfect. For the last few years, I've had an ice cream cake for my birthday, so a frozen birthday treat seemed perfect!
I pretty much love cake in all forms, but I really do love cheesecake. They actually give you a piece to dip in your chocolate at The Melting Pot. 🙂 And raspberry cheesecake is always a winner.
How To Make Raspberry Cheesecake Ice Cream Cupcakes
These cupcakes start out with my usual base for no-machine ice cream. Cream cheese, sugar, milk and cool whip. It's surprising how creamy and tasty ice creams made with this base are. You'd never know it wasn't made the "real" way.
For these particular frozen cupcakes, the cream cheese base is perfect for the cheesecake flavor. Add to it a cheesecake flavored package of pudding powder you have yourself a delicious cheesecake ice cream base for the cupcake.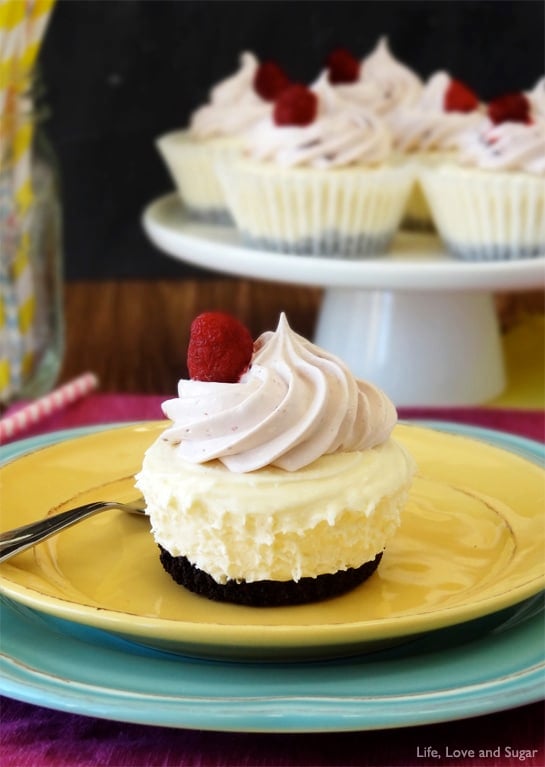 I put an Oreo crust on them, because every cheesecake should have a crust – and Oreo makes a rockin' crust.
Once you have the ice cream cupcakes frozen, just add some raspberry jam to some additional cool whip and add it to the top.
What Do These Ice Cream Cupcakes Taste Like?
The flavor of these is spot on. They really do taste like raspberry cheesecake in ice cream form.
The raspberry whipped cream is just right. Not too strong a flavor, but enough to compliment the cheesecake. Of course, if you want a stronger flavor for the raspberry, you can easily add more jam.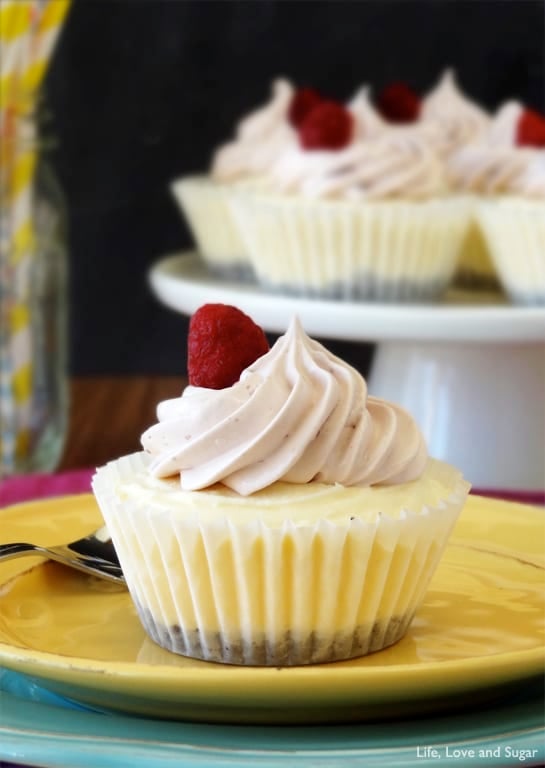 When the hubs had one of these, he declared them to be his new favorite. I wasn't expecting that at all! Score!
So why don't you help me celebrate my last birthday in the 20s (I'm 29 tomorrow! Eek!) and add these to your must bake list. 🙂
Enjoy!
Print
Recipe
Raspberry Cheesecake Ice Cream Cupcakes
Author:

Prep Time:

1 hour 20 minutes

Total Time:

1 hour 20 minutes

Yield:

8-10 Cupcakes

Category:

Dessert

Method:

Freezer

Cuisine:

American
---
Description
Raspberry Cheesecake Ice Cream Cupcakes are so creamy and delicious, you'll want to eat them all. These ice cream cupcakes are a quick and easy no bake dessert, and it doesn't require an ice cream maker to make!
---
Ingredients
3/4 cup

Oreo crumbs (about

7

oreos)

2 tbsp

butter, melted

8 oz

cream cheese

1/4 cup

milk

1/2 cup

sugar
one

3.4 oz

package of cheesecake flavored pudding

12 oz

cool whip

4 tbsp

raspberry jam
raspberries for garnish, if desired
---
Instructions
1. Combine Oreo crumbs and melted butter.
2. Place cupcake liners in a cupcake pan and about about 1 tbsp of Oreo mixture to each liner. Pat down to form the crust.
3. Combine cream cheese, milk and sugar in a bowl and mix with a mixer until smooth and creamy.
4. Add the dry cheesecake flavored pudding mix and mix until well combined. Mixture will be thick and sticky.
5. Fold in 8 oz of the cool whip. NOTE: Because the cream cheese mixture is thick and sticky, it might seem to curdle a bit, but keep mixing – it will come together.
6. Add ice cream mixture to cupcake liners and put in freezer.
7. Add the raspberry jam to the remaining 4 oz of Cool Whip and mix until smooth with a spatula.
8. Remove cupcakes from freezer and add raspberry Cool Whip on top.
9. Place cupcakes back in freezer until frozen.
---
Nutrition
Serving Size:

1 Cupcake

Calories:

336

Sugar:

32.6 g

Sodium:

270.5 mg

Fat:

19.9 g

Carbohydrates:

38.7 g

Protein:

2.4 g

Cholesterol:

29.2 mg
Keywords: easy no bake dessert, no bake dessert recipes, no bake dessert, raspberry cheesecake recipe, raspberry cupcakes, cheesecake cupcakes, cheesecake cupcakes recipe, cheesecake ice cream
Filed Under:
More Dessert Recipes You Might Like:
Thick and Creamy Vanilla Cheesecake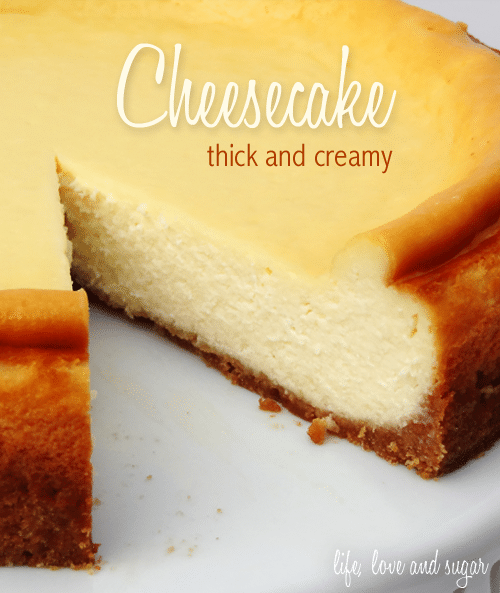 Strawberry Cupcakes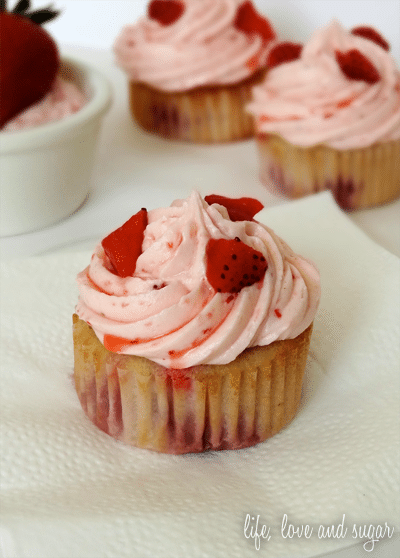 Copycat Cold Stone Birthday Cake Remix Ice Cream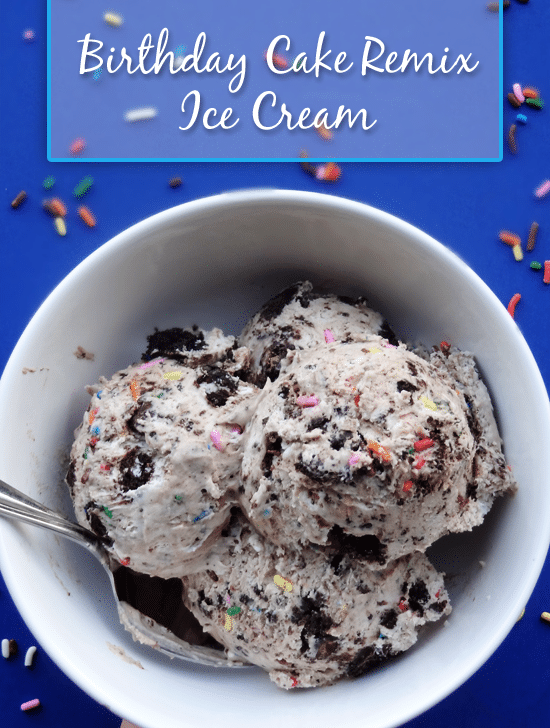 This post may contain affiliate sales links. Please read my disclosure policy.