Bright and fruity, this raspberry filling for cake will give your baked goods the best flavor. Made with only 5 ingredients, it's perfect to keep in the fridge for last-minute baking projects.
Easy Raspberry Cake Filling Raspberry
Ready in just 20 minutes, this raspberry filling for cake is the perfect way to take your baked goods to the next level. Made in advance and refrigerated, it's great for adding last-minute bursts of flavor to your cakes and cupcakes.
All you have to do is blend the raspberries and simmer them in a pot with sugar, a cornstarch slurry, and lemon juice. Easy, right? The hardest part is having to strain out the seeds, but I do love the smooth seedless texture.
This filling is pretty simple to make and totally worth the effort. Whether you pair it with vanilla or chocolate cakes, this raspberry filling will be the star of anything you add it to— even ice cream!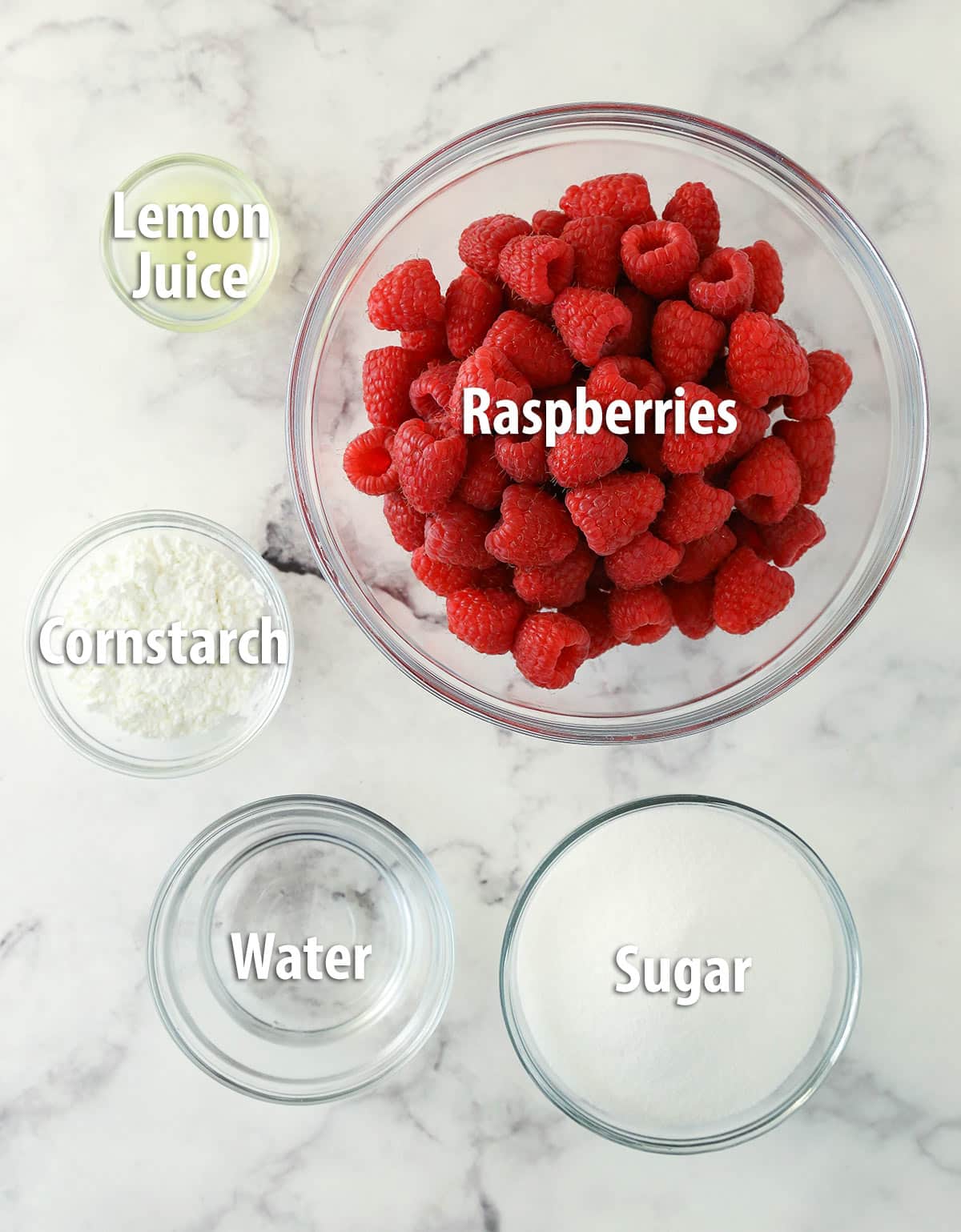 What You'll Need
With 5 ingredients, can you really complain about making this simple raspberry filling for cake? Check the recipe card at the bottom of the post for exact ingredient amounts.
Raspberries – Fresh or frozen raspberries would work. If you're using frozen raspberries, thaw them first and strain the excess water.
Cornstarch – For thickening.
Water – To dissolve the cornstarch.
Sugar – Regular granulated sugar.
Fresh lemon juice – Fresh is definitely best. Steer clear of bottled lemon juice.
Can I Use Frozen Raspberries?
Yes, but make sure to thaw them and remove any excess liquid. If you add them straight to the filling, they'll thin down the flavor too much because of their water content.
Can I Make This Cake Filling with Other Fruits?
Sure! Try it with strawberries, blackberries, blueberries, peaches, and even mango. Most tropical fruits and berries should work great for this recipe.
How to Make Raspberry Cake Filling
Making this raspberry filling for cake is easier than it seems.
Blend the raspberries. Place the raspberries in the blender and process them until smooth.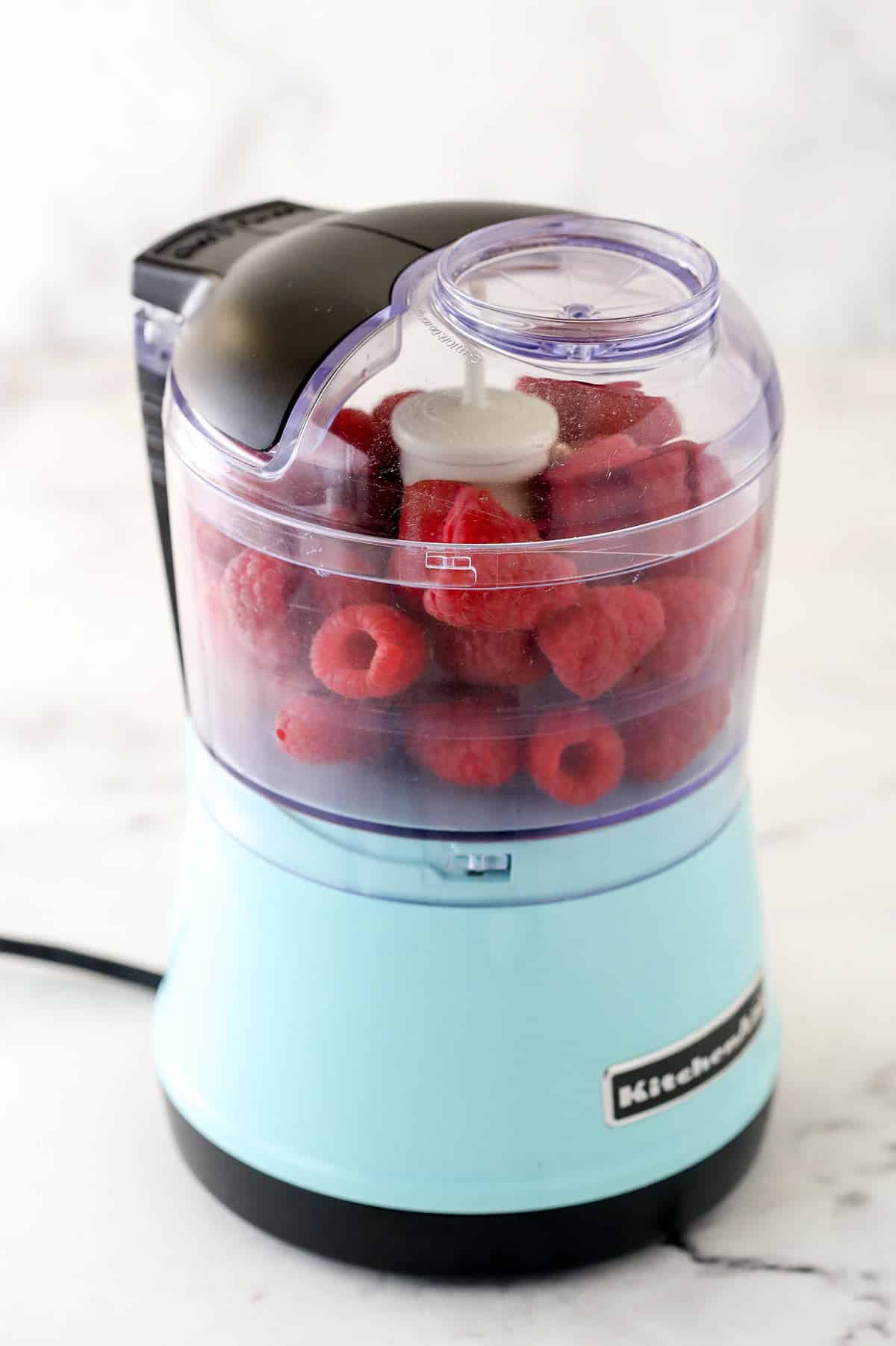 Strain the puree. Strain the blended raspberries and discard the seeds. If you don't mind them, you can also skip the straining and leave the seeds in the filling. You should have about 1 3/4 cups of puree.
Make the slurry. Whisk the cornstarch and water in a small bowl until you get a smooth cornstarch slurry.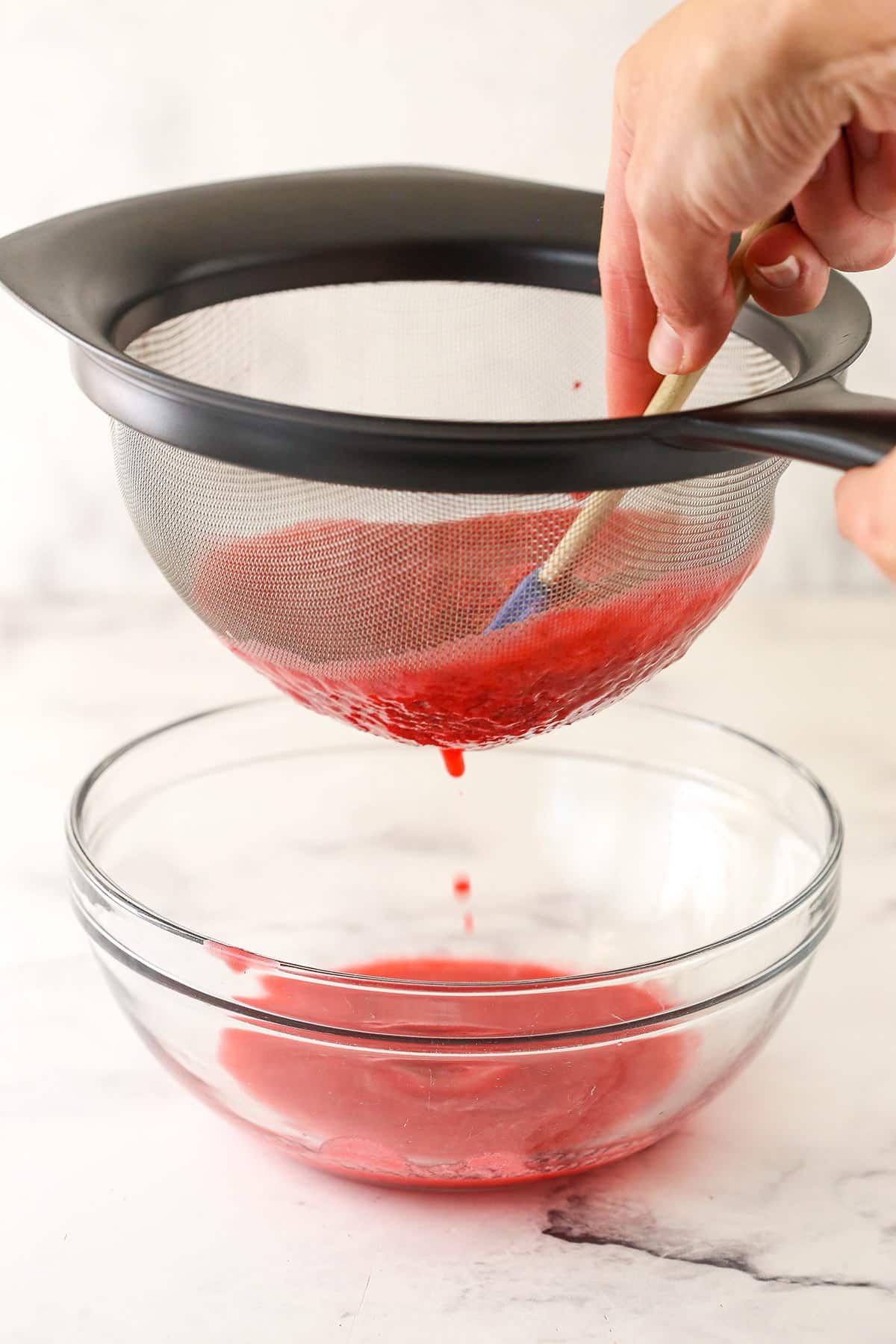 Combine the ingredients. Add the raspberry puree, cornstarch slurry, sugar, and lemon juice to a medium-sized pot.
Cook it. Place the mixture over medium heat and stir constantly for 8-10 minutes or until it thickens and comes to a boil. Let it cook for another minute and then remove it from the heat. Pour into a bowl or jar and refrigerate it until completely cooled.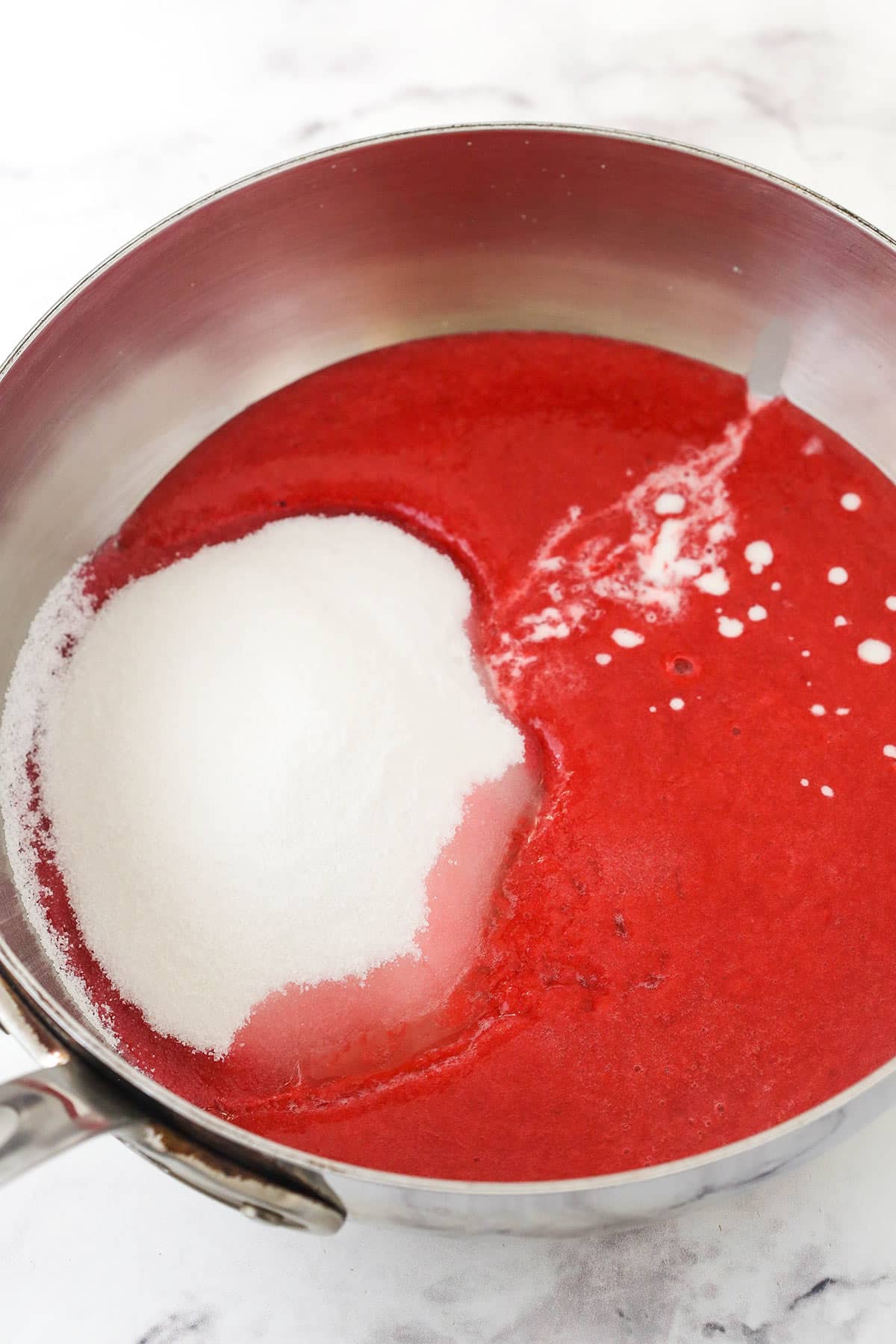 Fill your cake. Spoon a generous amount of filling in between your cake layers to fill them.
Tips for Success
Follow these tips for a great raspberry filling:
Heat slowly. You won't want to boil the filling for too long, so keep the heat at medium to give the filling a chance to slowly thicken as it heats up. Bringing it to a boil too soon could leave you with a thinner filling.
Thicken it. Don't remove the filling from the heat before it thickens like jam. Liquidy fillings will ooze out.
Don't overcook. Cornstarch can begin to break down if it boils for much longer than a minute, so after it boils for a minute, remove it from the heat.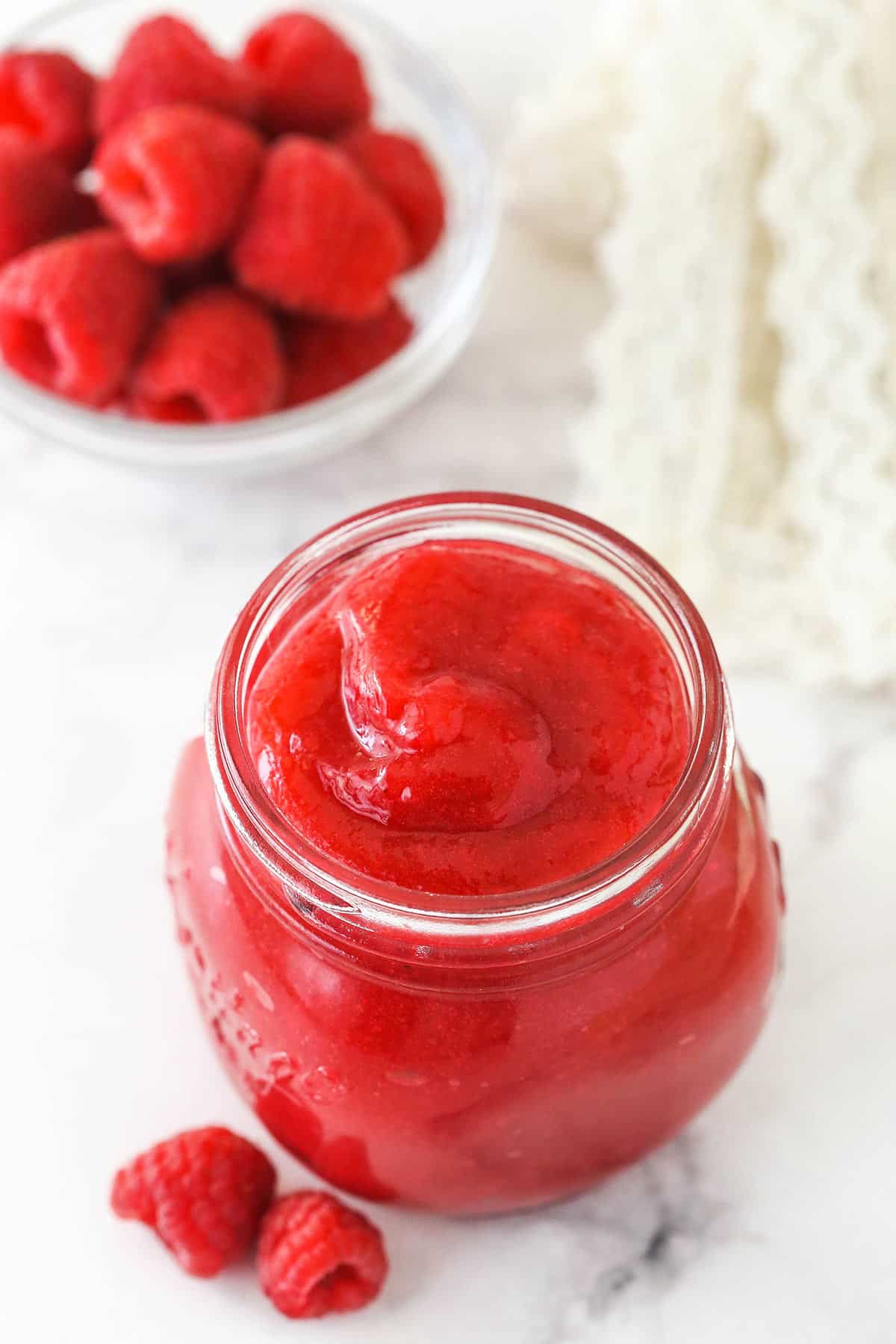 Ways to Use This Raspberry Filling for Cake
Here are some yummy and creative ways to use up every last bit of raspberry filling:
Use it as a filling. Make sure your buttercream is quite thick otherwise the filling will seep out the sides and create a big mess.
Use it as a drizzle. Once your cake is ready, use the filling to decorate it as a fruity drizzle.
Fill cupcakes. Carefully carve out the center of a cupcake and fill it with the raspberry filling.
Make buttercream. Add 2-4 tablespoons of filling to your buttercream to give it a lovely pink tint and raspberry flavor.
Add it to ice cream. Use it on top of ice cream instead of sugary syrups. It's delicious!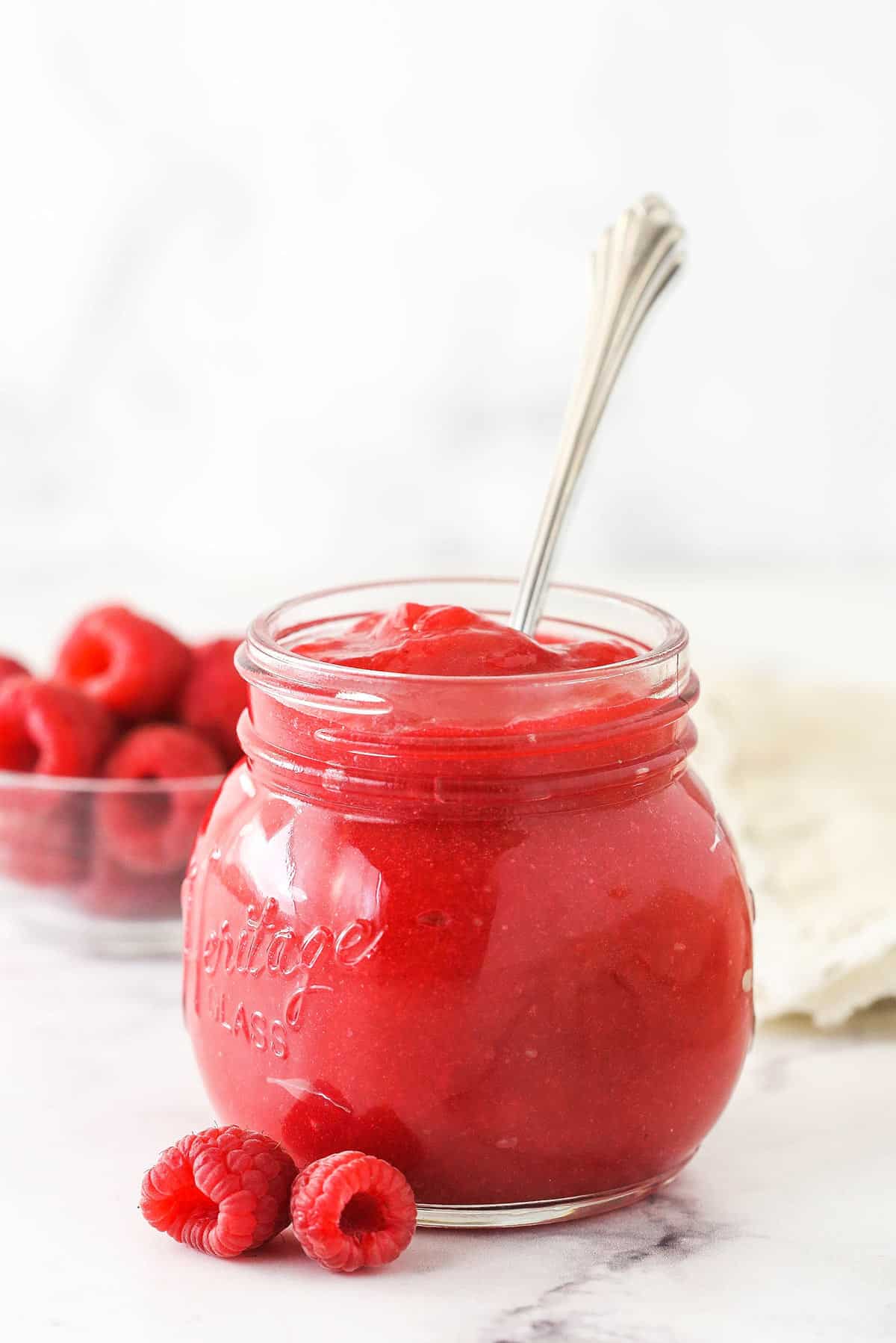 Can This Be Made in Advance?
Yes! As long as you refrigerate it properly, this raspberry filling for cake can be made up to 1 week in advance. You can also freeze it in a freezer-friendly bag or container for up to a month. Thaw it in the refrigerator for 24 hours before using it in your cakes.
Proper Storage
Refrigerate any cooled leftovers in an airtight container or jar for up to a week. You don't need to reheat it or bring it to room temperature before using it to fill your cakes.
Watch How to Make Raspberry Cake Filling
More Raspberry Cake Recipes
Print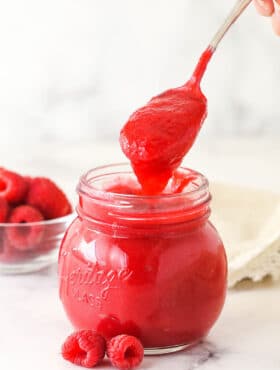 Recipe
Raspberry Cake Filling
Author:

Prep Time:

10 minutes

Cook Time:

10 minutes

Total Time:

20 minutes

Yield:

2 cups

Category:

Dessert

Method:

Stove-top

Cuisine:

American
---
Description
Bright pink and fruity, this raspberry filling for cake will give all your baked goods a pop of color and a burst of flavor.
---
Ingredients
3 1/2 cups

(

438g

) raspberries

4 tbsp

cornstarch

5 tbsp

(75ml) water

1 1/3 cups

(

276g

) sugar

1 tbsp

fresh lemon juice
---
Instructions
To make the raspberry filling, add the raspberries to a food processor and puree until smooth. Strain the puree to remove the seeds. You should have about 1 3/4 cups of puree after staining.
Combine the cornstarch and water in a small bowl to dissolve the cornstarch.
Combine the raspberry puree, cornstarch slurry, sugar, and lemon juice in a medium saucepan.
Cook over medium heat (do not increase heat more than that), stirring constantly until the mixture thickens and comes to a boil, about 8-10 minutes.
Allow to boil for 1 minute, then remove from heat. Refrigerate and allow to cool completely.
Add filling to cakes, cupcakes, etc. 
---
Keywords: raspberry filling for cake, raspberry filling, raspberry cake recipes, raspberry cake filling
Categories
This post may contain affiliate sales links. Please read my disclosure policy.