So it has been a while since I posted about Stitch Fix. When I shared my first box (July 2014 Stitch Fix Review) way back when, I had every intention of continuing to share them. There were even a few months that I actually took all the pictures and never posted them. I know, sad.
But I've finally gotten my act together to share another box with you. It's my ninth box – crazy! It took a few months, but my stylist totally has me down now and I have kept so many things that I love. When I was packing to go to a food blogging conference in February, I realized that almost everything I was packing was from my Stitch Fix boxes. It was then that I knew I had to start sharing them with you regularly. I really do love it. It's so easy and without it, I'd never update my closet. I was in dire need of the service when it began and I look forward to it every month.
So what is Stitch Fix?
Well, basically it's like having your own personal stylist. But better.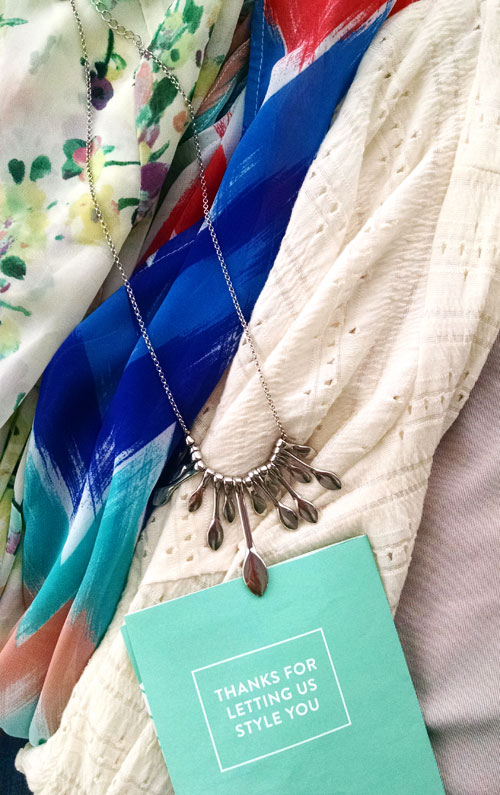 More specifically, it's a monthly subscription (although you can set it to every other month too). When you sign up, you fill out a profile where you specify all kinds of things like sizes, price, shapes and styles you prefer, colors and patterns you prefer. You can make a pinterest board and link to that so that your stylist can get a feel for what you like. You basically want to provide as much detail as you can so that they can pick stuff to match your style.
Then you pick a date to have your box arrive. You'll get 5 pieces. It can be clothing and accessories. You pay $20 a month to receive the box and if you decide to keep stuff, the $20 goes towards the purchase of your items. If you keep everything, you get 25% off – score! I've done that several times. Plus, if there's a month that's not so good and you don't want a box, you can turn it off for a month – no penalty.
Once you get your box, you have 3 days to try everything on and decide what to keep. This part is my favorite, obviously. They even give you an awesome card that has suggestions on what to pair the items with! And they send you pre-paid envelope to put everything in to mail it back. Just pop in it the mailbox! You can give them feedback online about what you liked and didn't like to help them send even better stuff in the next box. You can even request something specific.
Plus, they just recently added petite and maternity clothes. Rock on!
So lets take a peek at what they sent me this month.
1. Arynn Tie-Back Chevron Print Tank from Olive & Oak – $48
I love the colors and pattern of this top. I wasn't sure about how flowey it was, but decided it'd be great for summer. Plus, if I pair it with a coral cardigan I got in a box last year, it's great for work. Keeper!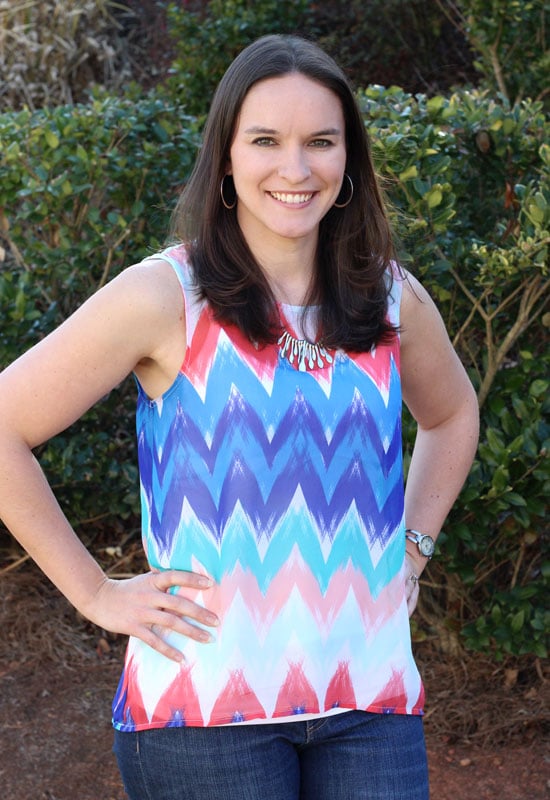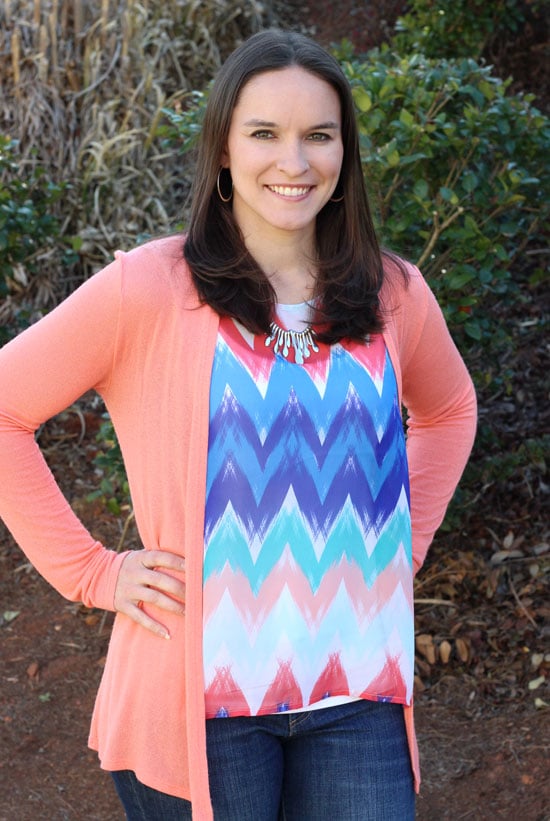 2. Austin Mini Spoon Drops Necklace from Romolo – $34
Love this! It's so different from any necklaces I have and the chain is long enough in the back that I can make it a little longer or shorter, depending on what I wear it with. Plus, I love the spoons. 🙂 Keeper!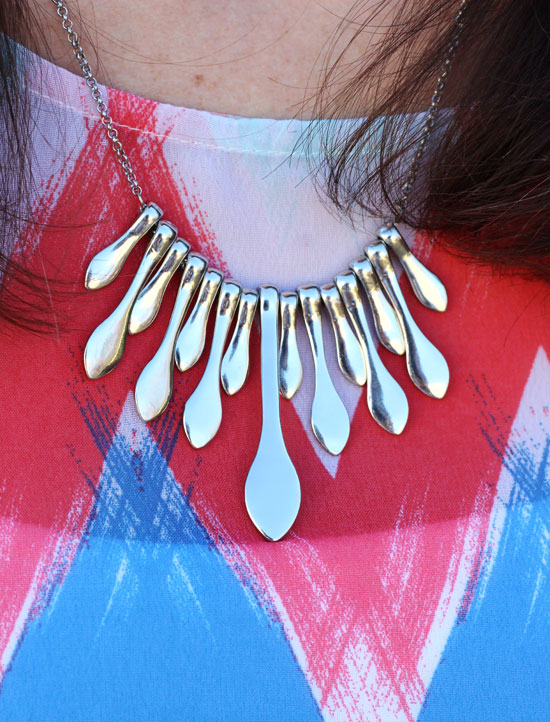 3. Jaimie Eyelet Striped Cardigan from Renee C – $48
I loved this as soon as I saw the fabric. I love eyelet stuff. It's like lace, but less fancy. It'll be great over tops in the summer and I love the neutral color. Keeper!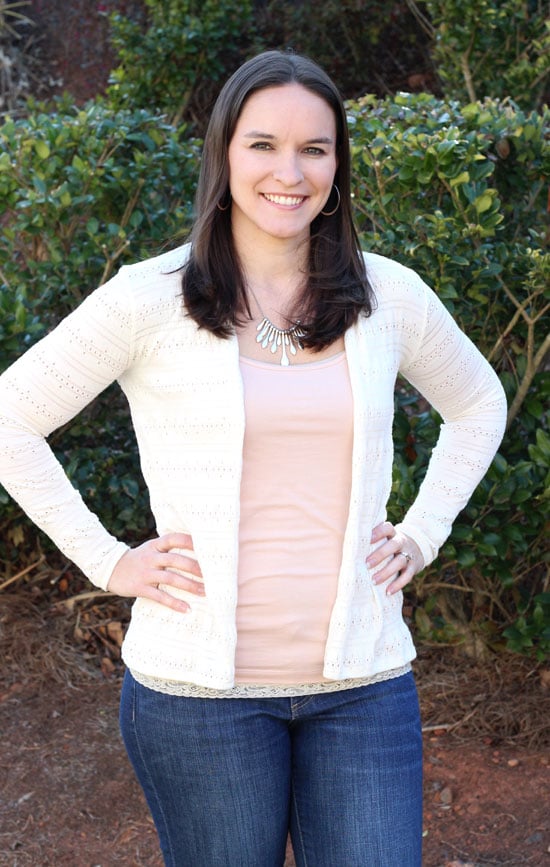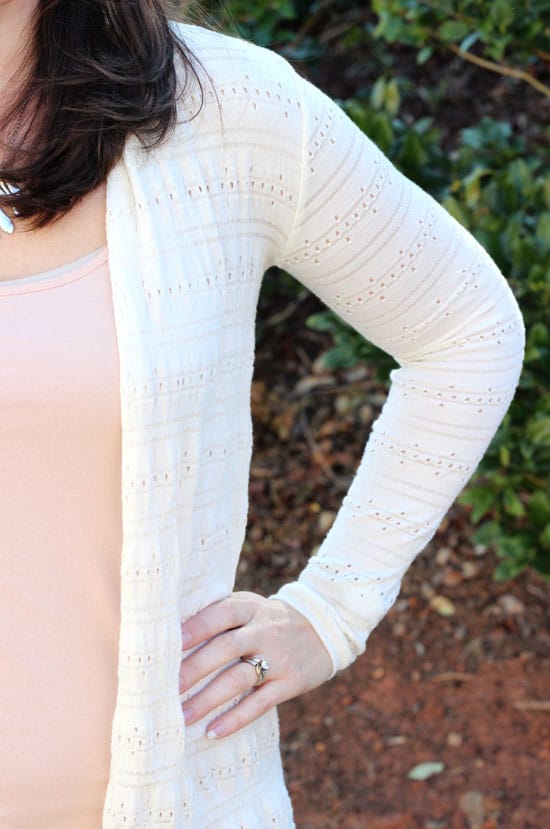 4. Patrick Cropped Chino Pant from Level 99 – $108
So I loved these pants immediately. I love that they are a different color and they are so darn soft. They are also stretchy, but they don't stretch out when you wear them. Amazing. I was pretty hesitant about the price tag. They might be the most expensive pants I've ever considered buying, but it's so hard to find pants that fit, are cute and colorful. I sprung for them! I also love that they are cropped. Great for spring and summer. Plus, as you'll see, I kept everything, so I got 25% off, which made me feel better. 🙂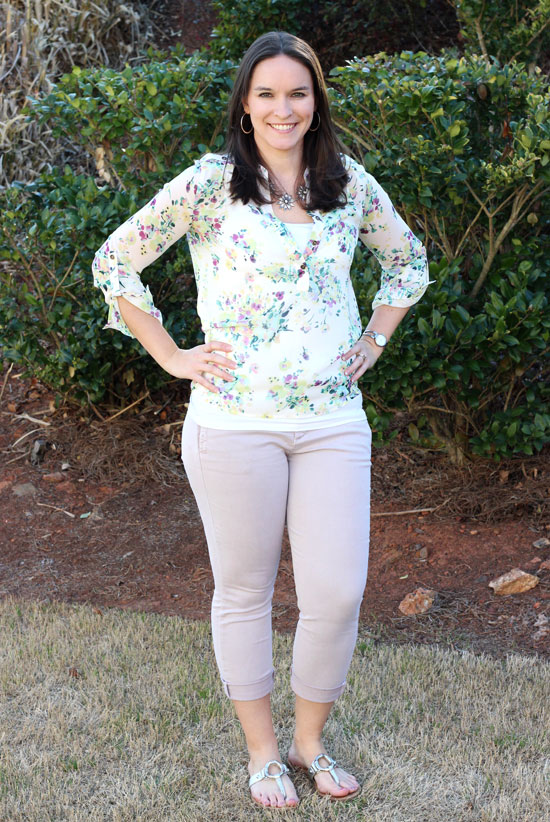 5. Isaac Foral Print Tab-Sleeve Blouse from Sweet Rain – $48
Yet again, I loved the fabric as soon as I saw it. They know me so well! And it matches the pants!! I couldn't NOT keep it. I just couldn't. So I did.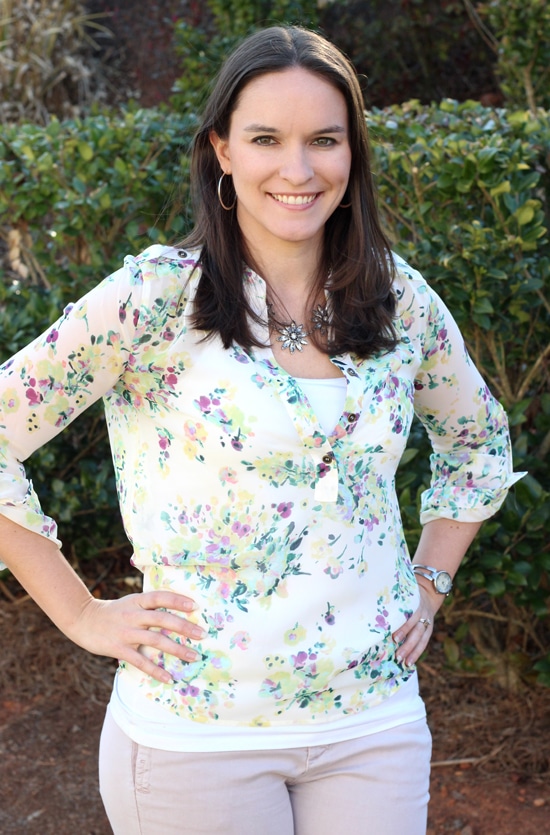 So there you have it. I've already told you I kept it all. I try not to do that all the time, but darn it they just send such cute stuff! And with 25% off it's kind of a steal for so many cute, good quality clothes.
If you want to check it out, sign up here!
Disclaimer: This is not a sponsored post. I signed up for Stitch Fix and purchased the box myself. I'm sharing my opinions because I think they will help others. This post does contain referral links for new sign-ups that gives me a small credit towards my next box.
This post may contain affiliate sales links. Please read my disclosure policy.