This post may contain affiliate sales links. Please read my disclosure policy.
These Love Bug Oreo Cookie Balls are so fun for Valentine's Day and a great treat for sharing! Learn how to make them with simple ingredients – pretzels, eyeball candies and sprinkles!
A Fun & Easy Valentine's Day Dessert Idea
Am I the only one that feels like Valentine's Day comes so quickly right after the holidays? Maybe it's because the 6 weeks between the New Year and Valentine's are so full for us. My brother and the hubs have birthdays in January and the twins' birthday is February 2. So much to think about! Valentine's Day just sneaks up on me.
Speaking of the twins – they will be 2 on SUNDAY! AHHHHH!!! How is that even happening?!? So crazy. They get more and more spunky every day. I'm hoping to share an update on those crazy kids soon, but boy are they fun! I can't believe they grow so fast.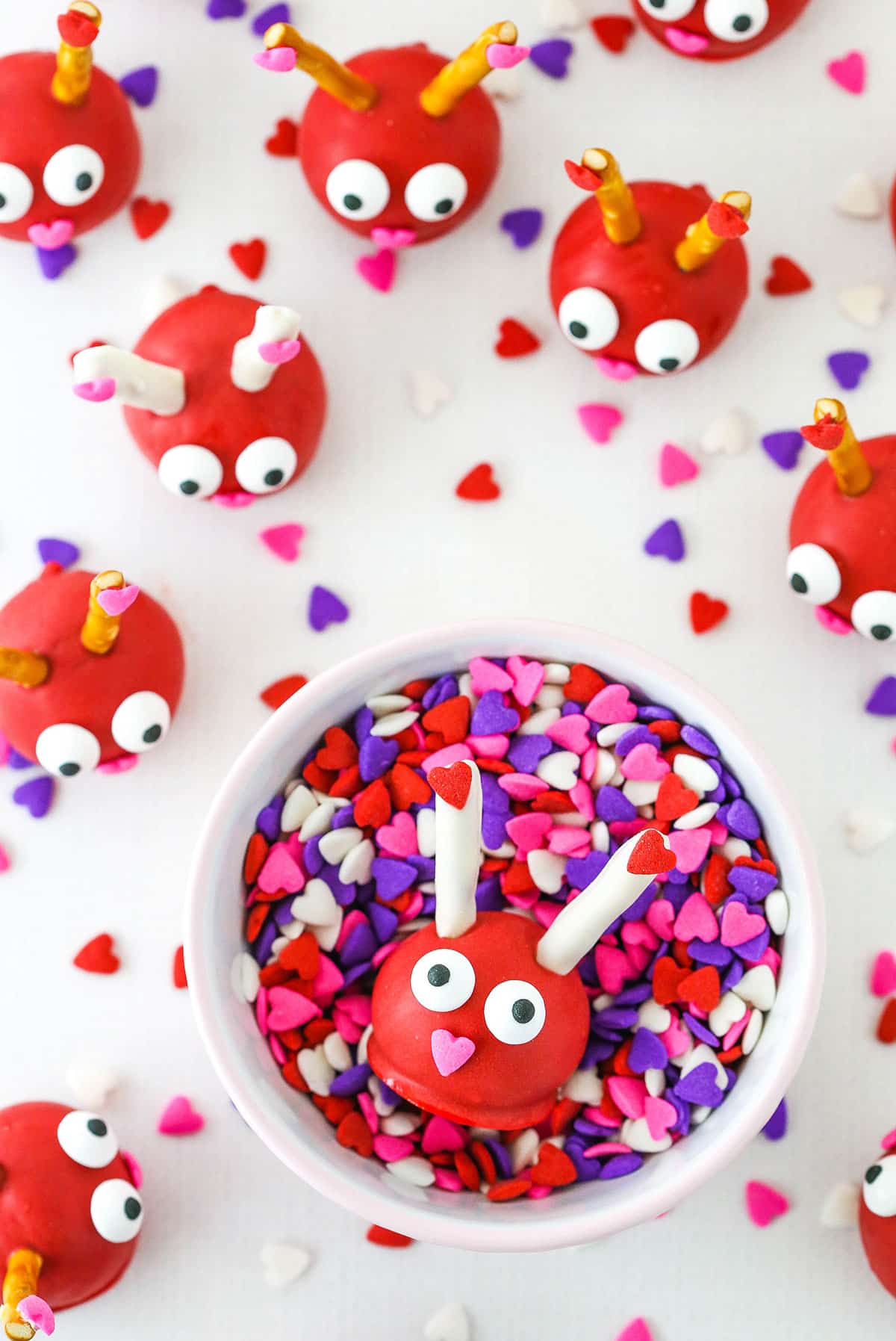 Anyhow, back to these fun little treats. Since I have Oreo balls for two other holidays (hello, Reindeer Oreo Balls and Bat Oreo Balls), I figured why not add some for Valentine's Day?! It's the ultimate holiday for giving treats to the ones you love, so why not share some Love Bug Oreo Balls?
If you're familiar with making Oreo balls, especially decorated ones, then these will be a cinch for you. They all start basically the same way – crushing up a whole lot of Oreos! I use my food processor to make the crumbs and it's quick and easy. No need to remove the Oreo filling – just pop the whole cookies in there.
One you've got your crushed Oreos, stir in the cream cheese and form balls that are about an inch in size. Set them in the fridge to chill before dipping them in chocolate – or in this case, a red candy coating.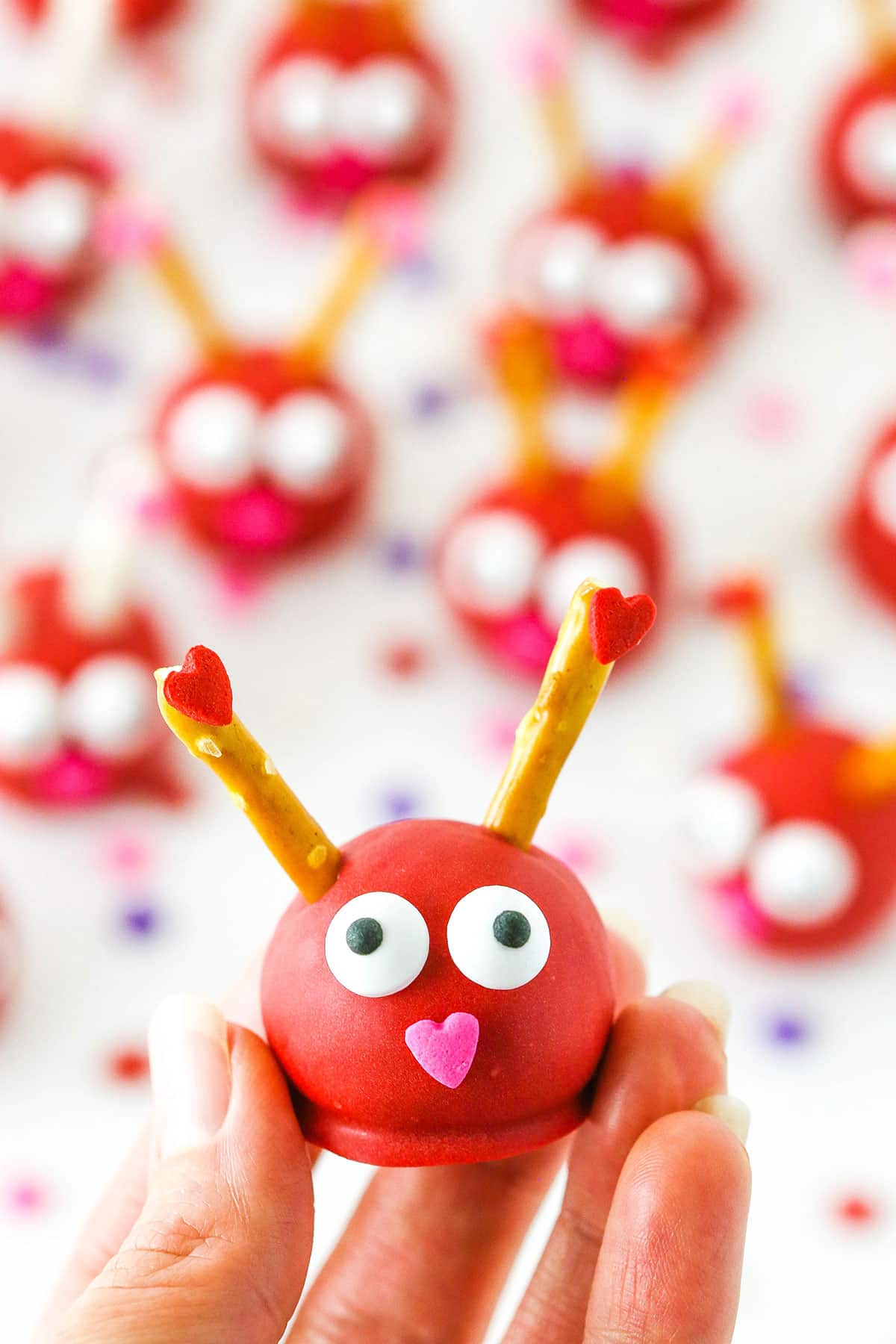 This is where the fun begins. While the Oreo balls are chillin', it's time to get the love bug antennae ready. I used mini pretzel sticks and broke one stick in half to get two antennae. You can leave them as is for a more natural look, or dip them in some white candy coating. Either way is super cute. I couldn't really decide which I liked more.
However you go with the antennae, you'll want to add some little hearts to their tops. Dip each antennae in some melted white candy coating and set them on parchment paper to dry (or not, if you're skipping that part). Then use a little more candy coating to stick the hearts to the tops of the antennae. Let them all dry.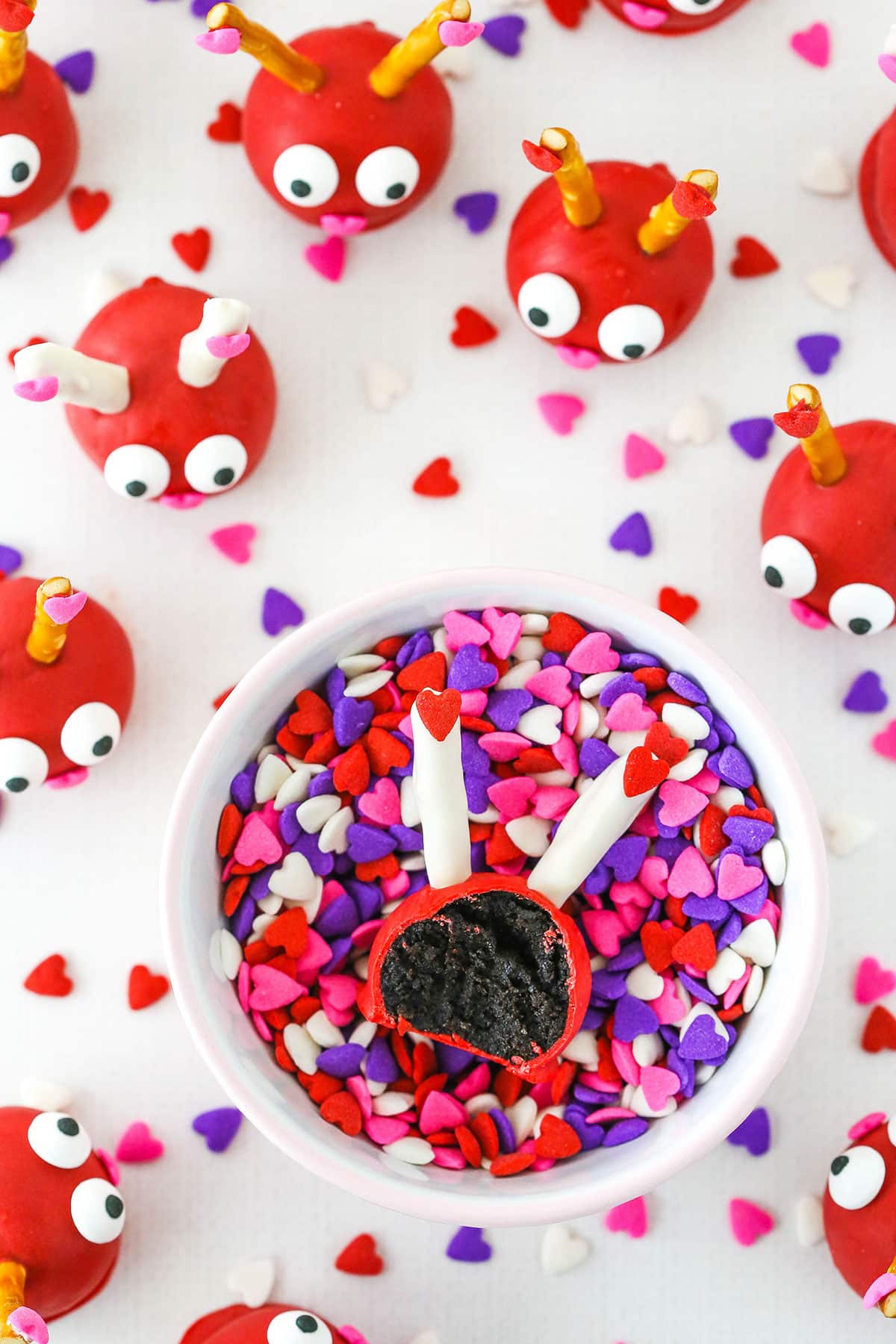 When your Oreo balls are chilled, dip them in the melted red candy coating and then VERY QUICKLY, add the antennae. Because the Oreo balls are cool, the candy coating firms up very quickly. If you don't get those antennae in there pronto, they won't go in easily.
Use a little extra candy coating to add the eyes and heart mouth and then let them dry.
An Adorable Valentine's Day Treat
Aside from needing to be a little quick with the dipping and decorating, these are really quite easy to make. They do take a little time, but they are so fun for kids parties! Plus, they're different and sometimes that's just nice. So consider this your warning that Valentine's Day is coming and go ahead and put these on your list to make. You'll love them!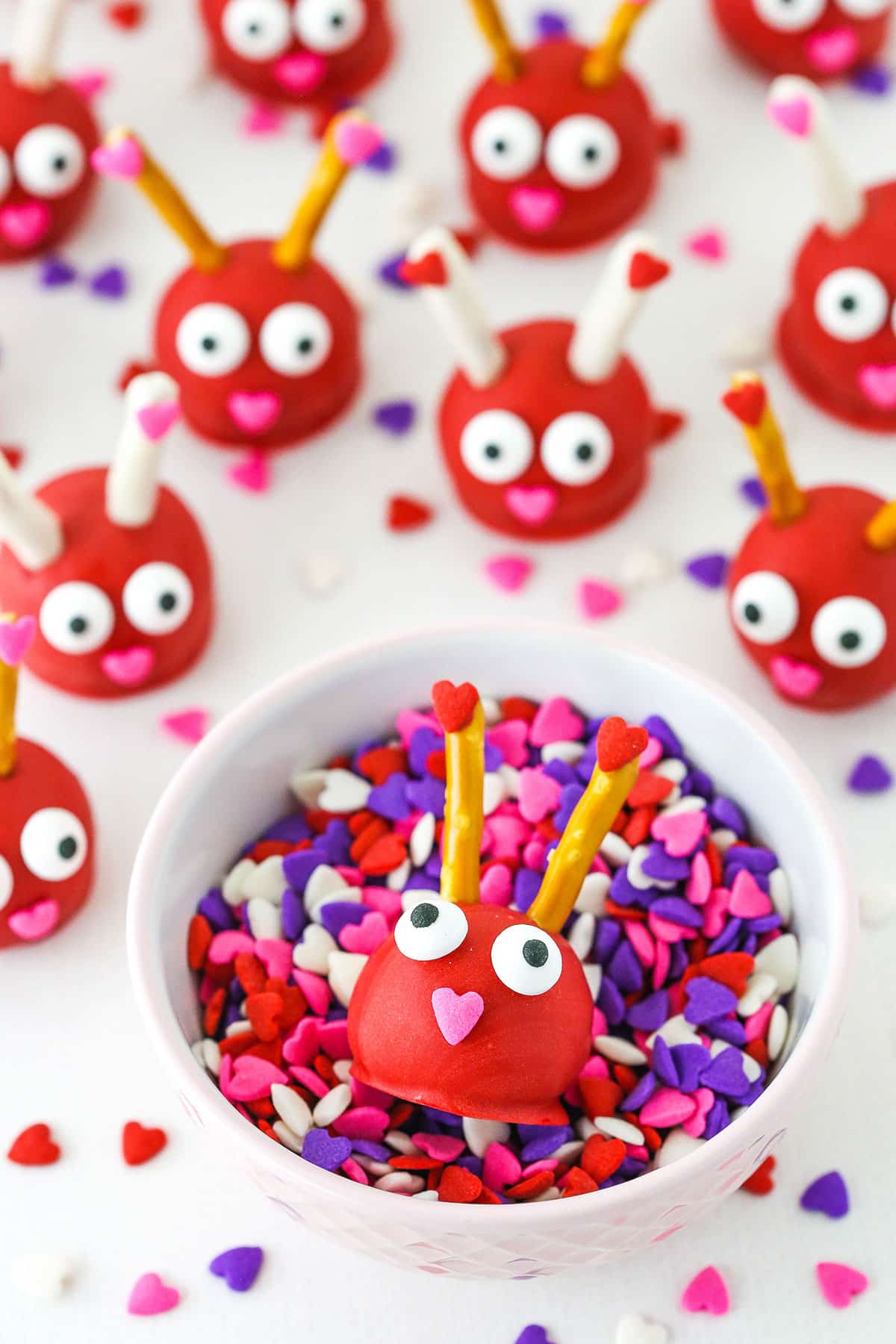 More Great Treats for Valentine's Day
Easy Chocolate Covered Strawberries
Strawberry Sprinkle Cookies
Valentine's Day Heart Cutout Cookies
No Bake Champagne Cookie Pops
Chocolate Mousse Cups with Cookie Crumbles
"LOVE" Strawberry Cupcakes with Cream Cheese Frosting
Strawberries and Cream Puppy Chow
Print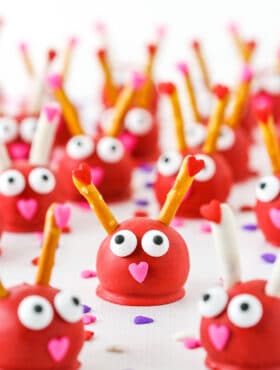 Recipe
Author:

Prep Time:

1 hour 30 minutes

Cook Time:

0 minutes

Total Time:

2 hours 30 minutes

Yield:

28-30 Oreo balls

Category:

Cookies

Method:

No Bake

Cuisine:

American
---
Description
These Love Bug Oreo Cookie Balls are so fun for Valentine's Day and a great treat for sharing! Learn how to make them with simple ingredients – pretzels, eyeball candies and sprinkles!
---
Ingredients
14.3 oz

package (

36

cookies) Oreos, crushed into crumbs

8 oz

cream cheese, room temperature

2 oz

white candy coating, optional

10 oz

red candy coating

56

–

60

eyeball candies
---
Instructions
1. Add the Oreo cookies to a food processor or blender and crush into crumbs.
2. Mix the cream cheese and cookie crumbs together in a bowl until well combined. You should easily be able to form balls.
3. Form balls from the cookie mixture about 1 inch in size. I used about 1 tablespoon of the mixture per ball.
4. Put the balls in the fridge for about 1 hour to firm up a bit.
5. While the balls chill, prepare the antennae. You'll need about 30 pretzel sticks. Break each stick in half. If you want to dip them into white candy coating, melt the candy coating and dip each pretzel half into the coating, then set on parchment paper to dry. Use some additional candy coating to attach some heart sprinkles to the tops of the antennae. If you aren't using the white candy coating, just melt a little bit of the red candy coating and use that to attach the hearts and let them dry.
6. When the Oreo balls have been chilled, melt the red candy coating and dip the chilled balls into the melted candy coating and set on parchment paper. I use a toothpick for dipping and put the toothpick into the back of the ball when I dip them. Lightly shake off excess candy coating, then set the ball on the parchment paper and gently twist the toothpick while pulling it out. Use a little dab of candy coating to fill in the hole where the toothpick was. NOTE: If you chill the cookie balls for longer than an hour prior to dipping, you might want to let them warm up a bit. If the balls are too cold, the candy coating will harden too quickly and it'll be harder to attach the antennae. You do want the balls to be chilled enough that they are easy to dip into the candy coating though.
7. VERY quickly add the antennae to the cookie ball and hold them there for a few seconds until they stay in place. The candy coating will dry quickly.
8. Add the eyes and heart mouth using a little extra candy coating to attach them.
9. Store cookie balls in the fridge. Cookie balls should be good for about 1 week.
---
Notes
1. You can leave the filling in the Oreos that are crushed for the balls.
Nutrition
Serving Size:

1 oreo ball

Calories:

108

Sugar:

8 g

Sodium:

70.6 mg

Fat:

6.1 g

Carbohydrates:

11.8 g

Protein:

0.8 g

Cholesterol:

7.6 mg
Keywords: love bug oreo cookie balls, oreo cookie balls, valentines day dessert idea, easy valentines dessert,