Dainty and dusted with powdered sugar, these Linzer cookies are filled with your favorite fruit jams for a delicately sweet and nutty afternoon snack. Change the shapes depending on the season and take these from Valentine's to Christmas in seconds.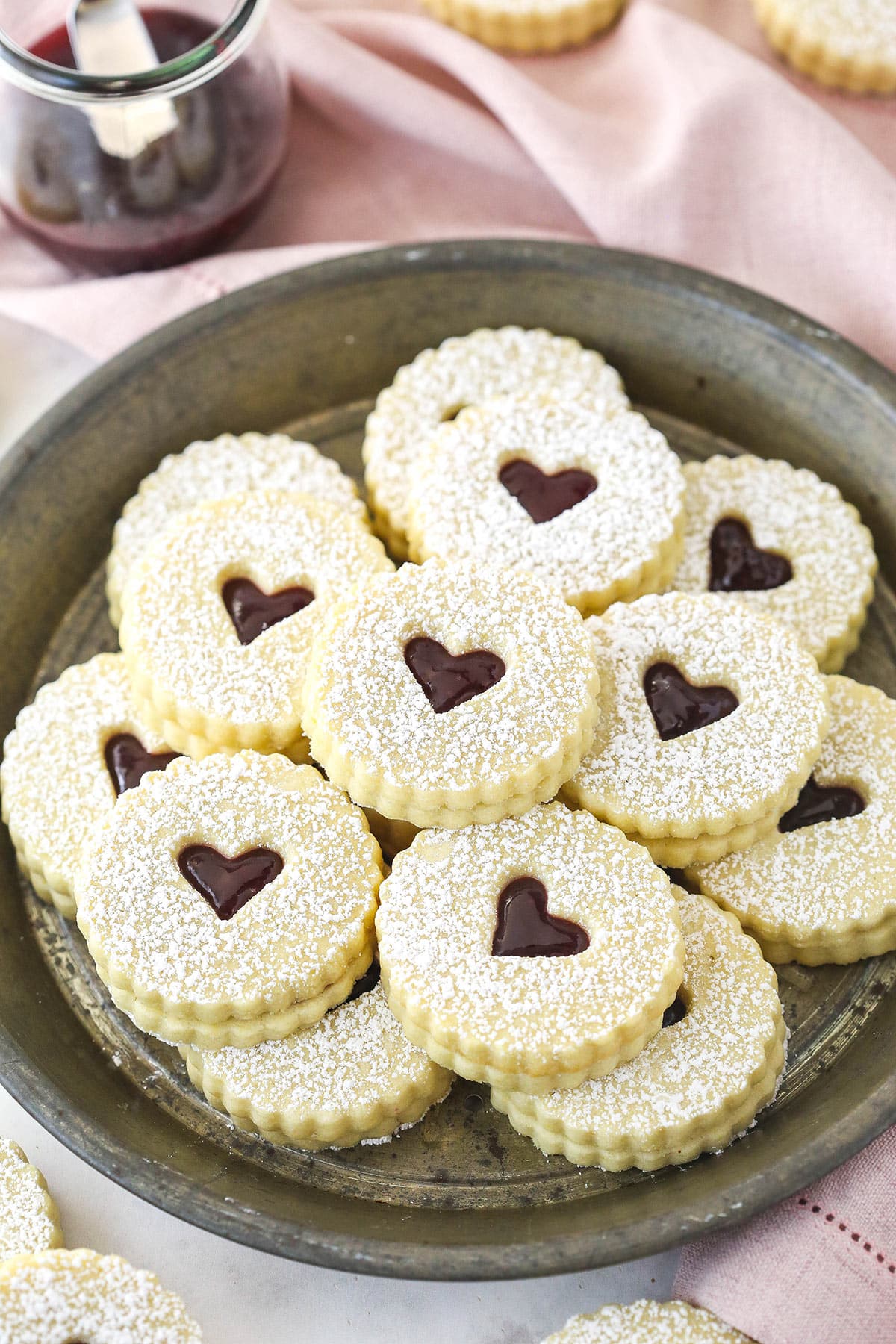 With all the components from the original recipe, these buttery Linzer cookies are worthy of any Austrian palace. Traditionally they are made with two shortbread cookies that are sandwiched together with jam. The cutout gives a cute little window to see the colorful jam poking through.
Dusted with powdered sugar, these linzers look very elegant but are very easy to make. By switching the center cutout from a heart to a tree or a star, these impressive little cookies are perfect for any special occasion. Even if you don't have fruit jam, don't worry. You can still make these by filling them with Nutella or cream cheese frosting.
Another great thing about these cookies is that they aren't too sweet. The shortbread is simple, but delicious and tender. The filling is lightly sweet and fruity. The combination is a cookie that is light and melts in your mouth.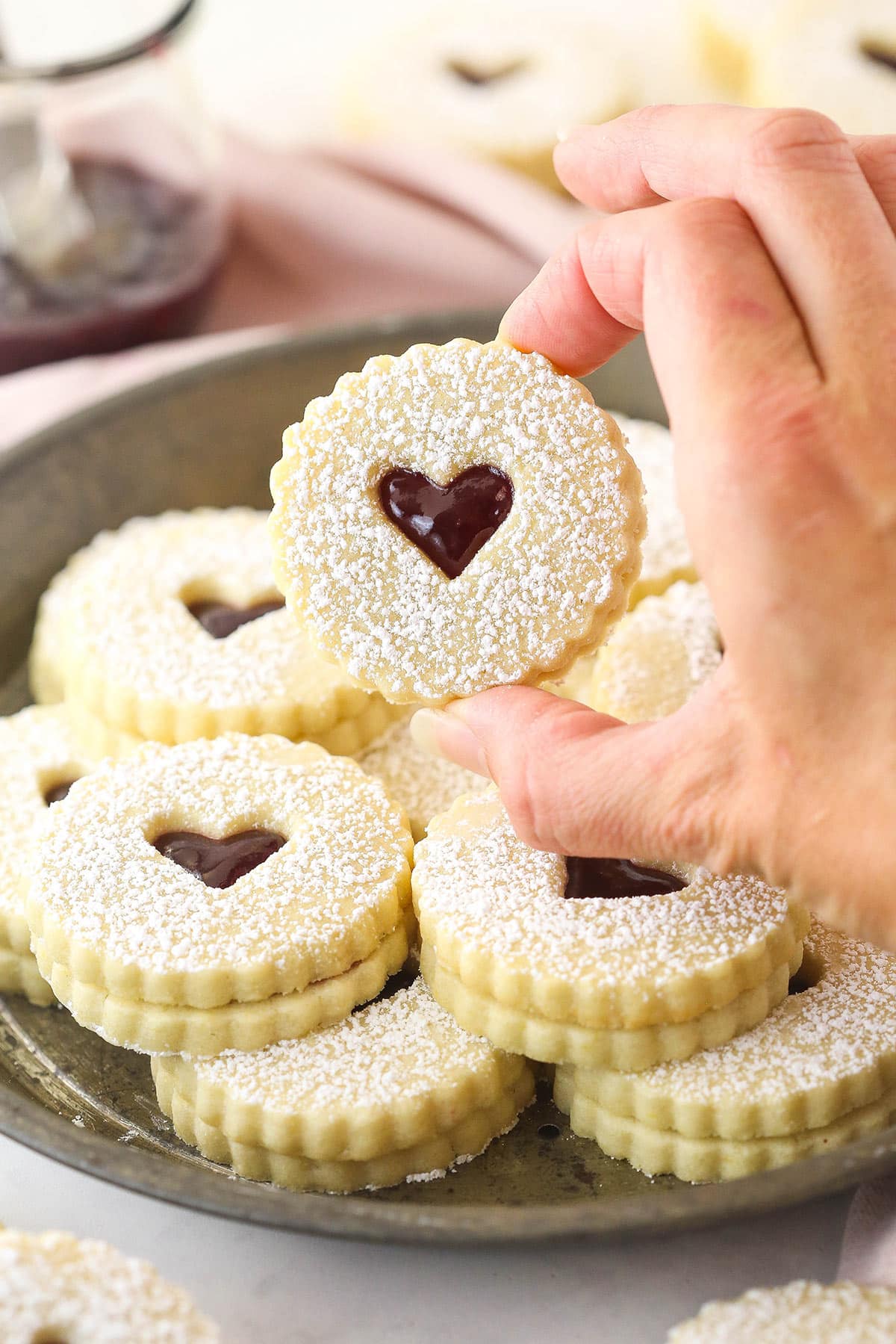 Linzer tart cookies are a type of buttery European sandwich cookie. It consists of two crumbly shortbread cookies joined together with fruit jam or preserves. The flavor of the sweet filling doesn't matter too much, but the original recipe is made with black currant preserves. The cookies are delicately nutty and are often dusted with a bit of powdered sugar.
What Nationality Are Linzer Cookies?
Linzer tart cookies are originally from Linz, Austria, dating back to the 1650s.
Why Are They Called Linzer Cookies?
They're named after the historic Linzer torte, a tart made with an almond-based crust, a black currant filling, and a latticed top. The cookies have the same three components except in sandwich-cookie presentation.
Recipe Ingredients
For such pretty-looking cookies, the ingredients are quite simple. Check the recipe card at the bottom of the post for the full amounts.
All-purpose flour – No cake flour or bread flour.
Almond flour – Don't substitute this for other types of flour. It'll dry out your cookies.
Salt – For flavor.
Unsalted butter – If you prefer to use salted butter, leave out the additional salt. Be sure the butter is at room temperature so that it'll cream properly with the sugar.
Sugar – Regular granulated sugar.
Vanilla extract
Almond extract – You can substitute it for more vanilla extract, if you prefer, but I really love the extract flavor of the almond.
Egg – Be sure to use large eggs. These bind the ingredients together, but using a larger or smaller egg will affect the outcome.
Lemon zest – I love the refreshing extra flavor this adds.
Powdered sugar – This is also called confectioners' sugar.
Jam – Use your favorite flavor!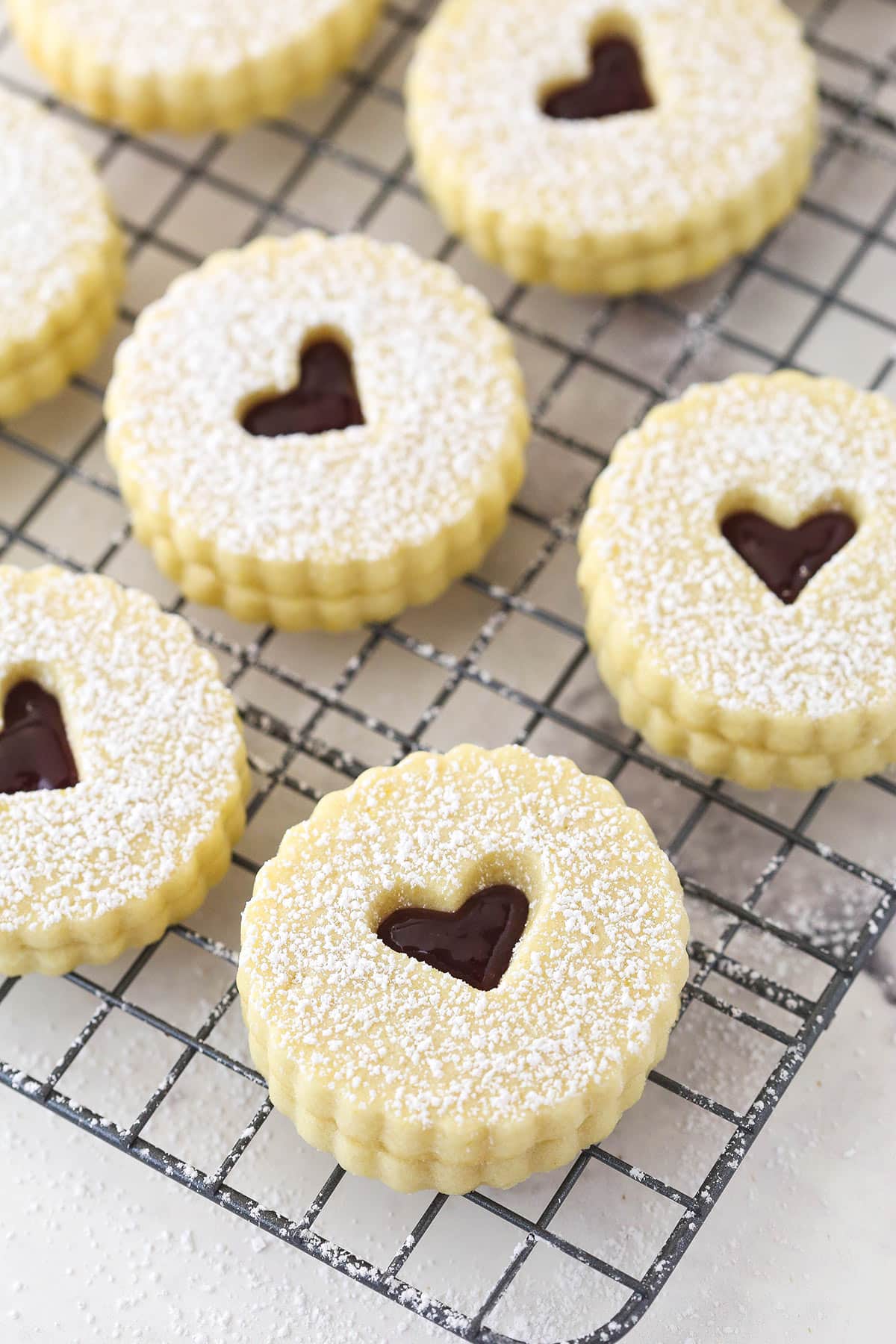 Possible Filling Ideas
Here are my favorite ways to fill these delicious Linzer cookies, aside from jam:
Nutella. This is my favorite, but any chocolate-hazelnut spread will make delicious linzer tart cookies.
Chocolate ganache: When is chocolate ganache not delicious?
Peanut butter. For a cross between a linzer and a Nutter-Butter, fill your cookies with peanut butter.
Almond butter. It provides a much more delicate nutty flavor when you're not in the mood for full-on peanuts.
Lemon curd. Sweet and tart lemon curd would go perfectly.
Dulce de leche. When I fill them with dulce de leche, they remind me a bit of Argentinian alfajores. They're delicious!
Cream cheese frosting. Filling them with cream cheese frosting is a great way of using leftovers from cakes and cupcakes.
They're not hard to make but cutting the cookies and filling them requires time and patience.
Whisk the flours. In a medium-sized bowl, whisk the all purpose flour, almond flour, and salt until well combined. Set it aside.
Cream the butter. Place the butter and sugar in the bowl of a stand mixer. Beat them over medium speed for 2-3 minutes or until light and fluffy. It's ready when the mixture looks slightly pale.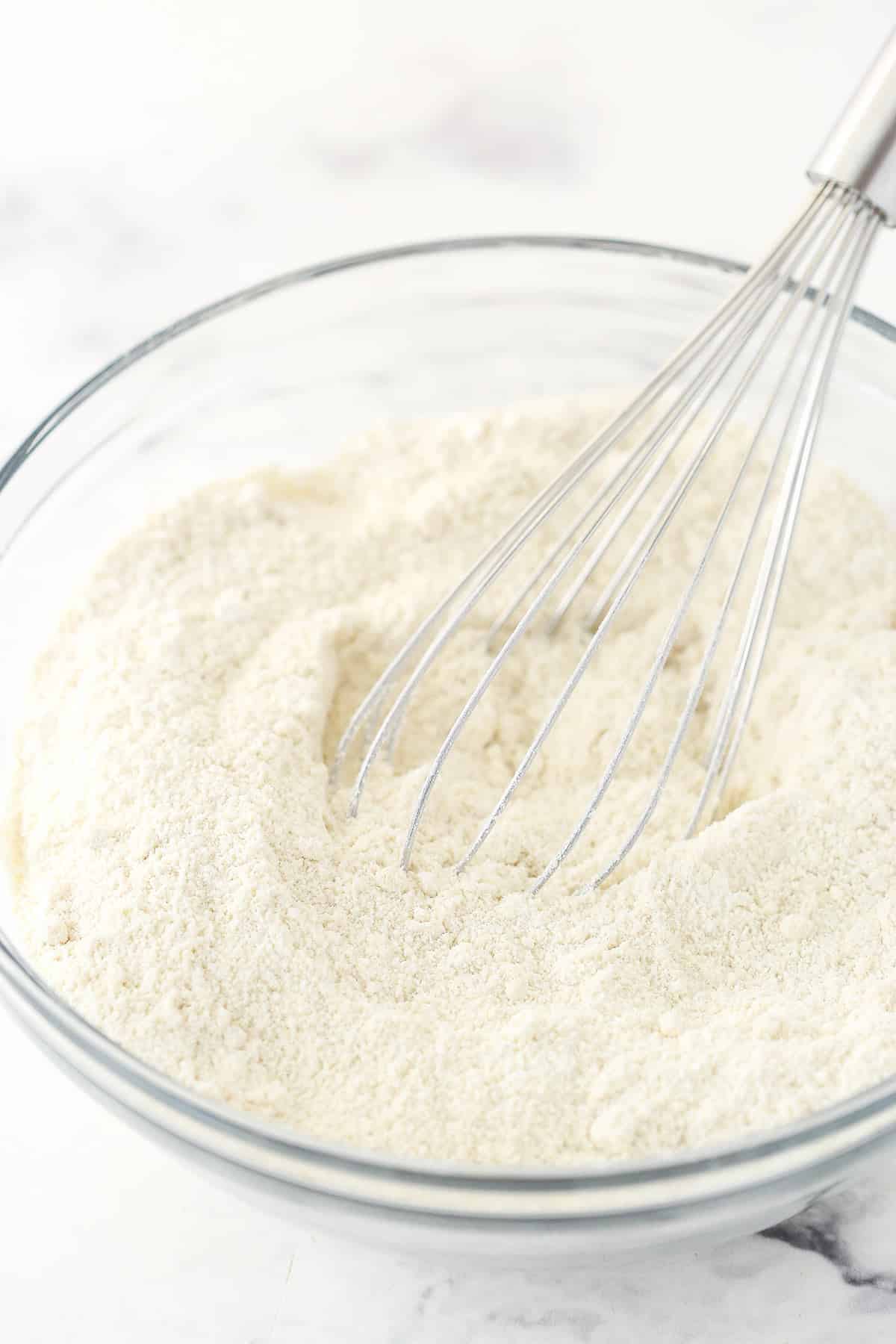 Add the extracts. Pour the vanilla and almond extracts in. Add the egg and lemon zest. Continue beating over medium speed until well combined.
Add the dry ingredients. Add the flour mixture into the bowl. Mix until the dough is just combined. Don't overmix. Scrape the sides of the bowl.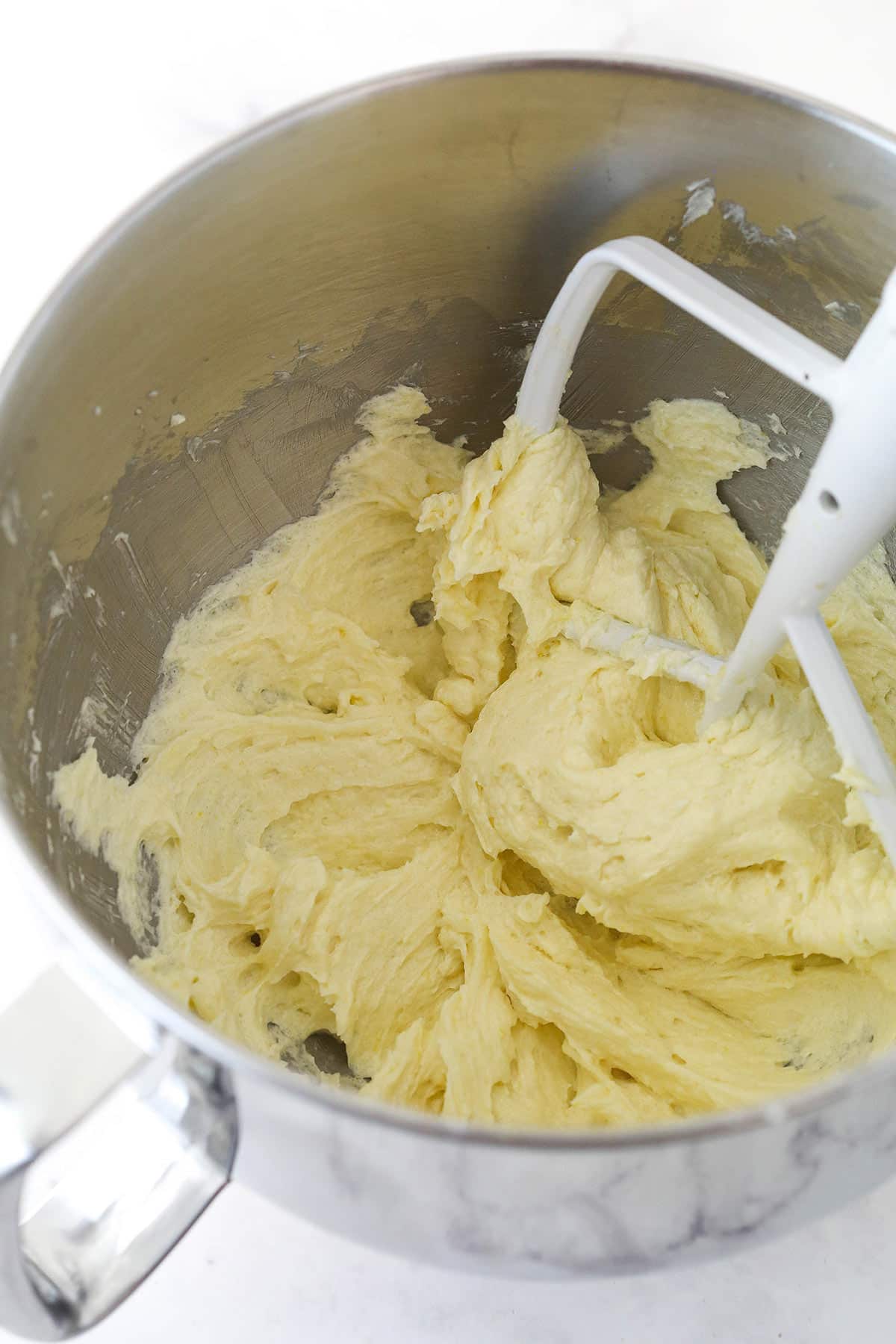 Chill the dough. Use your hands to roll the dough into a 1″ thick disk and wrap it with plastic wrap. Refrigerate it for 1-2 hours.
Prepare the baking tray. Preheat the oven to 350 F. Line baking sheets with parchment paper and set them aside. You can also use silicone baking mats.
Roll it out. Lightly flour your work surface and rolling pin. Roll the dough out until its 1/4″ thick. You can also do this in between two sheets of parchment paper.
Cut the shapes. Use cookie cutters to cut out your shapes. How many cookies you get will depend on the size of your cutters. Leave half of the cookies without cutouts in the center. Re-roll the scraps once and cut out more cookies.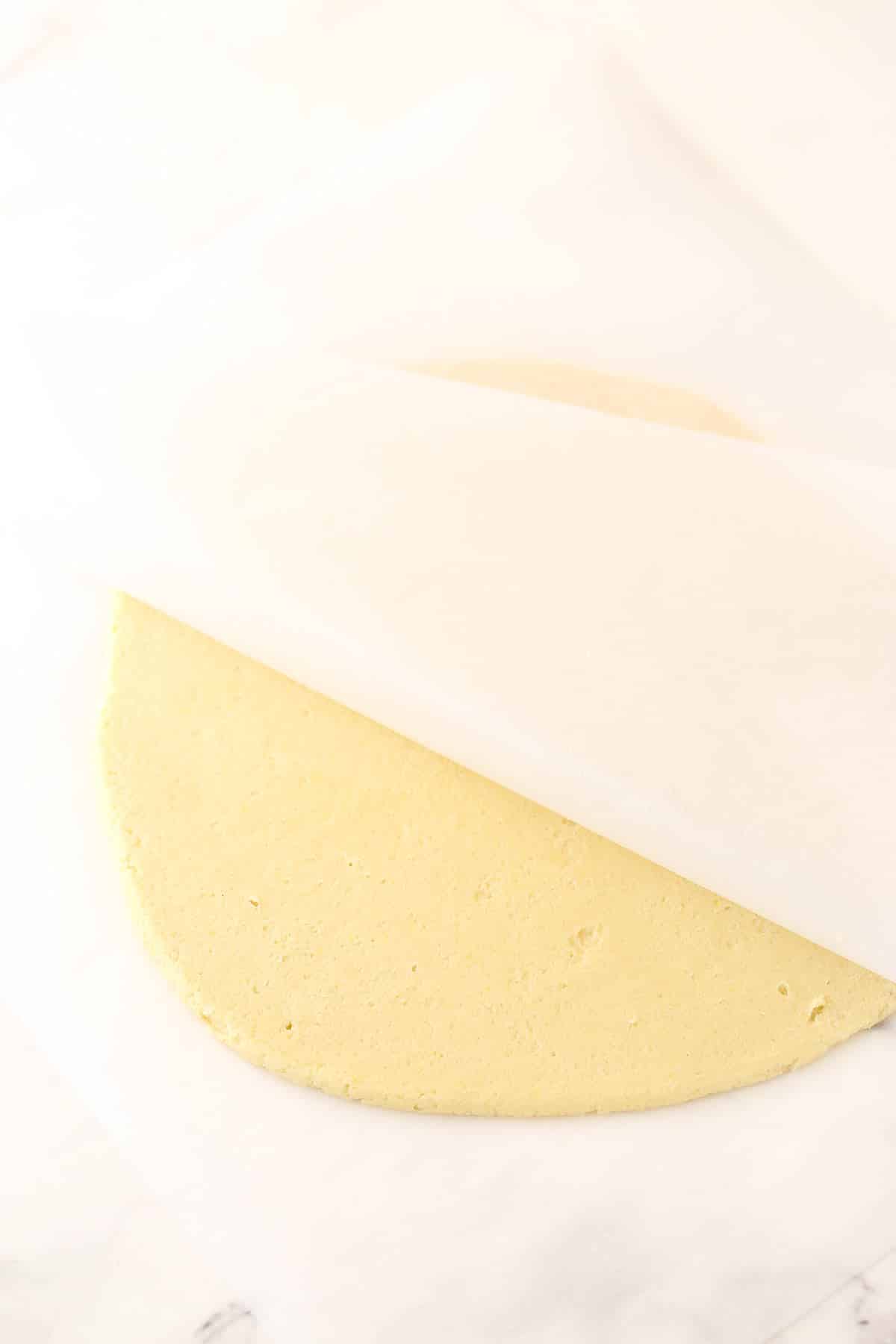 Bake. Transfer the cookies to the lined baking sheets, leaving about 1″ between them. Bake them for 10-12 minutes or until just before the edges begin turning golden.
Let them cool. Remove the cookies from the oven and let them cool for 7-10 minutes before removing them from the baking sheet. This will prevent them from breaking. Set them aside to cool completely.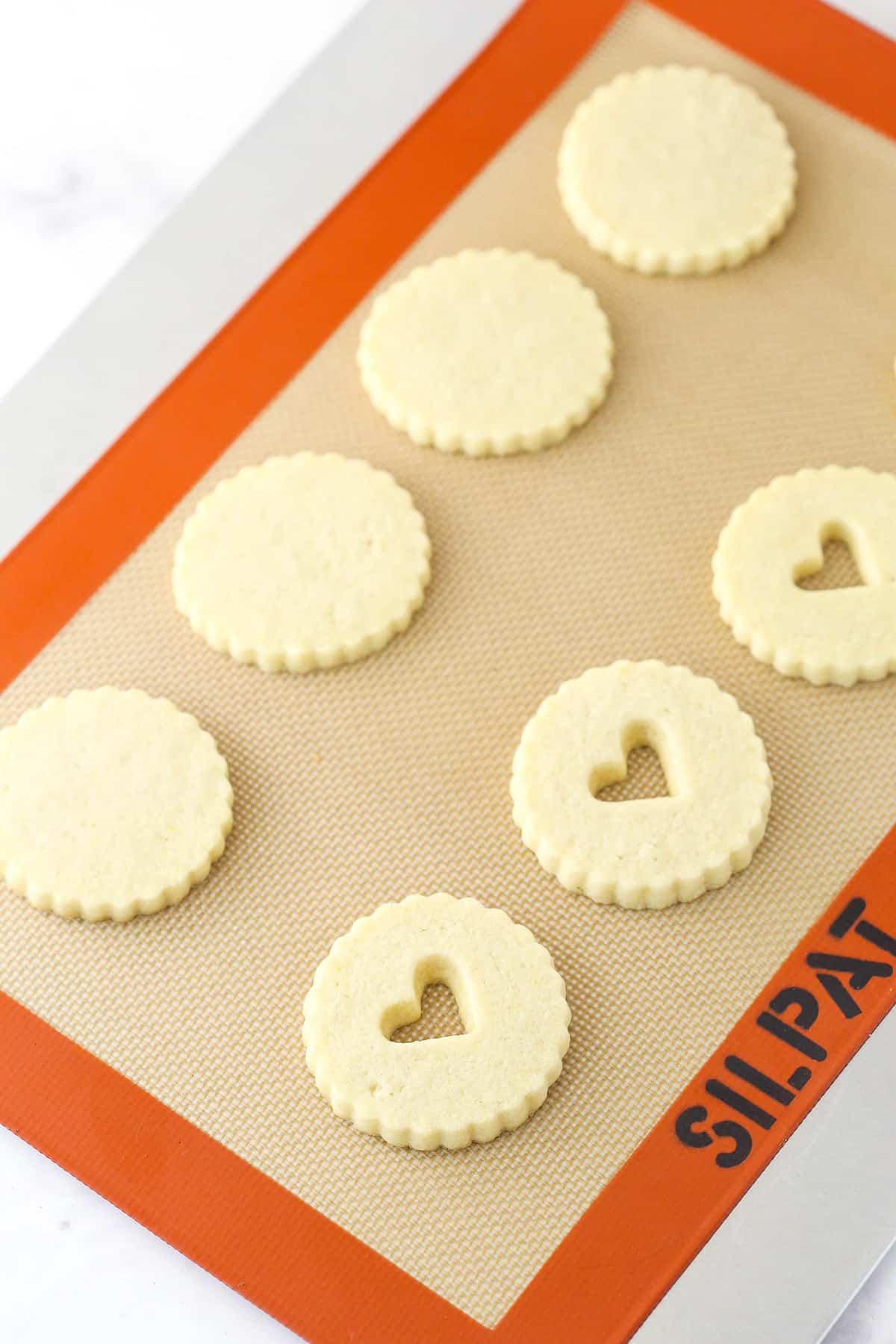 Assemble them. Dust the cookies with the cutouts in the center with powdered sugar to taste. Spread about 1-2 teaspoons of jam on each of the solid cookies. Press both cookies together to sandwich them. Serve and enjoy.
Can The Dough Be Prepared Ahead of Time?
Absolutely! This dough can be made up to 2 days in advance, so it's great for planning ahead of time. Once ready, make sure to wrap it in plastic wrap and then refrigerate it. Keep it away from onions and other strong-smelling foods to avoid the transfer of odors.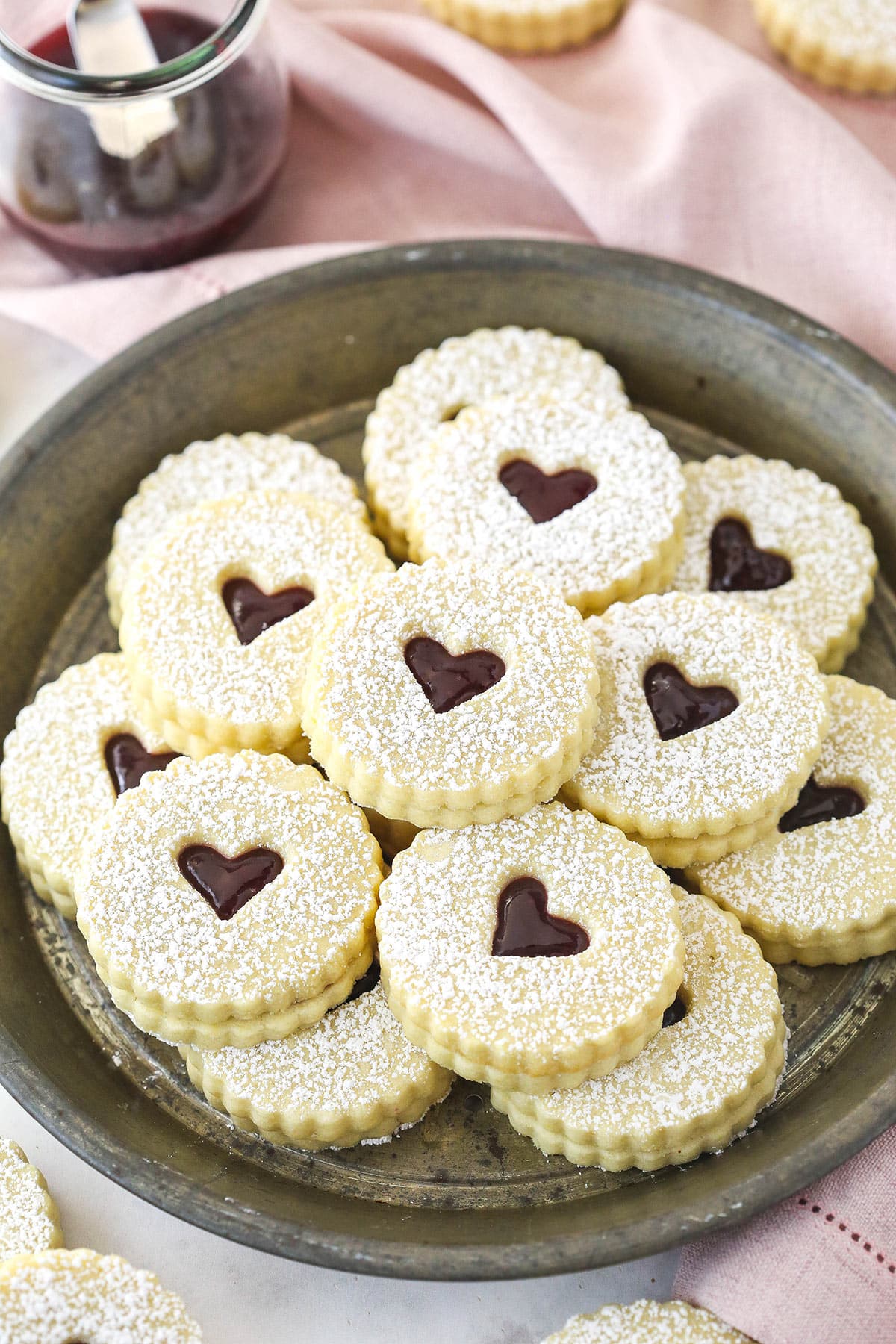 Tips for Success
Use these tips to make perfect linzer cookies every time:
Use parchment paper. Rolling the dough between two sheets of parchment paper makes for an easy clean-up and also ensures nothing sticks to your counter. It also keeps your cookies from drying out by adding additional flour.
Weigh your ingredients. Using a food scale to measure all the ingredients will mean your cookies turn out exactly the same every time.
Freeze the cut-outs. After cutting out the shapes, pop the unbaked cookies into the freezer for 5-10 minutes to help them maintain their shape in the oven.
Don't overwork the dough. Over-kneading the dough will result in tough, rubbery cookies. Work quickly and don't knead it too much. If your dough shrinks when you roll it out, it's overworked and it's best to start over.
As mentioned above, these are great for any number of holidays or occasions. Switch up the cutters for each one!
Proper Storage
Depending on what you filled the cookies with, store them in an airtight container at room temperature or in the fridge. They'll last for up to 5 days over the counter or up to a week in the fridge.
Yes! You can freeze unbaked and baked Linzer cookies.
Arrange them on the baking sheet and freeze them for 1 hour. Then transfer them to a freezer-friendly bag or container. If you freeze them unbaked, when ready to bake, place them on the baking sheet and add a few minutes to the baking time. If they're already baked, you can freeze them with or without the jam, just skip adding the powdered sugar (which will disappear upon thawing). When ready to eat, thaw them and fill them, if need.
Both baked and unbaked linzers will last for up to 3 months in the freezer.
More Classic Cookies
[adthrive-in-post-video-player video-id="atLCN2qQ" upload-date="2023-01-11T10:00:00.000Z" name="Linzer Cookies" description="Dainty and dusted with powdered sugar, these Linzer cookies are filled with your favorite fruit jams for a delicately sweet and nutty afternoon snack. Change the shapes depending on the season and take these from Christmas to Valentine's in seconds. " player-type="default" override-embed="default"]
Print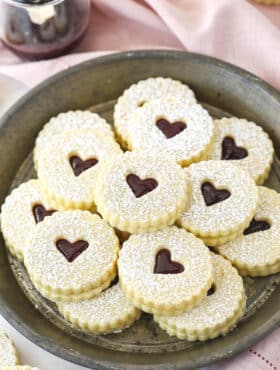 Recipe
Author:

Prep Time:

2 hours

Cook Time:

10 minutes

Total Time:

2 hours 10 minutes

Yield:

25-30 cookies

Category:

Dessert

Method:

Oven

Cuisine:

Austrian
---
Description
Filled with fruit jam, these Linzer cookies are the perfect holiday gift. Irresistibly crumbly and buttery, they're a real treat.
---
Ingredients
2 cups

(

260g

) all-purpose flour

1 cup

(

128g

) almond flour

1/2 tsp

salt

1 cup

(

224g

) unsalted butter, room temperature

2/3 cup

(

138g

) sugar

2 tsp

vanilla extract

1/2 tsp

almond extract

1

large egg

1 tsp

lemon zest
Powdered sugar, for dusting
Jam, any flavor, for filling
---
Instructions
Combine the all-purpose flour, almond flour and salt in a medium sized bowl and set aside.
Cream the butter and sugars together in a large mixer bowl on medium speed until light in color and fluffy, 2-3 minutes. You should be able to see the change in color happen and know it's ready.
Add the vanilla extract, almond extract, egg and lemon zest and mix until well combined.
Add the dry ingredients and mix until the dough is just well combined. Do not over mix.
Shape the dough into a disk about 1-inch thick and wrap in plastic wrap. Refrigerate for about an hour or until chilled.
Preheat oven to 350°F (180°C). Line baking sheets with parchment paper or silicone baking mats. Set aside.
Use a rolling pin to roll out the cookie dough between two pieces of parchment paper to about 1/4 inch thickness. You could also use a floured surface, but the parchment paper is far less messy and won't dry out your cookies.
Use your cookie cutters to cut out your shapes. You'll want half of the them to be solid (without cutouts in the middle) and half to have the cutout designs on them. The cookie dough softens really quickly and then can be tough to cut and transfer. I found it easiest to put the rolled out cookie dough into the freezer for about 5 minutes to firm it up, then quickly cut the cookies. Rolling it out on parchment paper makes transferring the cookie dough to the freezer quite easy. Re-roll the remaining cookie dough and repeat the process until you've used all of the cookie dough.
Bake the cookies for 10-12 minutes or until just before the cookies turn golden around the edges. The time may vary depending on the size of your cookie cutters and how thick the cookies are, so keep an eye on them.
Allow the cookies to cool for 3-5 minutes, then remove to a cooling rack to finish cooling.
To assemble the cookies, dust the cookies with the cutouts with powdered sugar. Spread some jam on each of the solid cookies and place a cookie with a cutout on top to form the sandwich.
---
---
Keywords: linzer tart, linzer tart cookies, classic Christmas cookies
This post may contain affiliate sales links. Please read my disclosure policy.