This post may contain affiliate sales links. Please read my disclosure policy.
Last weekend I had the pleasure of attending the Food Blog Forum at Walt Disney World. For those that don't know, FBF is a food blogging conference. This was my first year attending this conference and I had a blast.
The weekend actually started for me on Thursday night, when my bloggy BFF, Julianne from Beyond Frosting, flew into Atlanta just so that she could make the drive with me to Orlando and keep me company. What a friend, right?!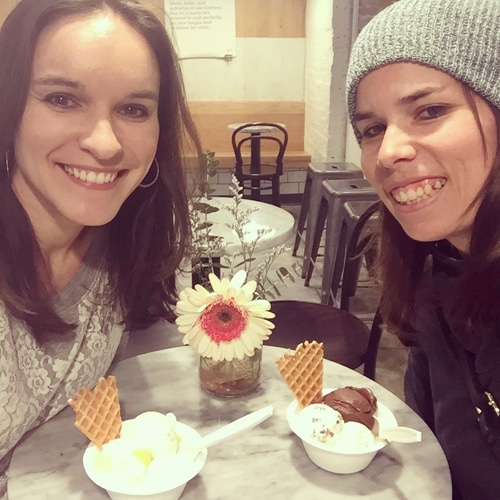 We realized that night that it was the anniversary of when we met in person for the first time last year, so it became our Anniversary weekend. 🙂 We had dinner and Jennie's ice cream to celebrate. She got to see our home in person, meet the hubs and give Jessie a rub. It was so fun to see someone from my blogging life enter into my "real life", even though we already talk practically every day (either by phone or online).
We left early the next morning and spent the whole time talking and singing as loudly as we could to Wilson Phillips, Spice Girls and more awesome 90s songs. We are 90s kids all the way.
When we arrived at The Grand Floridian, the fun got even better! The hotel was beautiful and the rooms were awesome, and everyone was really friendly. We also met up with our friends, Ashley from Spoonful of Flavor and Haley from The Domestic Rebel. Love them!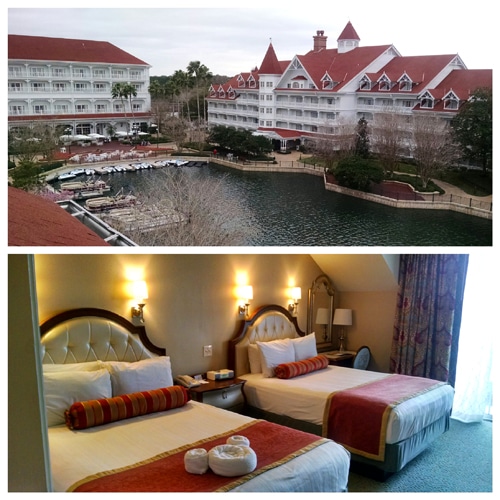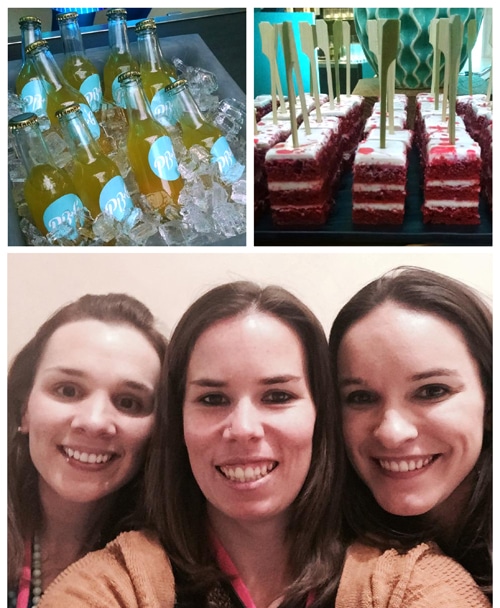 That night we were treated to an awesome meal by PB&G, a restaurant at the Four Seasons in Orlando. Of course dessert was my favorite part. This passion fruit soda was served over raspberry and vanilla ice cream and was totally awesome! I loved it on it's own and with the ice cream – yum!
After the dinner was over, Julianne and I went to Epcot to take a quick trip around the world and eat ALL THE FOOD! We got an Almond Pretzel in the Netherlands, a margarita in Mexico, a cronut (so good!) in England and more. We finally decided to take the desserts from France back to the hotel to eat those the next day.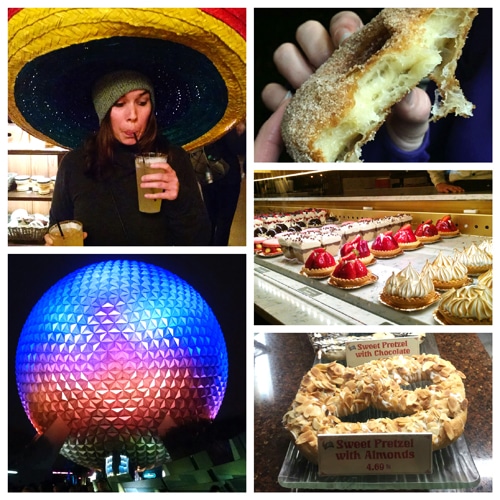 Saturday was all about the conference and learning. The sessions were great and I left rejuvenated and inspired. I also won a basket of OXO goodies, too. Whoop whoop!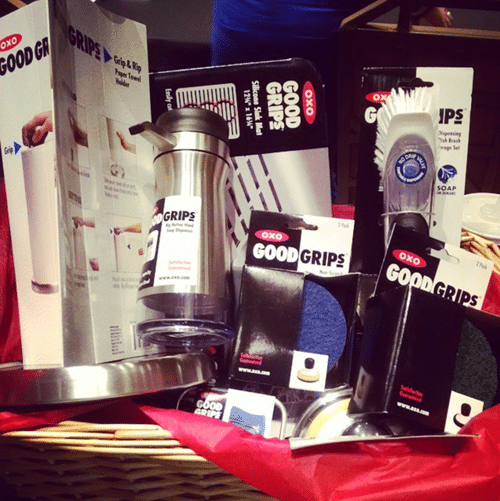 Lunch was provided by Disney and was held at the California Grille. They had chefs from various restaurants at the parks come and give us samplings from each of the menus. There were stations set up for each restaurant and we got to try some seriously amazon food. My favorites were the Spicy Tuna Tartare from The Hollywood Brown Derby at Hollywood Studios, The Braised Pork Belly from The California Grille and the Braised Beef Bolognese from Trattoria al Forno at Disney's Boardwalk. It was all amazing though and such a treat!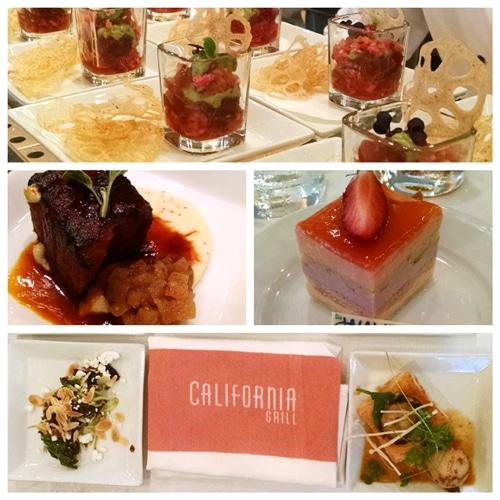 My top 5 favorite bits from the conference were:
1. In the opening session with Victoria Finn, Director of Creative Inc., the creative department of The Walt Disney Company, she talked about creativity and ideas and there were 3 things she touched on – mindset, skills and tool set. She used this quote from Henry Ford:
"Whether you think you can, or you think you can't–you're right."
It's so often true. We are held back more by what we believe about ourselves than by what is actually true and what we are actually capable of. The next time fear of failure comes to you, remind yourself that you can do it. Go for it!
2. I really liked this thought from Jaden, of Steamy Kitchen – that if your blog is to be a business, it needs a strong foundation. Your mindset should shift from "blogger" to "publisher". Being a publisher is a big responsibility and an identity shift. Establish authority in something and build trust.
It made me think more about the decisions I make for my blog.
3. From Lindsay and Bjork of Pinch of Yum – don't limit yourself with a mindset (reminds me a bit of my #1). You can be "expert enough" and write about something. Sometimes being too much of an expert can make you un-relatable. Don't hold yourself back from doing something because you think you aren't enough of an expert.
I constantly underestimate myself and hold myself back. I've got to be better about that.
4. Enid Hwang from Pinterest (loved her session, she's awesome) – pin descriptions and boards with good keywords are more important than cute, catchy titles. Maybe you already know this, but I thought it was good to hear it from her.
I need to update some stuff…
5. I've already said this a few times since coming home, but the biggest thing I walked away with is a knowledge that I need to relax a little and stay sane. It's been a subject of conversation between myself and the hubs, and myself and my mom, for months now and it really hit me at the conference. I am a perfectionist and it's hard to let go, but I've got to do that more. I need to figure out a way to do that more. Any VA's out there want to help me out? 😉
On Sunday, Julianne and I sped quickly through The Magic Kingdom and Hollywood Studios. We had planned on having all day at the parks, but then Julianne realized she'd booked her flight home for Sunday, not Monday. So we had a power breakfast of french toast, eggs and Mimosas and headed to the park to do as much as we could.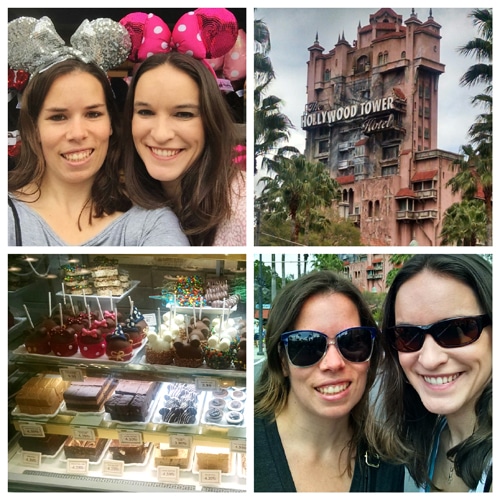 We made the most of it and got through all the rides we wanted to do. I'd done pretty much all of it when we lived in Florida, so I took her to all the good stuff. I am personally a fan of Space Mountain, the Aerosmith roller coaster and Tower of Terror. SO fun! Julianne went on Tower of Terror with me, but wasn't a big fan. We basically clung to each other the whole time and by the time it was over, I was laughing uncontrollably. Good times.
I also had my very first Pineapple Whip, which was delicious. I love pineapple, so I could've eaten about 10 of them.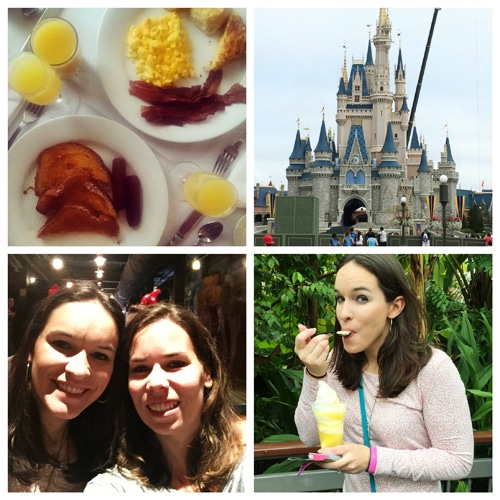 When we were done, I dropped Julianne off at the airport and headed over to see my grandmother. Her arm is still healing from a fall she took in December. She broke her arm and while she's regained most use of it, she was really glad to have some company and be able to get out the house (she hasn't been able to drive). She's at physical therapy in the photo below.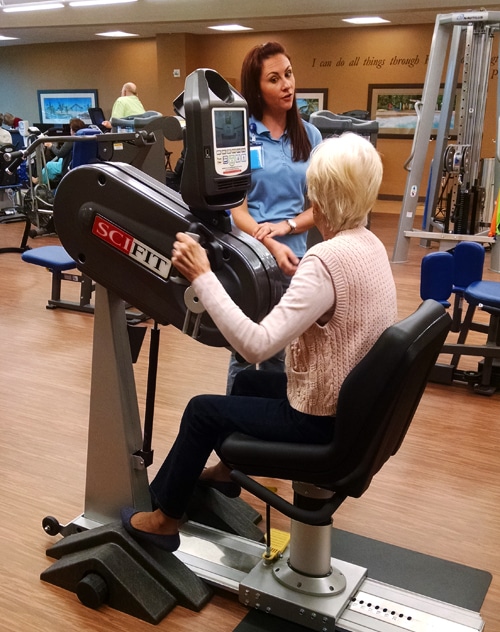 So there you have it! It was a great conference and if you can get a ticket – it's hard! – I totally recommend going. The conference itself was so well put together and wonderful, but also the people at Disney are so involved and do such an amazing job of hosting everyone. Disney World is always a wonderful experience and they manage to make it even better for the conference.
And if you're wondering where the heck a recipe is, check out this roundup of 28 irresistible pies for Pi Day (Pi Day is Saturday!) that I did for Parade magazine online. 🙂 Lot's of great recipes!