Rolled around in lots of powdered sugar, the crackly tops on these chewy chocolate crinkle cookies are irresistible. Ready in less than 30 minutes with 10 ingredients, you won't believe how decadent and chocolatey they are.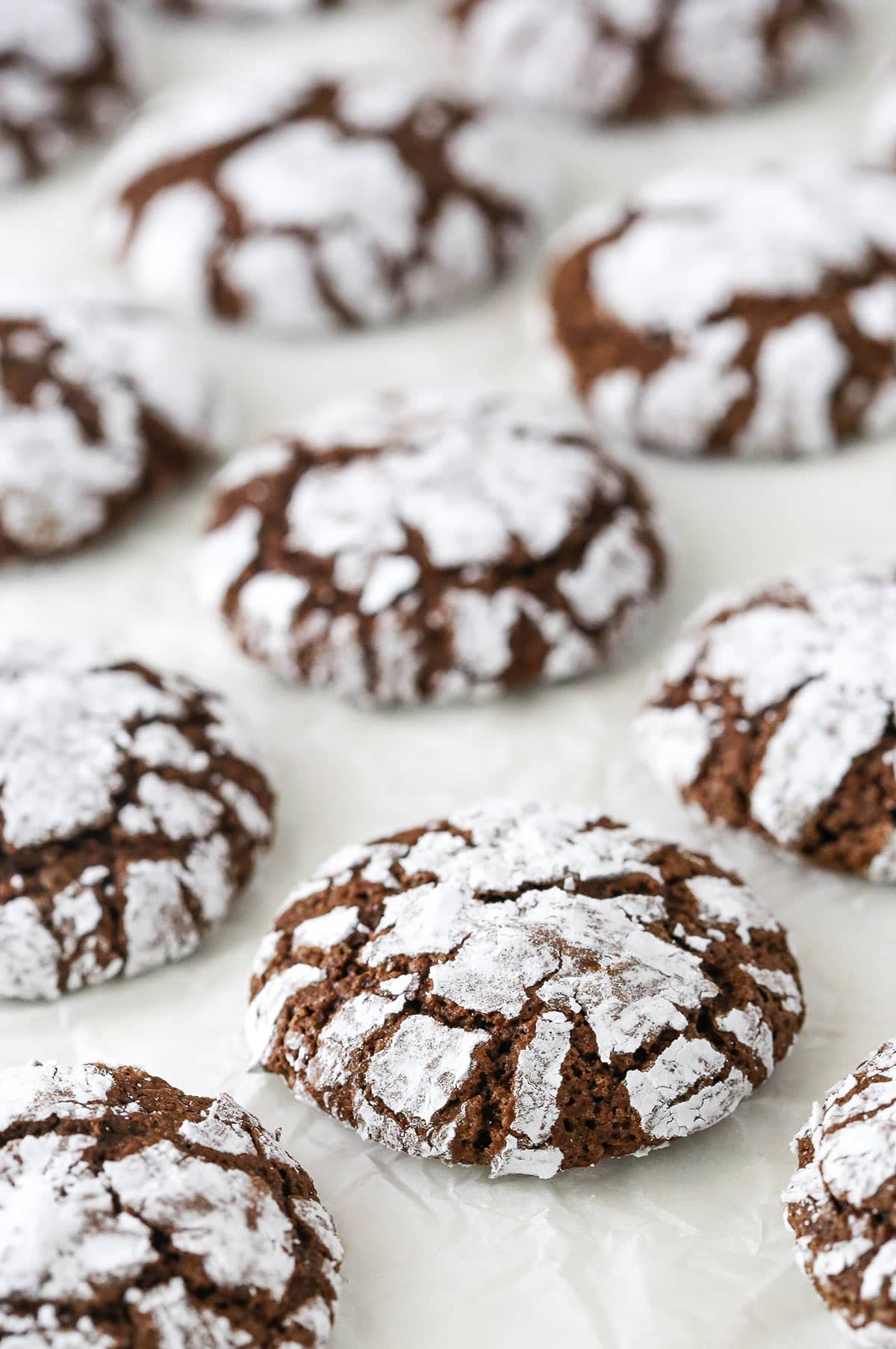 These chocolate crinkle cookies are fudgy and gooey on the inside but delightfully crisp on the outside. The secret to their chewiness is in the melted butter. Since it integrates into the dough much more smoothly, they're unbelievably moist.
Rolled in lots of powdered sugar, they look like snow-covered mounts! Don't let their beautiful exterior fool you into thinking they're difficult to make, though. These crinkle cookies only need 10 ingredients and will be cooling on your counter in less than 30 minutes.
Brown sugar and cocoa powder come together for a soft, decadent bite with hints of molasses and a slight bitterness. Freshly baked or a couple of days after, they taste like brownies and devil's food cake all in one. Sprinkled with a bit of flaky salt and dunked into a glass of milk, they're any chocolate-lover's cookie dream.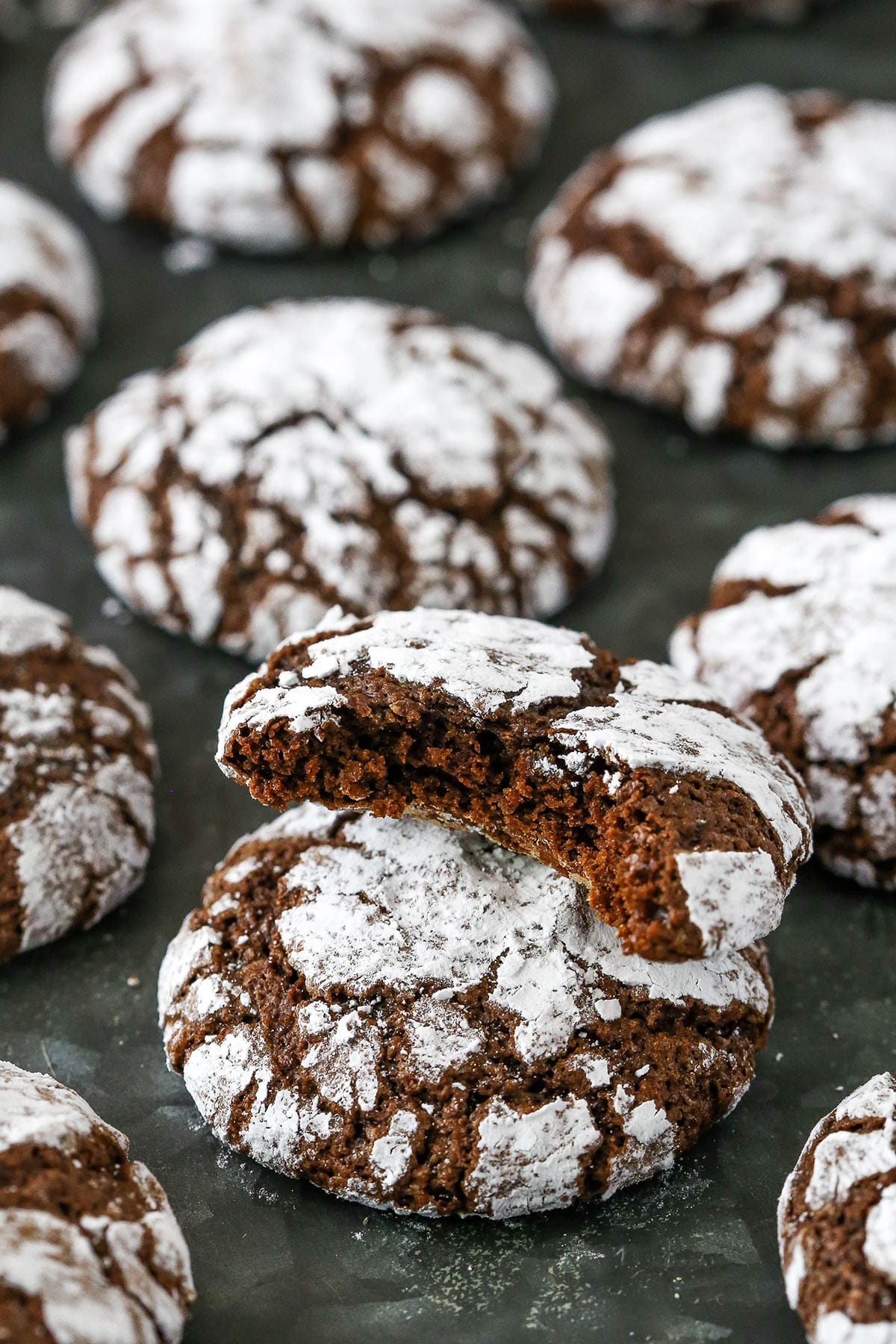 Crinkles (or crinkle cookies) are named after their signature crinkly, crackly tops. They're soft and chewy on the inside, but have a slightly crispy exterior. This is due to the powdered sugar they're rolled in right before baking. Once in the oven, they spread and the tops crack.
When made right, the powdered sugar won't melt into the dough and the cookies will have beautiful white cracks. They can come in a variety of flavors too. Chocolate, red velvet, and matcha are some of the most common. The flavor doesn't matter, though. As long as they're rolled in powdered sugar and crinkly, they're crinkle cookies!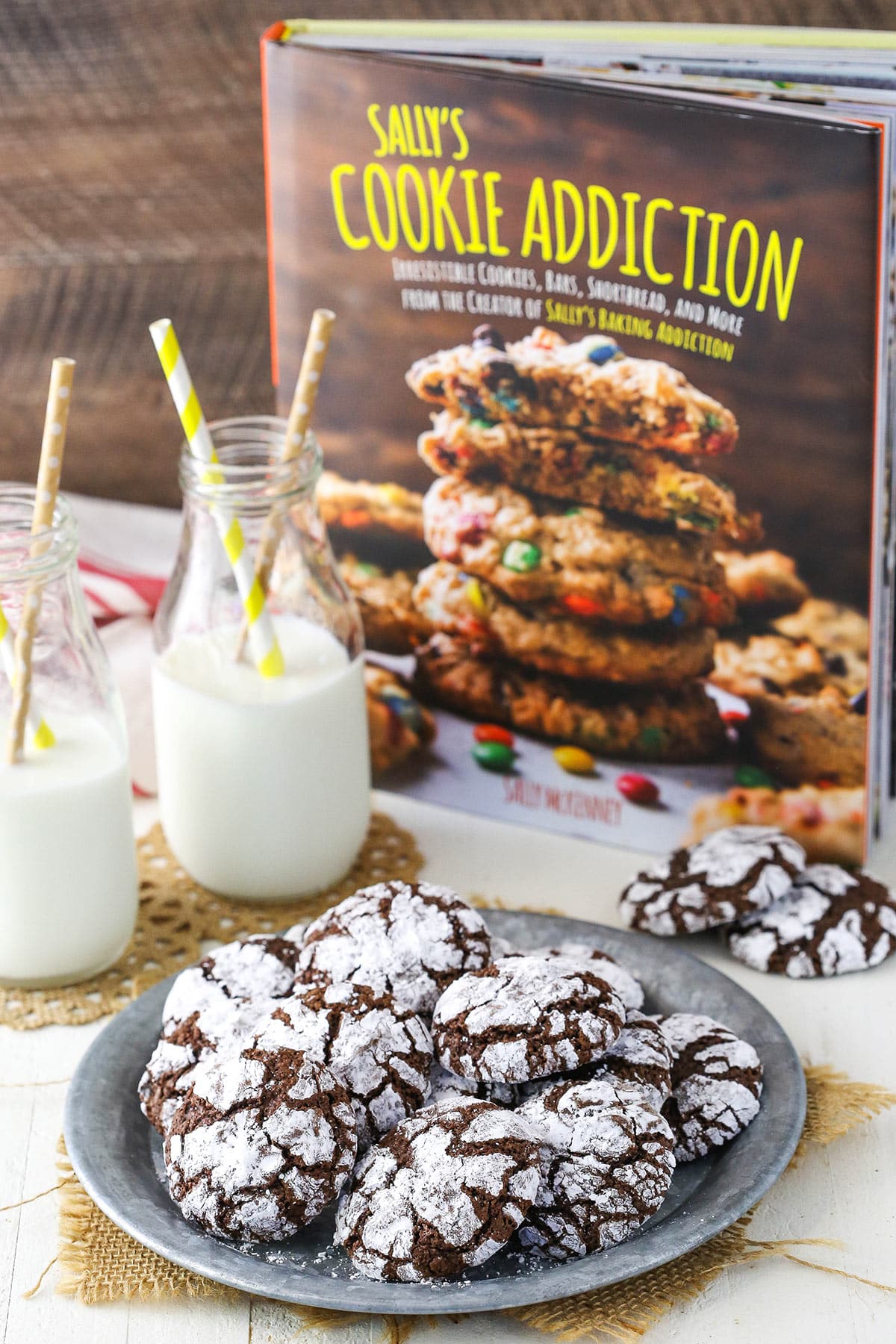 Recipe Ingredients
With only 10 ingredients, these crinkle cookies are easy to make and extremely chocolatey. For exact ingredient amounts, scroll to the recipe card at the bottom of this post.
All-purpose flour – Avoid cake flour. It will soften your cookies too much. Only all-purpose flour can provide the structure we need.
Sugar – Granulated white sugar or light brown sugar are fine. If you don't have any, use dark brown sugar.
Brown sugar – Dark brown sugar is my favorite. However, light brown sugar works too.
Baking powder – It's not the same as baking soda, so don't substitute them.
Salt
Unsalted butter- Feel free to use salted butter, just remove the rest of the salt in the recipe.
Unsweetened natural cocoa powder – Don't use chocolate milk powder.
Eggs
Vanilla extract
Powdered sugar – This is also referred to as confectioners' sugar.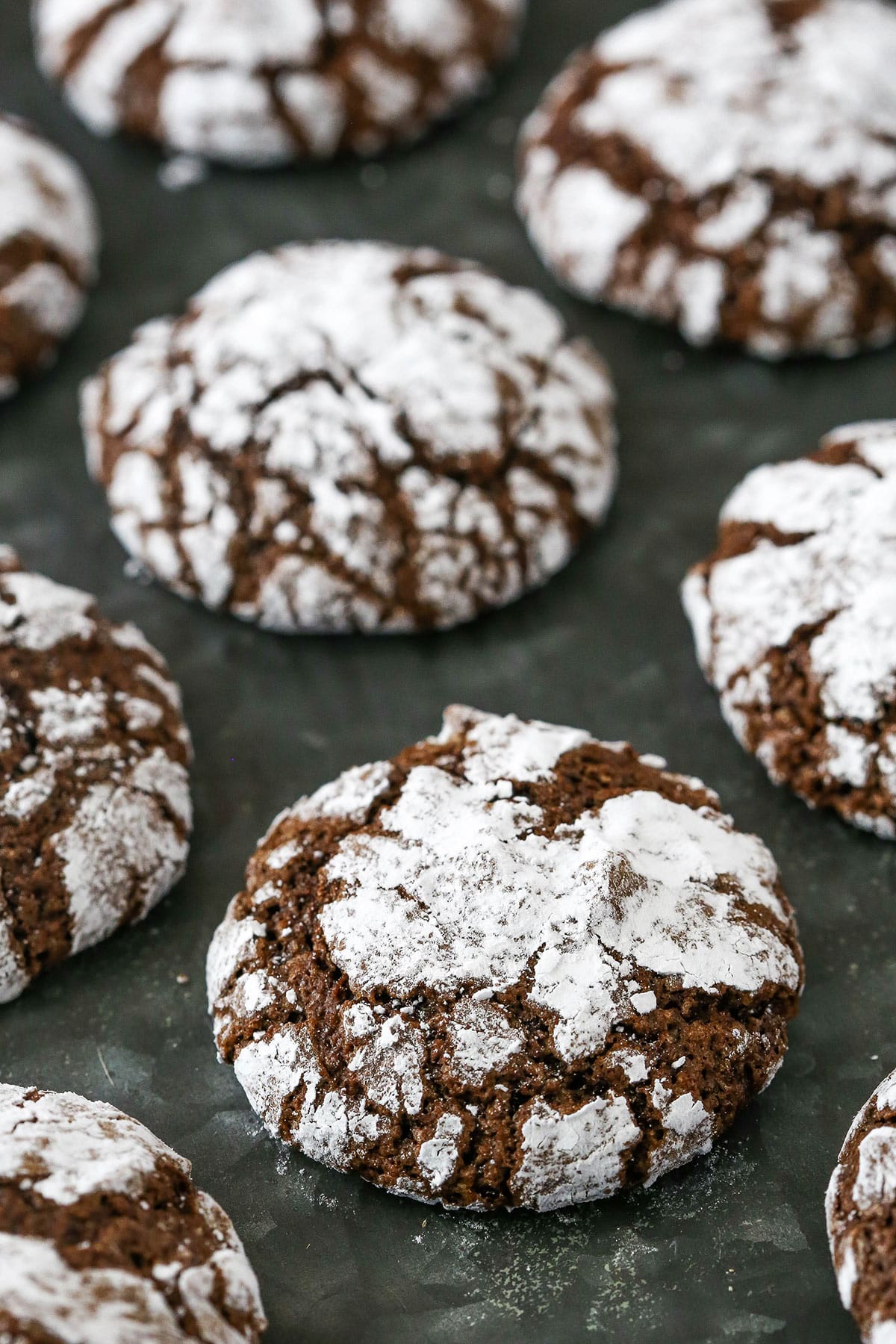 There's no rolling out involved, which means less mess. Read on for how to make these quick and easy chocolate crinkle cookies.
Prepare the baking tray. Preheat the oven to 350 F. Line a baking sheet with parchment paper and set it aside. You can also use a silicone baking mat.
Whisk the dry ingredients. In a large bowl, mix the flour, sugar, brown sugar, salt, and baking powder. Set it aside. If the baking powder has clumps, you'll need to sift it.
Bloom the cocoa. Mix the melted butter and cocoa powder in a medium bowl. This process is called "blooming" because it allows the cocoa to release lots of its natural fats and flavor before adding it to the dough. The mixture should be quite thick.
Add the wet ingredients. Add the eggs and vanilla extract to the bloomed cocoa. Stir well to combine.
Mix wet and dry ingredients. Pour the egg-cocoa mixture into the dry ingredients. Use a stand mixer with the paddle attachment and beat over medium speed until well combined. The dough might look dry at first, but keep mixing. You can also use a hand mixer for this.
Roll it. Measure 1 tbsp of dough at a time. Use your hands to roll each one into a ball. Pop them into the powdered sugar and roll them around until completely covered.
Bake. Arrange the balls of dough in the prepared baking sheet, leaving about 3″ of space between them. They will spread during baking. Allow them to bake for 12-13 minutes or until the tops are crackly.
Cool. Remove from the oven and allow them to rest for 5-10 minutes on the baking sheet. Transfer them to a wire rack and let cool completely. Enjoy!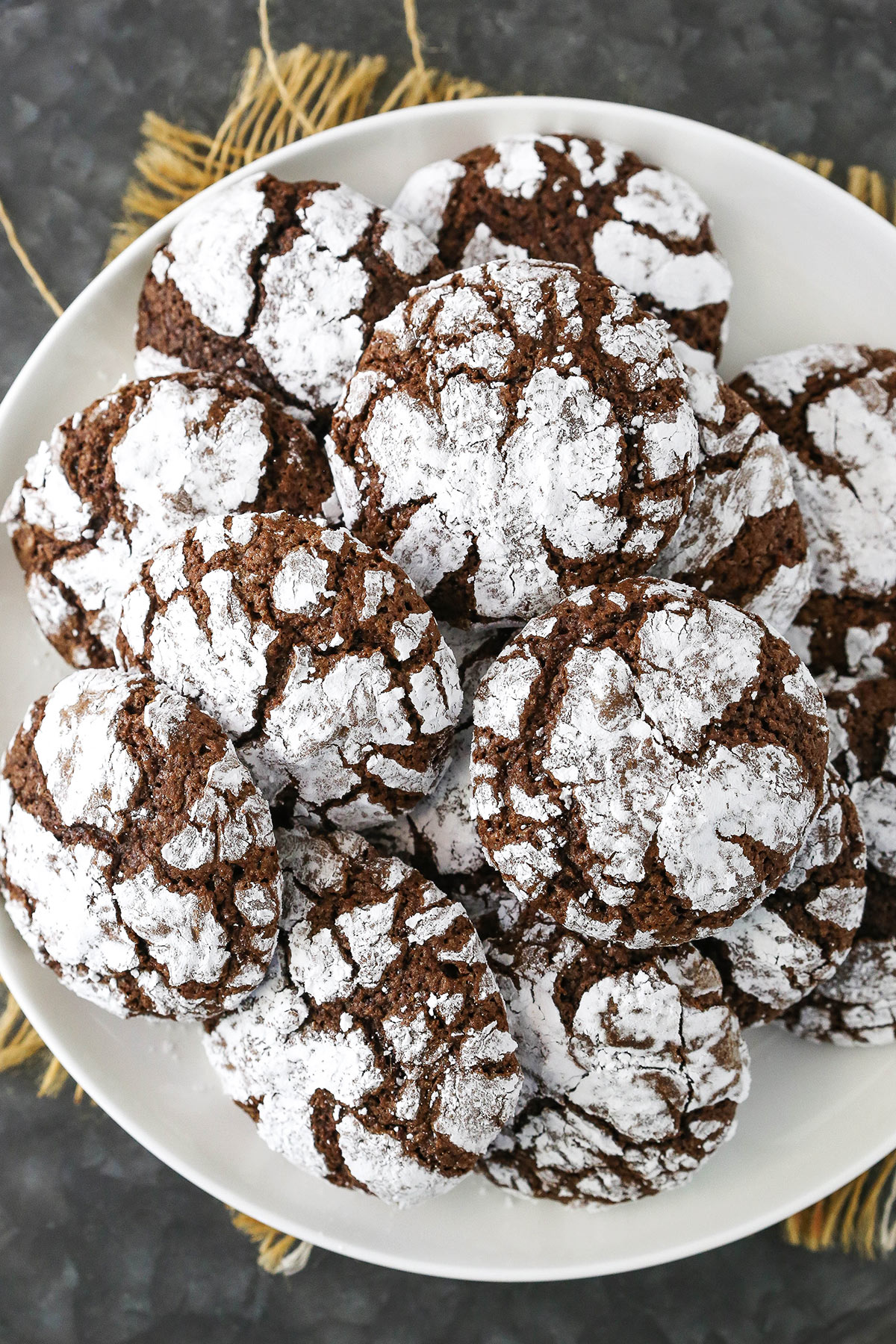 Tips & FAQs
Follow these simple tips for perfectly baked crinkle cookies:
Add chocolate chips. Add 1/2-1 cup of mini chocolate chips to the dough for an extra chocolatey cookie.
Use melted butter. Make sure it's melted because it helps keep the cookies extra soft and chewy.
Coat them with granulated sugar. Before you roll the balls in powdered sugar, coat them with granulated sugar. Then roll them in powdered sugar until heavily coated. This will help avoid the powdered sugar from turning yellow or melting into the dough.
Don't over-bake them. Don't leave them in the oven more than 1-2 extra minutes. They will finish baking with their residual heat even once out of the oven.
Chill the dough. Placing the dough in the fridge for 3-4 hours before rolling will make it much more manageable and less sticky.
Grease your hands. Add a bit of non-stick baking spray or vegetable oil to your hands before rolling the dough into little balls. This will help prevent any sticking.
Here are answers to some commonly asked questions. Hopefully, they'll help you troubleshoot through any issues and possibly avoid them.
Why Did My Crinkles Not Crack?
The most common causes for this are ovens that aren't hot enough or expired baking powder. If your crinkle cookies didn't crack, try to use an oven thermometer to see if it's heating up properly. You should also check the best-before date on your baking powder.
Why Are My Chocolate Crinkle Cookies Flat?
Un-chilled cookie dough tends to spread and flatten out much more than chilled dough. Refrigerate the dough for at least 3 hours before rolling it into balls. Bake the cookies right after.
Why Are My Crinkle Cookies Dry?
Adding too much flour to the dough can result in dry cookies. Over-baking them is another reason for this. Don't leave them in the oven longer than 13 minutes. Even if they're still soft and gooey in the center, they'll finish baking with the residual heat once out of the oven.
How Do I Know When These Are Done?
Once the tops are crackly and a little bit glossy, they're ready to be taken out of the oven.
Serving Suggestions
They're the perfect afternoon snack or dessert. Drizzling them with a little butterscotch or hot fudge sauce takes them over the top! A bit of flaky sea salt doesn't hurt either.
With a cup of homemade cocoa, eggnog, apple cider, or caramel blended coffee, these chocolate crinkle cookies are simply amazing. You can also never go wrong with a cold glass of milk.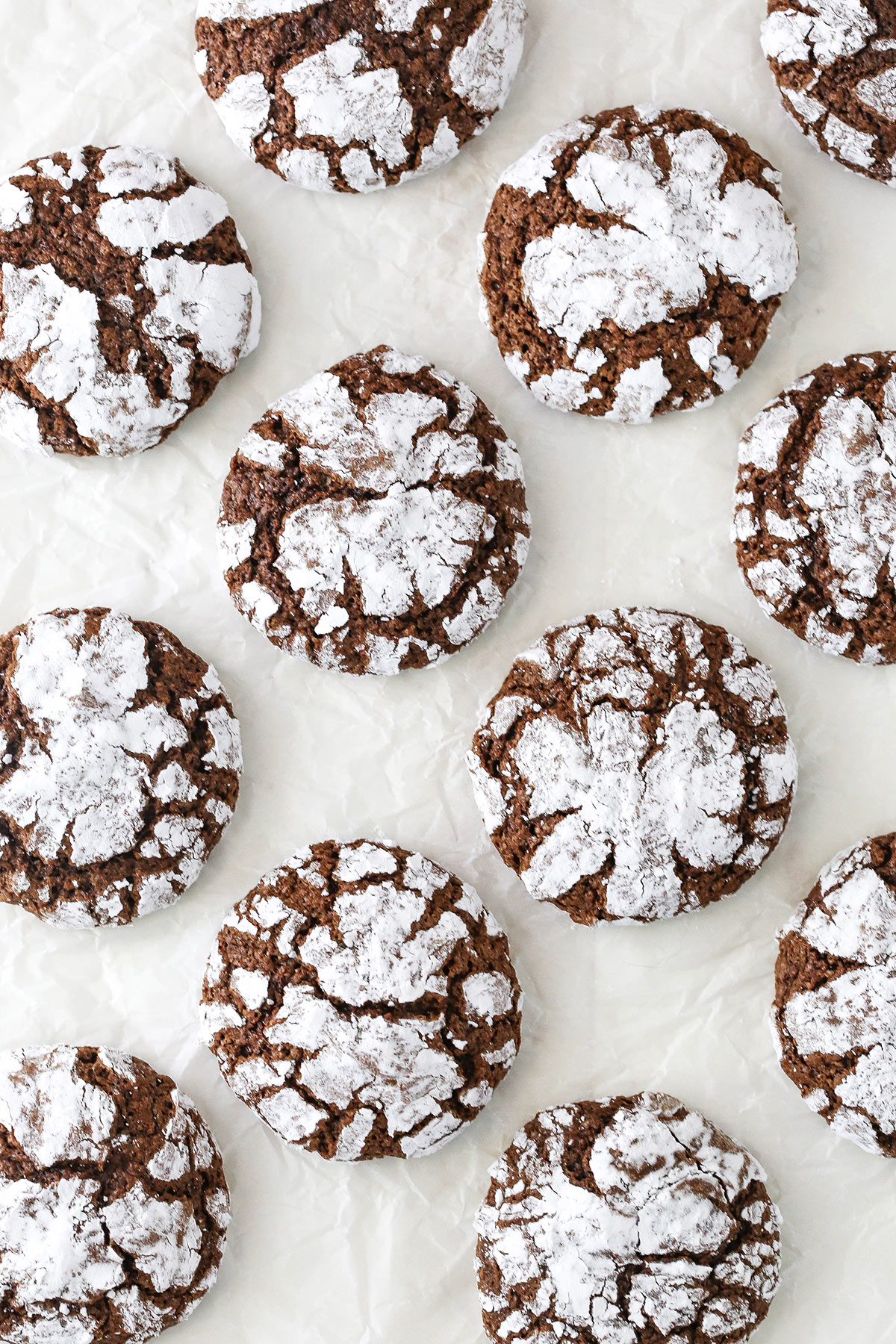 How to Store
Store fully cooled chocolate crinkle cookies in an airtight container at room temperature for up to a week. Keep them away from sunlight and humidity, otherwise the powdered sugar will absorb into the cookies. Don't worry if this happens, though. Give them a light sprinkling of more sugar and they'll be good as new!
Definitely! These can be frozen baked or unbaked. Here's how:
Unbaked: Don't roll the balls of dough in powdered sugar. Just place them on the prepared baking tray and freeze them for 3-4 hours or until completely solid. Transfer them to a freezer-friendly bag or container. Freeze them for up to 3 months. When you're ready to bake, take them out of the freezer as the oven preheats and roll them in powdered sugar. Continue with the recipe as usual.
Baked: Place the cooled cookies on a baking sheet. Freeze them for 3-4 hours or until completely solid. Then transfer them to a freezer-friendly bag or container and freeze for up to 2 months. Remove them from the freezer when you're ready to eat and place them on the counter. Wait until they're fully thawed and re-dust with powdered sugar.
More Easy Cookie Recipes
Print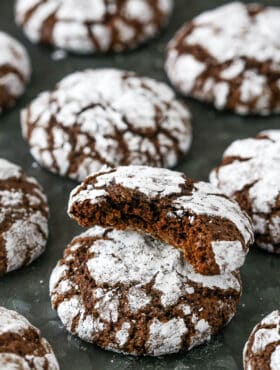 Recipe
Author:

Prep Time:

10 minutes

Cook Time:

12 minutes

Total Time:

22 minutes

Yield:

24-28 Cookies

Category:

Dessert

Method:

Oven

Cuisine:

American
---
Description
These decadent chocolate crinkle cookies are ready in 30 minutes. Extremely fudgy and chocolatey, they're the perfect holiday cookie.
---
Ingredients
1 1/2 cups

(

180g

) all-purpose flour

1 cup

(

200g

) sugar

1/2 cup

(

115g

) packed brown sugar

1 1/2 tsp

baking powder

1/2 tsp

salt

6 tbsp

(

90g

) unsalted butter, melted and slightly cooled

3/4 cup

(

65g

) unsweetened natural cocoa powder

3

large eggs, room temperature

1 tsp

vanilla extract

1 cup

(

120g

) powdered sugar
---
Instructions
Preheat oven to 350°F (180°C). Line baking sheets with parchment paper or silicone baking mats. Set aside.
Whisk the flour, sugar, brown sugar, baking powder and salt together in a large bowl. Set aside.
Combine the melted butter and cocoa powder in a medium bowl. The mixture will be very thick, almost like a paste.
Stir in the eggs and vanilla extract.
Pour into the dry ingredients and, using a handheld or stand mixer fitted with a paddle attachment, beat it all together on medium-high speed. The mixture may seem dry at first, but will come together as you continue to mix.
Measure one tablespoon of the dough. Gently roll into a ball, then roll each ball in confectioners' sugar to coat.
Place balls about 3 inches apart on the baking sheets. Bake for 12-13 minutes. The cookies will slightly spread and form cracks. The centers will look soft.
Remove from the oven and allow to cool on baking sheets for 5 minutes before transferring to a wire rack to cool completely.
Cookies will stay fresh in an airtight container at room temperature for up to 1 week.
---
Notes
Eggs must be room temperature. The won't properly mix into the butter-cocoa mixture if they're cold. For the butter, melt it in the microwave or on the stovetop before beginning so it has time to cool down slightly – we don't want to cook the eggs.
Nutrition
Serving Size:

1 Cookie

Calories:

115

Sugar:

14.2 g

Sodium:

51.7 mg

Fat:

3.4 g

Carbohydrates:

21 g

Protein:

1.8 g

Cholesterol:

26.5 mg
Keywords: crinkle cookies, chocolate crinkles, chocolate crackle cookies
Enjoy!
This post contains affiliate links.

This post may contain affiliate sales links. Please read my disclosure policy.