Bake Your Day's Chocolate Chip Cookie recipe is such a versatile and customizable recipe! It bakes with perfectly crispy edges and it tastes amazing.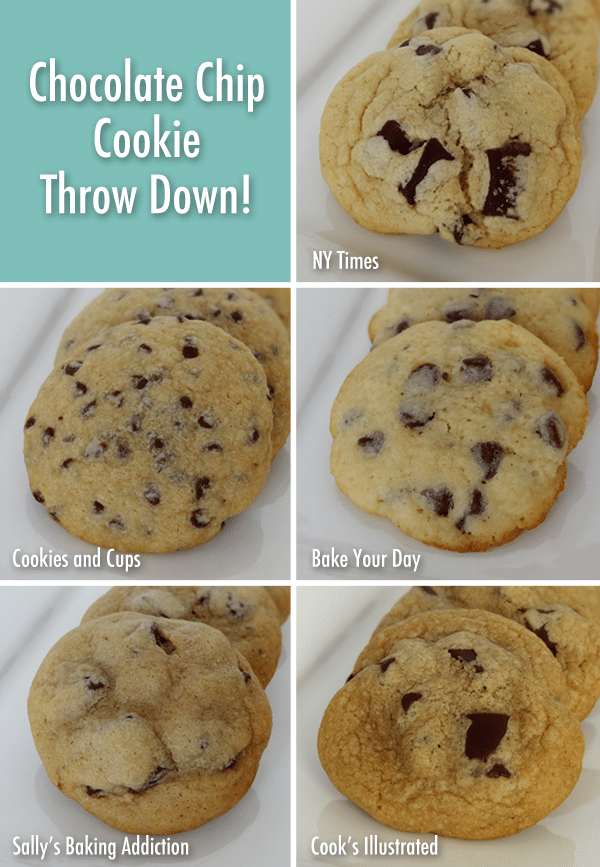 Bake Your Day's Chocolate Chip Cookie
Welcome to day 3 of my journey to find my favorite chocolate chip cookie! If you've been following along then you know that so far we've tried the NY Times chocolate chip cookie and the favorite chocolate chip cookie from Cookies and Cups. Today, we look at a cookie from Bake Your Day.
This addition to the lineup may seem to be odd, given that it's actually a cookie cake recipe with butterscotch chips. However, the original recipe actually says to try it with chocolate chips. And I like it when things are super easy to covert and make little changes to. I also love cookie cakes. I grew up eating them because a chocolate chip cookie is one of my dad's favorite things. I remember when I was a kid he'd often have chocolate chip cookies for breakfast. Clearly I got my sweet tooth from him. 🙂
So ideally, I'd have a fabulous chocolate chip cookie that could also be made as a cookie cake and even allow for substituting different kinds of chocolate chips and still taste great. That is probably the biggest reason I chose to include this recipe. The other reason is it uses cream of tartar, which I had not seen before in a cookie with any kind of chips (of the candy kind, not like potato chips, obv) and was curious to try it.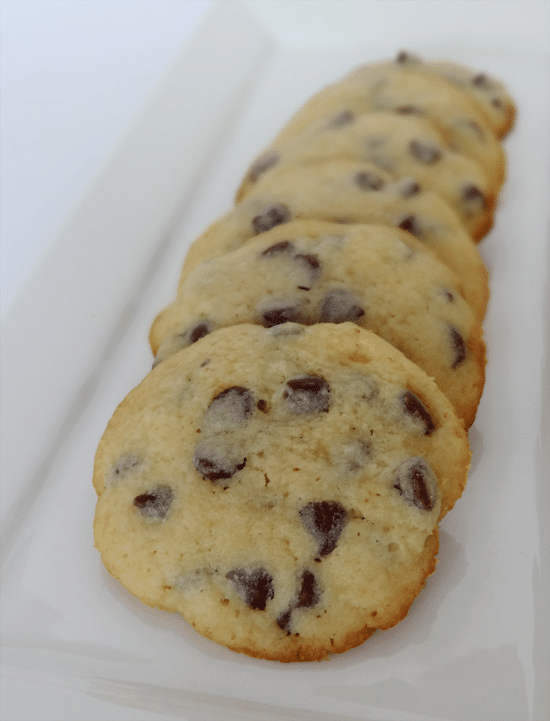 Before I dive into the cookie, I want to share what I learned about what exactly cream of tartar does in a cookie recipe since I so rarely see it. Here's what I found – cream of tartar is mainly used as a substitute for baking powder, which is a combination of cream of tarter and baking soda. Baking soda is a leavening agent that needs to have an acid to activate it. Both baking powder and cream of tarter act as an acid, but baking powder generally has an additional acid that makes for further leavening when the dough is baked. The cookie you most see cream of tarter in is a snickerdoodle and the cream of tarter is apparently what gives a snickerdoodle its distinctive flavor.
Interesting! I've yet to make a snickerdoodle from scratch (though it's on the list) but I do love them. Anything covered in cinnamon and sugar is quite simply awesome in my book. So let's see what we think of cream of tartar in a chocolate chip cookie…
There were differing opinions here. My father-in-law loved it. It was his fave. It was the crunchiest of the cookies we tested, which could be in part due to my cooking time. But it also spread a bit more while baking than the others (which could be good for a cookie cake), even after refrigerating right before putting them in the oven. As a result it had thinner edges that crisped up more, which he loved.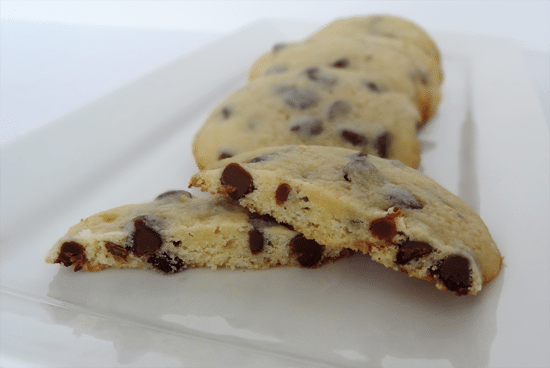 This cookie was also described as being less dense and more cake-like than the other cookies, which makes sense given it's cookie cake origins.
As for the flavor, I can see how the cream of tarter adds something to the flavor of a cookie. This was also the only cookie that had a larger amount of regular sugar than brown sugar. The flavor of it actually reminded my sister-in-law of shortbread. I'm not really familiar with shortbread, so I can't say whether I agree or not.
So there you have it. It was an interesting addition and my father-in-law was a fan. It's crunchier than the others I tested and has an unusual flavor for a chocolate chip cookie. I could certainly see it making a nice, light cookie cake. And other than the cream of tartar, there's no funky ingredients or crazy steps. It's straight forward – which is always a plus for me.
This was certainly a cookie in which I learned from baking – which is awesome! And it totally makes me want to make a snickerdoodle! But that's it for day three. We are halfway there! Tomorrow we look at the cookie from Sally's Baking Addiction.
Print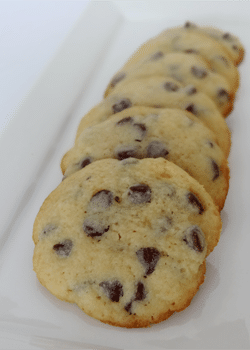 Recipe
Bake Your Day's Chocolate Chip Cookie
Author:

Prep Time:

10 minutes

Cook Time:

9 minutes

Total Time:

19 minutes

Yield:

About 20 Cookies

Category:

Dessert

Method:

Oven

Cuisine:

American
---
Description
Bake Your Day's Chocolate Chip Cookie recipe is such a versatile and customizeable recipe! It bakes with perfectly crispy edges and it tastes amazing.
---
Ingredients
1/2 cup

butter, room temperature

1/4 cup

sugar

1/3 cup

brown sugar

1

egg

1 tsp

vanilla extract

1 1/4 cups

flour

1/2 tsp

salt

1/2 tsp

cream of tartar

1/2 tsp

baking soda

1 cup

chocolate chips
---
Instructions
1. In a small bowl, whisk together the flour, salt, cream of tartar and baking soda. Set aside.
2. Cream the butter and sugars together with a mixer until creamy.
3. Add the egg and vanilla mix until light and fluffy, about 3-4 minutes.
4. With the mixer on low speed, add the dry ingredients and mix until well combined.
5. Stir in the chocolate chips.
6. I refrigerated the dough overnight, though you don't have to.
7. When ready to bake, preheat the oven to 350 degrees.
8. Make balls of dough about 1 -2 tbsp in size and place on a cookie sheet covered with parchment paper.
9. Bake for 9-10 minutes.
10. Remove from oven and let cool for a minute or two, then allow to cool on a cooling rack.
---
Nutrition
Serving Size:

1 Cookie

Calories:

148

Sugar:

11.3 g

Sodium:

94.7 mg

Fat:

8.1 g

Carbohydrates:

18.1 g

Protein:

2 g

Cholesterol:

21.5 mg
Keywords: crispy chocolate chip cookies, easy chocolate chip cookies, easy chocolate chip cookies recipe, homemade chocolate chip cookies, homemade chocolate chip cookies recipe, best chocolate chip cookies
Filed Under:
Recipe modified from Bake Your Day
Enjoy!
This post may contain affiliate sales links. Please read my disclosure policy.