February 9, 2013
Cook's Illustrated Perfect Chocolate Chip Cookie and the Results! {Chocolate Chip Cookie Throw Down! Day 5}
It's finally here! Results day! Can you believe it? All that suspense! Well, the first order of business is the Cook's Illustrated Perfect Chocolate Chip Cookie. I was super curious about this cookie. But the testing actually went down a little differently with this puppy.
For the other four, my sister-in-law was a super rockstar and helped me make the dough so we could knock out the dough making one day and bake them the next. She was as into as I was, which was awesome. However, when it came time to make this one's dough, we were both worn out. We'd purposely left it until the end because it required browning butter, which neither of us had done before and both were not entirely sure we wanted to screw it up. So on this particular day, this cookie actually got scratched from the list.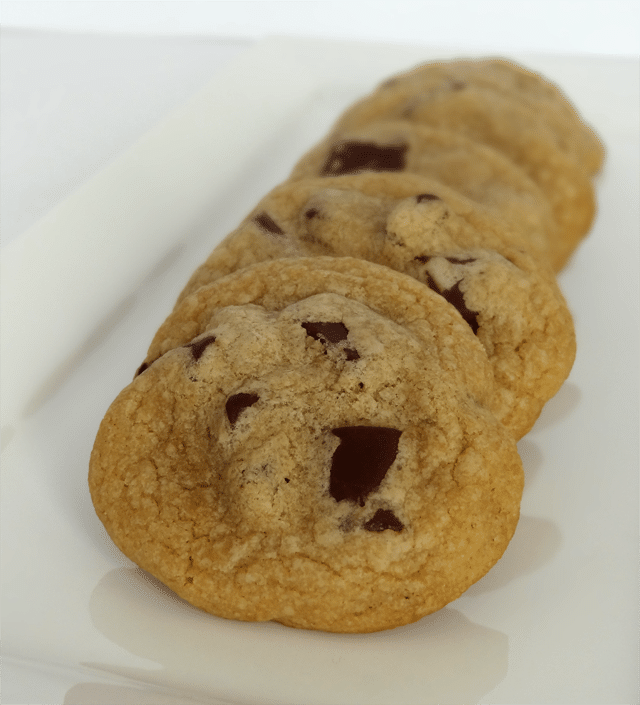 But then we baked the other cookies the next day and did all the tasting and my spirit was renewed. I HAD to know if browned butter really made a difference. And I HAD to be able to do a side by side comparison.
So the next morning I got up before everyone else and made the dough. I was nervous. I did not want to mess up the butter. I actually googled how to brown butter and found this great pictoral, which made me feel better.
People. The aroma of browned butter is simply intoxicating. I wanted to stop right there and bathe in it. OMG! It is a sinfully sweet caramely smell. And I love caramel. But I pushed through the temptation to just drink it with a straw and moved on.
The rest of the recipe is more straightforward but there's a lot of 'mix for this long, wait, mix for that long' – to be honest, for all this browning, mixing and waiting this thing BETTER be the perfect freakin' cookie. My goodness! It's a little much for short patience. I should have turned on some old school NSYNC to jam out to or something, but everyone was asleep. 🙁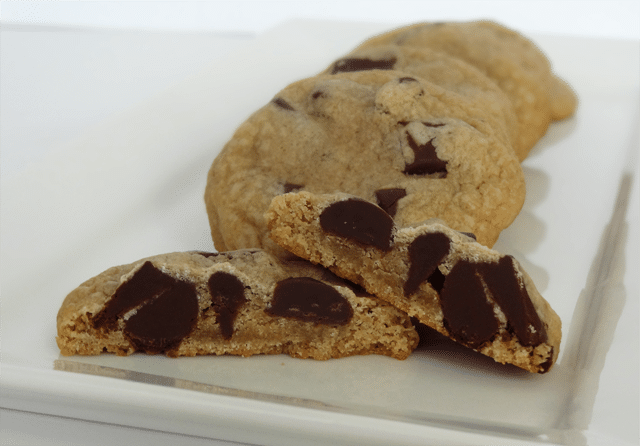 Anywho, I managed to make the dough and bake the cookies. The dough is delicious – no doubt about it. And so are the cookies. Moist, chocolatey, soft and chewy. Just how I like it. And even though they were a little late to the official throw down party, I had my sister-in-law test them with me. They reminded us a heck of a lot of Sally's Baking Addiction's Chocolate Chip Cookie. Like, a lot a lot. Like, why put in all that extra effort for it to be just as tasty as the super quick and easy one from Sally. I could understand wanting to intoxicate yourself with the smell of browned butter – that makes sense. But just stop right there. Cover yourself in it and move on.
This is a great cookie, but for all the work – not my thing. But don't let that discourage you. It really is a great cookie. I'm just lazy. And I'm not ashamed of it either.
Moving on to the final results. I know your excited, so without further ado, here are the rankings. (Keep in mind that the Cook's Illustrated cookie wasn't included in the actual comparison that the whole fam did, but it really is so much like Sally's Baking Addiction so you could pretend they are interchangable in the rankings)

MY OTHER RECIPES
Sister-in-law overall rankings
(likes soft and chewy, not into salty)
1. Sally's Baking Addiction
2. NY Times
3. Bake Your Day
4. Cookies and Cups
Mother-in-law overall rankings
(likes soft and chewy, not into salty)
1. NY Times
2. Sally's Baking Addiction
3. Bak Your Day
4. Cookies and Cups
Father-in-law overall rankings
(into salty, crunchy and smaller chocolate chips – our outlier)
1. Cookies and Cups
2. Bake Your Day
3. NY Times
4. Sally's Baking Addiction
Hubs overall rankings
(likes soft and chewy, not into salty)
1. Sally's Baking Addiction
2. Bake Your Day
3. Cookies and Cups
4. Bake Your Day
My overall rankings
(likes soft and chewy, not into salt)
1. Sally's Baking Addiction (Cook's Illustrated ties for flavor, not so much for method)
2. NY Times
3. Cookies and Cups
4. Bake Your Day
So as you can see, Sally's Baking Addiction won among us quite easily. But we are into soft and chewy, big chunks of chocolate and not so into the salty thing. My father-in-law represented the crowd that likes crunchy, salty and smaller chocolate chunks. Clearly the soft and chewy crowd should go for Sally's, NYT or Cook's Illustrated's cookie. And the crunchy crowd should go for Cookies and Cups or Bake Your Day.
So there you have it! The suspense is over and so is the throw down. 🙁 I hope you had as much fun as I did!!
But wait!! It's not totally over. I took it one step further. You'll have to check back tomorrow to see what I mean. 😉
Cook's Illustrated Perfect Chocolate Chip Cookie
Ingredients
1 3/4 cups flour
1/2 tsp baking soda
14 tbsp unsalted butter
1/2 cup sugar
3/4 cup packed brown sugar
1 tsp salt
2 tsp vanilla extract
1 egg
1 egg yolk
1 1/4 cups chocolate chips or chunks
Instructions
1. In a medium saucepan, brown 10 tbsp butter. (directions on how to do that
here
)
2. Take off heat and cool for 2 minutes. Pour into a large mixing bowl.
3. Combine egg and egg yolk in a measuring cup. Do not beat.
4. Add other 4 tbsp of butter to the browned butter and stir until melted.
5. Add sugar, brown sugar, salt and vanilla extract and mix for 30 seconds.
6. Let the mixture rest for 3 minutes.
7. Mix again for 30 seconds.
8. Let rest for 3 minutes.
9. Repeat the process until mixture is thick and pale.
10. Whisk together baking soda and flour.
11. Fold the baking soda and flour into the butter and sugar mixture.
12. Add chocolate chips.
13. Preheat oven to 35 degrees.
14. Add balls of about 1-2 tbsp to a parchment lined baking sheet.
15. Bake for 8-10 minutes.
16. Cool for about a minute before removing to a cooling rack to completely cool.
https://www.lifeloveandsugar.com/2013/02/09/cooks-illustrated-perfect-chocolate-chip-cookie-and-the-results-chocolate-chip-cookie-throw-down-day-5/
Enjoy!