A lot of people claim their chocolate chip cookie recipe is the best. I'm here to test them out for you and compare the famous New York Times Chocolate Chip Cookies to some other popular recipes on the internet!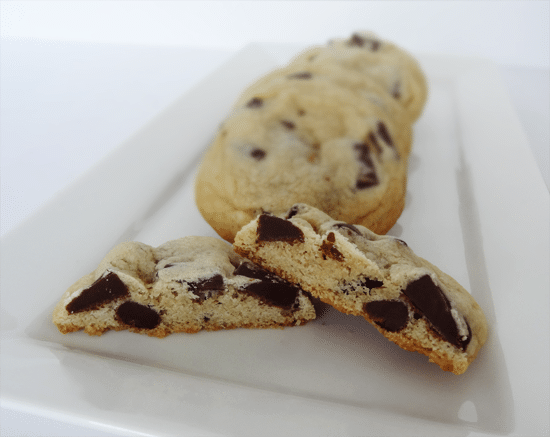 This isn't just any comparison – this is a throw down! 🙂 It's serious stuff. You see so many chocolate chip cookie recipes out there – all claiming to the best. But they can't all be the best. Right?
So I had my own little throw down. I took a couple of the popular recipes that float around pintrest, along with a couple I thought had interesting things goin' on as well as one from one of my favorite blogs – Sally's Baking Addiction – and compared them all. Just for you. So you don't have to wonder anymore which one is actually the BEST?!?
It's important to note that not everyone has the same idea of what makes a cookie awesome. Some like soft, some crunchy. Some like lots of chocolate, some like a little. Some like a little salt, some don't. So to get more opinions than just my own (though mine matters the most right? 😉 ), I had a taste test while my in-laws were in town over the holidays. That means there are 5 opinions going into the comments for each cookie.
I'll note here that even though some recipes call for larger cookies, I made them all about the same, average cookie size. Also, regardless of whether clearly stated or not, they were all refrigerated overnight
So which ones did I test?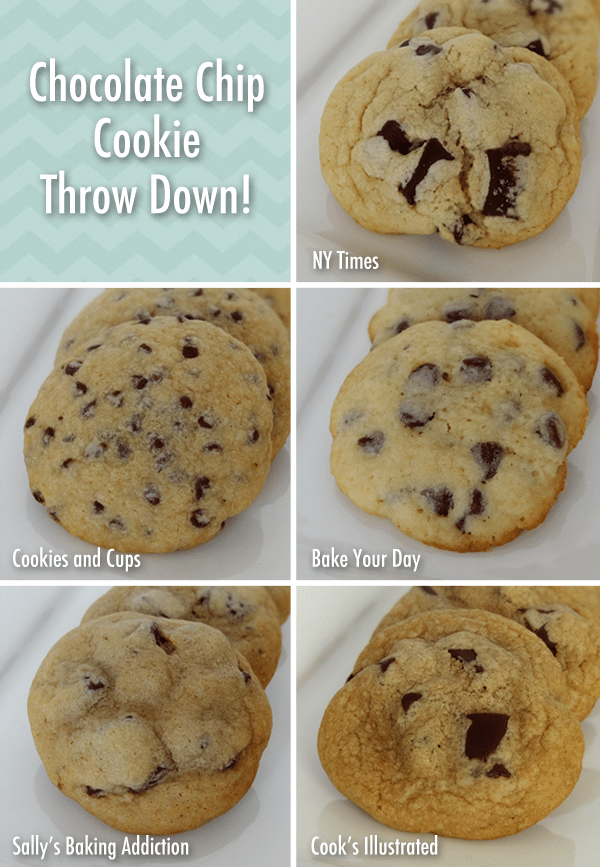 New York Times Chocolate Chip Cookie – this one probably rotates through everyone's pintrest feed about once a week, right? I'd image this is the most widely pinned chocolate chip cookie recipe. Therefore, it must be included!
My Favorite Chocolate Chip Cookie from Cookies and Cups – I chose this one in part because I've seen it around pintrest, but also because I'm a fan of the blog. But probably most importantly, I liked the idea of comparing a recipe that used mini chocolate chips and coarse salt. In her description of the cookie, she says that using the mini chips gives even more chocolate in every bite. So I wondered – is that true? Should I be using mini chips? We shall see!
Butterscotch Chip Cookie Cake by Bake your Day – This cookie may seem an odd choice, and I'll give it to you. It kind of is given that it's actually a cookie cake recipe and calls for butterscotch chips, not chocolate. But I like the idea of being able to make my regular chocolate chip cookie into a larger cookie cake if I want without having to make alterations. Let's keep it simple people! So I thought if I can take what looks to be a good cookie cake and get a good chocolate chip cookie out of it, why not try it? So I did!
THE Chocolate Chip Cookie by Sally's Baking Addiction – I believe this one also goes through my pintrest feed quite a bit as well. And if it's not her original chocolate chip cookies, it's one of her other cookies. Let's face it – she has some BA cookies. And other stuff too. So this one was an easy addition to the throw down.
Cooks Illustrated Perfect Chocolate Chip Cookie – These babies also rotate around pintrest and let's face it – if anyone knows baking it's the folks at Cook's Illustrated. Plus, it's got browned butter in it. I've been wondering if browned butter really makes a difference. Truth be told, I was a bit terrified of these since I'd never browned butter before, but it turned into an intoxicating experience. More on that later.
SO BRING IT ON CHOCOLATE CHIP COOKIES! We are ready for you! It's time to throw down, baby!
First up – I'm going with the New York Times Chocolate Chip Cookie.
This was a solid chocolate chip cookie. I can see why it gets a lot of people excited. The big chunks of chocolate got most of us quite excited. Who doesn't love more chocolate in every bite?? This cookie certainly delivers that.
It's definitely a moist cookie. Soft and chewy, just like I like. The taste and texture are also good. Though for most of us, it didn't take the number one spot. It was either in second or third place for all but our outlier…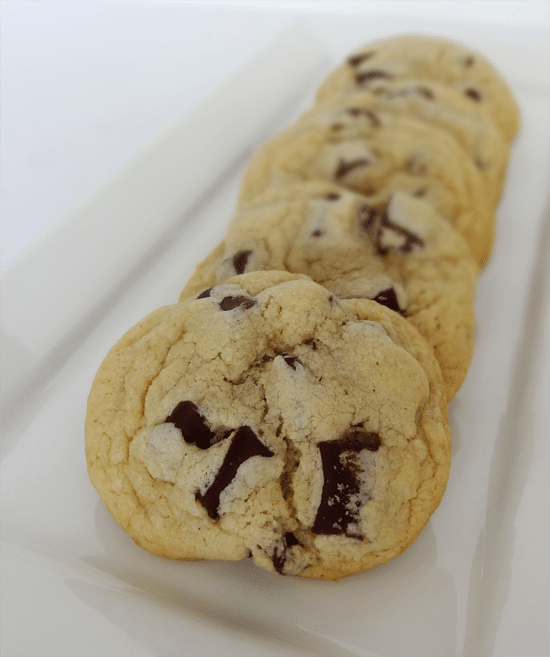 The one outlier was my father-in-law. He prefers a crunchier cookie with smaller amounts of chocolate (what?!?). So this one ranked a little lower on his list given its softer and chewier texture and large chunks of chocolate.
The other thing to note about this cookie is that while it's tasty, moist and chocolatey, it uses cake and bread flour.
I make note of that because although it's normal for me to have all purpose flour and cake flour in my pantry, I had to buy bread flour specifically for this cookie. For me, the perfect cookie is one that has more common ingredients that I most likely have in the pantry. The use of bread flour knocks it down a notch for me.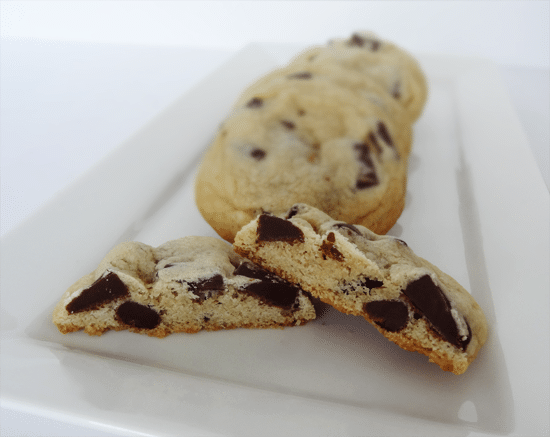 That being said, I've read of other folks liking bread flour in their cookies, so don't let that discourage you if you normally have it handy or just like it.
One other note – the directions call for sprinkling a little bit of salt on the cookie before baking. I forgot to do that. Whoops! However, I think that was for the best for our crowd. With the exception of my father-in-law – who likes salt – the rest of us did not typically prefer the saltier cookies.
Make sure to check back tomorrow! I'll be revealing our thoughts on the Cookies and Cups Chocolate Chip Cookie!
Print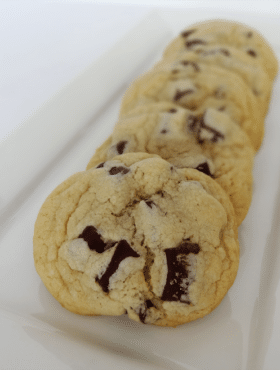 Recipe
Author:

Prep Time:

20 minutes

Cook Time:

20 minutes

Total Time:

24 hours 40 minutes

Yield:

24

Category:

Dessert

Method:

Oven

Cuisine:

American
---
Description
A lot of people claim their chocolate chip cookie recipe is the best. I'm here to test them out for you and compare the famous New York Times Chocolate Chip Cookies to some other popular recipes on the internet!
---
Ingredients
2 cups

minus 2 tbsp of cake flour

1 2/3 cups

of bread flour

1 1/4 tsp

baking soda

1 1/2 tsp

baking powder

1 1/2 tsp

salt

2 1/2

sticks (1 1/4 cups) unsalted butter

1 1/4 cups

light brown sugar

1 cup

plus 2 tbsp sugar

2

eggs

2 tsp

vanilla extract

1 1/4

pounds bittersweet chocolate disks (I used chocolate chunks)
Sea salt for sprinkling
---
Instructions
1. Sift flours, baking soda, baking powder and salt into a bowl and set aside.
2. Cream butter and sugar together until light and fluffy, about 5 minutes.
3. Add eggs, one at a time. Mix well after each addition.
4. Stir in the vanilla.
5. Add dry ingredients and mix until combined.
6. Add chocolate chips and mix without breaking them.
7. Wrap in plastic wrap and refrigerate for 24 to 36 hours.
8. When ready to bake, preheat oven to 350 degrees. Line a cookie sheet with parchment paper.
9. Scoop 6 3.5 oz mounds of dough onto the cookie sheet. Sprinkle lightly with sea salt and bake until golden, but still soft, 18 to 20 minutes. (To make smaller cookies, as I did, make balls of dough about 1-2 tbsp in size and bake 8-10 minutes. I also did not use the sea salt.)
10. Transfer sheet to wire rack for 10 minutes, then remove and allow to cool. (For the smaller cookies, I removed the cookies from the cookie sheet after only a couple minutes.)
---
Nutrition
Serving Size:

1 Cookie

Calories:

347

Sugar:

29.3 g

Sodium:

318.2 mg

Fat:

17 g

Carbohydrates:

47.1 g

Protein:

4.4 g

Cholesterol:

40.8 mg
Keywords: new york times chocolate chip cookies, best chocolate chip cookies, best chocolate chip cookie recipe, easy cookie recipes, best easy cookie recipes, how to make chocolate chip cookies from scratch
Filed Under:
Enjoy!
This post may contain affiliate sales links. Please read my disclosure policy.