October 29, 2014
Anise Licorice Cupcakes
I sure hope you're a licorice lover because these cupcakes will rock your socks off! It's all licorice, all the time with these babies. And aren't they so cute with the little licorice gummy bear on top? They almost didn't last long enough to make it on top of the cupcakes.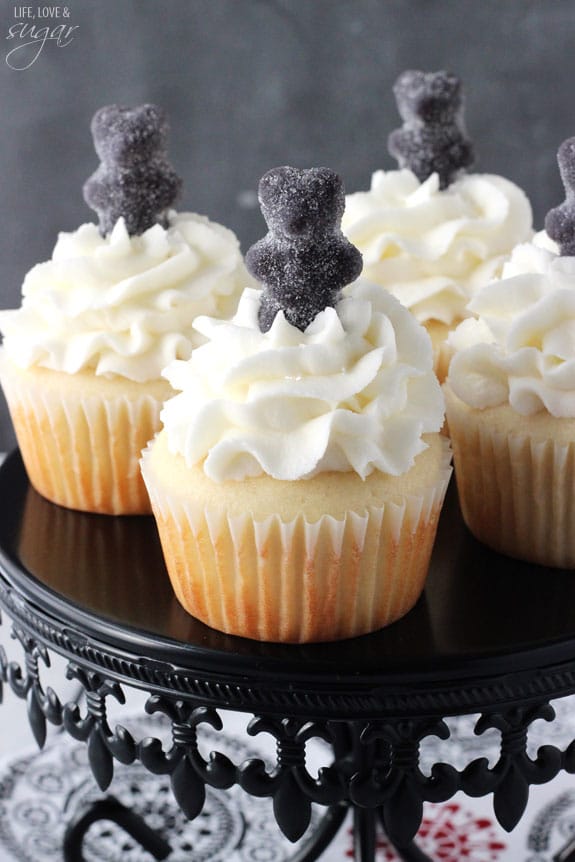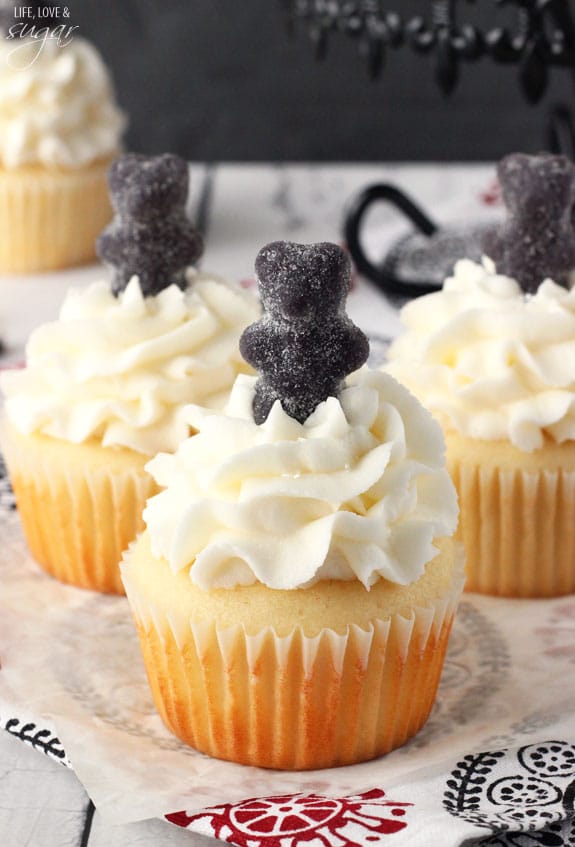 So while not everyone is a licorice fan, our family definitely loves it. I didn't like it as a kid, but now it's easily one of my faves.
Have you ever had the licorice candy mix? The one with little pieces that are like Good N Plenty, with the red, black and white pieces, and some pieces that are covered in sprinkles? My dad has been a lover of that mix for forever.
He used to always have some hiding in his desk drawers in his home office. When I lived at home and had a craving for it, I'd go looking. Sometimes it was trying to hide underneath envelopes or papers or something. But you can't hide sweets from me. No way! I will find them. Then I will eat it!
You've read my stories about us hiding sweets from each other before, right? My mom, dad and brother – we all did it. When we had something we liked and didn't want to share, it had to be hidden or it would be eaten before you could say "Hey! Where did my cupcake go?"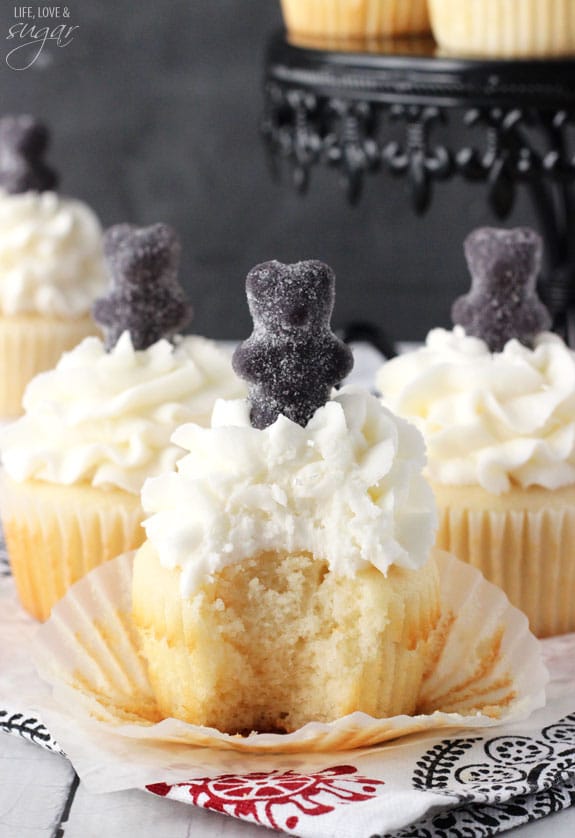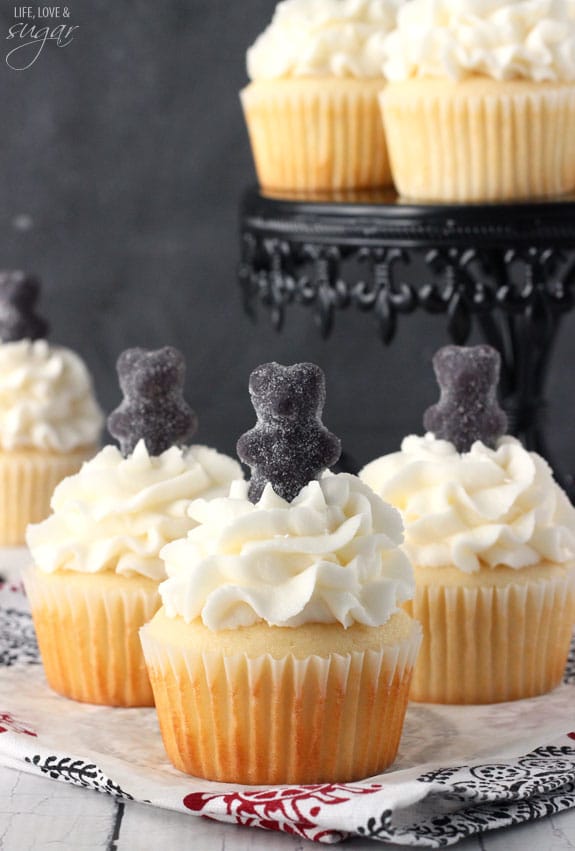 I started filling my parents' Christmas stockings back in college and I pretty much always include a bag of that stuff in my dad's. Then I steal half of it. Win-win for me. 🙂
So I've been excited to try a licorice flavored cupcake for some time now.
The licorice flavor comes from the anise extract. Anise is actually a plant and it's used to make things like black jelly beans. Who knew?! I had always assumed licorice was some manufactured flavor but it actually comes from a plant. Crazy!
For these cupcakes, I started with my usual cupcake and added the anise flavor. The icing also has anise, so this cupcake is licorice city!
The cute little bears sitting on top are actually a CVS brand gummy bear. I saw them the other day and couldn't walk away without them. I knew they'd be perfect on top of my cupcake.
And while the mix might seem strange, I actually love the frilly, girly icing and potentially scary cake stand with the not-so-sophisticated bears. It's like bears got a makeover and attended a super chic black and white event. You know, cuz why not? Plus, Halloween is a couple days away and everyone should get to dress up and go to a party. 🙂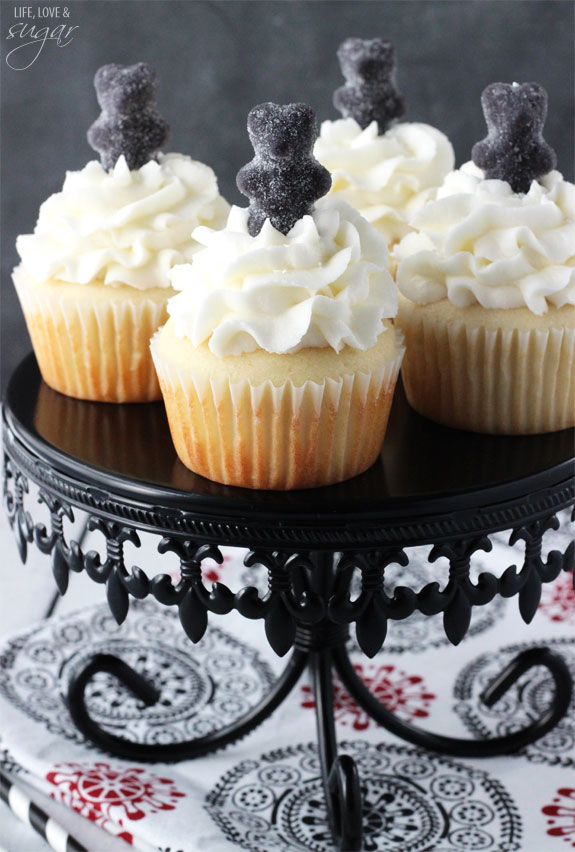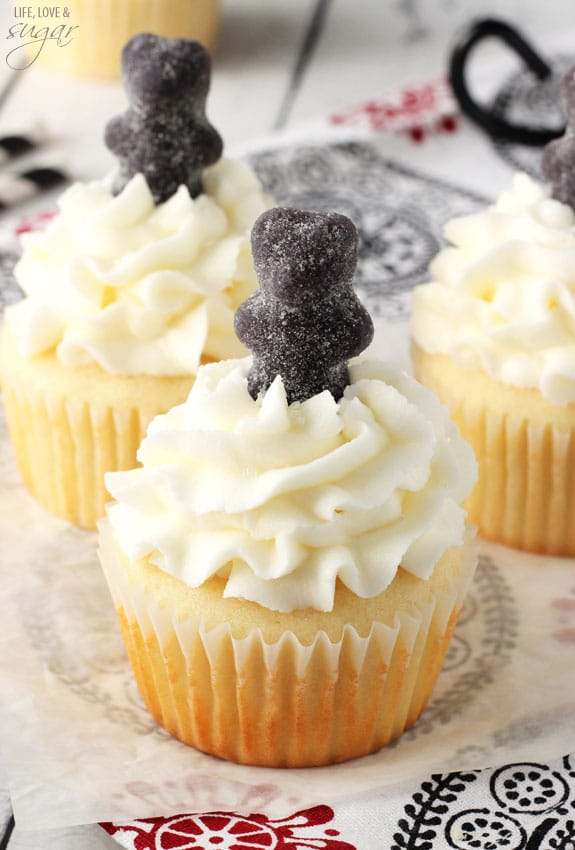 Anise Licorice Cupcakes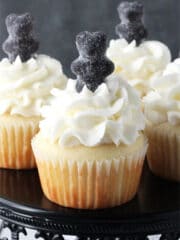 Yield:

12

-

14

Cupcakes

1

x
Category:

Dessert

Method:

Oven

Cuisine:

American
Ingredients
CUPCAKES
1 2/3 cup

s (240g) all purpose flour

1 cup

(200g) sugar

1/4 tsp

baking soda

1 tsp

baking powder

3/4 cup

salted butter (170g), room temperature

3

egg whites

2 tsp

anise extract

1/2 cup

(120ml) sour cream

1/2 cup

(120ml) milk
ICING
1/2 cup

butter

1/2 cup

shortening

4 cup

s powdered sugar

3 tsp

anise extract

3

–

4

tbsp water or milk
Instructions
CUPCAKES:
1. Preheat oven to 350 degrees.
2. Whisk together flour, sugar, baking soda and baking powder in a large mixing bowl.
3. Add butter, egg whites, anise extract, sour cream and milk and mix on medium speed just until smooth. Do not over mix.
4. Fill cupcake liners a little more than half way.
5. Bake 18-20 minutes.
6. Allow to cool for 1-2 minutes, then remove to cooling rack to finish cooling.
ICING:
1. Combine butter and shortening and mix until smooth.
2. Add 2 cups of powdered sugar and mix until smooth.
3. Add anise extract extract and 1-2 tbsp of water or cream and mix until smooth.
4. Add remaining powdered sugar and mix until smooth.
5. Add a little more water or cream until desired consistency is reached.
6. Top cupcakes with icing.
Notes
You may notice little bits of butter in the batter, but that's ok. They will melt into the cupcake as they bake.
Enjoy!

Moist and Fluffy Vanilla Cupcakes