Reeses Peanut Butter Chocolate Cookie Cups
Happy Halloween! I figured I'd celebrate with a candy filled cookie today, so I'm sharing these delicious Reeses Peanut Butter Chocolate Cookie Cups! Yay for candy and costumes!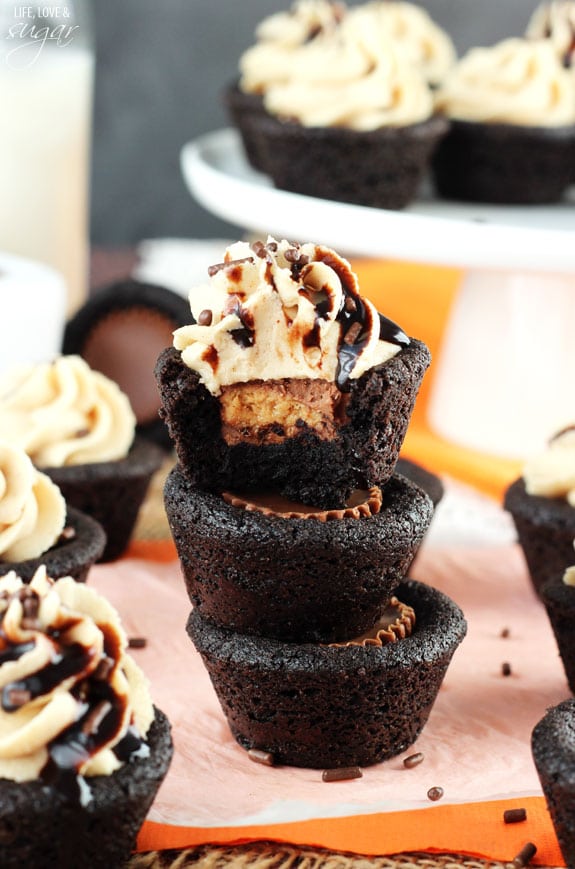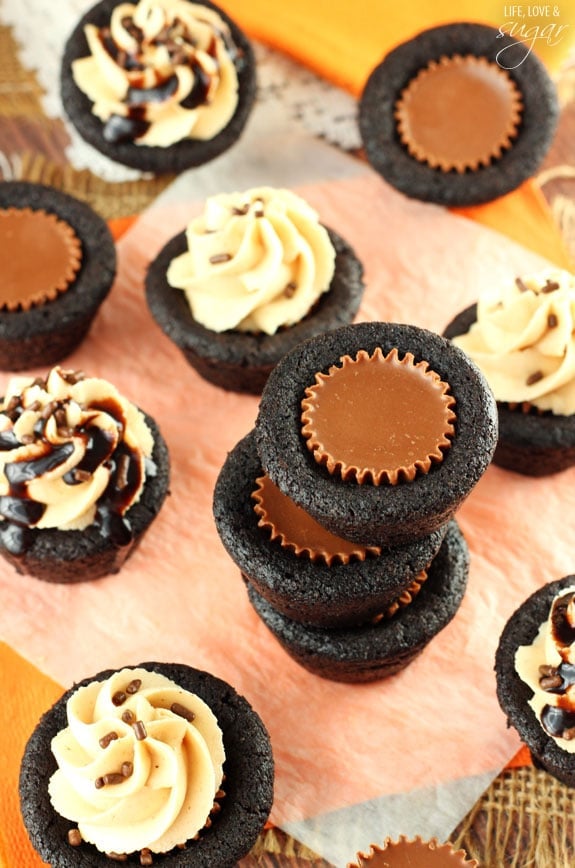 I don't really remember too many of the costumes I wore as a kid. I think I was a witch a few times. Probably my favorite costume (that I can remember at least – how old am I? what happened to my memory?) was in college when I dressed up as Michael Jackson. I love him. Best performer of all time.
I assume most college towns are this way, but in Chapel Hill (go heels!) the main street going through campus was always JAM PACKED on Halloween. Everyone was dressed up and milling around checking out the costumes. There were usually some pretty funny and original ones.
I've always been a big Michael Jackson fan. I remember being in third grade at after school with my boom box and barbie dolls jamming out to his Dangerous cd. It truly is one of life's big bummers that I'll never get to see him in concert.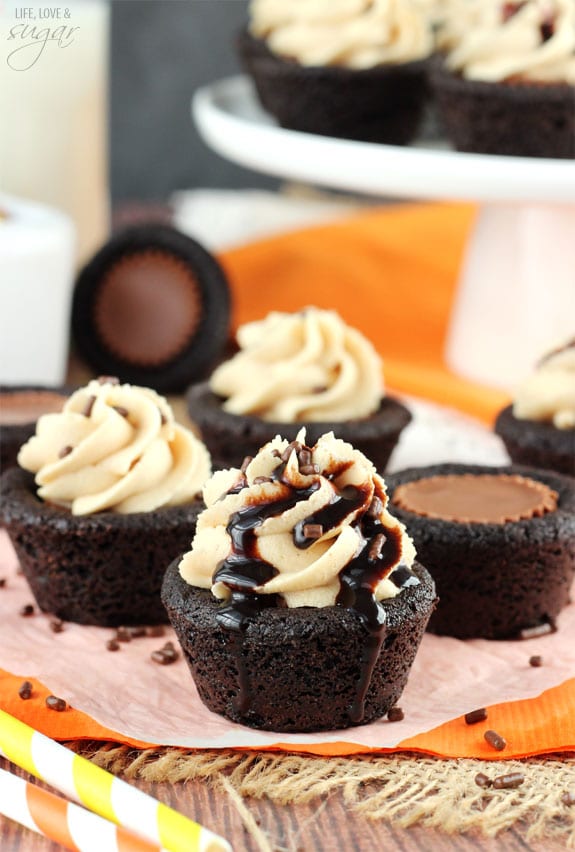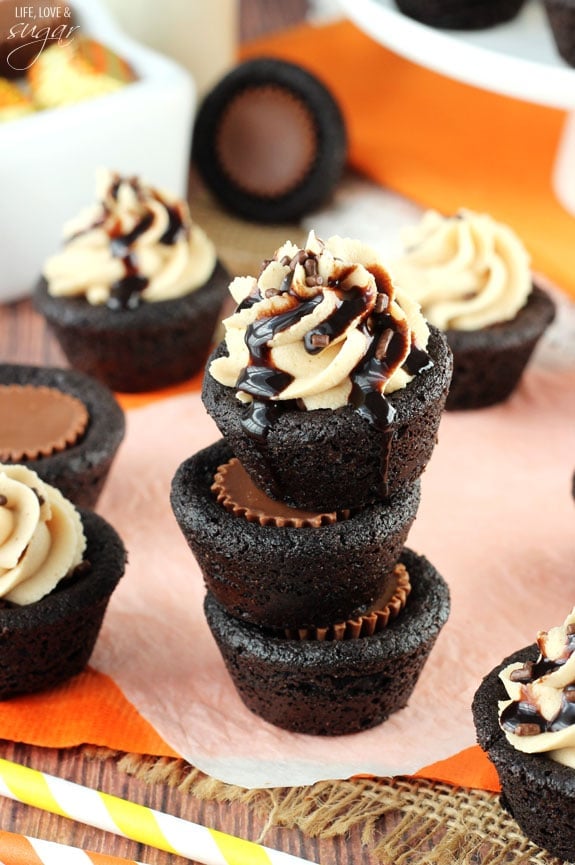 But I do think I made a pretty good version of him for Halloween. Walking around campus that year everyone knew who I was supposed to be, which to me meant I had totally succeeded.
There are so many looks I could've gone with, but I went with his look from one of my very favorite performances – his 1995 VMA performance, when he performs one of my favorites, 'Dangerous' (about halfway through the performance). It seemed doable. So many of his costumes are over-the-top and awesome, but hard to replicate. I added the sparkly glove because duh. You can't be Michael Jackson without the glove.
I used to do a lot of sewing, so I actually made the glove myself. I still have the glove and hat. They've been used a number of times as kind of a last resort costume when we need one. The hub's loves him too, so he's used it a number of times, this year included.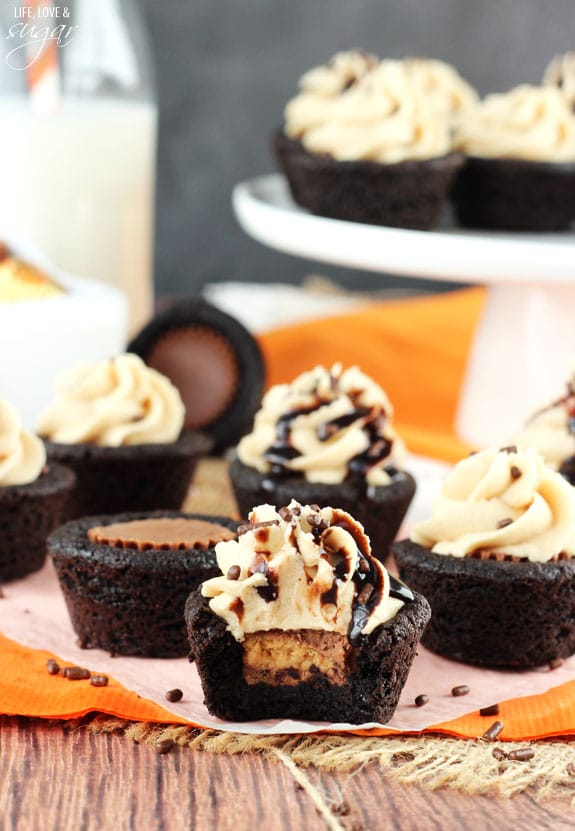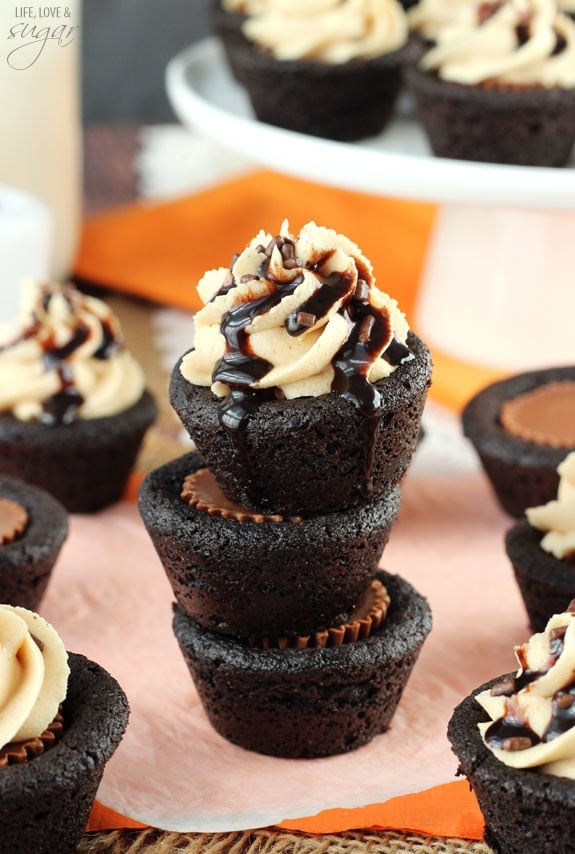 That year was the only year I really ever remember putting much effort into a costume, so I'm quite proud of it.
This year, since we don't have kids yet, we won't be going around trick or treating, but we will be passing out candy. I've always thought the best part of Halloween was the candy, so I love getting a wide variety and letting kids pick their favorite.
Reese's are definitely a favorite around here, so I figured why not stuff that delicious little sucker into a cookie? You can dress it up if you want with some icing and maybe some chocolate sauce on top, or you can leave it naked. Your call. I personally love icing and will put it on just about anything. 🙂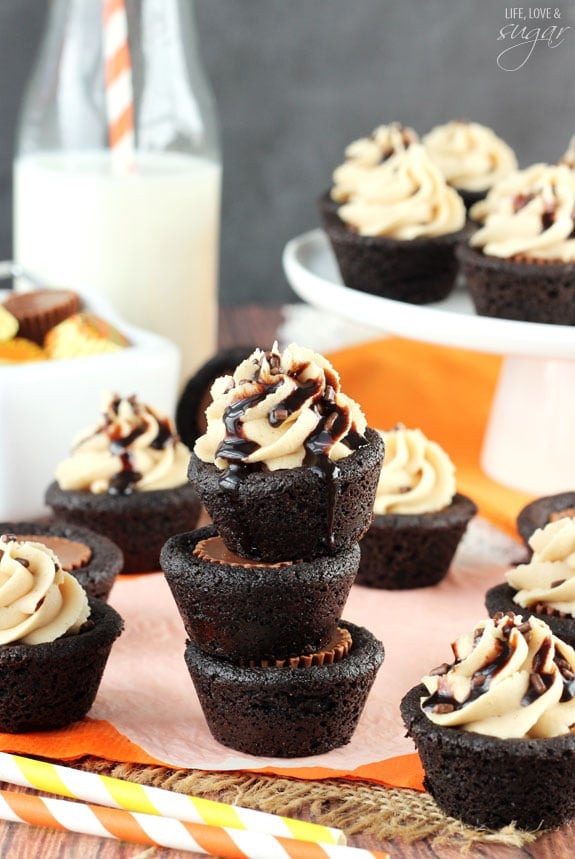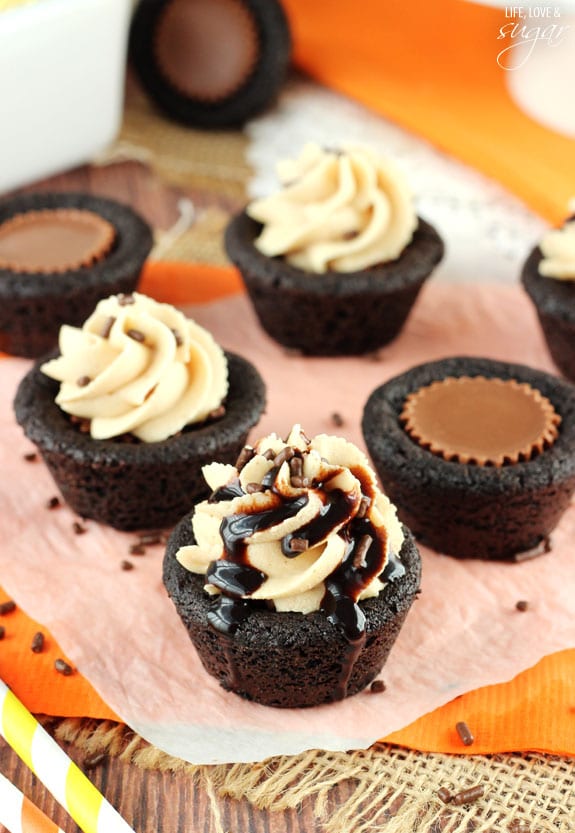 You might also like:
Reeses Peanut Butter Chocolate Chip Cookie Cake
Mini Reeses Peanut Butter Cheesecakes
Peanut Butter Chocolate Buckeye Cupcakes
Peanut Butter Cookie Dough Brownie Layer Cake
Nutella Chocolate Cheesecake Cookie Cups
Caramel Peanut Butter Cups


Reeses Peanut Butter Chocolate Cookie Cups
Yield:

36

-

40

Cookie Cups

1

x
Category:

Dessert

Method:

Oven

Cuisine:

American
Ingredients
CHOCOLATE COOKIE CUPS 
3/4 cup

butter, room temperature

1 cup

sugar

1

egg

1 tsp

vanilla extract

1 1/4 cup

s all purpose flour

1/2 cup

cocoa

1 tsp

baking soda

2 tsp

cornstarch

36

–

40

mini Reeses
PEANUT BUTTER ICING
1/4 cup

butter

1/4

shortening

1/4 cup

peanut butter

2 cup

s powdered sugar
Instructions
1. Preheat oven to 350 degrees.
3. Add egg and vanilla extract and mix until well combined.
4. Add dry ingredients and mix thoroughly. dough will be thick.
5. Grease a mini muffin tin.
6. Make balls of about 2 large tsp in size and press into the bottom of each mini muffin cup. Press the center down just a bit to make an indention, where you'll add the reeses later. You want each cup to only be about 3/4 full.
7. Bake at 350 degrees for 8 minutes. While cookies are baking, unwrap the mini reeses.
8. Remove cookies from oven (the centers may look a little undone, but they will cook more as they sit) and press a reeses into the center of each of the cookie cups.
9. Allow to cool for 3-4 minutes in the muffin tin.
10. Remove cookies to a cooling rack to finish cooling.
11. To make the icing, beat the shortening and butter together until smooth.
12. Add the peanut butter and mix until smooth.
13. Slowly add the powdered sugar and mix until smooth.
14. Pipe icing onto cooled cookie cups.
Enjoy!