This post may contain affiliate sales links. Please read my disclosure policy.
These Strawberry Shortcake Popsicles are easy to make and SO good! With layers of delicious strawberry + milky vanilla filled with shortbread, it's truly like eating strawberry shortcake in popsicle form!
This post is sponsored by Walkers Shortbread, but all opinions are my own.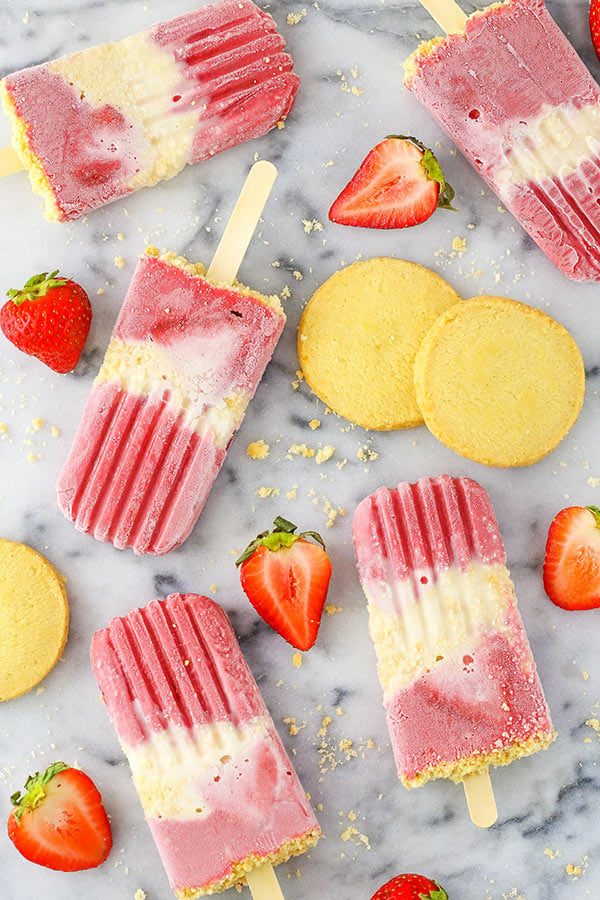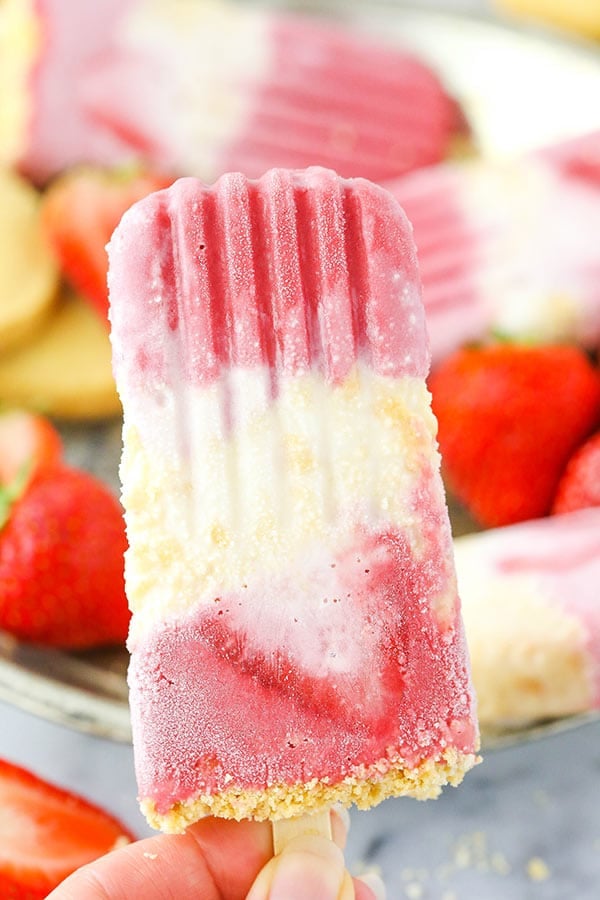 Why Strawberry Shortcake Popsicles?
There are so many things to love about these popsicles. First of all, they are nice and cold and perfect for summer. Then, they are full of fresh strawberries, which are so delicious right now. Between about 6 popsicles, there are about 2 full pounds of strawberries. That totally makes these super healthy! 🙂
Plus, the middle layer is full of buttery and delicious Walkers Shortbread pieces that give these popsicles a super fun texture and really makes them taste just like strawberry shortbread. The sweetened vanilla milk is like the whipped cream in strawberry shortcake, and the buttery cookies soften just enough that it's like biting into cake. I could probably eat an entire popsicle with just that layer – it's that good and fun to eat.
How to Make Strawberry Shortcake Popsicles
So let's talk a little about how to put these together. While I love a good icy popsicle, I really wanted these to have a more creamy consistency to them. In my mind, a popsicle modeled after cake should definitely be on the creamy side.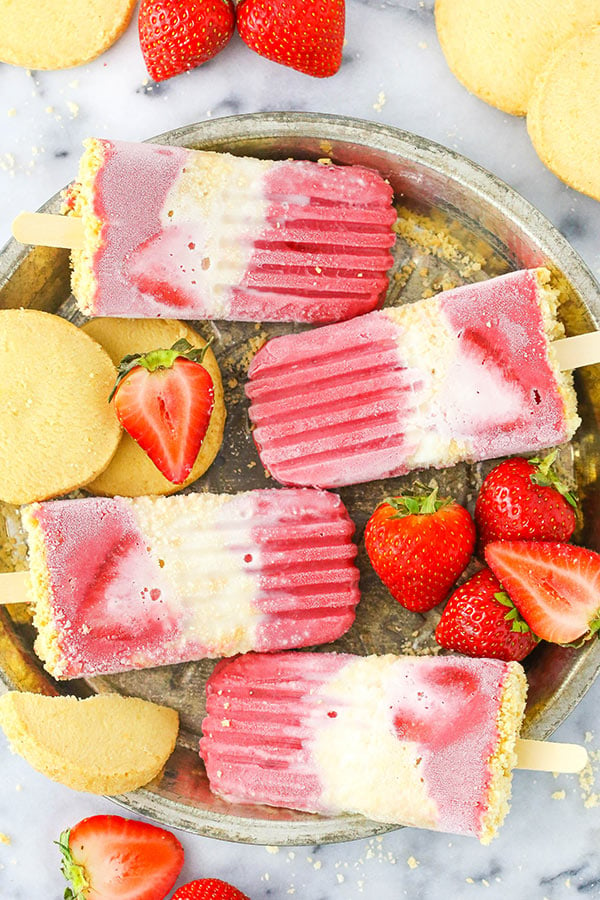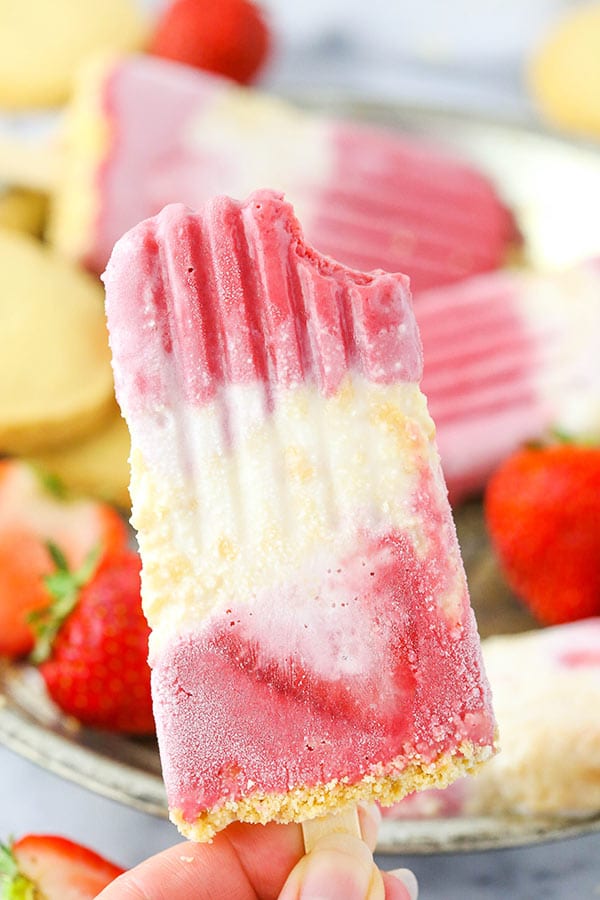 That being the case, milk is a big part of these popsicles. To get started, combine the milk and sugar and cook over the stove until the sugar is melted. Have you ever tasted milk with sugar melted in it? It's amazing. Just sweet milk. So good. 🙂 Set that aside to cool while you work with the strawberries.
For the strawberries, you'll want to puree them in a food processor until smooth and then cook the puree over the stove, like with the milk. The goal here is to reduce the puree by half. Cooking it will reduce the water content and thicken it, which will help us not have such an icy pop, and it'll make the strawberry flavor twice as concentrated. Both are important and help make these strawberry layers ah-maz-ing.
To make the strawberry layers even better, a little of the milk mixture is added. It adds some of that milky quality to it. Love.
Some vanilla extract is added to the remaining milk mixture, then it's time for layering. Start by adding a few slices of strawberry to the mold, then some of the strawberry mixture to fill the popsicle mold about 1/3 full. Set it in the freezer to freeze for about an hour.
When you're ready for the second layer, grab your milk mixture. Crumble up 3-4 shortbread cookies and put the crumbs into the milk. You don't need to grind the cookies down a ton, I just used my fingers. You just need the pieces to be small enough that they fill in the molds nicely.
Add the milk mixture to the pops, so that they are about 2/3 full now. Add a popsicle stick to each mold, making sure that the stick goes down well into the strawberry layer as well. When you go to pull the pops out of the molds, you'll need to stick to be well into each layer for them all to pull out of the mold nicely.
Freeze for about another hour, then add the remaining strawberry layer. Top it off with more crumbled pieces of shortbread, then freeze until firm 4-5 hours.
Seriously, I wish you could taste these popsicles through the screen. They really do taste just like you're eating strawberry shortcake. The strawberry layer is definitely fruity and full of strawberry flavor, but has a light milky quality to it. The vanilla shortbread layer is to die for. Together they make one awesome popsicle that I have no doubt I will be making again ASAP. These are easily a new favorite!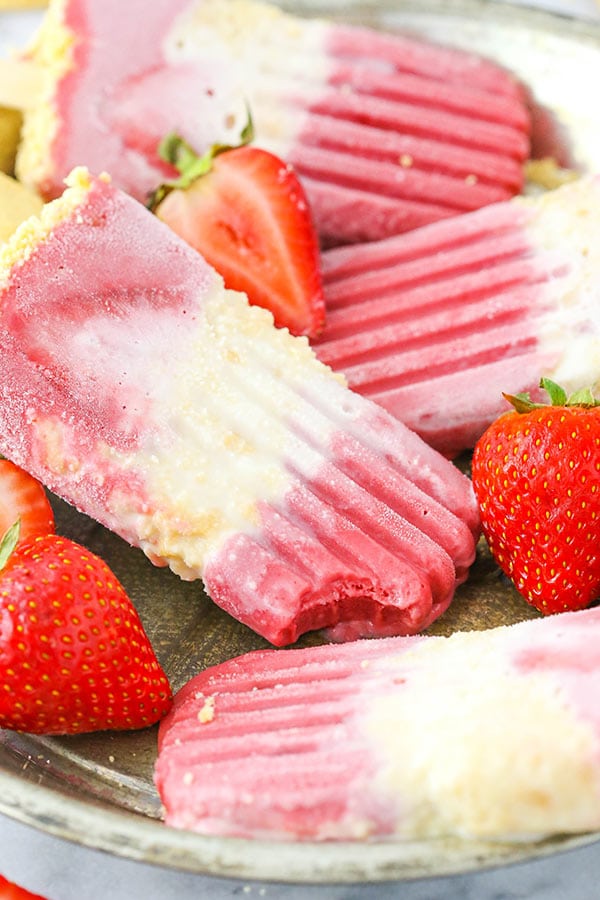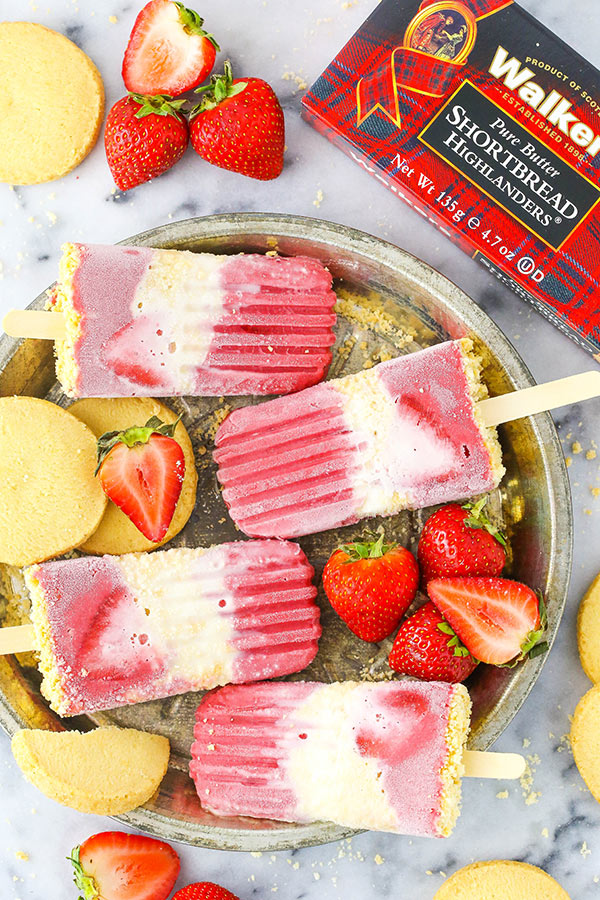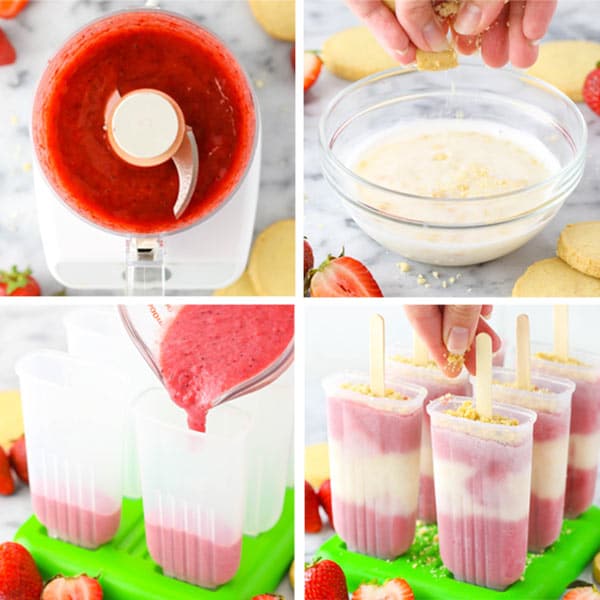 Print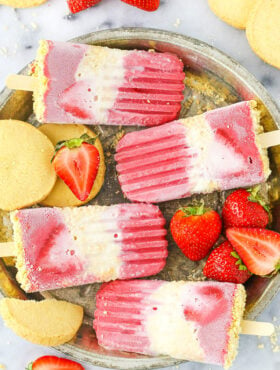 Recipe
Strawberry Shortcake Popsicles
Author:

Prep Time:

6-7 hours (including freezing time)

Cook Time:

30 minutes

Total Time:

6-7 hours and 30 minutes

Yield:

6 Popsicles

Category:

Dessert

Method:

Stove

Cuisine:

American
---
Description
Strawberry Shortcake Popsicles so easy & SO good! Layers of delicious strawberry + milky vanilla with shortbread. Strawberry shortcake in popsicle form!
---
Ingredients
1 cup

(240ml) milk

1/2 cup

(

104g

) sugar

2 cups

(480ml) strawberry puree

1/2 tsp

vanilla extract

4

–

5

strawberries, sliced

1.7 oz

package Walkers Shortbread Highlanders
---
Instructions
1. Add the milk and sugar to a medium-sized saucepan and cook over medium heat, stirring regularly, until the sugar is dissolved. Set aside to cool.
2. Add the strawberry puree to a medium sized saucepan over medium heat and cook until reduced by half, to about 1 cup. The mixture may come to a light boil, but you don't really want it to start boiling a lot.
3. Remove the strawberry mixture from the heat and add 3/4 cup of the milk mixture and stir to combine. Set aside.
4. Add the vanilla extract to the remaining milk and stir to combine. Set aside.
5. Add a couple slices of strawberries to each popsicle mold, pressing them against the insides of the mold.
6. Add some of the strawberry mixture to the bottom of the popsicle molds, so they are about 1/3 full. Freeze for about 1 hour.
7. Crumble 3-4 shortbread cookies and add the shortbread crumbles to the milk mixture. You want to be sure that the crumbled shortbread is in small enough pieces that they can fit into the popsicle molds.
8. Divide the milk mixture among the popsicle molds so that each mold is now about 2/3 full.
9. Place a popsicle stick into each popsicle, making sure the stick goes down into the bottom strawberry layer at least about half way. This will be important for when you remove the pops from the mold later. Freeze the pops for about another hour.
10. Divide the remaining strawberry mixture among the popsicles, then sprinkle some crumbled shortbread on top.
11. Freeze popsicles until firm, 4-6 hours or overnight.
12. To remove the popsicles from the mold, put the mold in room temperature water for several seconds and then wiggle the popsicle free. Enjoy immediately or store in the freezer in a sandwich bag. I'd suggest wrapping the popsicle in some parchment paper so they don't stick to the bag.
---
Notes
To get 2 cups of strawberry puree, I had about 3 1/2 cups of strawberries that were all cut in half.
Nutrition
Serving Size:

1 Popsicle

Calories:

269

Sugar:

44.6 g

Sodium:

57.6 mg

Fat:

4.3 g

Carbohydrates:

54.6 g

Protein:

5.9 g

Cholesterol:

6.3 mg
Keywords: summer strawberry desserts, strawberry dessert ideas, strawberry popsicles, summer desserts
Filed Under:
Enjoy!