These Strawberry Napoleons are a classic dessert made with puff pastry, pastry cream and fresh strawberries! A simple dessert that looks great and is so fresh and tasty!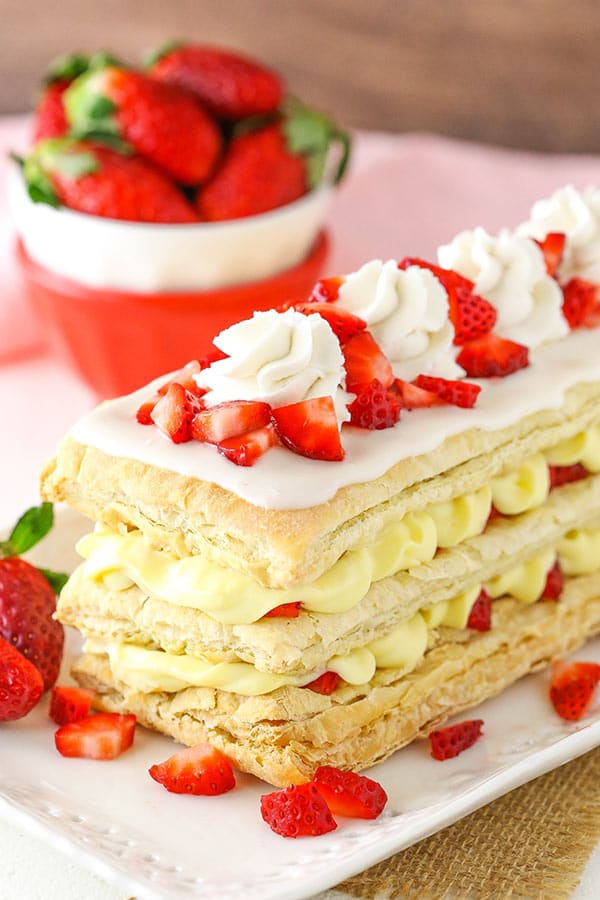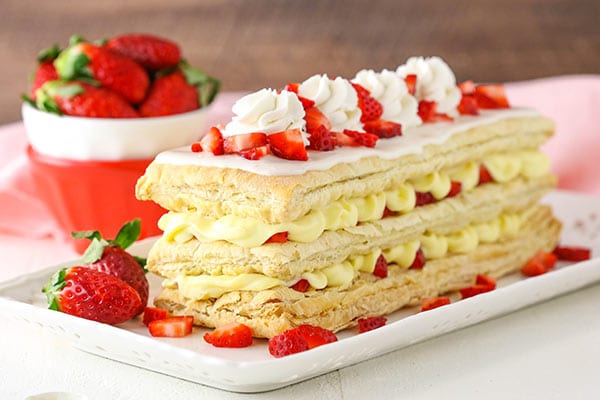 So bringing home newborns for the first time is definitely a learning curve. One of the best things I did before the twins' arrival was to read some baby books so I wasn't totally clueless. But even so, there's a lot to figure out and if you don't get it right, there's a screaming baby (or two) who let you know.
There was a pretty funny moment the night we brought Brooks home. He needed to have his outfit changed and we were downstairs. Not knowing exactly how we'd want to have things set up after we got home, we didn't have any clothes downstairs to change him into even though we were changing him down stairs.
So the hubs ran upstairs to save the day and bring down a cute outfit. He comes down the stairs with a big smile on his face – so proud of the onesie he picked out (Go Panthers!). Sadly, he wasn't used to having to look at the sizes of baby clothes yet and he'd brought down a 6 month sized onesie. For a somewhat preemie baby, a 6 month size was going to swallow him so we had to pick another one out. 🙂 Lesson learned.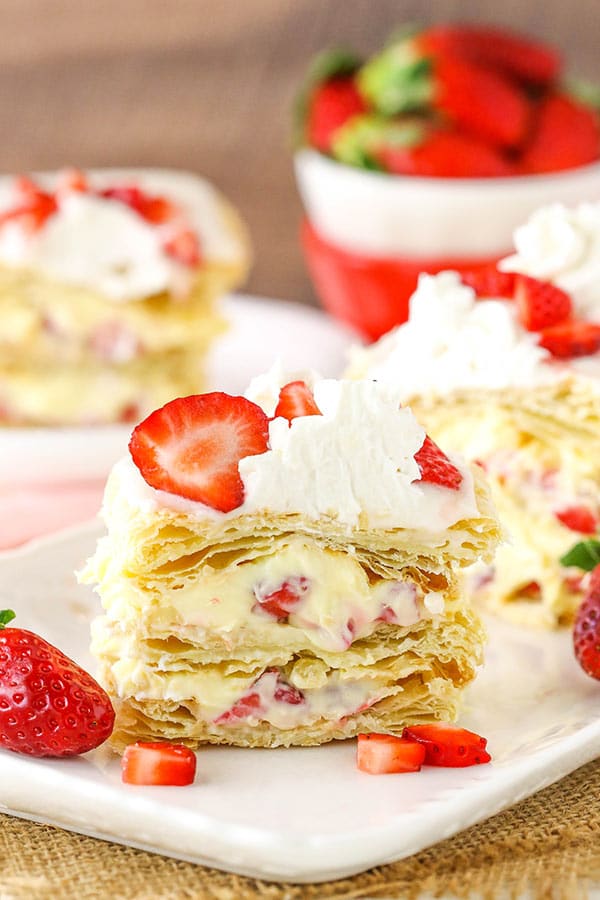 Fortunately making these napoleons doesn't have nearly as much of a learning curve. 😉
Putting them together starts with making the pastry cream. If you've never made homemade pastry cream, you're totally missing out. It's SO good! And it's especially good with fresh fruit and whipped cream.
What you want is a nice, stable pastry cream. The egg yolks and the cornstarch are the thickeners in this case, along with cooking it over the stove. Too little cooking time and it's too thin, too much and it's a bit too thick. Keep in mind that it will continue to thicken as it cools. So if you cook it until it looks as thick as you'll want it to be when it's cool, it'll be much too thick when actually cool.
You'll start out combining the sugar, cornstarch and milk in a saucepan and allowing it to heat, thicken and bubble. Then slowly add some of the milk mixture to the egg yolks, whisking to combine. This process is called tempering the eggs and basically is a way off heating them without getting scrambled eggs.
The mixture is then cooked for a little bit longer to continue to thicken. At the end, a little butter and vanilla are added for flavor and you've got pastry cream! Before using the pastry cream, also I added a bit of whipped cream to it to lighten it up a bit.
Once you've got the pastry cream, it's a quick process to bake the puff pastry, chop the strawberries and assemble everything. The final napoleons look great and like you slaved away on them, but they are actually quite quick to make. And with the fresh cream and berries, they are totally to die for!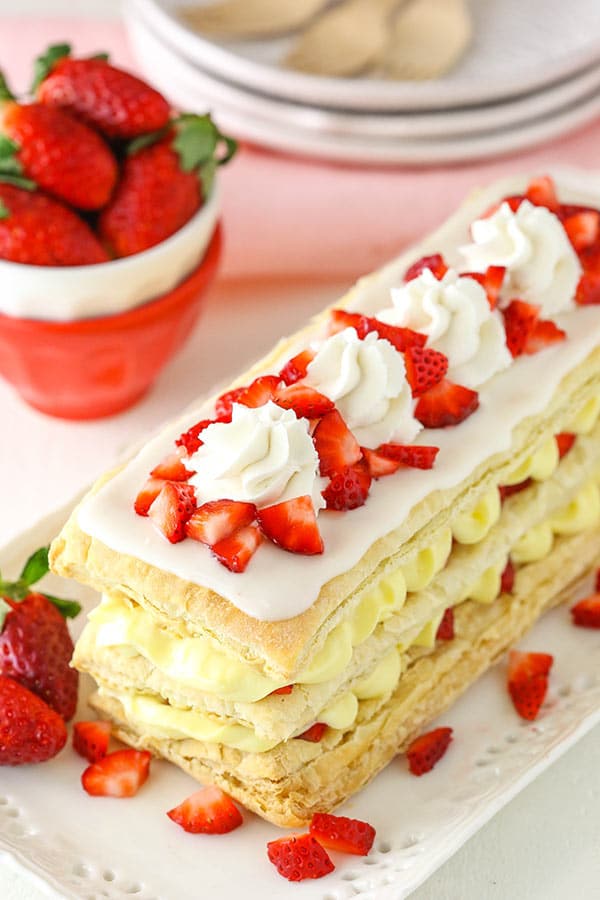 Print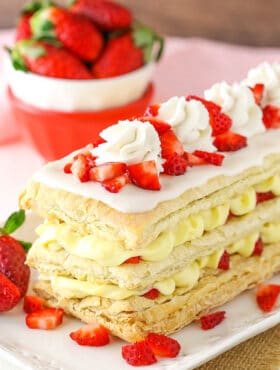 Recipe
Strawberry Napoleons
Author:

Prep Time:

40 minutes

Cook Time:

13 minutes

Total Time:

53 minutes

Yield:

12

Category:

Dessert

Method:

Stove

Cuisine:

American
---
Description
Flaky strips of puff pastry are layered with velvety homemade pastry cream and fresh berries in this easy Strawberry Napoleon dessert! Topped with vanilla icing, whipped cream and more fresh strawberries, get ready to serve up a gorgeously sophisticated treat.
---
Ingredients
For the Strawberry Napoleons
2

egg yolks

1/4 cup

(

52g

) sugar

1 tbsp

cornstarch

3/4 cups

(180ml) milk

1 tbsp

(

14g

) salted butter

3/4 tsp

vanilla extract

1/4 cup

(60ml) heavy whipping cream, cold

2 tbsp

(

15g

) powdered sugar

17.3 oz

box Puff Pastry Sheets

3/4 cup

chopped fresh strawberries
For the Icing
1 cup

(

115g

) powdered sugar, sifted

2 tsp

corn syrup

1 tbsp

unsalted butter, melted

1/2 tsp

vanilla extract

1

–

2

tbsp (15-30ml) milk
For the Whipped Cream Topping
1/4 cup

(60ml) heavy whipping cream

2 tbsp

powdered sugar

1/4 tsp

vanilla extract
---
Instructions
Prepare the Pastry Cream
Add the egg yolks to a medium sized bowl and gently beat them together. Set aside.
Add the sugar, cornstarch and milk to a large saucepan and mix until smooth.
Cook, stirring continuously, over medium-high heat until mixture begins to thicken and bubble.
Reduce heat to medium and simmer for 2 minutes. Remove from heat.
Add a little bit of milk mixture to the egg yolks and whisk together, then add egg mixture to milk mixture. This process ensures that you don't scramble the egg yolks.
Place the pan back on the heat and bring to a light boil. Allow to boil for 2 minutes, stirring continuously.
Remove from heat and add butter and vanilla extract. Stir until smooth, then top with clear wrap that touches the top of the cream (it helps prevent a film from forming on top). Refrigerate until cool and ready to use.
Assemble the Napoleons
Remove the two sheets of puff pastry from the box and cut each set into 3 strips, for a total of 6 strips.
Place on a baking sheet and bake for about 13 minutes.
Remove them from the oven and allow to cool. Press the baked pastry down just a bit, if needed so they layers are relatively flat.
To finish making the pastry cream, add the heavy whipping cream and powdered sugar to a large mixer bowl and whip until stiff peaks form.
Gently fold the whipped cream into the pastry cream.
To layer everything together, place a layer of puff pastry onto a serving plate and top it with some chopped strawberries.
Pipe or spread some pastry cream on top of the berries, then repeat another layer of puff pastry, strawberries and pastry cream.
Top off the pastry with a third pastry strip on top. Repeat the layering process with the remaining puff pastry, pastry cream and strawberries.
To make the icing, add all ingredients to a small bowl and whisk until smooth. Spread the icing onto the top of the completed napoleons.
To add the whipped cream topping, add the ingredients to a large mixer bowl and whisk until stiff peaks form.
Pipe swirls of the whipped cream on top of the napoleons and top with a few additional chopped berries. Refrigerate until ready to serve.
---
Notes
Each napoleon contains 5-6 servings.
To Store: These are best fresh, but leftovers can be refrigerated in an airtight container for 1-2 days.
Nutrition
Serving Size:

1 Sice

Calories:

340

Sugar:

35 g

Sodium:

59 mg

Fat:

17.5 g

Carbohydrates:

40.9 g

Protein:

5.7 g

Cholesterol:

99.1 mg
Keywords: napoleon dessert, mille feuille, napoleon cake
Filed Under:
Enjoy!
This post may contain affiliate sales links. Please read my disclosure policy.