June 26, 2017
Spicy Sriracha Shrimp Tacos
This post is sponsored by Sutter Home for their #SweetOnSpice campaign, but all opinions are my own.
These Spicy Sriracha Shrimp Tacos are easy to make, have a little kick and are so fun for summer! They incorporate all my favorite elements of a good taco – a little slaw, shrimp, chunky guacamole and some sriracha sauce. Addicting!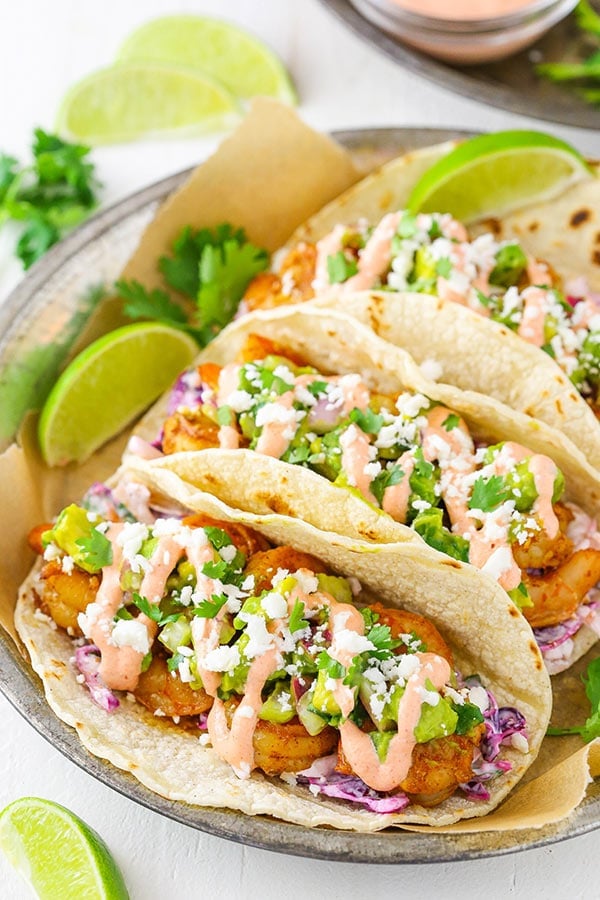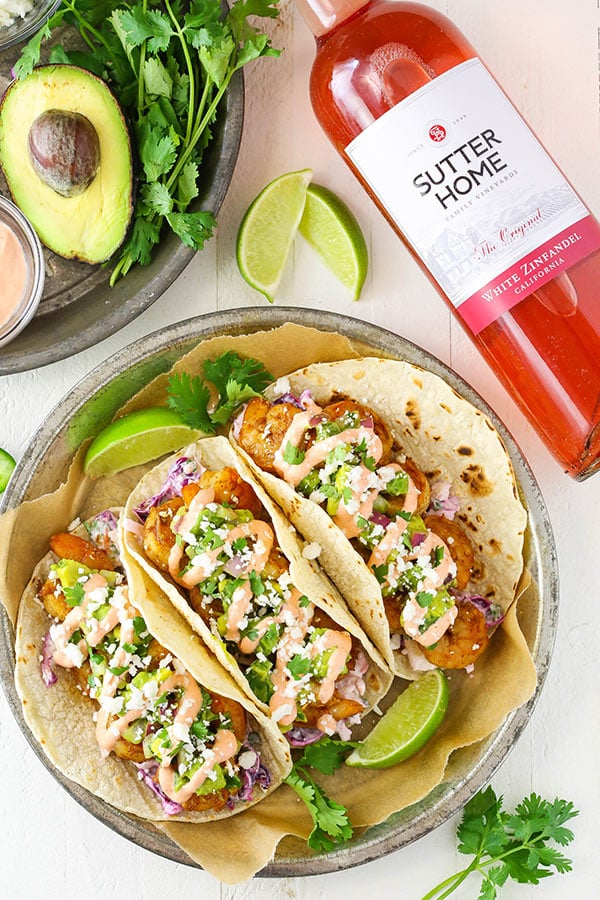 I can't even tell you how much fun I had making (and eating) these tacos. Even though they have a few different elements, they come together easily and quickly.
First, combine all the spices for the lightly spicy shrimp and set them aside to marinate a bit while you make the toppings.
For the toppings, we start with a cilantro slaw. I LOVE slaw on shrimp and fish tacos. This slaw is full of lime juice and cilantro that makes it perfect for tacos. I used a combo of coleslaw and cabbage, but feel free to use the mix you prefer.
Next is the jalapeño guacamole. MY GOODNESS! I literally wanted to just eat it with a spoon – and so did the hubs. The chunky avocado with the onion, cilantro, lime juice, garlic and jalapeños for a kick?! To die for.
And then of course there's the sauce. Sriracha all the way. If you aren't familiar with sriracha, it's basically a fancy hot sauce. Way better than hot sauce because it's fancy. 😉 You can make the sauce as spicy as you want just by adding more or less of the sriracha. For me, more was better. You know I like my flavors strong and I also like them a bit spicy.

MY OTHER RECIPES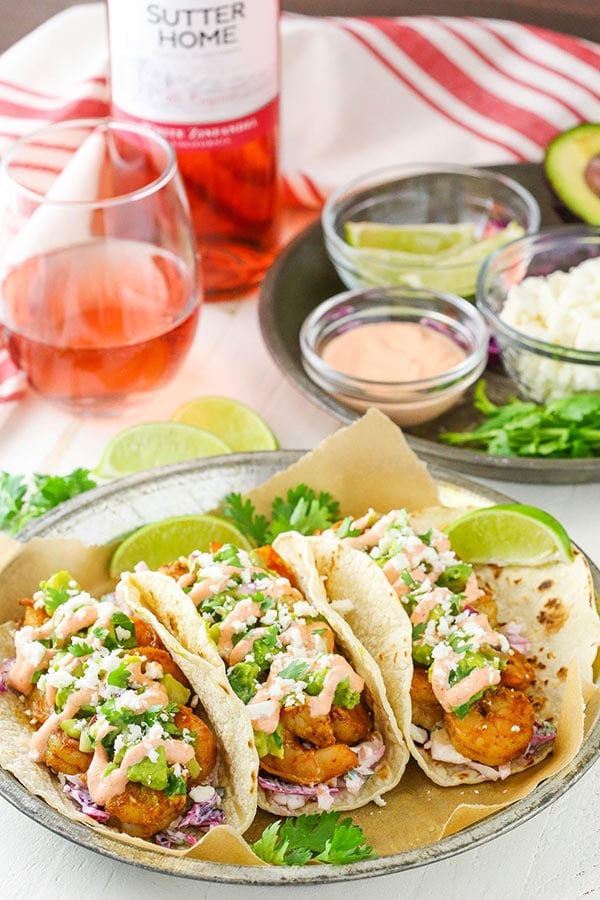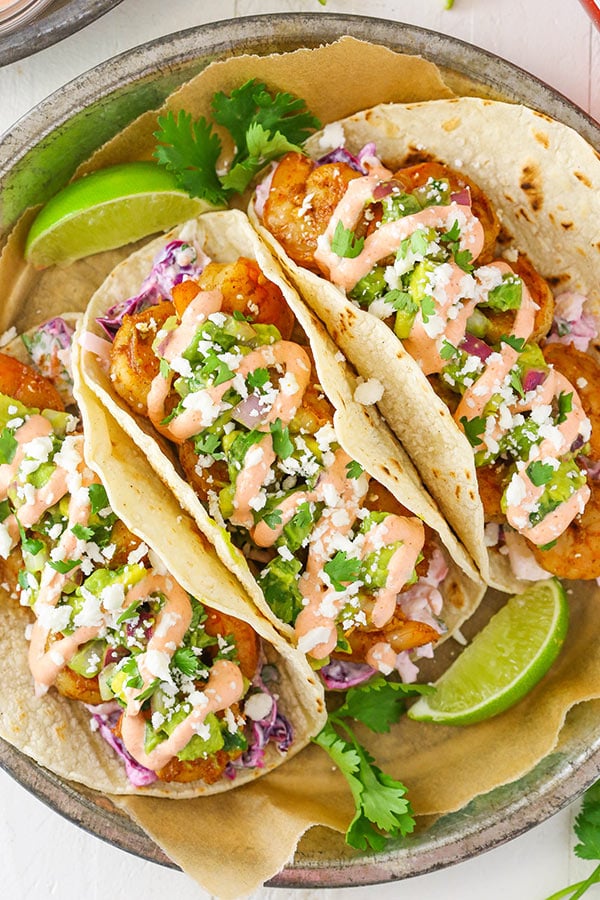 Not to mention that the spicy pairs SO perfectly with the sweet Sutter Home White Zinfandel. Did you know Sutter Home was the first to make a white zinfandel? They were also the first to make single serve wine bottles, which is only the BEST INVENTION EVER! Clearly their wine game is on point.
If you know me, you know I like things sweet. The Sutter Home White Zinfandael is medium sweet wine with delicious hints of strawberry and melon. I often drink Moscato (which would also pair well with these tacos), but the white zinfandel was perfect for the hubs and I to share. I like sweet, he prefers a little more dry. We both agreed this wine was a happy medium that we could share and both enjoy. Plus, sweet wine and spicy tacos make me a happy woman.
You guys the final tacos were SO good! Seriously all my favorite things in one taco. I never need to order tacos out again. And with the white zinfandel, I'm a happy camper. This meal will clearly be in regular rotation for us. I even doubled up on the guacamole, because we ate what was left with chips. Can it be Taco Tuesday everyday?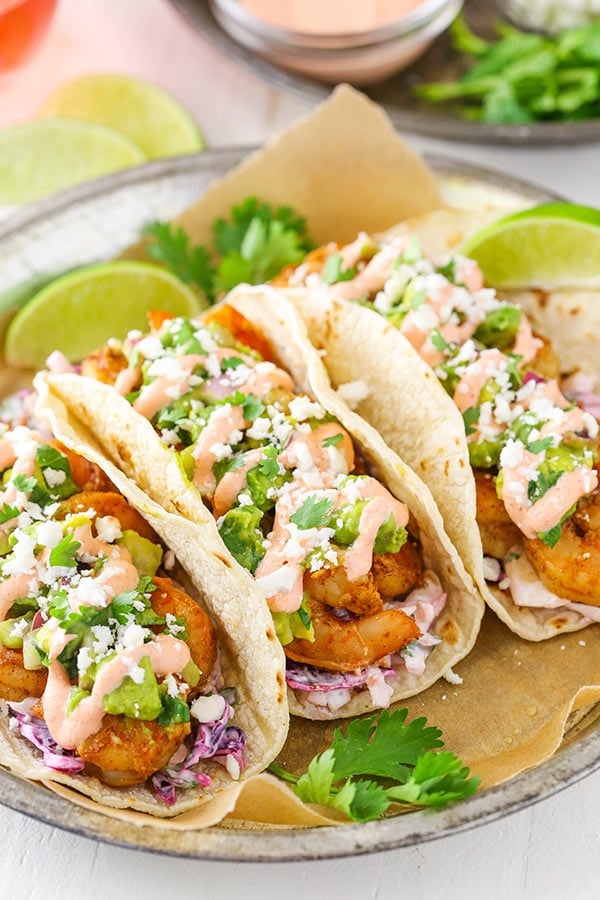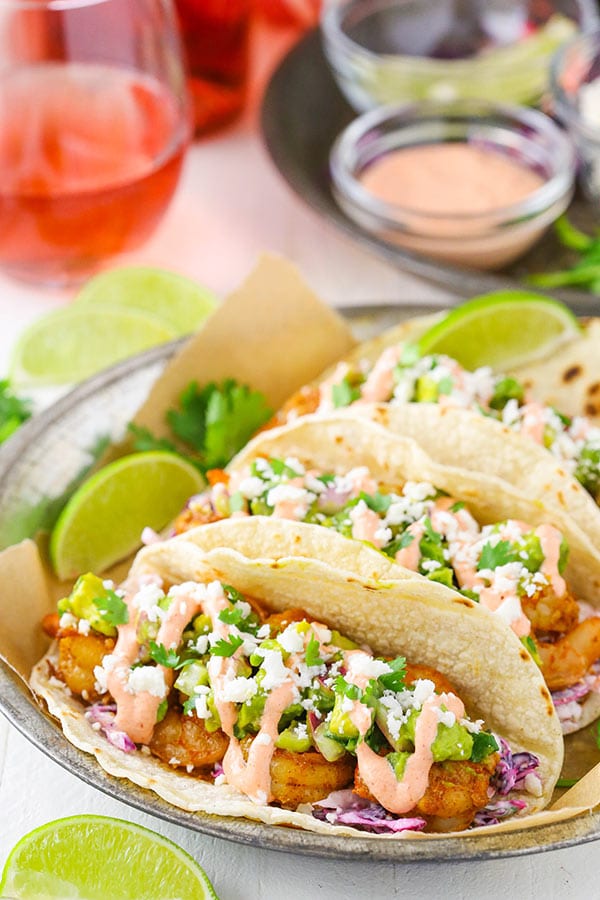 You might also like:
Baked Buffalo Chicken Sliders
Arizona Chicken Pasta
Shrimp and Crab Nachos
Tater Tot Hotdish
Spicy Sriracha Shrimp Tacos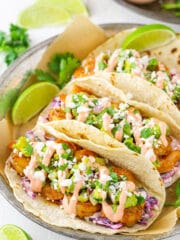 These Spicy Sriracha Shrimp Tacos are easy to make, have a little kick and are so fun for summer! They incorporate all my favorite elements of a good taco – a little slaw, shrimp, chunky guacamole and some sriracha sauce. Addicting!
Author:
Prep Time:

30 minutes

Cook Time:

5 minutes

Total Time:

35 minutes

Yield:

6 Tacos

Category:

Dinner

Method:

Stove

Cuisine:

American
Ingredients
SHRIMP
1 lb medium shrimp, peeled and deveined (about 34 shrimp)
1 clove garlic, minced
3/4 tsp ground cumin
3/4 tsp chili powder
1/4 tsp red pepper flakes
1/4 tsp salt
2 tbsp olive oil, divided
1 tbsp fresh lime juice
CILANTRO LIME SLAW
2 cups coleslaw/cabbage mix
¼ cup sour cream
2 tbsp finely chopped cilantro
1 tbsp fresh lime juice
1 clove garlic, minced
Salt and pepper
SRIRACHA SAUCE
1/4 cup sour cream
1 tbsp sriracha
JALAPENO GUACAMOLE
1 avocado, diced
1/4 cup finely chopped red onion
3 tbsp cilantro
1/2 jalapeno, seeded and diced
2 tbsp lime juice
1 clove garlic, minced
Salt
ADDITIONAL
6 small corn or flour tortillas
Feta cheese, crumbled
Instructions
1. To make the shrimp, put the shrimp in a medium bowl and add the spices, 1 tablespoon of olive oil and the lime juice. Toss together and set aside.
2. To make the slaw, combine the coleslaw/cabbage mix, sour cream, cilantro, lime juice and garlic. Add salt and pepper to taste. Set aside.
3. In a small bowl, combine the sour cream and sriracha for the sauce. Add more or less sriracha for more or less spice.
4. To make the guacamole, combine all ingredients except for the salt and toss to combine. Add salt to taste.
5. To cook the shrimp, heat a large pan over medium heat. Add the remaining tablespoon of olive oil and heat for a couple minutes.
6. Add the shrimp to the pan and cook until pink and cooked throughout, about 4-5 minutes. Turn halfway through cooking. When finished cooking, remove from heat.
7. To assemble the tacos, spoon some slaw into the tortillas. Top with 5-6 shrimp, some guacamole and sriracha sauce. Finish off the tacos with a little feta cheese. Serve with Sutter Home White Zinfandel wine (recommended).
Keywords: shrimp dinner recipe, shrimp tacos recipe, easy shrimp recipe
Enjoy!