Pineapple Walnut Upside Down Bundt Cake
This Pineapple Walnut Upside Down Bundt Cake is an awesome combination of tasty walnuts, fruity pineapple and a bit of cinnamon that's wonderful for spring! It's a no-fuss bundt cake that's beauty is right in the walnuts and pineapple on top.
This post is sponsored by Diamond of California and a bundt pan was provided by Casabella, but all opinions are my own.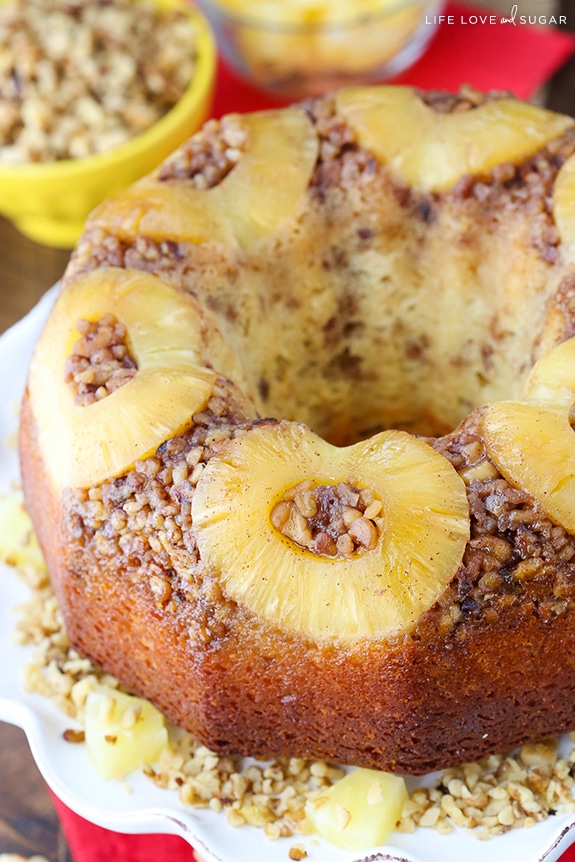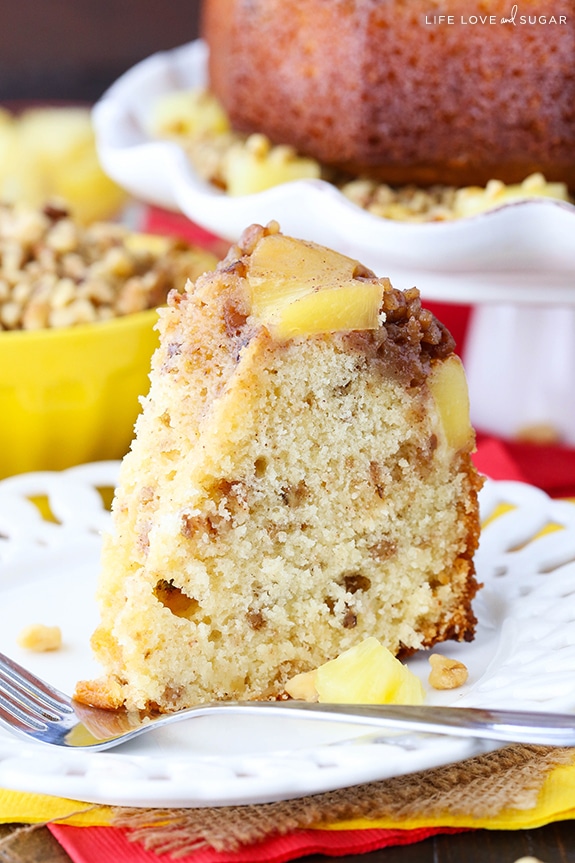 Bundt cakes are totally defined by their shape. With the hole in the middle, it's their shape from the bundt pan itself that often is what makes it unique. There's no one particular recipe or kind of cake that really applies to all bundts. Part of what makes them so great is their simple beauty. For this cake, I wanted a soft, tender cake that was well flavored with delicious walnuts and pineapple and had an easy beauty to it. I went through quite a few versions to get this just right and I have to say – it's perfect!
The flavor was inspired by my Pineapple Coconut Bars with Walnuts that I made last year. They were from my grandmother's old cookbook and I loved the flavor. The walnuts take center stage in this bundt cake. They are combined with cinnamon in a walnut streusel that adds flavor to both the top of the cake and throughout the cake – plus they look terrific!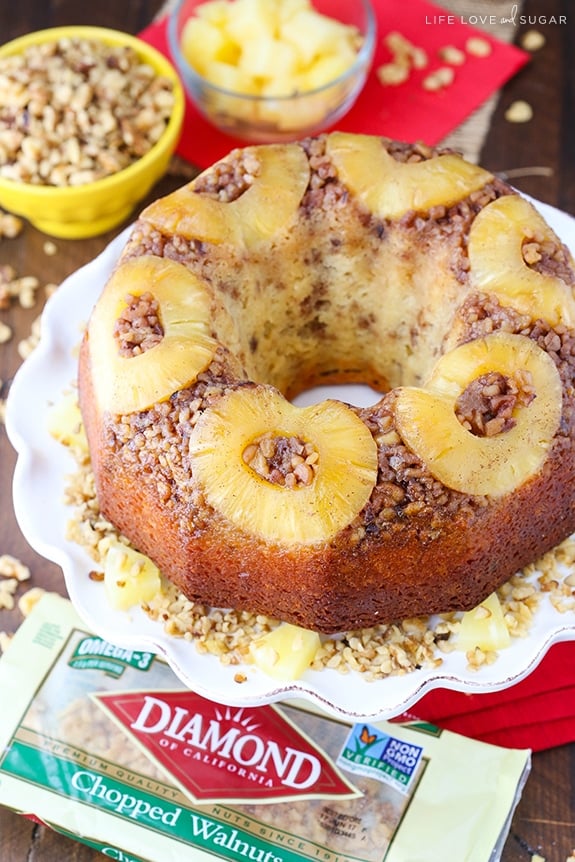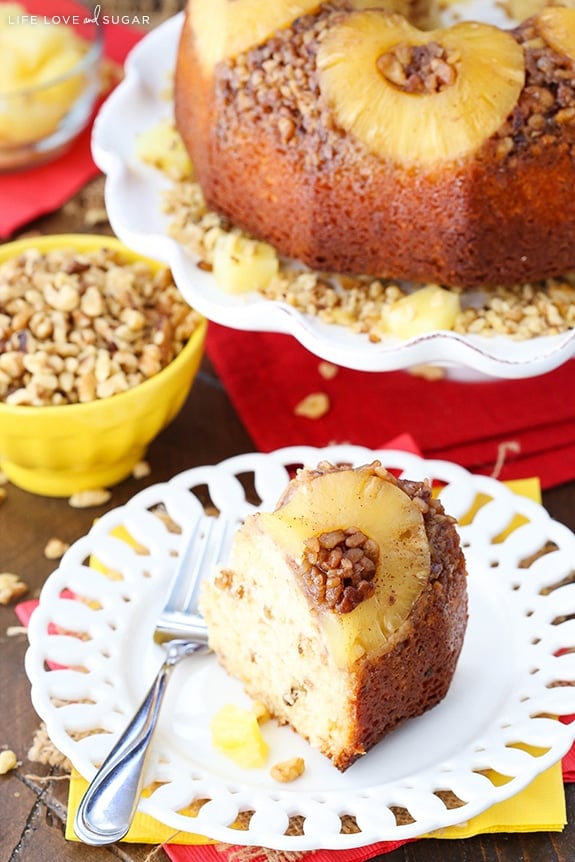 I was really excited to partner Diamond of California for this recipe. Their nuts are awesome for baking – they're unseasoned, non-GMO and great high-quality nuts. Plus, they have so many varieties. They are one of my favorite parts about this bundt cake.
So let's break down the bundt cake a bit, shall we?
Much like a pineapple upside down cake, you've got pineapple slices right on top. Right behind them are the walnuts coated in butter, brown sugar and cinnamon. Are you drooling yet? 😉
There's also pineapple juice in the cake itself, as well as a walnut streusel that brings the walnut cinnamon flavor right through to every bite. The cake is tender, soft and seriously delicious.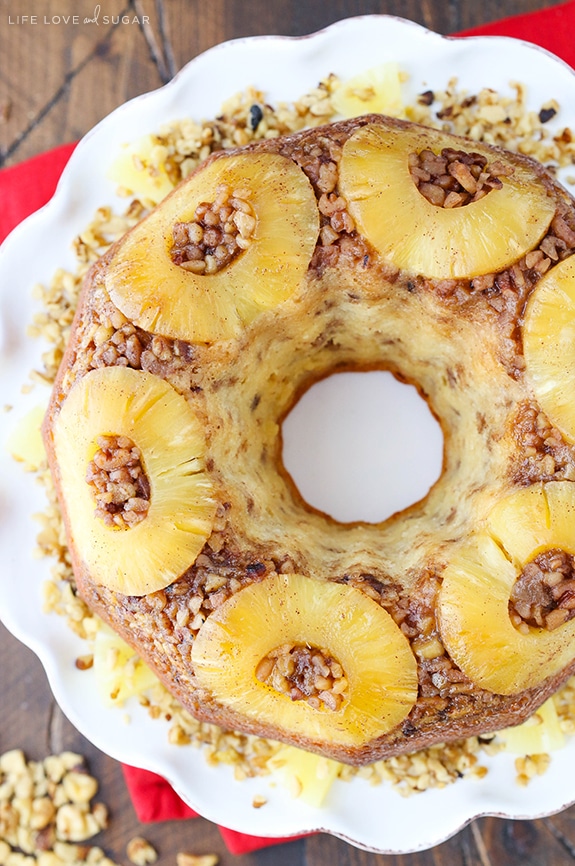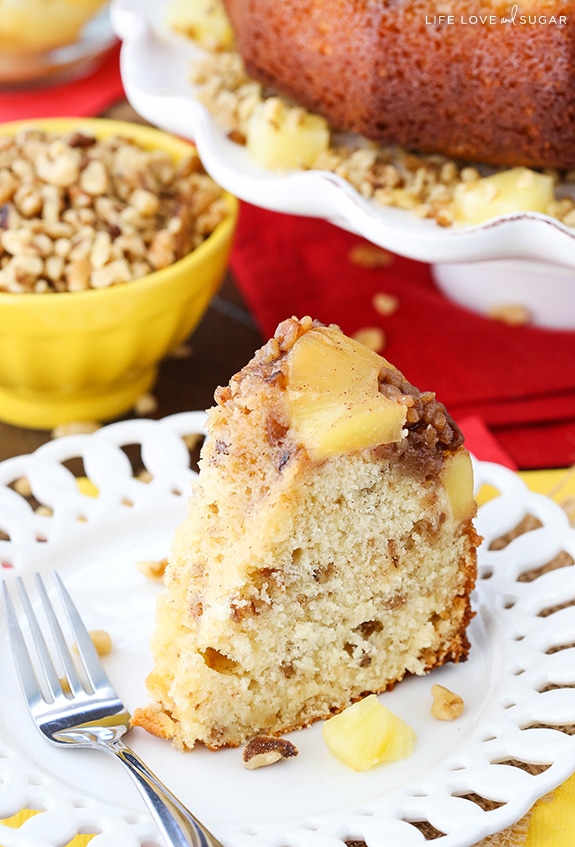 To put his beauty together, you'll first put together the walnut topping and the walnut streusel for inside. Once you've made the batter, stir the streusel right into it. Add the pineapple slices and walnut topping to the pan. As shown below, I made sure to fill in the pineapple holes with the topping and then fill in the areas around it. You want to be sure to place the walnuts so they are really going to be visible when you unveil the cake. It ends up creating a beautiful bundt cake and is decoration all on it's own. Plus, all that flavor on top makes it my favorite part of the cake. The batter is spread right on top of everything and baked.
Once it's baked, allow it to cool for a good 45 minutes, then turn it out onto a serving plate and dive in! You could certainly let it cool completely first and serve it later but honestly this cake is even better when served warm. The flavor of the walnuts and cinnamon is especially terrific. The punch of pineapple reminds you that it's spring – and one of my favorite times of the year.
This bundt cake would be perfect for dessert, a snack – or even with morning coffee. The fruit and nutrition from the walnuts totally make it breakfast appropriate, wouldn't you agree? 🙂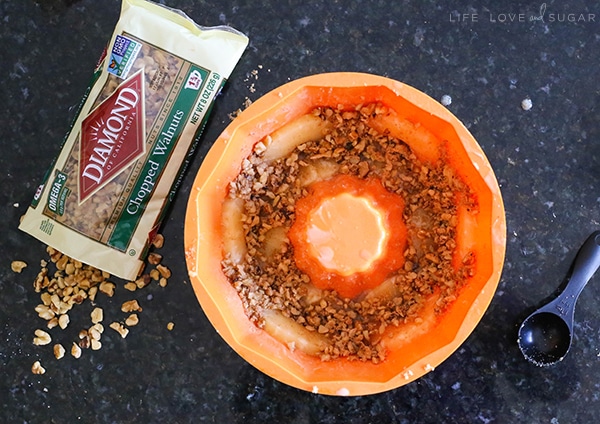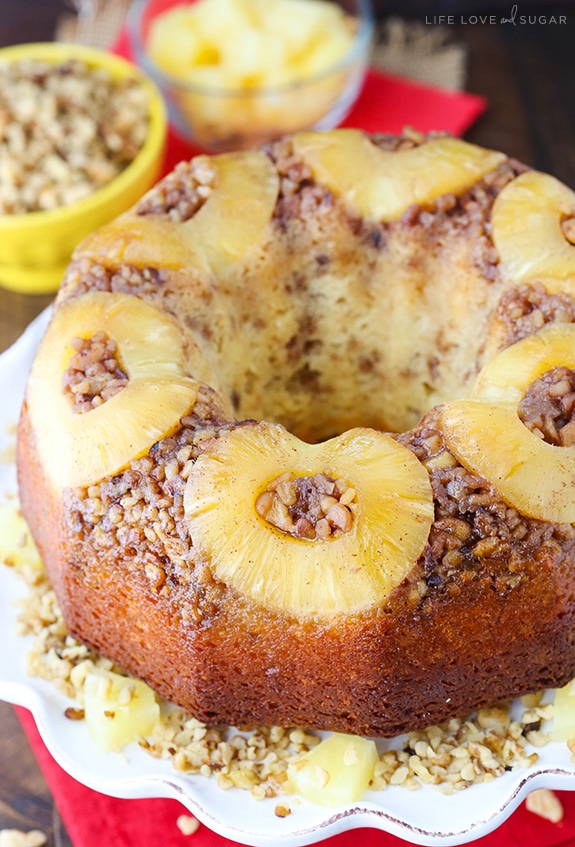 Pineapple Walnut Upside Down Bundt Cake
Yield:

12

-

16

Slices

1

x
Category:

Dessert

Method:

Oven

Cuisine:

American
Ingredients
WALNUT STREUSEL
1/2 cup

(60g) finely chopped walnuts

1/4 cup

(33g) all purpose flour

1/4 cup

(56g) packed light brown sugar

1/2 tsp

cinnamon

2 tbsp

(28g) butter, melted
PINEAPPLE WALNUT TOPPING
2 tbsp

butter, melted

1/4 cup

packed light brown sugar, divided
Two

8 oz

cans pineapple slices

1/4 tsp

ground cinnamon

1/2 cup

chopped walnuts
PINEAPPLE CAKE
3/4 cup

(168g) unsalted butter, room temperature

1 1/2 cup

s (310g) sugar

1/4 cup

sour cream, room temperature

1 tsp

vanilla extract

3

large eggs, room temperature

2 1/2 cup

s (325g) all purpose flour

3 1/2 tsp

baking powder

1/2 tsp

salt

1/3 cup

(80ml) milk, room temperature

2/3 cup

(160ml) pineapple juice, room temperature
Instructions
1. Grease a 10 inch bundt cake and preheat oven to 350°F (176°C).
2. To make the walnut streusel, combine the first four ingredients in a small bowl.
3. Add the melted butter and stir until crumbly. Set aside.
4. To make the pineapple walnut topping, use a spoon to drip the melted butter over the bottom of the pan.
5. Sprinkle half of the brown sugar over the bottom of the pan.
6. Place the pineapple slices into the bottom of the pan, evenly spaced. Reserve the pineapple juice from the can (should be about 2/3 cup of juice).
7. In a small bowl, combine the remaining brown sugar, cinnamon and walnuts, then add them to the pan. I filled in the holes of the pineapple, then spread them around the outer edges of the pineapple. Set pan aside.
8. To make the cake batter – In a large mixer bowl, cream the butter and sugar until light and fluffy, 3-4 minutes.
9. Add the sour cream and vanilla extract and mix until well incorporated.
10. Add the eggs one at a time, mixing until well incorporated after each.
11. Combine the flour, baking powder and salt in a medium bowl. Combine milk and pineapple juice in a small measuring cup.
12. Add half of the dry ingredients and mix until combined.
13. Add the pineapple juice mixture and mix until combined, scraping down the sides of the bowl as needed to make sure all is incorporated.
14. Add remaining dry ingredients and mix until well combined.
15. Stir the walnut streusel into the cake batter.
16. Pour the cake batter into the prepared cake pan and spread evenly.
17. Bake for 60-65 minutes, or until a toothpick inserted comes out with a few crumbs.
18. Allow to cool for about 45 minutes (or until cool), then invert onto a serving dish. You can serve it warm or allow it to cool completely and serve it at room temperature. The cake can be refrigerated but is best served warm or at room temperature.
Enjoy!