This post may contain affiliate sales links. Please read my disclosure policy.
This Panna Cotta with Fresh Berries is a new favorite of mine! With the tasty addition of strawberries and blueberries, it also makes a festive red, white and blue dessert for the fourth of July!
Want to incorporate more fresh fruit into your desserts? You have to try my Berries and Cream Cupcakes!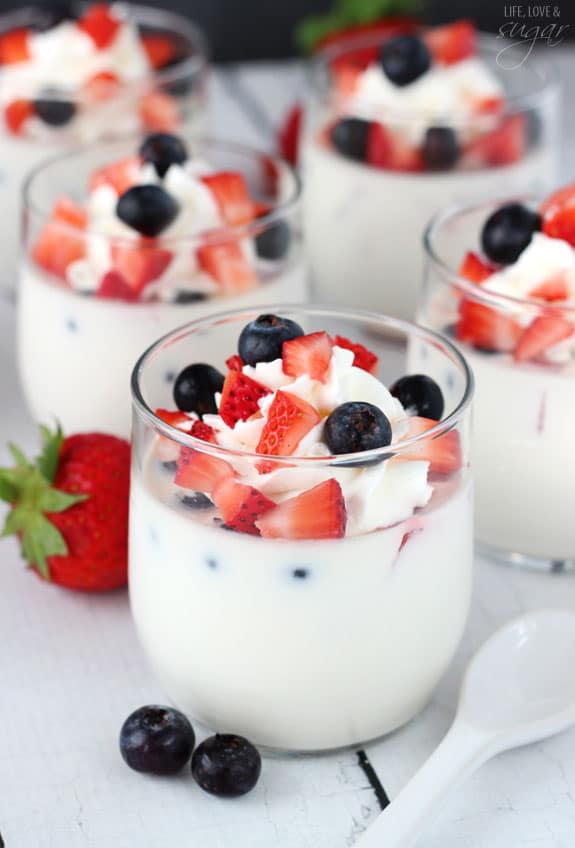 Panna Cotta Recipe with Fresh Fruit
I've recently fallen in love with panna cotta, and it's made better with the addition of fresh fruit.
So we finally got home from our trip to South Africa yesterday morning after about 36 hours of total travel time – from the time we left our hotel to the time we got home. Brutal, I tell you. But the trip was worth it.
And travel to and from the U.S. was quite interesting. I haven't really flown out the country post 9/11 and the security was high.
Flying to South Africa, and within, was quite easy. The security checks were much more relaxed than here. First of all, the airports aren't as busy so there weren't security lines that went on forever. I think the most people we had in line in front of us at one point was 10. You also don't have to strip down. No removing of shoes or anything.
The only thing they do quite a bit of is checking ID and boarding passes. They do that a lot.
That all changed when we were boarding our flight to come home. We'd booked our round trip out of Johannesburg, but spent the last 3 days of our trip in Cape Town. So we flew Cape Town to Johannesburg first, then had to grab our luggage and recheck everything for the remainder of the trip.
When we got to the gate to board, they divided men and women into two lines. They searched everyone up and down and went through everyone's luggage that they were taking on board. Unzipped suitcases, removed shoes, patted them down and everything. The works. Plus, lots of passport checks. Like 3 times between the gate and actually setting foot on the plane.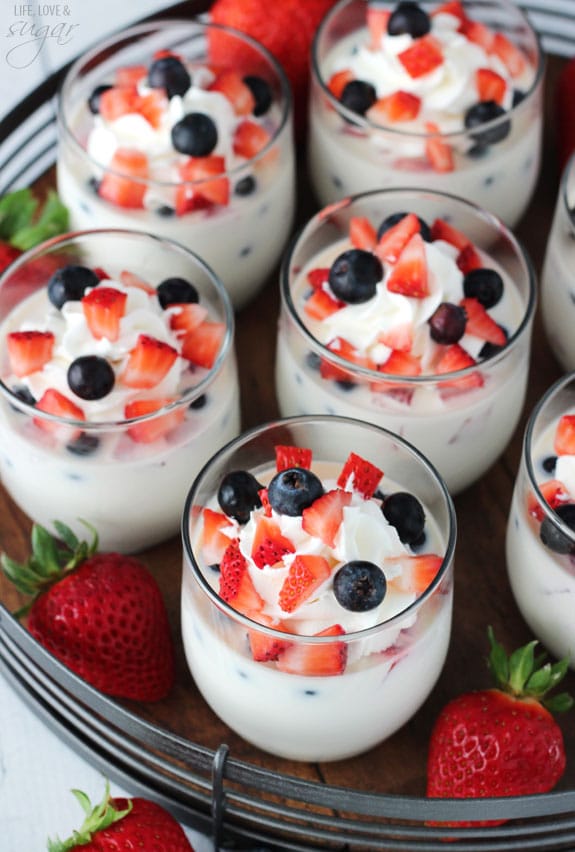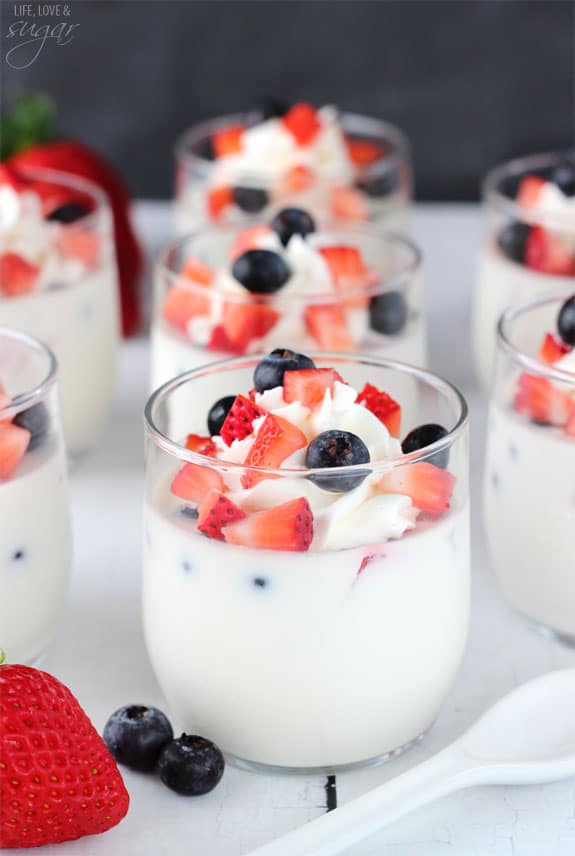 Then, during our hour stop in Dakar for refueling (which we'd also had on the way to South Africa) they went through and checked every empty seat. Then we had to remove all our luggage from the overhead bins and they checked for anything left behind.
They did none of that on the way there. It was all because we were flying to the U.S. and probably because it was D.C. we were flying into.
Then in D.C. (our last stop before ATL), we had to grab our luggage again since it was our first entry to the U.S. and they rechecked it again. The third security check in one trip for our luggage. We also had to go through a separate security check again.
I say all of this not to complain, but because I found it so interesting how different it is to fly into the U.S. vs flying into South Africa. The security measures are high. You'd have a tough time getting anything by them. At least it seemed that way to us.
The U.S. isn't playin' around. 🙂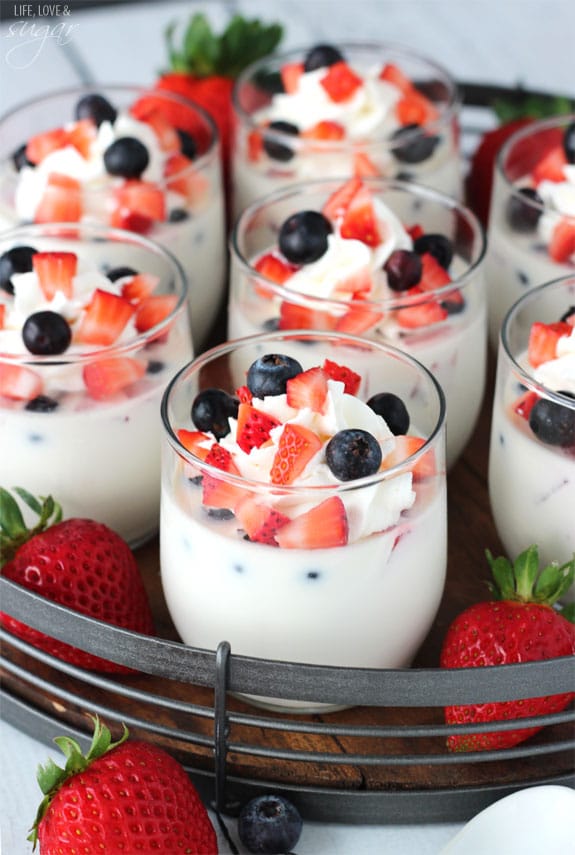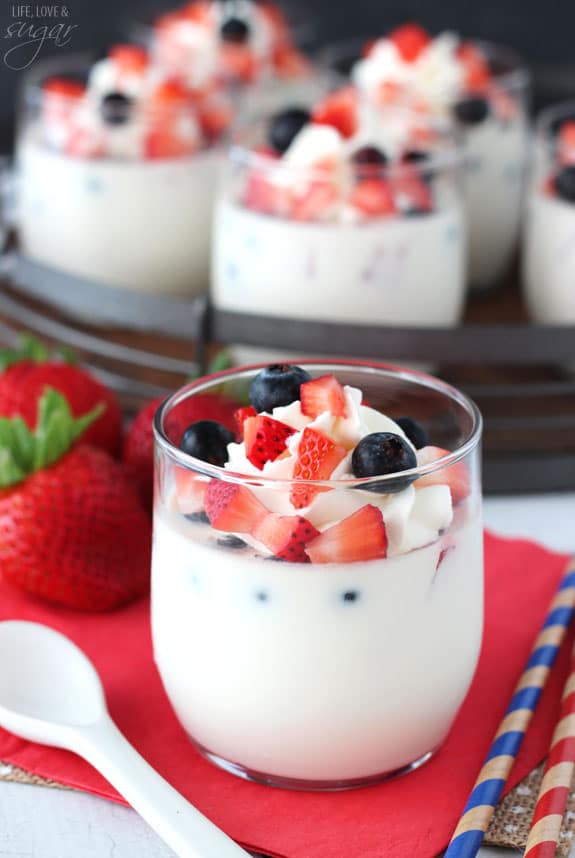 And while our trip was beautiful and so much fun, it also made us really appreciate the country we live in. Even more reason to celebrate America on July 4th.
And these beautiful panna cottas should definitely go on your list for celebrating, or for any time you need an easy and tasty treat.
I fell in love with panna cotta a couple months ago when I sent to Santa Barbara and I couldn't wait to make some of my own. It'd never appealed to me until I actually tried it and now I could eat it all the time.
Why I Love Panna Cotta
If you haven't had panna cotta before, you really have to try it. It's SO easy to make. It's sort of a cross between pudding and cheesecake in both consistency and flavor. It's also no bake, which is a bonus. Yes, you use the stove, but not for long.
It's primary ingredient is milk. If you could imagine a vanilla milk that's made firm with gelatin. Now normally gelatin wouldn't appeal to me, but it's so good. That's why I say you just have to try it. It's the jam. And I love the pop of flavor from the fresh fruit.
The hubs totally died over how good they were too. We are both panna cotta lovers now. In fact, he was quite stingy with them and did not want to share. A true testament to how yummy they are. 🙂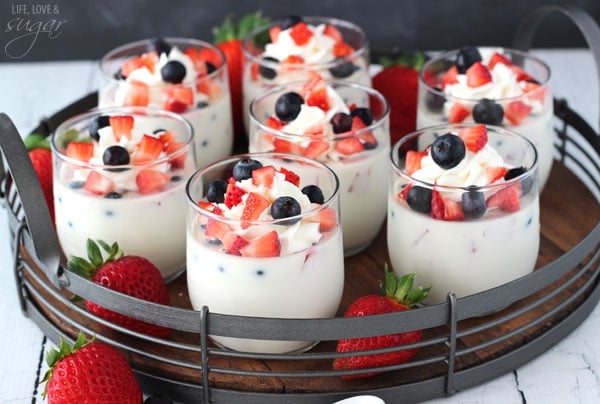 Similar Recipes You'd Enjoy
Mini Berries & Cream Puff Pastry Cakes
Berries and Cream Cupcakes
Triple Berry Trifle
Strawberries and Cream Cheese Cake
Berry Lemon Cheesecake Cookie Cups
Very Berry Fruit Popsicles
Print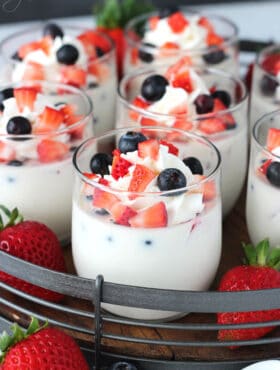 Recipe
Panna Cotta with Fresh Berries
Author:

Prep Time:

3 hours 15 minutes

Cook Time:

0 minutes

Total Time:

3 hours 15 minutes

Yield:

8 panna cottas

Category:

Dessert

Method:

No Bake

Cuisine:

American
---
Description
This Panna Cotta with Fresh Berries is a new favorite of mine! With the tasty addition of strawberries and blueberries, it also makes a festive red, white and blue dessert for the fourth of July!
---
Ingredients
PANNA COTTA
1 cup

chopped strawberries

1 cup

blueberries

4 tbsp

powdered gelatin

5 tbsp

cold water

3 cups

heavy whipping cream

1 cup

whole milk

1/2 cup

sugar

1 tbsp

vanilla extract
WHIPPED CREAM
1/2 cup

heavy whipping cream

1/4 cup

powdered sugar

1/2 tsp

vanilla extract
additional berries, for topping
---
Instructions
1. Divide strawberries and blueberries evenly between eight 8 oz glasses.
2. Sprinkle the gelatin over the cold water in a medium-sized bowl and let stand 5 to 10 minutes.
3. While gelatin sits, heat the heavy cream, milk and sugar in a saucepan over medium-high heat. Do not boil. Once the sugar is dissolved, remove from heat and stir in the vanilla extract.
4. Pour the milk mixture over the gelatin and stir until the gelatin is completely dissolved.
5. Pour the panna cotta mixture into the prepared cups, dividing it evenly among the cups. Chill them until firm, 3-4 hours.
6. Once firm, make whipped cream. Whip heavy whipping cream until it begins to thicken.
7. Add powdered sugar and vanilla extract and whip until stiff peaks form.
8. Top panna cotta with whipped cream and some additional strawberries and blueberries. Refrigerate until ready to serve.
---
Nutrition
Serving Size:

1 trifle

Calories:

633

Sugar:

59.5 g

Sodium:

239.4 mg

Fat:

39.5 g

Carbohydrates:

62.7 g

Protein:

9.7 g

Cholesterol:

122.3 mg
Keywords: panna cotta recipe, fruit dessert, fruit dessert recipe, berry dessert, easy dessert recipe, fourth of july recipe, fourth of july dessert, easy no bake dessert, no bake dessert
Filed Under:
Recipe modified from Food Network.
Enjoy!