This post may contain affiliate sales links. Please read my disclosure policy.
I am so excited to share this recipe for a Moist and Fluffy Vanilla Cake with you today! It's a cake I've been making for years, but wanted to tweak and it's finally ready!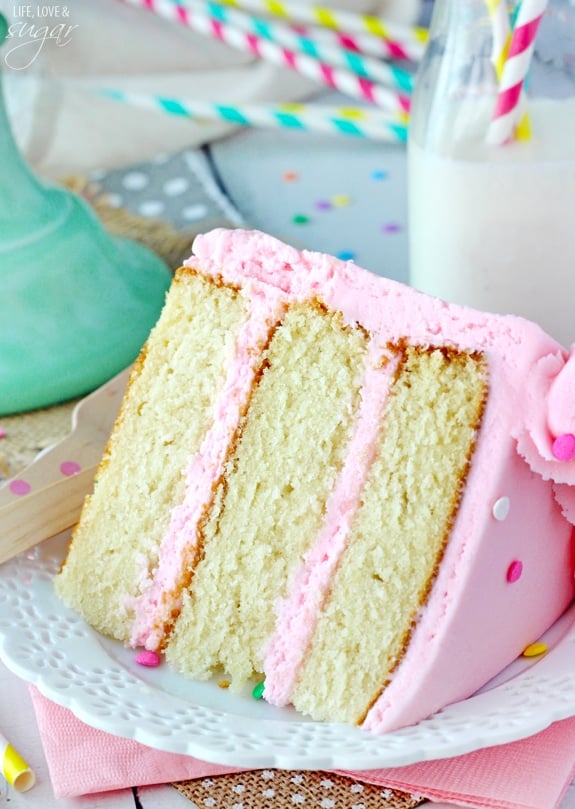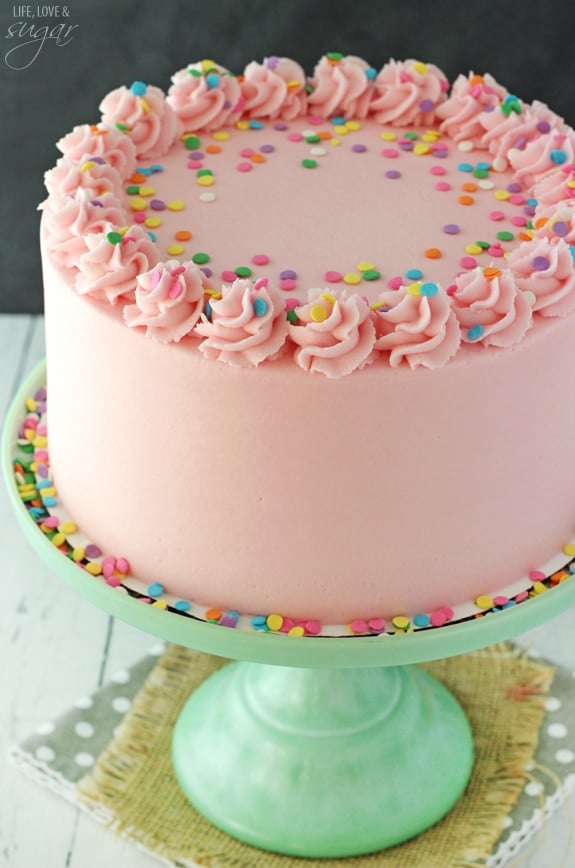 For those who know me and see me regularly, they know that I play with vanilla recipes like it's my job. I kind of feel like you are only as good as your best vanilla cake. It is super important to have a wonderful one, and yet it seems to be the hardest for people to find. Plus everyone has their own idea of what makes it "the best". I think I might have made it my life's mission to make the best vanilla cake for everyone. It may not be that there's one "best" recipe for all, but maybe a couple recipes that you can choose from. Bottom line – I make a lot of vanilla cake. And it's all for you. 🙂
So let's talk a little about this recipe. You may or may not have seen/made my vanilla cupcakes. They have been quite popular and it's a recipe I go back to time and time again. I love it and so many others love it too.
But it always amazes me how people love different things about cakes. Many people have agreed that they are perfect, moist and fluffy and it's their new favorite. Yet some think they are too dense. To be fair, when you bake it as a cake, it is fairly dense. And yet, every time I do a taste comparison with a larger group (usually our church group), it's their favorite – whether a cake or cupcakes. Funny, right?
But I am someone who likes options. I don't want to feel limited and I'm sure I'm not the only one. And since I've loved this cake for so long, I decided it was time to share it so you could have more options. 🙂 The only reason I haven't shared it sooner is that I wanted to tweak a few things. One thing being that the original recipe didn't do well as cupcakes. They separated from the liners as they cooled, so I wanted to fix that (and I did!).
Of course, now it begs the question of how this recipe is different from the other one. Neither is necessarily better than the other. That really depends on your preference. But any time I see multiple options for a particular flavor (like vanilla) on someone's site, I'm always curious about the differences so I know which one I want to try. So I want to break down some of the differences and similarities for you.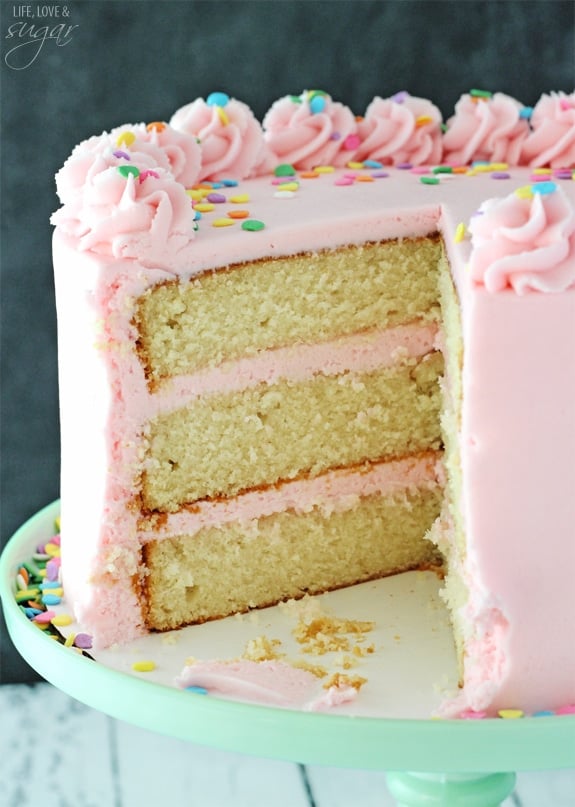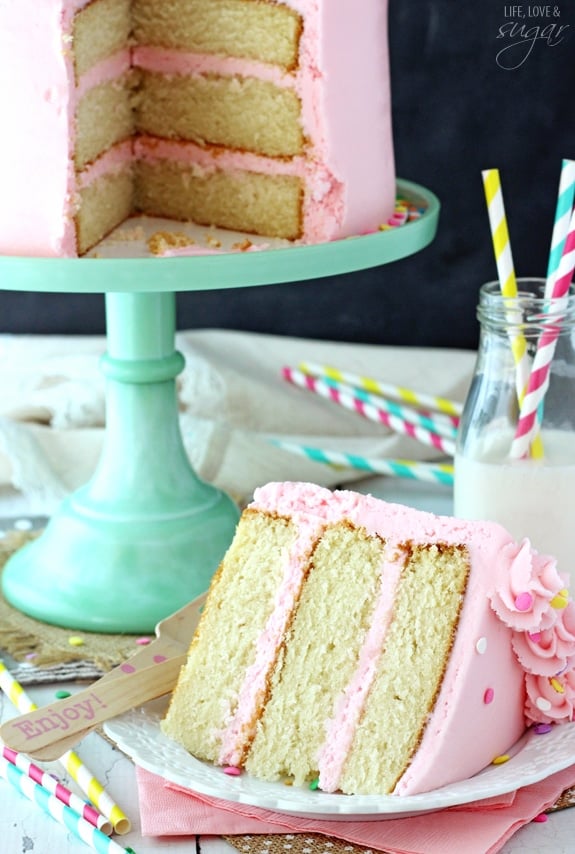 First, let's talk about the ingredients. Just like with the other recipe, I wanted to have simple ingredients that most people usually have on hand. The original recipe calls for cake flour and I wanted to replace that with all purpose flour. That, plus some other tweaks to account for the change, and you now have a pretty normal ingredient list. Score!
Second, there's the mixing method. The other recipe is very simple. Basically a throw everything together and mix method, which is wonderfully easy. This cake uses the creaming method. The steps are more involved and definitely need to be followed.
Third is the final cake taste and texture. Again, this is very subjective in terms of which is better. I love them both. They both have excellent vanilla flavor. This cake is flatter on top when baked. As for which is denser, or fluffier, I think they're both fluffy and dense. Confusing, right?
This cake manages to be a little denser-seeming, as there aren't as many air pockets in the baked cake. But when you bite into it, it actually has a super fluffy taste and feel to it. I feel like the other recipe is actually the denser one, especially when made as a cake, but it has more air pockets and also manages to seem fluffy. Both are very moist.
Personally, I like the other recipe for cupcakes (they're still my perfect cupcake!) and this one for a cake. But both can be used as a cake or cupcakes and both are delicious.
Hopefully that explanation was more helpful than confusing. 🙂
The bottom line is that you can't go wrong with either, though you might end up preferring one over the other if you try them both.
I love the texture of this cake. It is absolutely wonderful when layered and iced and I find it very hard to not want to eat the entire cake. It really is a very soft and moist cake. I recently shared it with a friend who wanted to make a vanilla cake for her daughter's birthday and they loved it!
So there you have it – another vanilla cake/cupcake recipe. Decisions, decisions. If you give them both a try, I'd love to know what you think. 🙂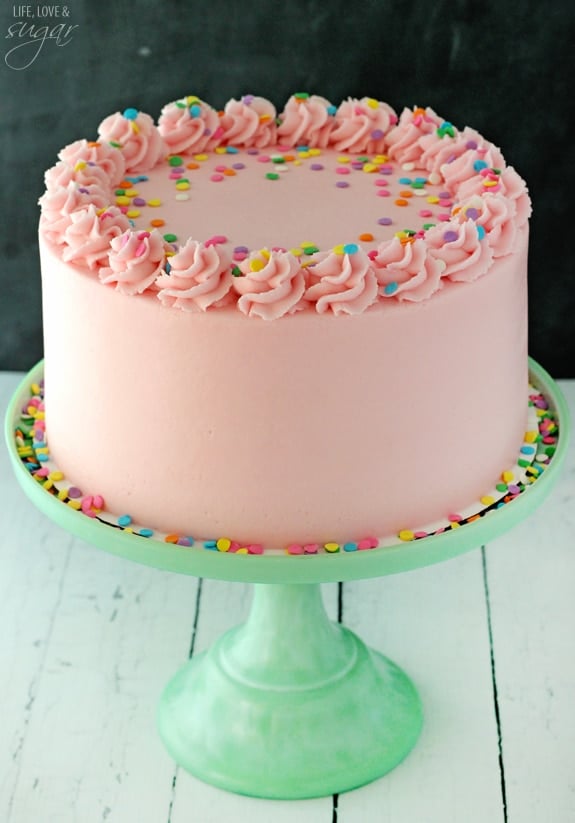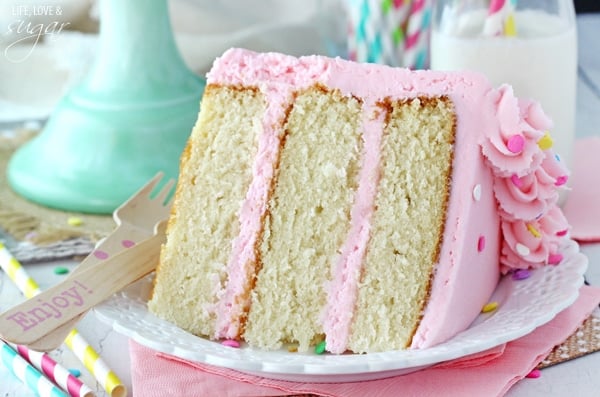 SHOP THE RECIPE

You might also like:
Moist Vanilla Cupcakes (new!)
Perfect Moist and Fluffy Vanilla Cupcakes
Rose Water Vanilla Cake
How to frost a smooth cake with buttercream
Homemade Vanilla Cake Mix
Print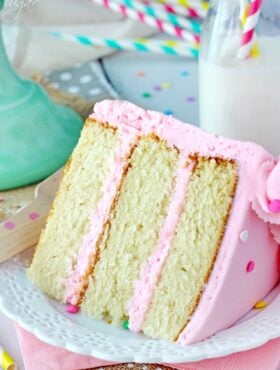 Recipe
Moist and Fluffy Vanilla Cake
Author:

Prep Time:

20 minutes

Cook Time:

33 minutes

Total Time:

53 minutes

Yield:

12-14 Slices, or 36 Cupcakes

Category:

Dessert

Method:

Oven

Cuisine:

American
---
Description
This is a cake I've been making for years, but wanted to tweak and it's finally ready!
---
Ingredients
CAKE
1 1/2 cups

(

336g

) salted butter, room temp (I use Challenge Butter)

2 1/4 cups

(

466g

) sugar

4

egg whites

3 tsp

vanilla extract

3 cups

(

390g

) all purpose flour

1/4 tsp

baking soda

2 3/4 tsp

baking powder

1 1/2 cups

(360ml) milk
FROSTING
1 1/2 cups

(

336g

) salted butter

1 1/2 cups

(

284g

) shortening

12 cups

(

1380g

) powdered sugar

1 tbsp

vanilla extract

6

–

7

tbsp (90-105ml) water or milk
---
Instructions
1. Preheat the oven to 350°F (176°C). Line three 8-inch cake pans with parchment paper in the bottom and grease the sides.
2. Beat the butter and sugar in a large bowl on medium speed about 2 minutes, until light and fluffy. Scrape down the sides of the bowl.
3. Add the egg whites and vanilla and beat on medium speed for about 1 minute, no more. The texture of the batter will change and become thicker and may seem a little curdled.
4. Combine the flour, baking soda and baking powder in a medium sized bowl.
5. Add about one-third of the flour mixture to the batter and beat on medium speed until incorporated.
6. Add about half of the milk and beat on medium speed until incorporated.
7. Continue alternating adding dry and wet ingredients, scraping down the sides of the bowl as needed, and beating until incorporated after each addition. There should be three total additions of dry ingredients and two total additions of milk. End with the dry ingredients. The batter will be thick and glossy.
8. Divide the batter evenly between the cake pans and spread evenly.
9. Stagger the cake layers on the oven racks so that no layer is directly over another. Bake for 30-33 minutes, or until a toothpick inserted into the middle of the cakes comes out clean. Don't be alarmed if the tops are a little browned, that is normal.
10. Remove cakes from oven and allow to cool for 3-5 minutes.
11. Remove cakes from pans to cooling racks and cool completely before frosting.
12. To make icing, combine butter and shortening and mix until smooth.
13. Add 6 cups of powdered sugar and mix until smooth.
14. Add vanilla extract and 4 tbsp of water or milk and mix until smooth.
15. Add remaining powdered sugar and mix until smooth.
16. Add more water or milk until desired consistency is reached.
17. To assemble cake, place first layer of cake on your cake stand or plate. NOTE: The cake layers shouldn't have a rounded dome on top of them, but if they do, cut them off before stacking.
18. Add about 1 1/2 cups icing and spread into an even layer.
19. Add second layer of cake and another 1 1/2 cups of icing.
20. Top cake with remaining layer of cake.
21. Use the rest of the icing to ice the outside of the cake. For instructions on icing a smooth cake and the piping, here is a tutorial on How to Frost a Smooth Cake.
TO MAKE CUPCAKES:
Follow instructions above through number 7. Fill cupcake liners about 1/2 way. Bake at 350 degrees for about 16-18 minutes. Allow to cool in pan for 2-3 minutes, then remove to cooling rack to cool completely. Recipe makes about 36 cupcakes.
---
Nutrition
Serving Size:

1 slice

Calories:

1200

Sugar:

123.7 g

Sodium:

419.1 mg

Fat:

66.5 g

Carbohydrates:

146.3 g

Protein:

8.8 g

Cholesterol:

119.2 mg
Keywords: yellow cake recipe, vanilla cake recipe, best birthday cake recipe, easy birthday cake recipe
Filed Under:
Recipe modified from this recipe.
Enjoy!